💕HELLO MY LOVELY FRIEND! 💕
I hope you are enjoying the glorious autumn weather and I am so excited to share some precious moments with you. Thank you for your continuing your support of my music and see you all soon x🎵 NEXT LIVE DATES🎵 29th Sept – 30th Sept 2023 Katy Carr performs at the Festiwal NNW – Festiwal Niepokorni Niezłomni Wyklęci Festival in Gdynia Poland – more info click here – https://festiwalnnw.pl/festiwal-2023/program/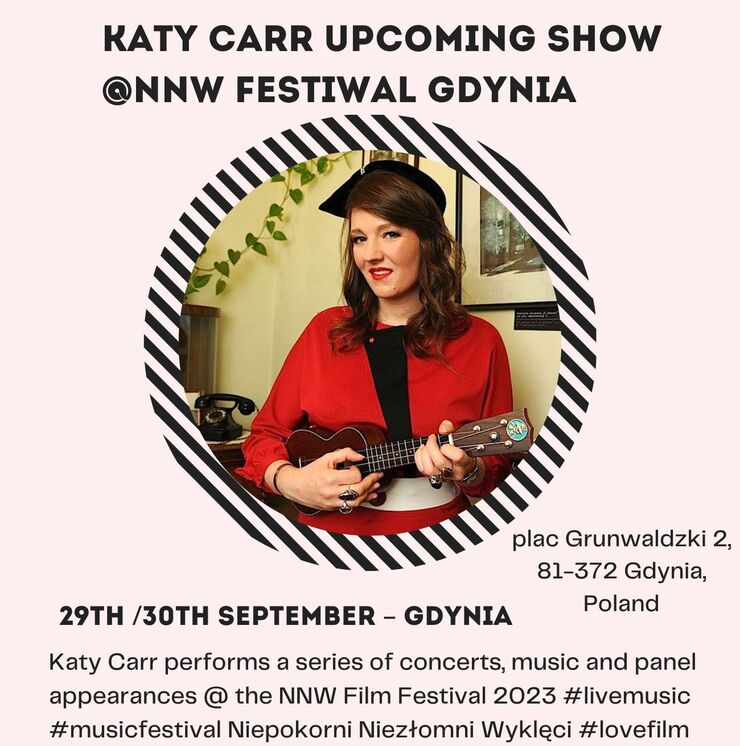 🎵Katy Carr NNW Festival schedule 🎵 🎵Friday 29th Sept 2023 at 17:30 PL time Katy Carr will be performing a special festival concert at address Muszla Koncertowa, plac Grunwaldzki 1, 81-372 Gdynia, Poland – all welcome Saturday 30th Sept 2023 at 14:00 – Katy Carr will be discussing Polish academia at The Gdynia Naval Museum, Zawiszy Czarnego 1B, 81-374 Gdynia, Poland – all welcome 🎵Saturday 30th Sept 2023 at 21:00 – Katy Carr will be performing at the TV Gala concert at the Music Theatre Sala Nowa, plac Grunwaldzki 1, 81-372 Gdynia, Poland – invitation only 🎵Sunday 1st Oct 2023 11:00- I'll be making a special musical dedication for Otton Hulacki at a special service of remembrance for his bravery and honour – all welcome For more direct updates see my social media channels or email me directly info at katycarr dot com 🙂 🎵NEWS UPDATE 🎵 ❤️ A BIG THANK YOU to Wyspa TV Maria and Przemek for awarding me with the Wyspa TV Star of Polish Heritage Award – I am so proud to be nominated and win this prestigious award 🙂 Thank you Wyspa TV! can't wait to host your Gala event next year in 2024 !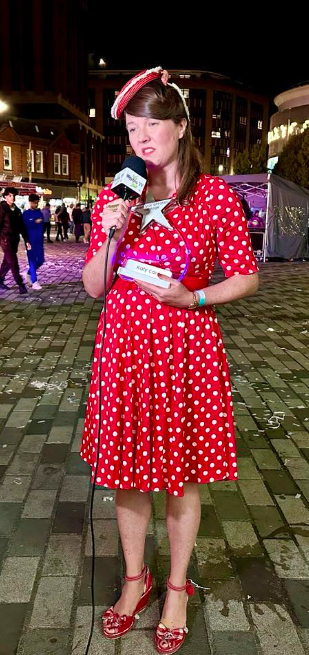 🎵Here I am accepting the Wyspa TV Star Award for Polish Heritage before my concert – what a prestigious moment 🙂 I was so excited!!! fotos Aleksandra Warchol Photography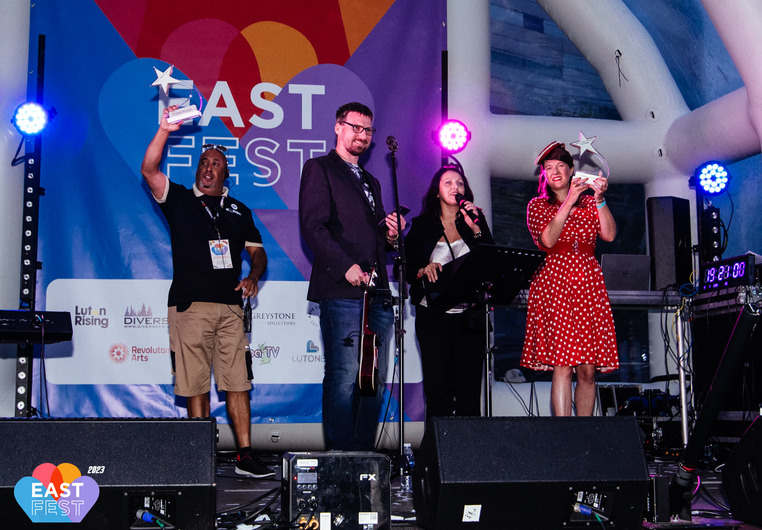 ❤️ A BIG THANK YOU to Sebastian Dolinski and everyone at East Fest for hosting my concert and for the wonderful headline slot – it was wonderful to celebrate Central and Eastern European cultures See you all soon! foto Aleksandra Warchol Photography,
🎵Getting down with bhangra beats !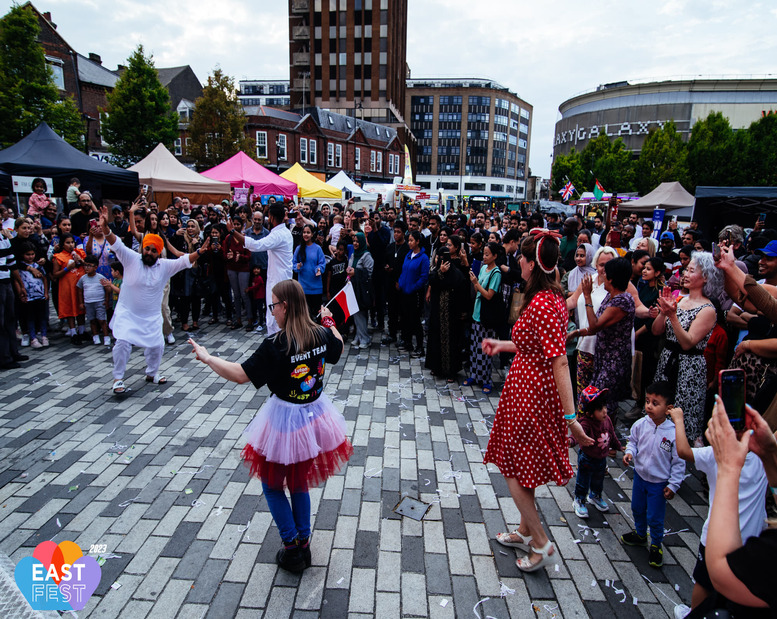 ❤️ A BIG THANK YOU TO THE DAILY ANTIDOTE OF SONG – for having me perform my song Motylek on the Daily Antidote of Song and discussing the story behind it inspired by the Polish Air Force in #WW2 who fought alongside the #royalairforce for 'Our Freedom and Yours' During the Daily Antidote of Song session the participants are invited to learn the artist's song and so my lyrics were made available to all attendees. I wanted to say a big thank you to the wonderful Jo Rasi @carpediemarts for booking me to perform and the incredible musical spirit Shruthi Veena Vishwanath from Pune in India for hosting and encouraging such a deep heartfelt experience and for a discussion on Polish – Indian friendship .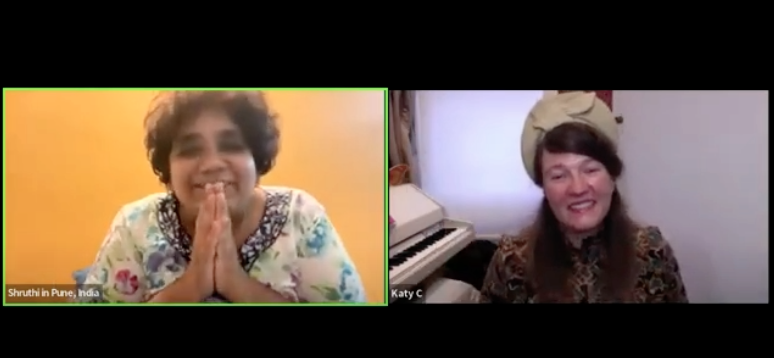 ❤️ A BIG THANK YOU to Rik Palieri for arranging this opportunity. Rik is a great Polish American musician and check out his music if you can:) – if anyone would like to watch the event again please click on this link https://www.youtube.com/watch?v=W-R8Ep4wauo 🎵My song artwork was inspired by the logo for the No. 307 Polish Air Force Squadron, also known as No. 307 (City of Lwów – Lviv) Squadron which was one of several Polish squadrons operating on British soil during the Second World War. Here I am showing the online audience my artwork and lyrics.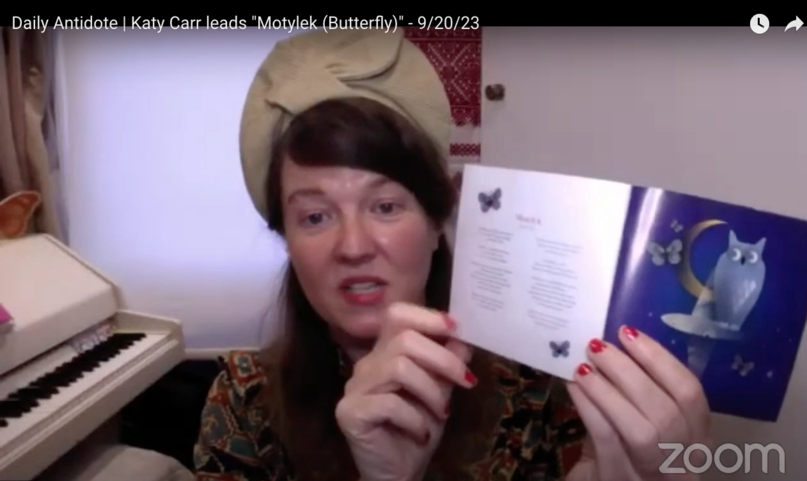 🎵Link to song on bandcamp youtube https://www.youtube.com/watch?v=JrD_zO2aJnwLyrics to MotylekMotylku, gdzie Ty teraz lecisz? Bo nie widzę Twych kolorów i nie widzę Ciebie Motylku, romantyczne mam te słowa dla Ciebie Ale Ty lecisz gdzieś indziej Szukam Cię po Warszawie, na ulicach i w maleńkich kącikach Może jesteś na drzewie czereśni Może jesteś na drzewie czarnego bzu Wróć do Twego kraju i będę Twym na zawsze Motylku, gdzie Ty teraz lecisz? Bo nie widzę Twych kolorów i nie widzę CiebieLyrics translation Butterfly, Where Are you going now? Because I can't see your colors and I can't see you Butterfly, I have these words for you. But you're going somewhere else. I'm looking for you around Warsaw, in the streets and in tiny corners. Maybe you're on a cherry tree Maybe you're on the elderberry tree Return to your country and I will be yours forever Butterfly, Where Are you going now? Because I can't see your colors and I can't see you @Dailyantidote #singalong #community #communitysing #dailyantidoteofsong #singtogether #songleaders #vocalmusic #DailyAntidote #CarpeDiemArts #harmony ❤️ A BIG THANK YOU to everyone at the York Rise Street Party I'm delighted to have been featured in the #CamdenNewJournal performing at The #YorkRise #Festival thank you to Dan Carrier & team for making such a memorable event raising money 4 Castlehaven #foodbank #charity #performance – our local Camden MP Sir Kier Starmer leader of the Labour Party also attended ! foto Camden New Journal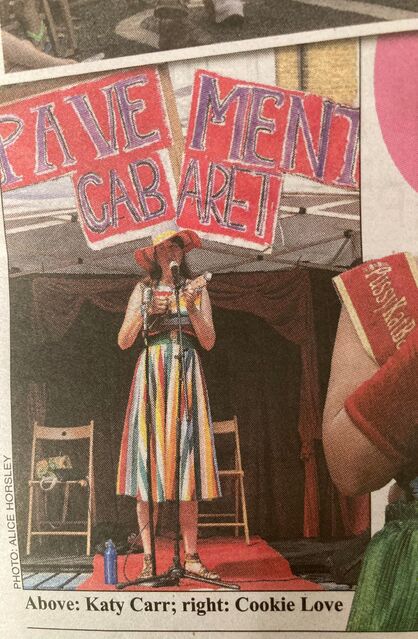 ❤️ A BIG THANK YOU TO The William Blake Congregation, Helen and Stephen Micalef, Adriana Diazenciso, Rachel Searle for an incredible concert at the William Blake Cottage in Felpham – thank you for asking me to perform and can't wait to record my album of music insired by Blake poems – more details about that project coming soon ! Thank you Jill Rock for the lovely photo x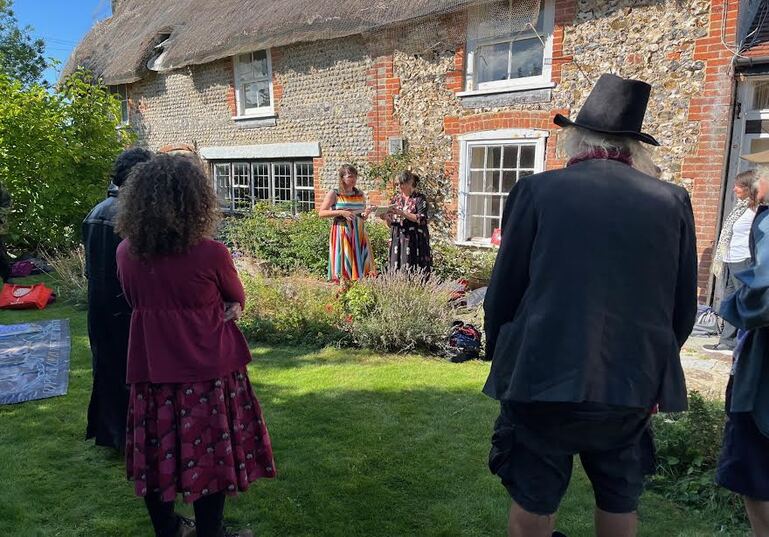 ✨ WE REMEMBER✨
RIP OTTON HULACKI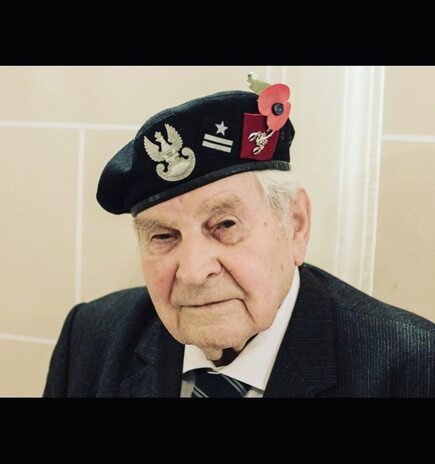 RIP Colonel Otton Hulacki – #WW2 veteran a soldier of General Anders' Polish II Corps, who fought bravely at the Battle of Monte Cassino, Ancona and Bologna – 102 years old we miss you already 🇵🇱 #restinpeace #myfriend #polishhero
FOR OUR FREEDOM AND YOURS — Za naszą i waszą wolność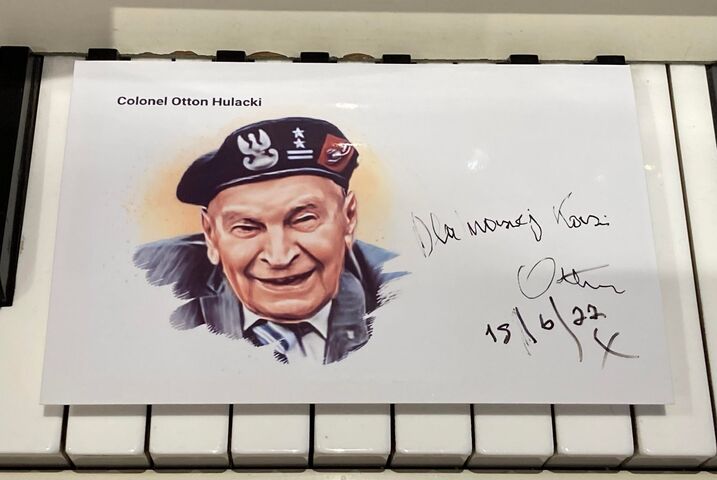 Rest in Peace ✨Colonel Otton Hulacki ✨my dear friend ✨ Otton✨ signed this photo for me ✨
✨'To Our Katy' ✨ it means the world to me because he valued the love for #Poland that we both shared – May the angels guide your soul safely on #wwii #veteran #honour #loyalty #history✨
My dear friend, mentor who was always there to inspire, educate &🎵 sing my songs, here i am singing my song 'Wojtek' with Otton Z Hulacki and 307 Squadron Project and Andrzej Michalski at The D-Day Story With a very heavy heart, I wish you farewell
May the Angels guide your soul safely on ✨✨✨✨…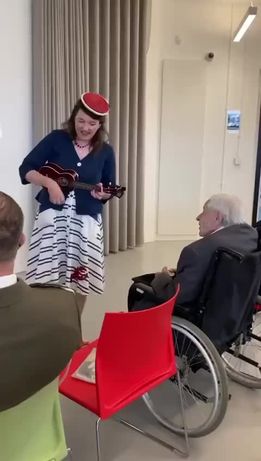 RIP STEFANIA WOJDYLA PALIERI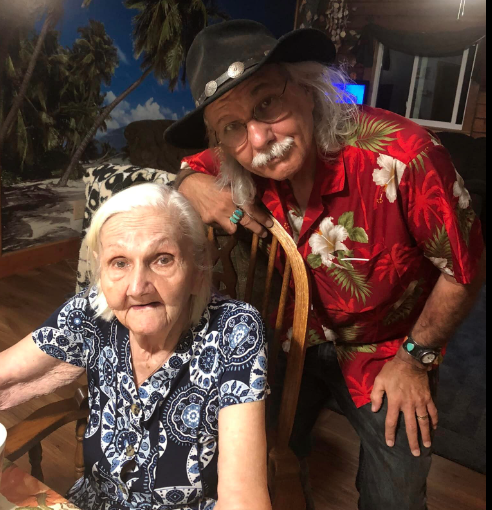 Rest In Peace Pani Stefania 🇵🇱 …. Całym sercem jesteśmy z Wami i Waszą rodziną w tym najtrudniejszym okresie ✨✨✨ Please accept our deepest and most heartfelt condolences at this most challenging time for you and your family. Składam wyrazy szczerego współczucia – I offer you my deepest condolences.
Thank you for the beautiful words Rik Palieri you shared with us for your beloved Mamusia xxx
You must tell the bees There is an old saying that beekeepers know " Deaths, births marriages and news from overseas you must tell the bees." I should have known when the bear started visiting that it was only a matter of time. Yes The bear kept coming back and hard as we tried, he eventually won. Life is like that too, there comes a time when life's circle comes to an end. For the last few years my mother Stephanie Wojdyla Palieri walked that balance of life and death. My sister Tina did everything possible to keep her going and did so for many years. Tina scarified everything for our mom. She was there through it all . Yesterday she had to let her go. When I got the call from my brother David he said mom is leaving us . My mind flashed back to last November when we were last together and that happy day. Tina had put together a grand party while I was Florida. She made it an early Thanksgiving, with a full meal , filled with laughter, storytelling and music. Tina made sure that my mom was dressed nicely looking her best. Mom was having fun as she sat with her family. At 88 she was having good and bad days this was a very good one. I knew this was probably the last time I would see her. I wanted to keep this vision of her in my mind. Yesterday after a long day at the local Fall Festival, I got an message from my wife Marianna who is visiting her sister in California, that told me she just heard from my brother that my mother had passed away and she also heard that the bee hive that we tried to save did not make it. The hive was dead. Perhaps the bear got the Queen as a hive cannot survive with out the queen bee and then she said but perhaps the queen was able to fly away and is somewhere out in nature, building a new colony. We will never know for sure but it's a nice thought. My mom was our Queen Bee and perhaps she too flew away out in the universe and as my sister Lisa said is already up in heaven too. We will never know for sure but it's a nice thought. Rik Palieri
❤️ STAY SAFE AND STRONG ❤️💕Thank you for your continuing support of my music💕Keep in touch ! Lots of love to you and your family i pozdrawam serdecznie✸✸✸✸✸ Katy Carr and the Aviators ✸✸✸✸✸★CHECK OUT MY LINKTREE – https://linktr.ee/katycarr ★❤️❤️❤️★VISIT MY SHOP★ www.katycarr.com/shopPlease support my work by purchasing any of my CDs directly from me – I will write a bespoke, handwritten dedication to you 🙂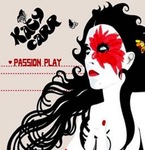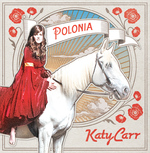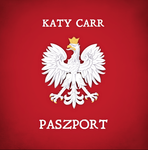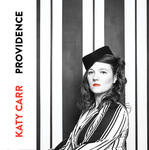 Katy Carr is an award winning British recording artist and has released 6 albums. An Ambassador of Polish History in Great Britain, her recent albums. Paszport (2012), 'Polonia' (2015) Providence (2020) are inspired by the Polish WWII experience. In 2016 Katy was awarded the Pro Patria medal for her humanitarian and musical work.
★ Katy Carr's music quotes ★– 'Carr is a fine example of that much-maligned beast we call Authenticity …' – 'never less than immaculate' Sunday Times Culture Magazine– 'Concept album of the Year' The Guardian– 'Her idiosyncrasy as a musician was meant to follow – even the most avowed labels fight shy of butterflies' – 'She's a true original, standing out like the shine generated by a Swan Vesta applied to a cigarette in the Blackout.' ★Katy Carr's Awards★2016: Nominated Best Concept Album, Polonia, Independent Music Awards2016: Pro Patria Medal (Poland) 2014: Honorary membership, Polish 1st Armored Division 2014: Best Concept Album, Paszport, Independent Music Awards 2013: Nominated for Best Artist, Songlines Music Awards 2013: Polish Daily Award for Culture 2012: Nominated for the National Lottery Good Causes Award2011: Nominated for the London Music Award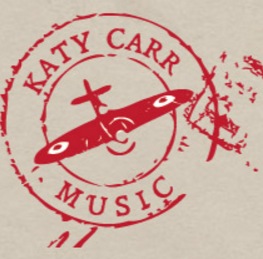 © 2023 Katy Carr. All rights reserved.Illustration and web graphics Susan Burghart © 2023❤️❤️❤️✸✸✸✸✸