★HELLO MY LOVELY FRIEND! ★
Thank you so much for all your kindness and support of my music this month. I've had some exciting events and it has been great to see you again and I am looking forward to sharing them with you.
Below is the moment when John Saunderson from Ostero Music us introducing me on stage at KOKO in Camden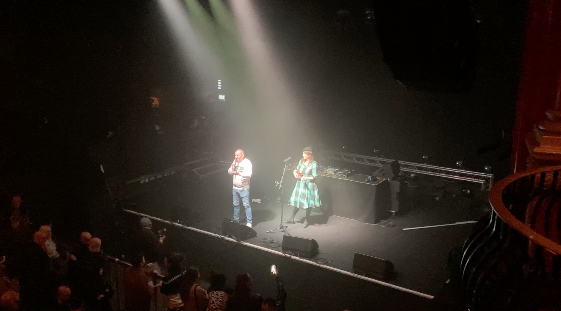 ★NEXT EVENTS★
4th March – Bookery Gallery 10pm – 20 Church St, London NW8 8EP
7th March – Betsey Trotwood, 56 Farringdon Rd, London EC1R 3BL
A most unusual ClerknWell ARTslab is coming to a TUESDAY evening: Tuesday 7 March. With the rough beast that is Dan Antopolski slouching hither, the lo-fi loafing genius of LOVELL, the h-fi beatpoetry of Jash Salter, the musical finesse of Katy Carr, the kinetic glue of Ongoing Gasworks and hapless mutterings of Diego Brown & the Good Fairy. Moosique, comerdee, wurds and kaik at The Betsey Trotwood all for a few quid on the door. Stand out from the crowd. Get stuck in.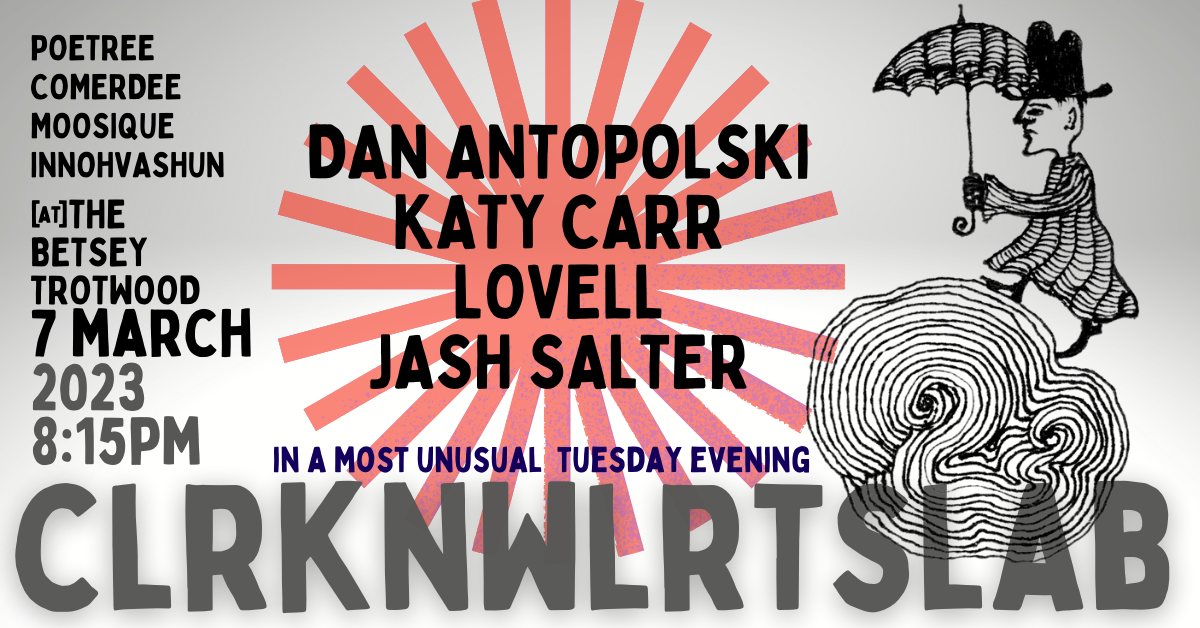 Katy Carr is an award-winning artist with 6 (SIX!) albums to her name. 🤩Come to ClerknWell ARTSlab's most unusual Tuesday evening on 7 March to hear Katy's own songs and some 1930s/40s classics. Upstairs at The Betsey Trotwood. Katy's Paszport (2012), Polonia (2015) and Providence (2020) are inspired by the Polish WWII experience. In 2016 she was awarded the Pro Patria medal for her humanitarian and musical work. Katy shares the evening with comedy beast Dan Antopolski, lo-fi hi-fi dreamers LOVELL, beatspeaker Jash Salter, the versatile Ongoing Gasworks and chumps Diego Brown and the Good Fairy Oh yeah. Cake and oversharing are priced in at the door. 8:15pm.😎
★ WORKSHOPS★
I'm delighted to announce my workshop series 'We Sing Our History' – ,Śpiewamy historię' for Polish Saturday Schools across the UK in cooperation with the Polish Educational Society which celebrates its 70th year anniversary this year. I'm excited to share my songs and help the students to learn the importance of Polish lyrics in the songs and their meanings, as well as learning my own songs which highlight the Polish cooporation towards World Peace and the allied offensive in world war two #WWII #education #history #historymatters For bookings see the posters below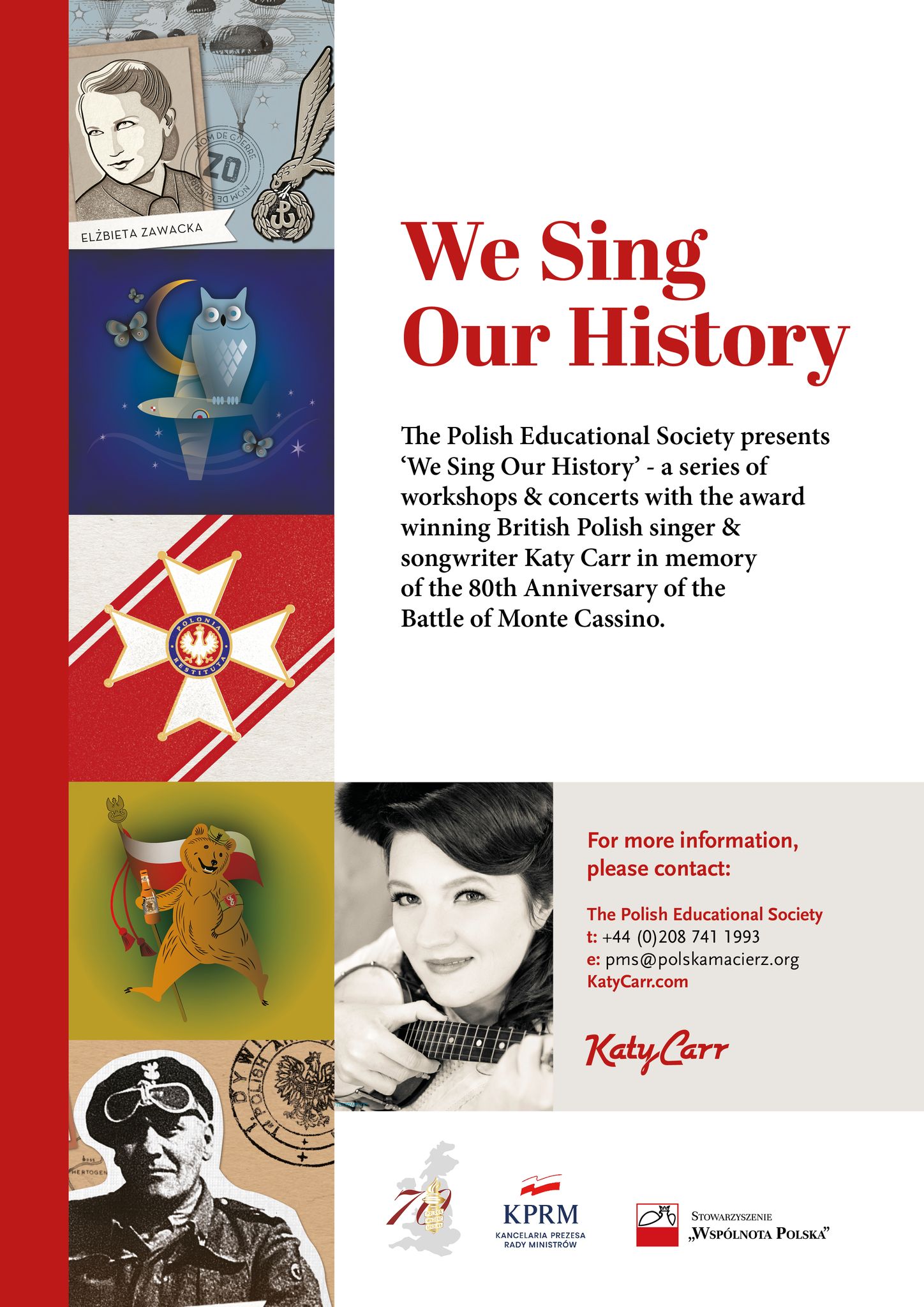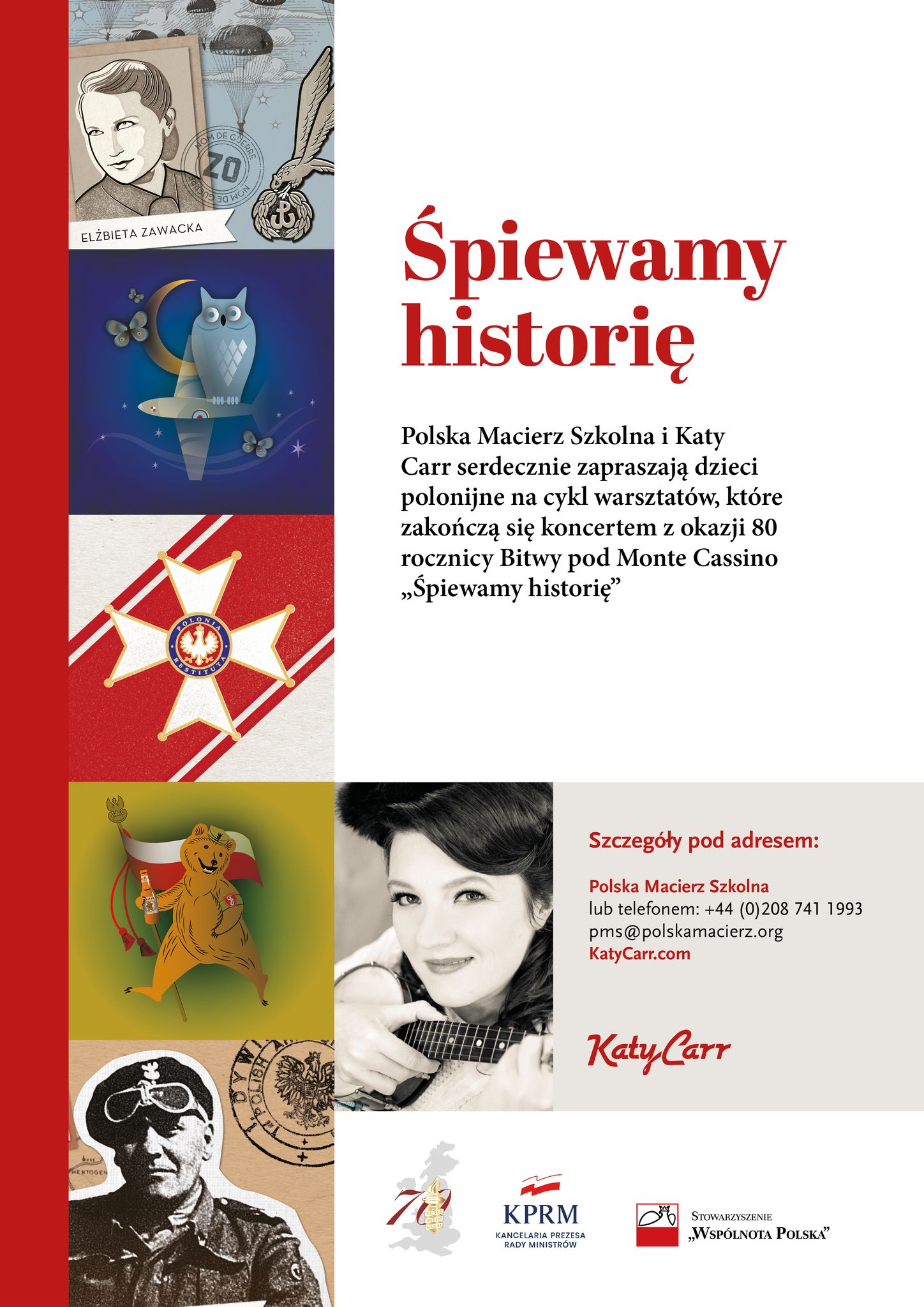 Booking info below :
Szanowni Państwo,Serdecznie zapraszamy na wyjątkowe wydarzenie! Polska Macierz Szkolna wrazz Katy Carr organizuje warsztaty muzyczne dla dzieci i młodzieży "Śpiewamy historię".Podczas zajęć dzieci nauczą się polskich piosenek, a także poznają historię ich powstaniai związane z nimi wydarzenia historyczne.Wspólnie z artystką dzieci będą śpiewały piosenki, bawiąc i ucząc się jednocześnie.Zajęcia odbędą w języku polskim, z możliwością tłumaczenia na język angielski.Warsztaty będą składały się z dwóch sesji po 45 minut każda, jedna dla młodszych dzieci i jedna dla starszych.Koszt warsztatów to 250 funtów od szkoły plus koszty dojazdu.Daty warsztatów:22, 29 kwietnia13, 20, 27 maja3, 10, 17 czerwcaProsimy o wybranie odpowiedniej dla Państwa daty i zapisanie się poprzez linki: ŚPIEWAMY HISTORIĘ – 22.04.2023https://www.eventbrite.co.uk/e/spiewamy-historie-22042023-tickets-538684258117ŚPIEWAMY HISTORIĘ – 29.04.2023https://www.eventbrite.co.uk/e/spiewamy-historie-29042023-tickets-538713204697ŚPIEWAMY HISTORIĘ – 13.05.2023https://www.eventbrite.co.uk/e/spiewamy-historie-13052023-tickets-538718340057ŚPIEWAMY HISTORIĘ – 20.05.2023https://www.eventbrite.co.uk/e/spiewamy-historie-20052023-tickets-538723445327 ŚPIEWAMY HISTORIĘ – 27.05.2023https://www.eventbrite.co.uk/e/spiewamy-historie-27052023-tickets-538746875407ŚPIEWAMY HISTORIĘ – 3.06.2023https://www.eventbrite.co.uk/e/spiewamy-historie-3062023-tickets-538751669747ŚPIEWAMY HISTORIĘ – 10.06.2023https://www.eventbrite.co.uk/e/spiewamy-historie-10062023-tickets-538754658687ŚPIEWAMY HISTORIĘ – 17.06.2023https://www.eventbrite.co.uk/e/spiewamy-historie-17062023-tickets-538756795077
W załączniku przesyłamy plakat promujący wydarzenie.Z pozdrowieniami,Magdalena SynowiecExamination Officer
Polska Macierz Szkolna
★ CONGRATULATIONS★
Congratulations to Polish journalist Anna Dąbrowska who has been honoured an The Polish Senate Award for Journalism for her recent article with myself entitled – 'I am the Voice of those who had no Voice' . Anna related how my songs address the topic of #ancestraltrauma especially with regards the topic of #holocaust #history – Annie Dąbrowskiej za wywiad prasowy z brytyjską piosenkarką Katy Carr pt. "Jestem głosem tych, którzy go nie mieli" opublikowany na stronach Polonijnej Agencji Informacyjnej. Link to award – https://www.senat.gov.pl/aktualnoscilista/art,15245,konkurs-o-nagrode-marszalka-senatu-dla-dziennikarzy-polskich-i-polonijnych-rozstrzygniety.html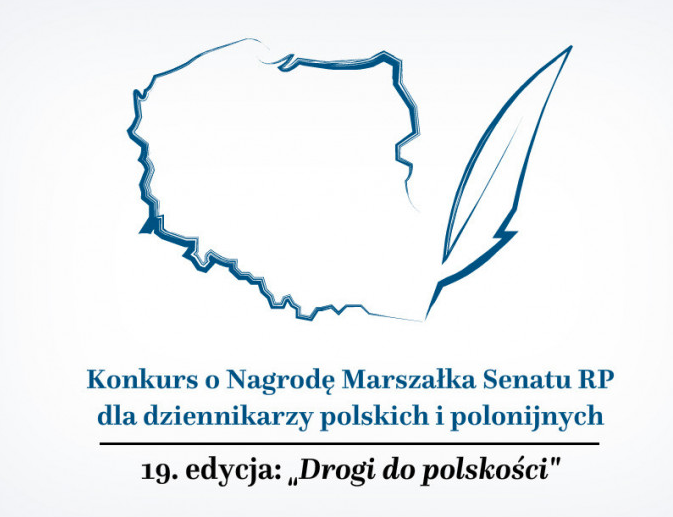 ★ BIG THANK YOU★
OSTEREO MUSIC AT KOKO – thank you to John Saunderson at Ostereo Music for hosting my concert on the occasion of the One Year Anniversary of Russia's invasion of Ukraine. Here I am on stage performing wth blue and yellow lighting. A big thank you also to British music producer Phil De Costa for the introduction.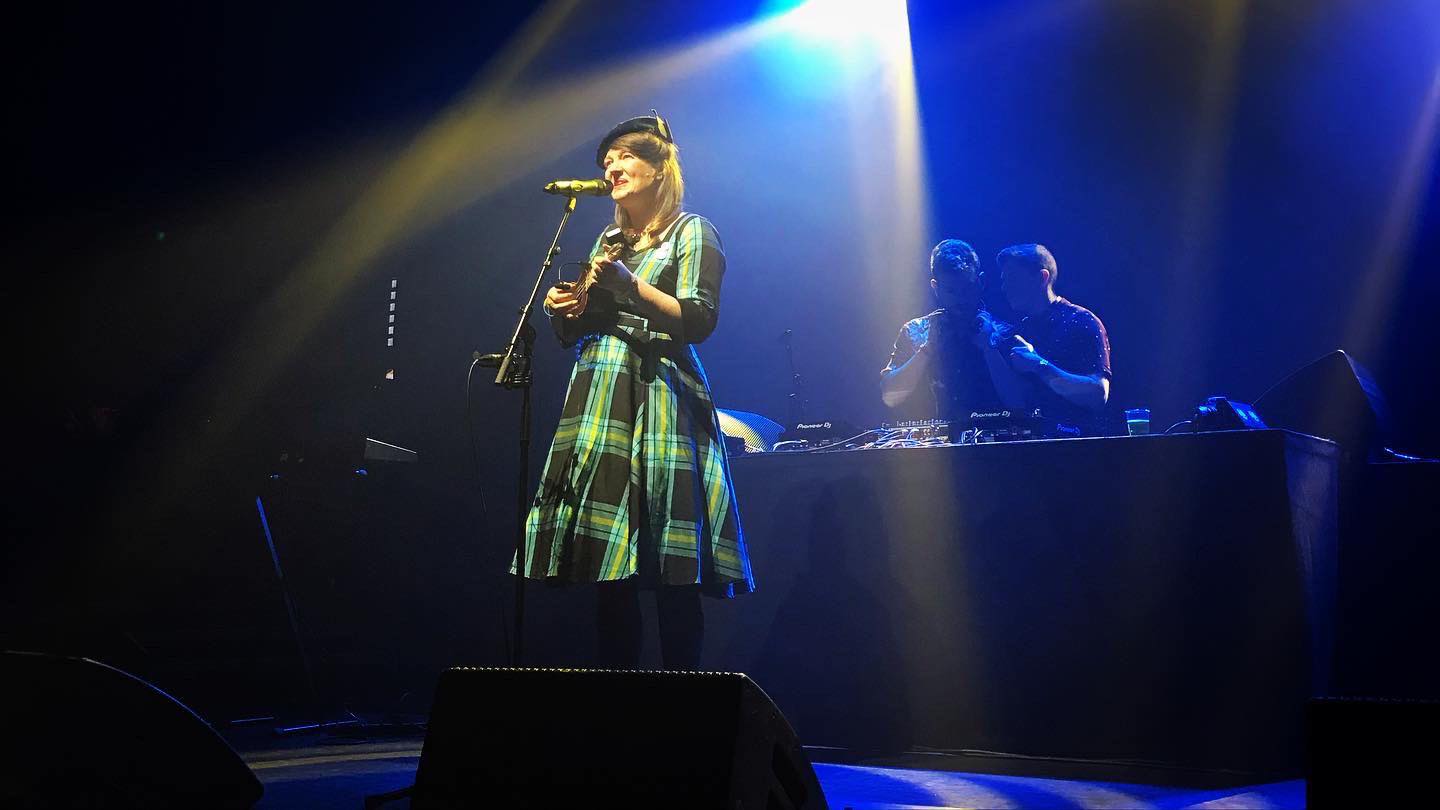 💙💛Foto above courtesy of Tunedin – London and below Primrose Hill Music Management 💙💛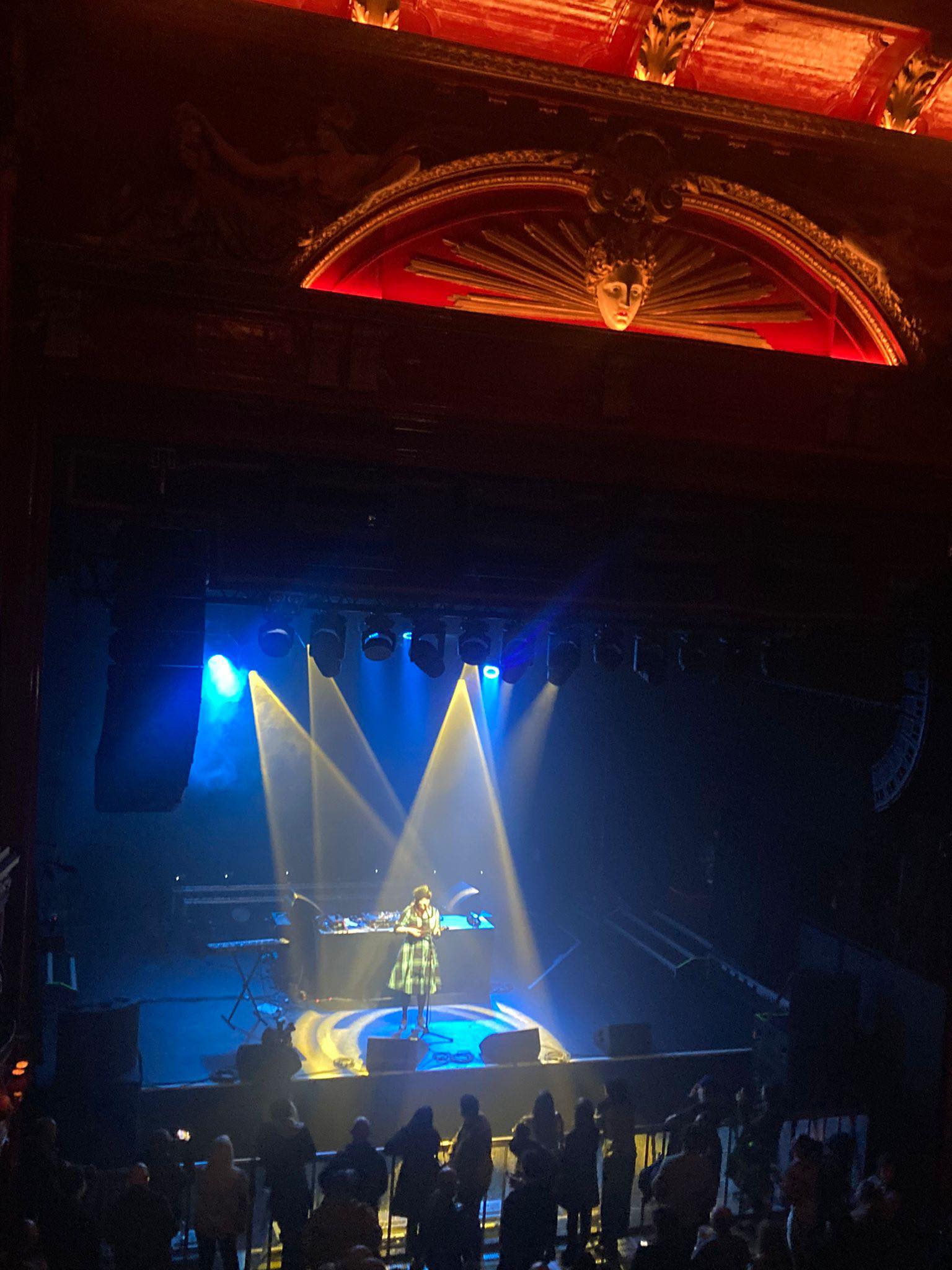 I met some wonderful performers including Girls Next Door with the lovely Miss Pink DJ and singer Maddy V xxx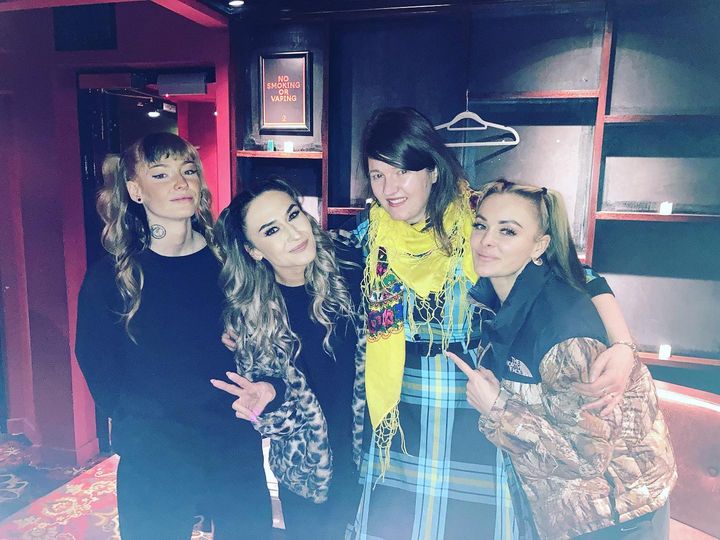 Below with the lovely Nicole Shortland a truly brilliant singer xxx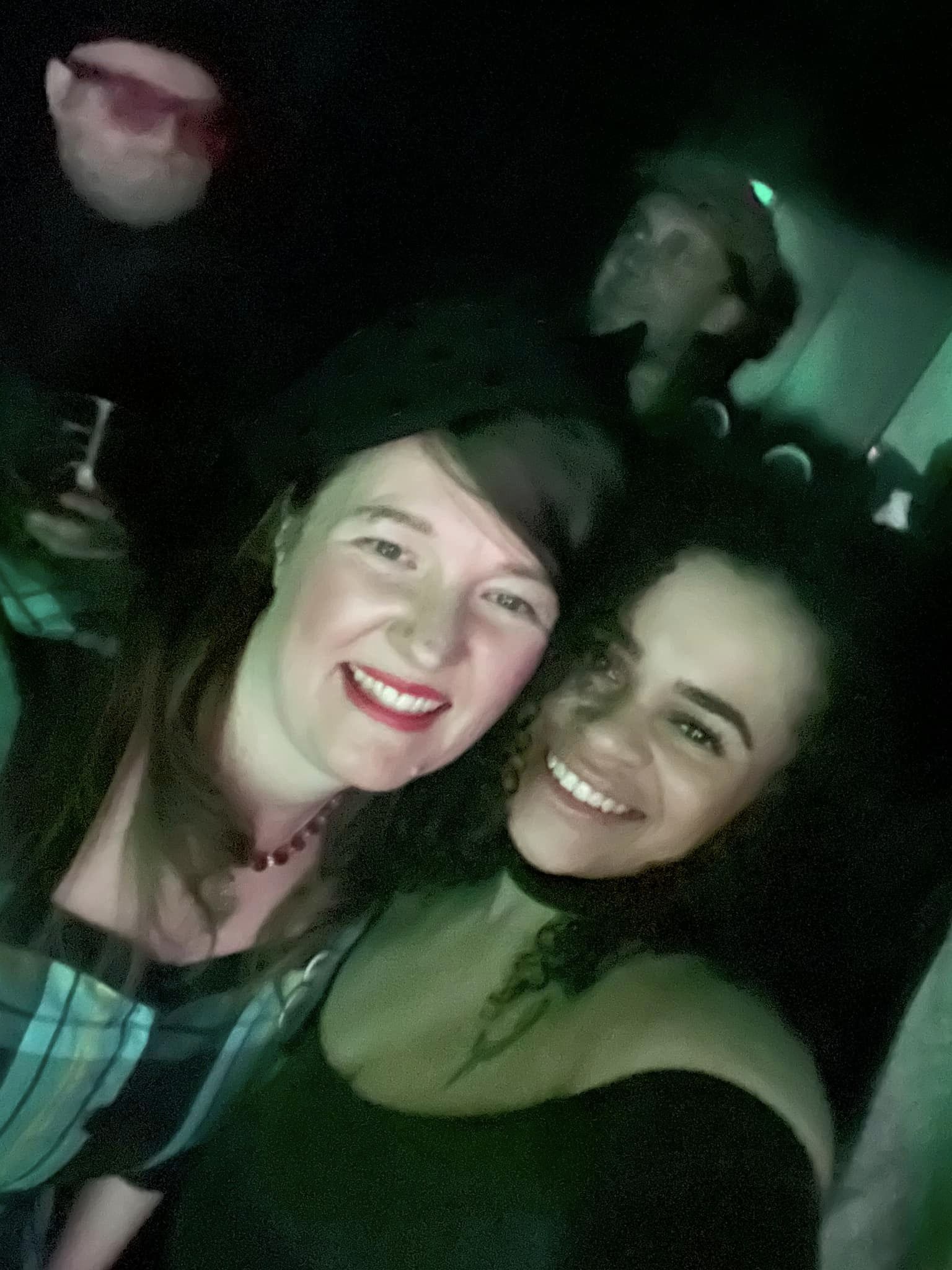 With Angie Stone the great singer xxx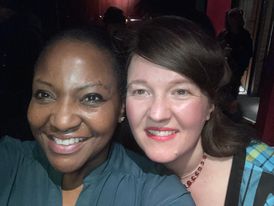 KRESY FAMILY EVENT – I was honoured to be able to perform my music for the Polish survivors of Russia's most notoriously cruel slave labour Gulag camps in Siberia. Below is an article about the event and many thanks to Krysia Jenvey (pictured below) for her great journalism 🙂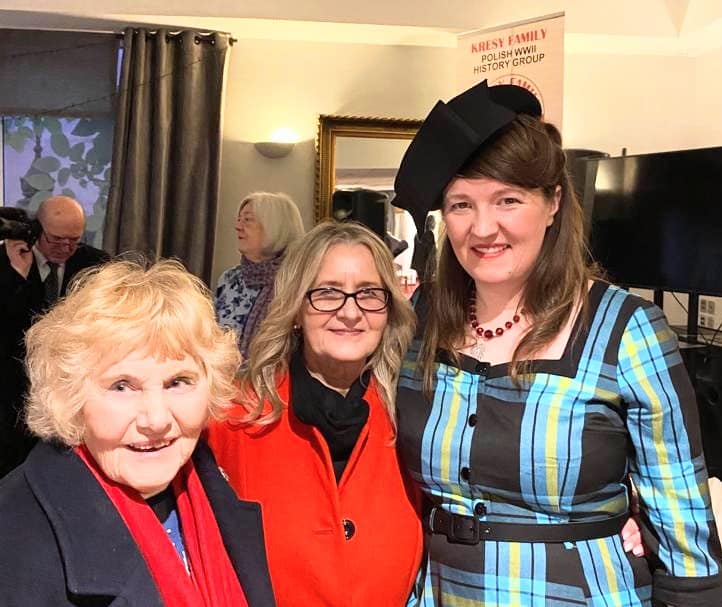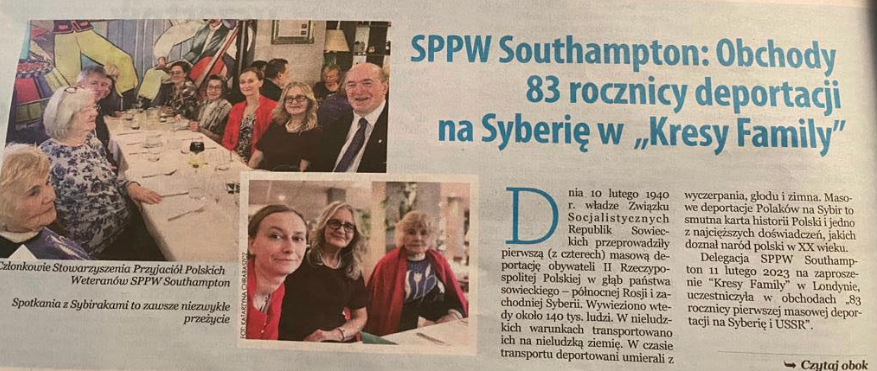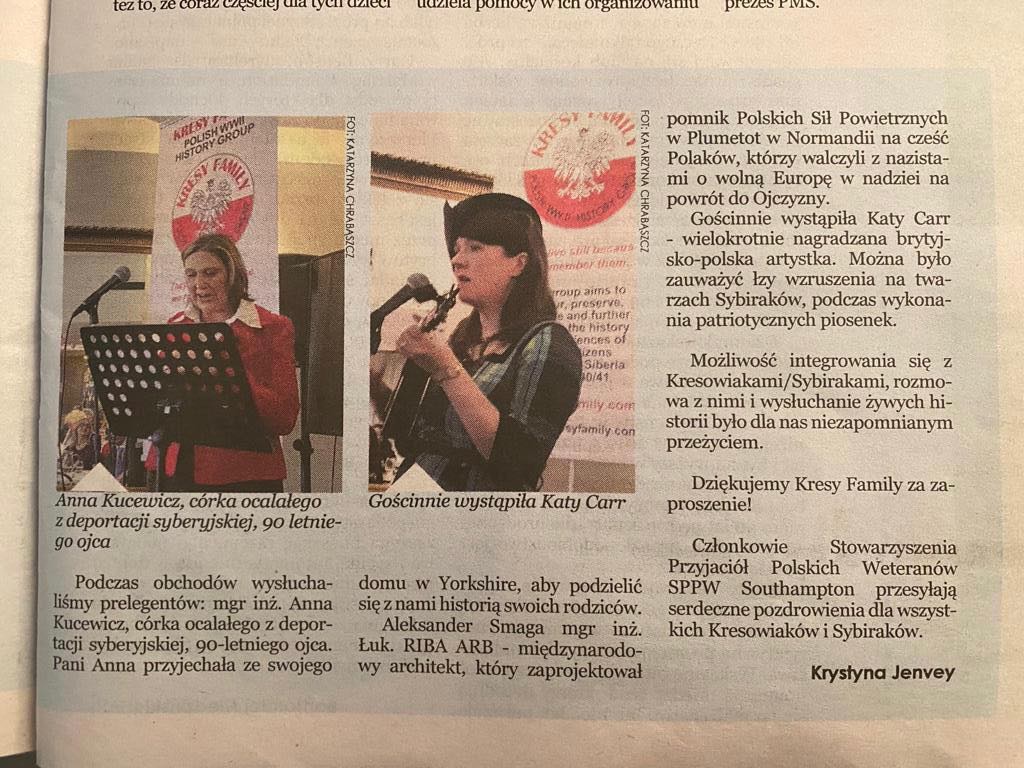 Alexander Smaga RIBA Royal Institute of British Architects – Chartered Architect gave an impressive presentation about his Polish Air Force D-DAY Memorial in Normandy France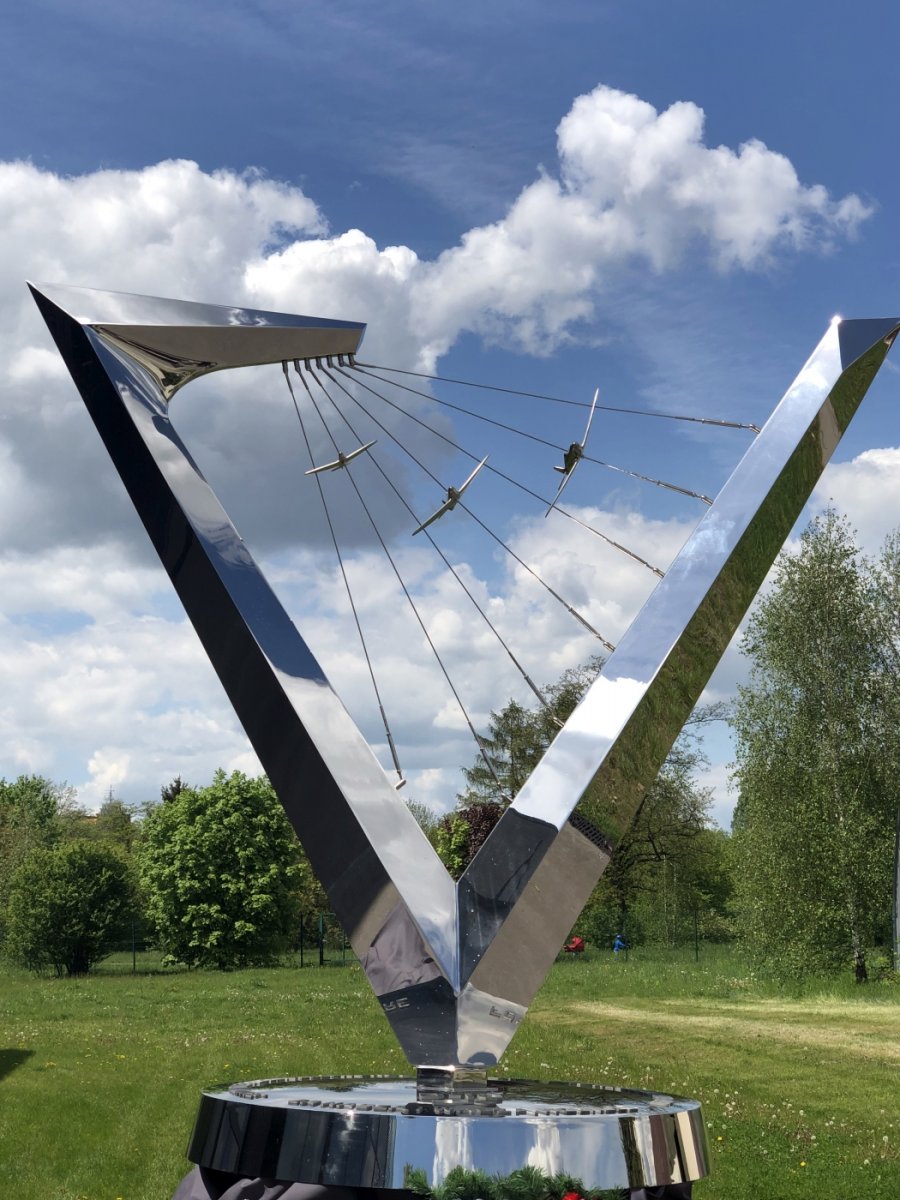 Foto of Alexander by Krysia Jenvey.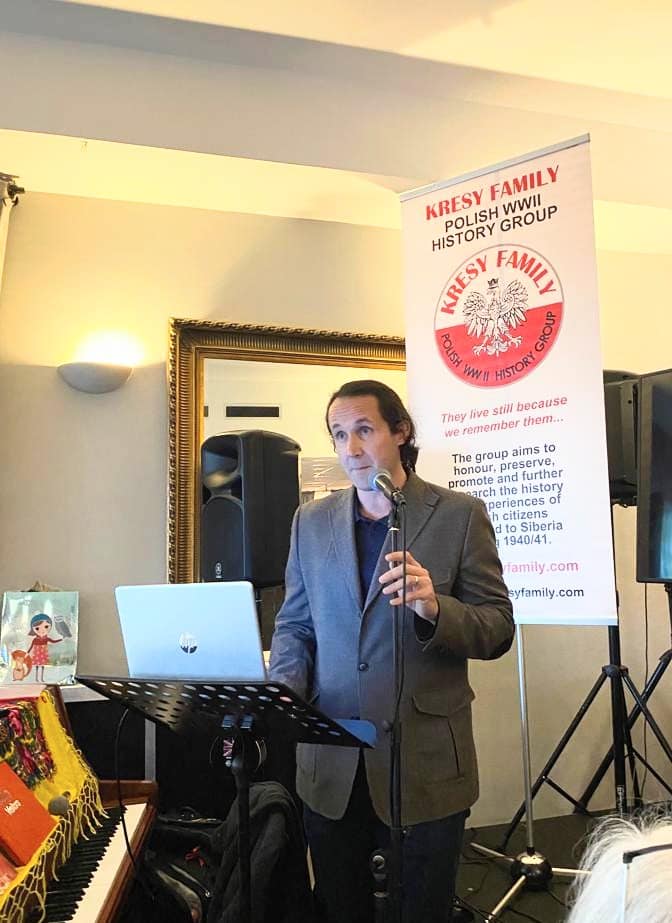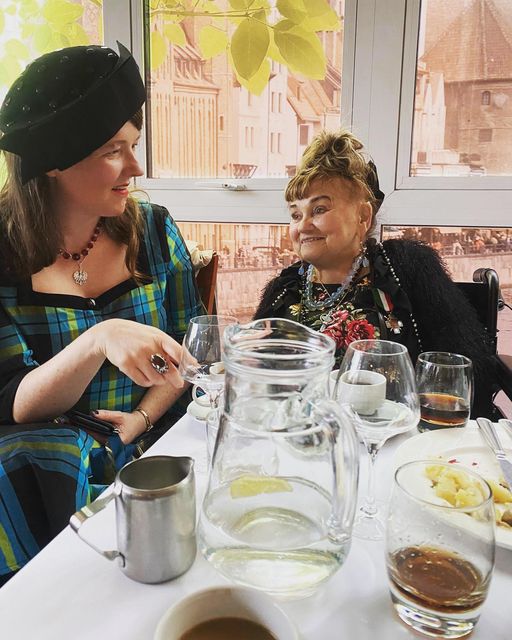 In conversation with the beautiful Pani Jadwiga Zarzycka – my singing inspiration for 2023 – thank you so much to @basia_zarzycka her beloved daughter for taking and sharing this picture – Jadwiga was talking about her time as a kidnapped child stolen by Russian forces in Feb 1940 to work as slave labour in Siberia – which was at that time right in the heart of the Soviet union… The story of the 2 million Poles who were stolen by Russian forces during the Second World War is very misrepresented factor in western history books – this slave trade of innocent Polish people has been near but forgotten only by a few authors who have written about it today. The Russian authorities today have continually refused to create a museum dedicated to the victims of over 400 million people who were murdered in the Russian slave system and Gulags … There are roads made out of human bones in Russia from victims. It is incredible to me that I have the opportunity to sit next to somebody who has survived that horrific ordeal and abusive brutality, and to listen, and to understand what it means to hear songs that I have been singing, which are dedicated to the very seeds of her culture that means so much to her… Jadwiga said to me, 'you are very important to me Katy' I am truly grateful for this beautiful exchange I understand what I have to do as a musician to highlight the forgotten culture of these Polish people and those today in 2020 to 2023 who have undergone such an incredible journey of forgiveness towards Ukraine – housing over 8 million Ukrainian refugees in the last year. Central European history is paramount to our understanding of how the brutality of Russia continues to thrive – we must remember that Russia does not lie within the matrix of Europe. It is not a European nation at all and with 1 million children stolen from Ukraine in the last 12 months Mother Russia promotes a disgusting reality of child slavery that has not been written about in western newspapers I wish that the papers of Britain would write about the stolen children of Ukraine…  #LestWeForget #WeRemember #WeStandWithUkraine #Freedom #FightForFreedom #weloveourfamily #savethechildern With my lovely friend Fashion Designer Basia Zarzycka and her mamusia Jadwiga 🙂 Thank you for my lovely bespoke jewelry gift 🙂 ))))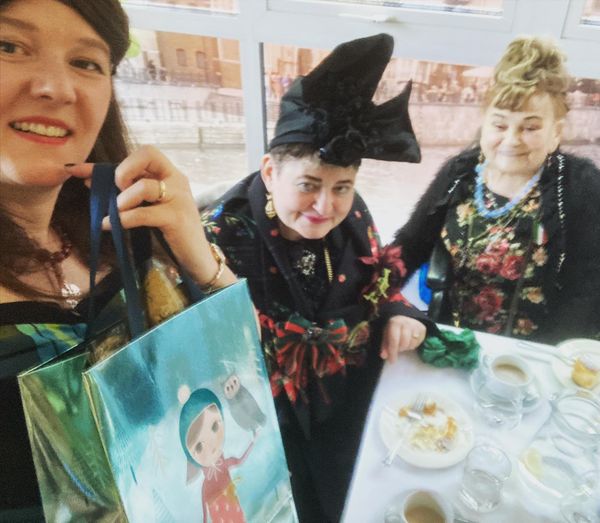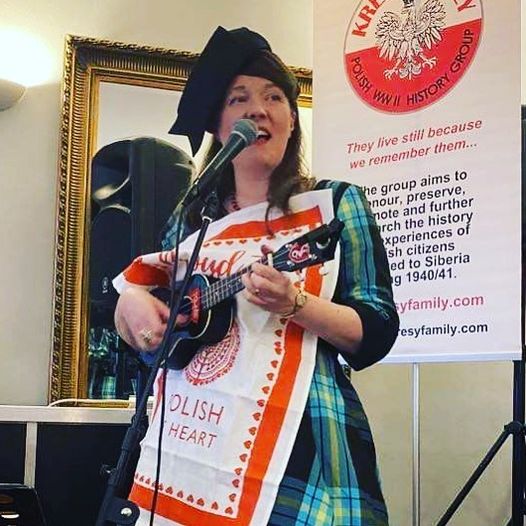 Thank you so much wonderful Anna @polishatheart for the adorable Polish At Heart tea towel – which you gave me at my concert on Saturday @posklondon when I performed for our Polish survivors of Stalin's illegal slave trade during the Second World War. It was an honour to sing for everybody and I absolutely loved performing my song Wojtek trying to wear your towel ! I love Polish At Heart and I am looking forward to cooperating with you this year on an exciting new project xxxxx ❤️❤️❤️❤️💕💕🇵🇱🇬🇧 #community #siberiasurvivors #weremember
WITOLD PILECKI – event at the POSK in Hammersmith. It was a delight to meet author and academic Anna Mandrela. I look forward to an intersting cooperation with her in the near future.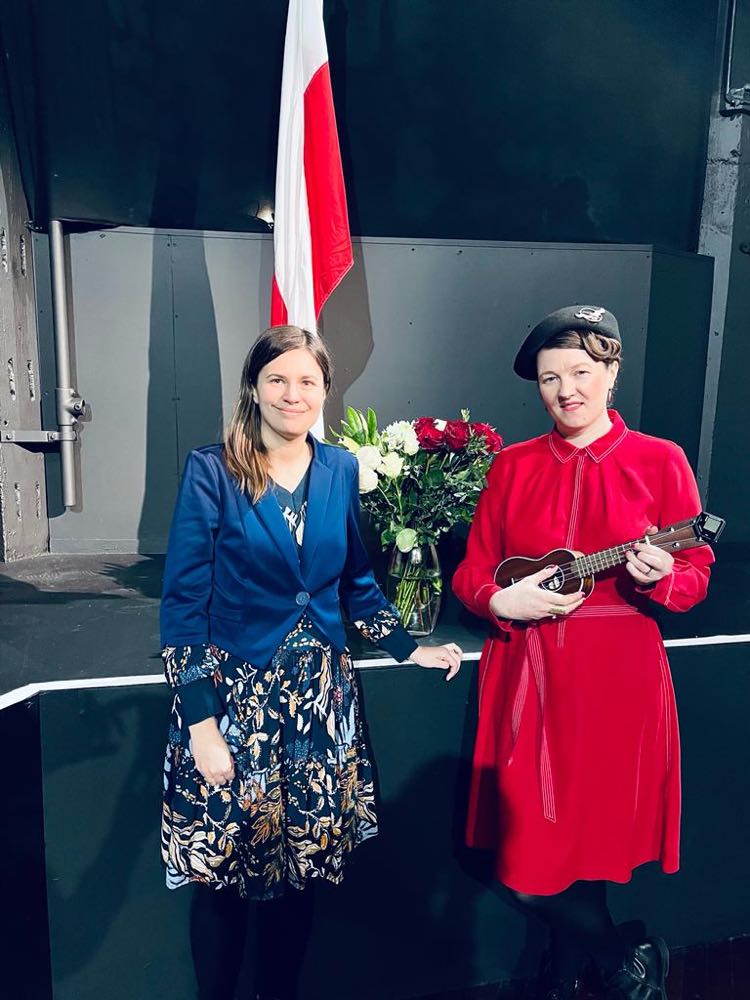 💙💛Below with the lovely Kateryna Kulishova who is an art curator from Ukraine. A refugee herself – Kateryna has been bringing Ukrainian 💙💛art from the warzone and exhibiting it here in the UK. Kateryna is an inspiration to me and a great cultural ambassador of Ukraine. If anyone has a contact to a gallery space who would like to help in anyway let me know 💙💛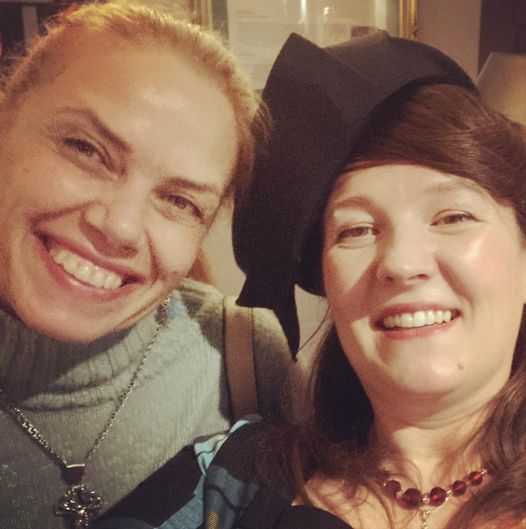 So lovely to see Yvette Poplawska from Belgium on her recent visit to London Town xxxx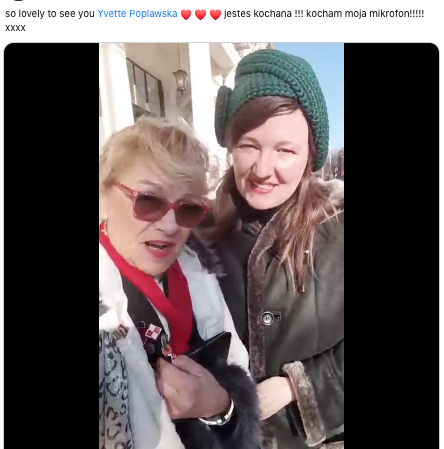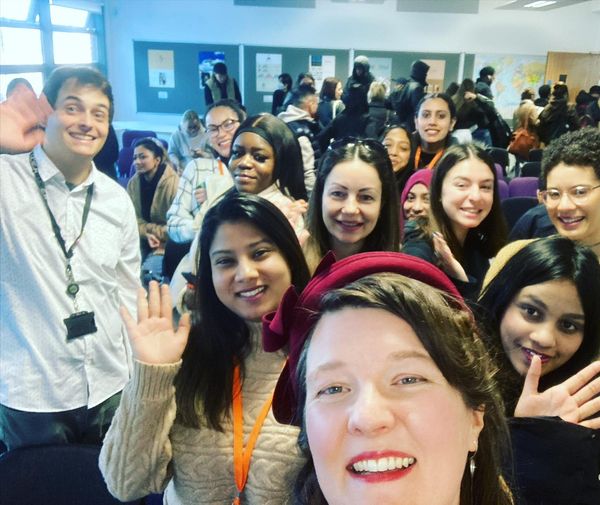 Brilliant workshop we had a great time ! @unicreativearts I was so happy to guide the students through research and development for their creative projects, and hoping that they can take inspiration from Kazik's incredibly brave story – it's amazing to #teach such great students! Big thanks to Leo Burtin for this workshop initiative #music #research #shareknowledge #Poland #university #history #historymatters see you soon !!!! 👩‍🏫🎓🎓🎓🎓🖋️🖋️🖋️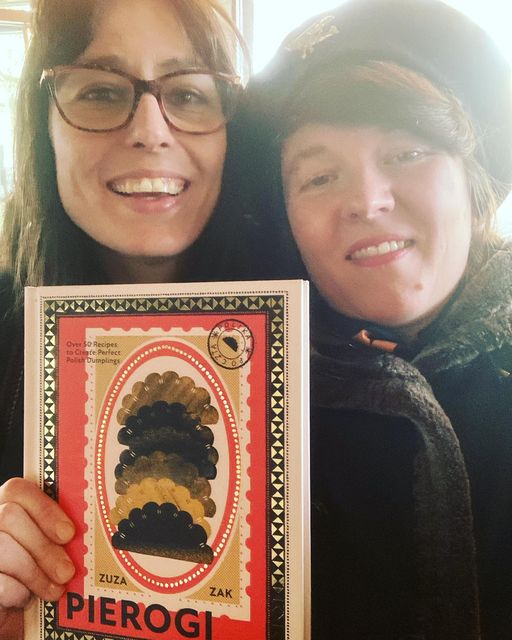 With the beautiful @zuzazakcooks thank you so much for the most wonderful present – your book on #pierogi #SMACZNEGO ! #bonappétit mniam mniam – what are delightful read ❤️❤️❤️❤️❤️❤️🙏🇵🇱🇵🇱🇵🇱🇵🇱🇬🇧🇬🇧🇬🇧🇬🇧 I LOVE THIS BOOK 📕 #greatread #cookingbook #author #foodies #polishfoodie
💙💛Below with my beautiful Ukrainian sister Kateryna. We are so excited to be working on music together again so watch this space for news on our cooperation 🙂 💙💛
💙💛WE REMEMBER EVERYONE IN UKRAINE AND OUR ABSENT FRIENDS💙💛
We pray for Peace and for the safe return of the ONE MILLION children who have been stolen from our borders.
We pray for the souls of all the children who have tradically lost their very young lives RIP
May they rest in heavenly peace.
Below a picture of the Ukraine Flag 💙💛projected on the Russian Embassy in London on 24th Feb 2023.
Russia is a Terrorist State. Russia's war and warcrimes have bought terror to Ukrainian civilians in 2022/2023.
#weremember the innocent RIP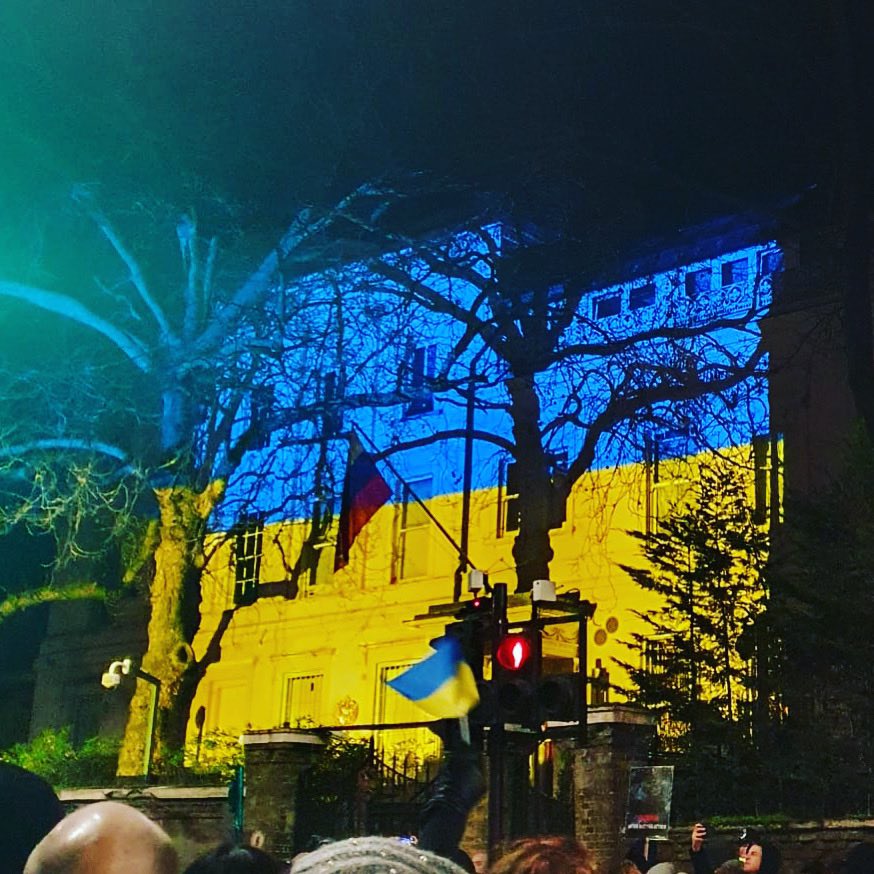 A moving tribute of toys for children who have lost their young lives in the war in Holland Park, London💙💛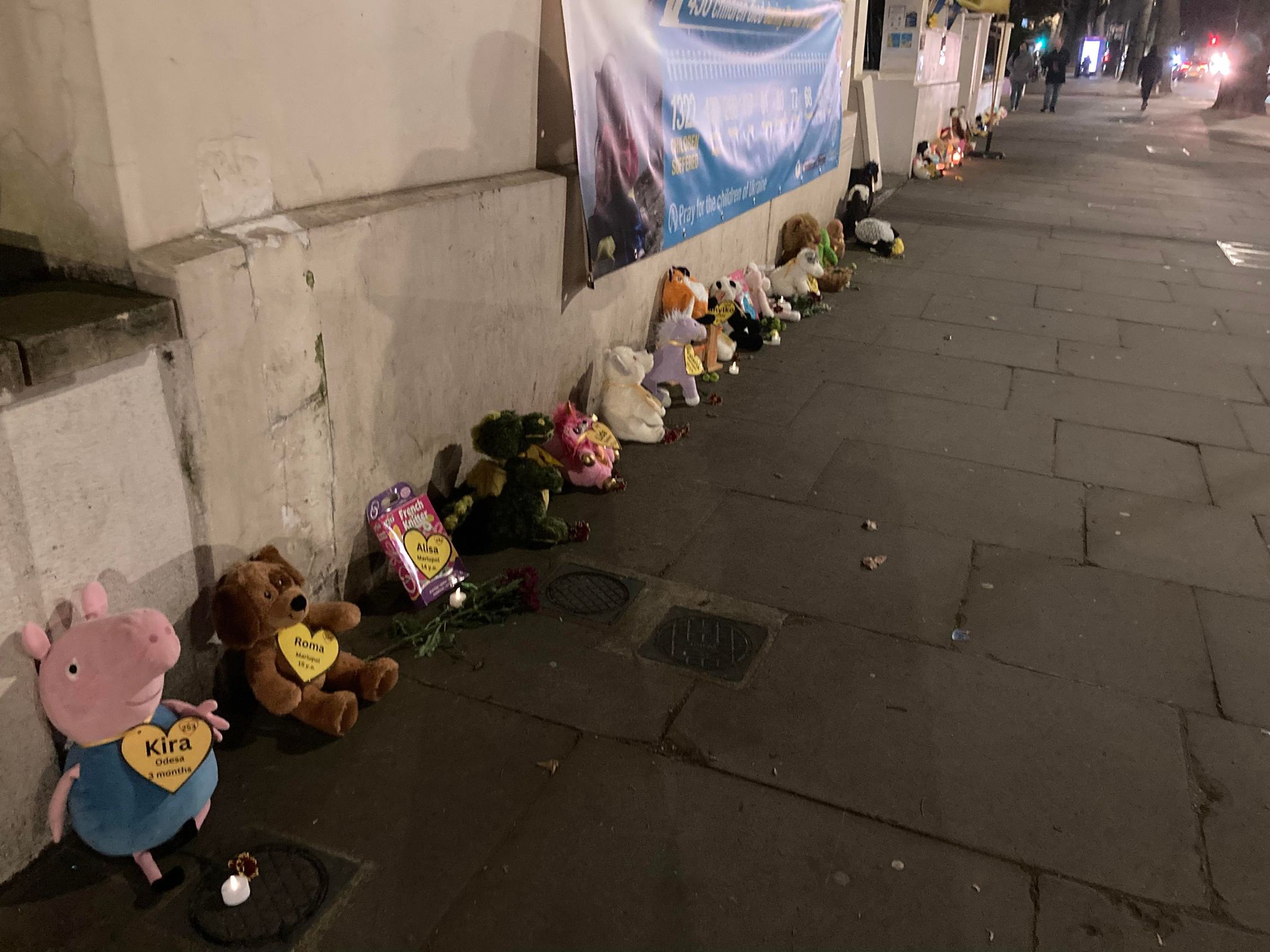 💙💛💙💛💙💛💙💛💙💛💙💛💙💛RIP 💙💛💙💛💙💛💙💛💙💛💙💛💙💛💙💛💙💛💙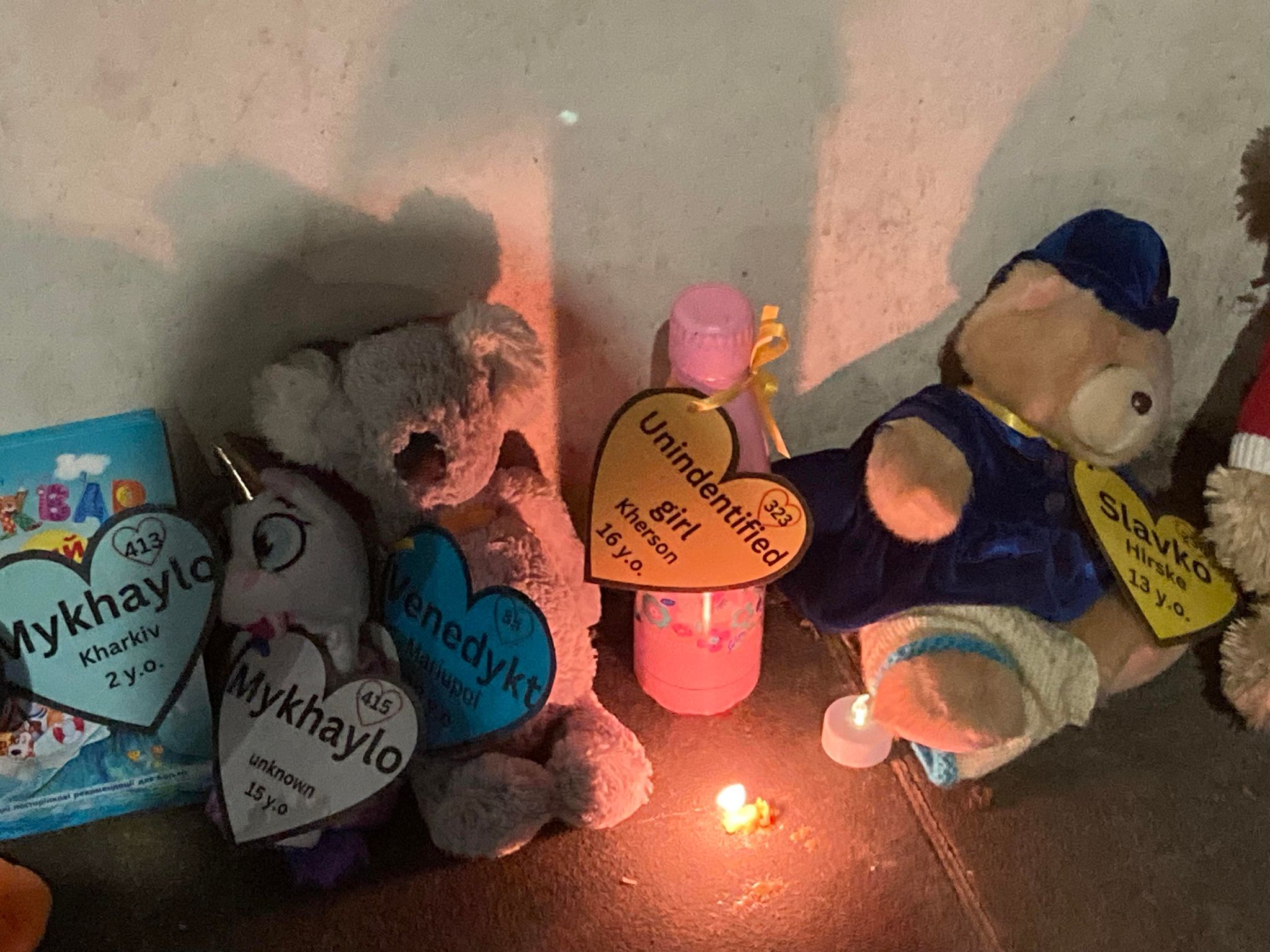 💙💛💙💛💙💛💙💛💙💛💙💛💙💛💙💛💙💛💙💛💙💛💙💛💙💛💙💛💙💛💙💛💙💛