★Hello lovely friend! ★Thank you for all your support and care of my music. In this autumn newsletter I'm sharing some of the lovely memories and people I have met over the past couple of months, over the summer period. Every interaction I have with my friends, fans and family leads me to a creative experience and realisation of my music 🙂 I am delighted to share wiith you that I was awarded the PoEzja Polish London Poetry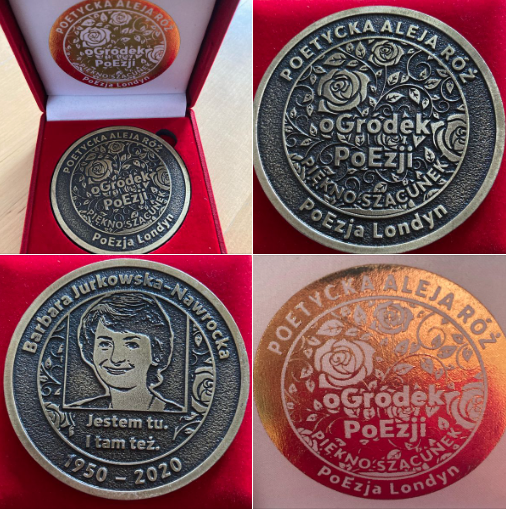 Award for my 50 songs and poetry inspired by the WWII experience in Poland 🇵🇱 – Poetycka Aleja Róż Ogródek Poezji Londyn, As you know it has taken a lot of soul and heart ❤️ to self release as an independent musician with many obstacles to climb including learning the Polish language from scratch – a tough route and crash course into the Polish culture scene however with perseverance, determination and heartbreak, tears and isolation it has been possible – I would say to any artist wanting to create / keep going 🙂 Imagination is so important – Albert Einstein once wrote, 'Imagination is more important than knowledge. Knowledge is limited. Imagination encircles the world." This quote perfectly captures the power of imagination to achieve your dreams however difficult they may seem… A special thank you so much PoEzja Londyn – Marta Brassart, Eliza Szadkowska and Adam Siemieńczyk xxx
★CONCERT NEWS ★ Below are some of the dates coming up 🙂 15th Sept : Wood Fest 2022
Katy Carr is excited to be headlining the International Ukulele Festival
Address : Colliers Wood Community Centre 66-72 High Street Colliers Wood Postcode SW19 2BY Tickets £10 link or buy on door on night : https://www.eventbrite.co.uk/e/woodfestkatycarrColliers Wood International Ukulele Orchestra presents WOODFESTColliers Wood International Ukulele Orchestra are back with another fundraising evening in aid of three amazing local charities – Deen City Farm, Merton Vision and Jigsaw4U. The evening features local singers and groups – saxophone ensemble 'Side Hustle', Irish music from 'Rolling Waves, Blues from Dr Slideshow, singer songwriter Katy Carr and of course the Ukulele Orchestra and a DJ to make sure you end the night dancing! There is also a raffle with some amazing prizes. Tickets are £10 (plus booking fee) and drinks and snacks will be available to purchase.Tues 4th October at 6pm GMT online – I will be joining the Daily Antidote of Song – tune in here https://www.facebook.com/DailyAntidote and singing my song Kommander's Car marking the birthday of Kazik Piechowski born 3rd Oct 1919 – 15th Dec 2017 RIP and 2022 marks the 80th Anniversary of Kazik's infamous escape from Auschwitz. The session will be hosted by Rik Palieri the US Songwriter and performer with Polish roots famous for his passion of the Polish bagpipe tradition. A multi instrumentalist, storyteller and member of "The Mythical Order of The Rose Tattoo", Rik lives the musical life to the fullest 🙂 All welcome! Watch my previous online concert here inspired by Wojtek the Bear 🙂 https://www.facebook.com/DailyAntidote/videos/748371036228701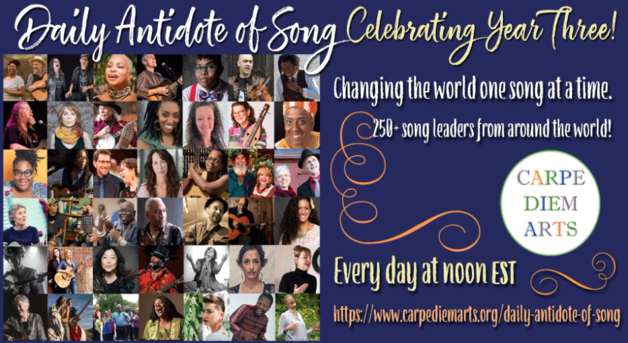 22nd Oct Crowne Plaza, Stratford Upon Avon (Private event invite only).★KATY & MARY PRESENTS TV SERIES★
We have been continuing our TV series Katy & Mary Presents in Poland … For those of you who would like to watch our previous episodes click our Katy & Mary Presents – playlist link : https://youtube.com/playlist?list=PL4FUeH-sAXLKdu9nOdVrZoq7p0mrXUjsz
Episode 9 : Katy & Mary Presents : 'In the Name of the Their Mother's'
It was a great honour to present with the US Film Director Mary Skinner an episode of Katy & Mary Presents : 'In the Name of the Their Mother's' film screening and song performance on the commemoration of the German invasion of Poland in 1939 at the Warsaw School of Foreign Languages – Szkół Stenotypii i Języków Obcych w Warszawie, ulica Ogrodowa 16. The students and staff made a special day for us and afterwards we were interviewed by TV Polonia about our work together. Thank you to the Kulczycki Family for making this event happen 🙂
Links : TV Polonia Interview : Listen to our interview on #tvppolonia telling about our love of Poland and Polish roots : https://polonia24.tvp.pl/62193645/gosc-programu-mary-skinner-i-katy-carrJedna o Polsce śpiewa, druga opowiada o niej filmem. Katy Carr i Mary Skinner – Brytyjka i Amerykanka, obie o polskich korzeniach, współpracują od dawna. Ale po raz pierwszy spotkały się w Warszawie, by o swojej twórczości rozmawiać z uczniami stołecznej szkoły. O Polsce śpiewa, myśli i ma ją w sercu. Dziś Brytyjka o polskich korzeniach w Warszawie uczestniczyła w uroczystościach upamiętniających rocznicę agresji Niemiec na Polskę. W stolicy spotkała się z amerykańską reżyser o polskich korzeniach, Mary Skinner. Artystki, choć dzielą je tysiące kilometrów, wspólnie tworzą podcast, w którym rozmawiają o Polsce.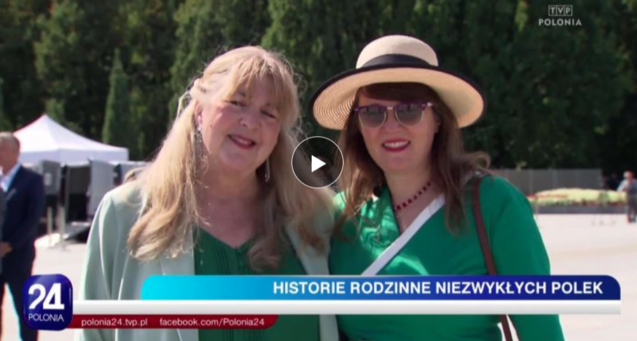 Blog post with photos of visit to the school on the website here : https://ogrodowa.edu.pl/irena-sendler-in-the-name-of-their-mothers-spotkanie-z-mary-skinner-i-katy-carr/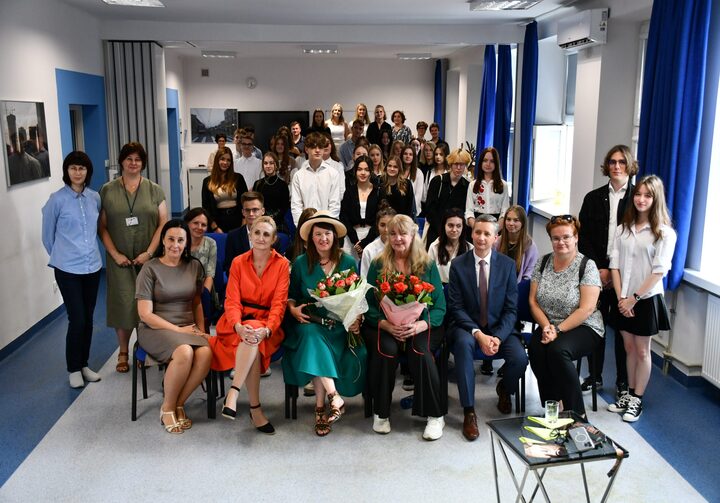 Katy Carr being interviewed on 1st Sept 2022 on TV Polonia at the Unknown Soldier Memorial in Central Warsaw. I am standing on the iconic site which used to house the beautiful Saski Palace before the Germans and/ then Soviets during and post WWII in the next reign of Cold War Terror flattened the beautiful City of Warsaw – previously know as Paris of the North – the result of barbarism and totalitarian dictatorships which as we all know did not only include the destruction of building but also the slaughter and murder of millions of innocent Polish citizens…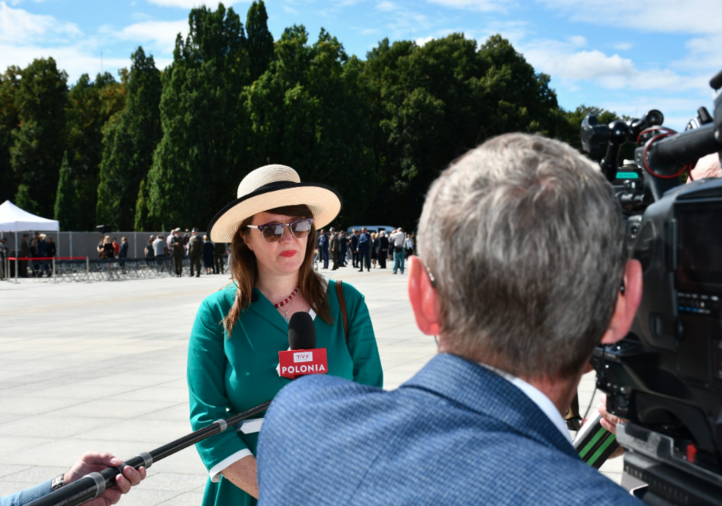 Episode 10 : Katy & Mary Presents : 'Barka and the gift of Polish hospitality'
We were honoured to be invited to spend time with Barbara Sadowska, Director of the Fundacja Pomocy Wzajemnej Barka in Poznan and perform an event for the Ukrainian refugees being housed at Barka HQ in Poznan. We offered a film screening and song performance event and it encouraged debate, understanding, shared history discussion and singing.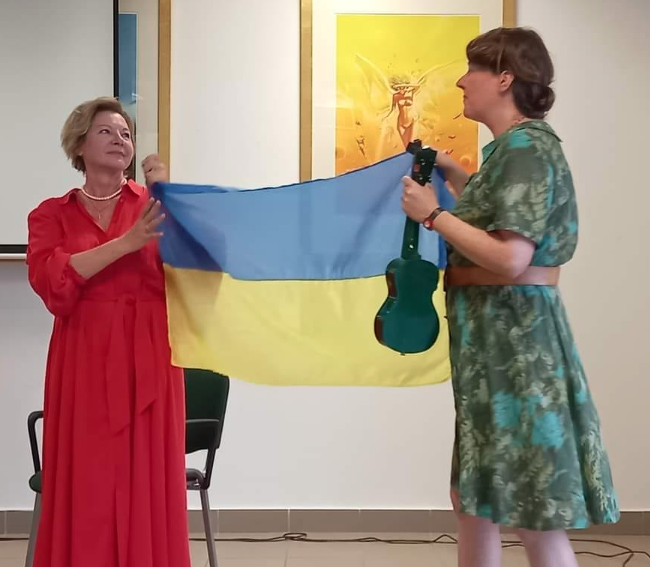 RAZEM ARTICLE
Thank you to Magdalena Dziurdzik for an amazing interview and article. Magda is the editor-in-chief of the educational magazine "Young Friends Together" (Razem Młodzi Przyjaciele) published by the Polish Educational Society in London. The magazine is dedicated for polish students attending Polish Saturday schools in the UK and presents profiles of famous and inspiring people. I thank #Razem educational magazine for the Polish School network and for this wonderful front cover and article concerning the musical inspiration behind my songs written to inspire a discussion on the #healing and #trauma of our #ancestors.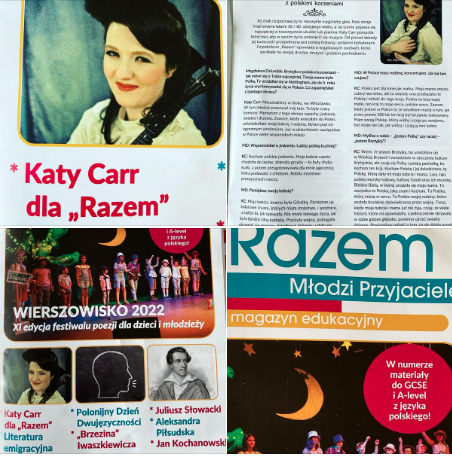 ★VISIT TO BARKA POZNAN★ Singing Chervona Kalina Ukrainian Folk Song – Hey Hey Rise Up with the Ukrainian refugees at the Barka Centre of Help for the Homeless with Basia watch the performance here https://www.facebook.com/100057194984718/videos/pcb.554120719837756/928011661488383Below left to right – Evgeniya Pivovarova (Ukraine), Basia Sadowska (Director of Barka), Mary Skinner (US Film Maker), Żenia (Ukraine)Katy Carr (British songwriter)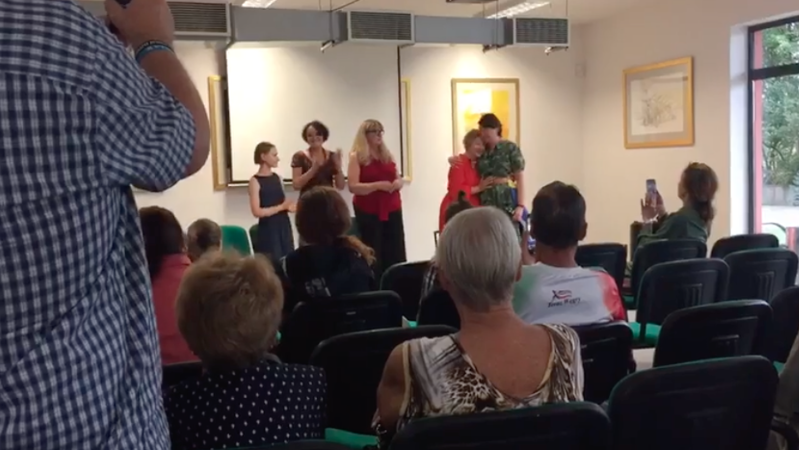 Wczoraj w Fundacja Pomocy Wzajemnej Barka odbyło się niezwykłe spotkanie z trzema charyzmatycznymi postaciami: 1. Mary Skinner producentka filmowa polskiego pochodzenia z USA, autorka przejmujacego filmu o Irenie Sendlerowej i Jej współpracownikach, którzy w warunkach wojennych dorastają do pełni swojego człowieczeństwa: narażając własne życie ratują z getta 2500 dzieci żydowskich. Ten film Mary Skinner zaprezentowała wczoraj w Barce. 2. Katy Carr artystka i piosenkarka z UK, polskiego pochodzenia, przyjaciółka Barki, śpiewa pieśni patriotyczne o czynach bojowników i podtrzymuje pamieć o bohaterach, którym zawdzięczamy wolność. 3. Evgeniya Pivovarova z Ukrainy, polskiego pochodzenia, przebywa w Polsce od 4 miesięcy. Jej babka, Anna Poniatowska, nauczyła ją j. polskiego i "Ojcze Nasz". Pracuje w Barce. Była dyrektorką wydziału kultury w regionie Chmielnicki na Ukrainie. Swoją postawą podtrzymuje w siostrach i braciach z Ukrainy wiarę w zwycięstwo i wolną Ukrainę. Posłuchajcie ich pieśni. Łączy nas wspólna historia, wspólny los, jesteśmy ze sobą powiązani i sobie potrzebni.★CONGRATULATIONS★ Thank you to Marta, Adam @ PoEzja Londyn for putting on such a wonderful event and thank you so much for my wonderful poetry award which has really lifted my creative spiritsxxx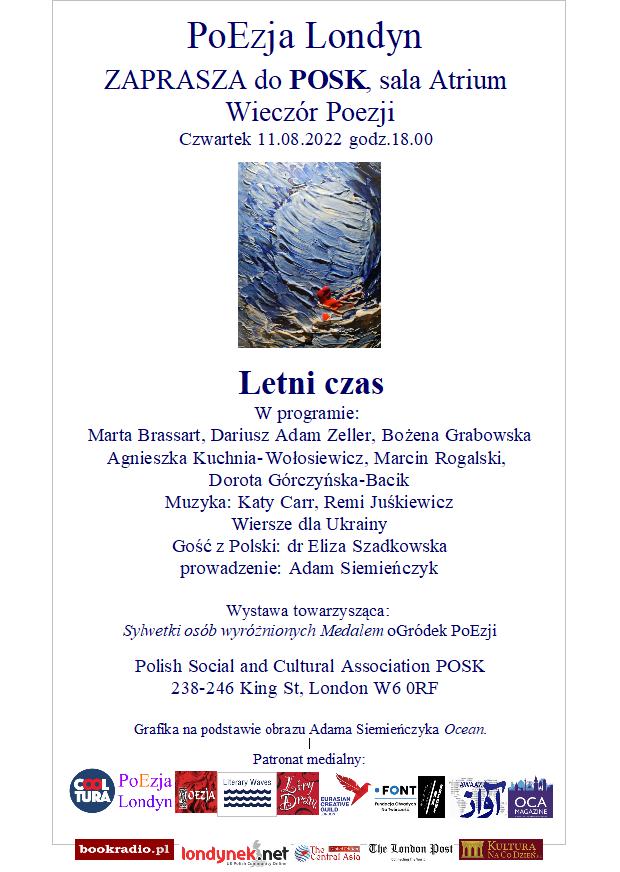 ★FRIENDSHIP★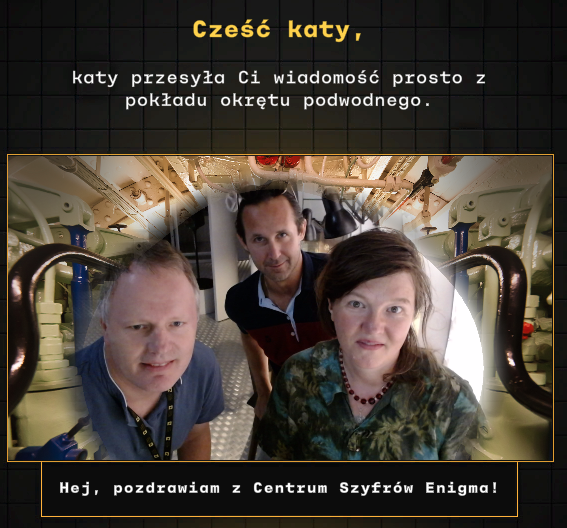 Visiting the Enigma Cipher Centre, we were very kindly sent a picture of our visit which included a personal tour with the Museum Director – it was so exciting and I got to see the Bomba the first machine that the Polish Mathematicians had invented to first decipher the Enigma machine #DYK Poland spend 20 years prior to WWII on this secret service machine …. I wrote a song about BOMBA Listen here 🙂 Bomba https://katycarr.bandcamp.com/track/bombaO Centrum Szyfrów Enigma coraz głośniej na Wyspach. Dowód?  W poniedziałek naszą ekspozycje odwiedziła Katy Carr, brytyjska piosenkarka polskiego pochodzenia, zafascynowana tematem polskich kryptologów, którzy złamali szyfr Enigmy i skonstruowali m.in. cyklometr oraz bombę Rejewskiego. O ich zasługach, ciągle mało znanych, Katy Carr opowiada szeroko w brytyjskich mediach. Za propagowanie historii polskiego wkładu w zwycięstwo aliantów Katy Carr otrzymała już kilka nagród, a także honorowe członkostwo 1. Polskiej Dywizji Pancernej. W Poznaniu Katy koniecznie chciała zobaczyć słynną "bombę Rejewskiego" (na zdjęciu stoi wraz z mężem przy jej replice) oraz zobaczyć filmowy deser, który dał nazwę urządzeniu zaprojektowanemu przez Mariana Rejewskiego. Dziękujemy za sympatyczną wizytę!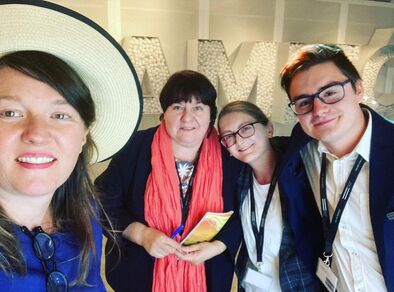 It was lovely to visit and be given a special tour of the @sybirmemorialmuseum @ipn_bialystok with Polish historian Piotrek Bosko – I was inspired by the precision to detail and learnt so much about how Poland was enslaved by both #German and #russianaggression in #poland during WWII #lestweforget🌹 I hope to cooperate and partner with the museum on an exciting new project … Walking around #Poznan early morning and I saw this amazing Gorale Polish Highlander stall selling slippers just like the ones my Polish Grandmother had – it was lovely talking to Pan Stanisław #poland#folkart#handmade#vintage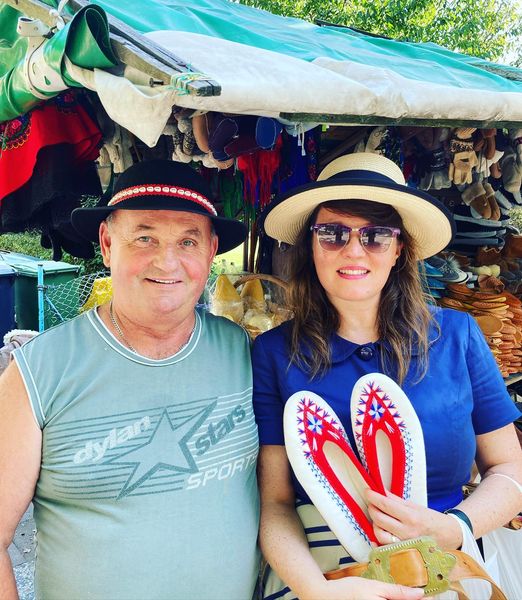 Meeting our friends from #egypt who have come for the #polskaboccia#paralympics – it was so lovely to spend time with them @novotelpoznancentrum and they love #poland and have invited us to Egypt 🙂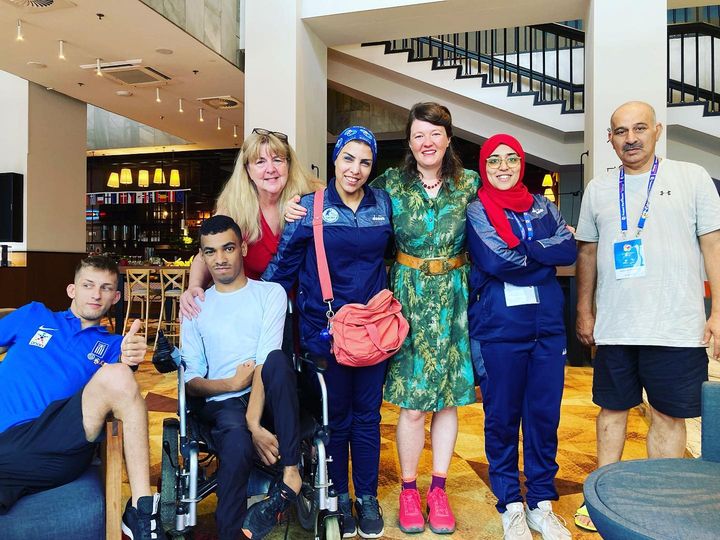 Although the word "Beshert" is used most commonly when talking about marriage and finding your soulmate, today was totally beshert…..destiny, meant to be and being at the right place at the right time…. @jewishmuseumldn with my lovely Jewish soul sisters Dafna from Israel and Shannon from NYC – great to be together again 🙂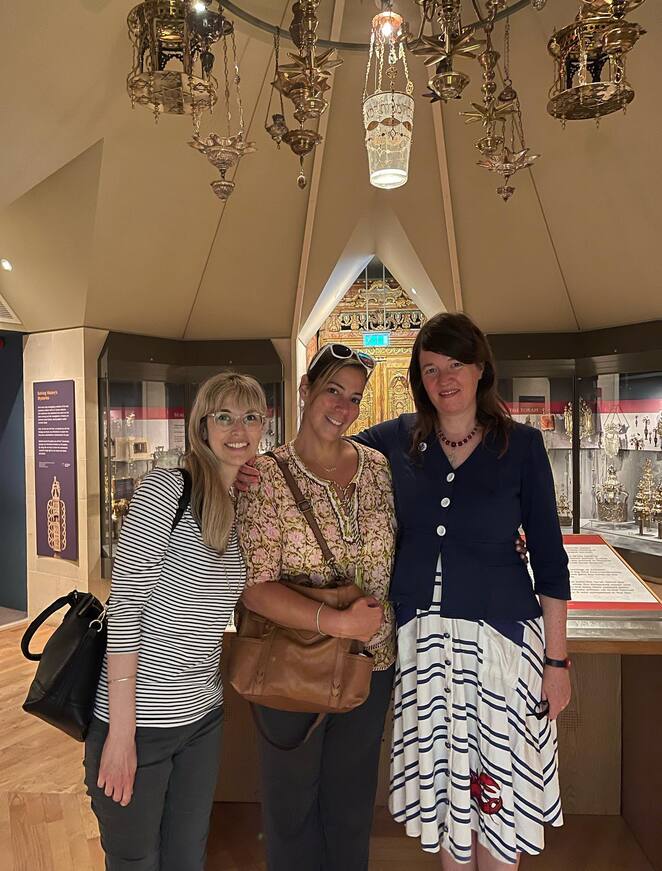 With @kayah_official celebrating #polishwomen in #music 🎼🎶🎶🎼 #warsaw #poland 🇵🇱♥️♥️ @operanarodowa Polish Jewish @festiwal_warszawa_singera
Lovely to hear the most beautiful concert and meet @yasminlevyofficial from #israel who sees #poland as her second #home 🏡 @festiwal_warszawa_singera in @operanarodowa #warsaw 🎵🎵🎵❤️❤️❤️ wonderful company and music 🎵 #polishjewishheritage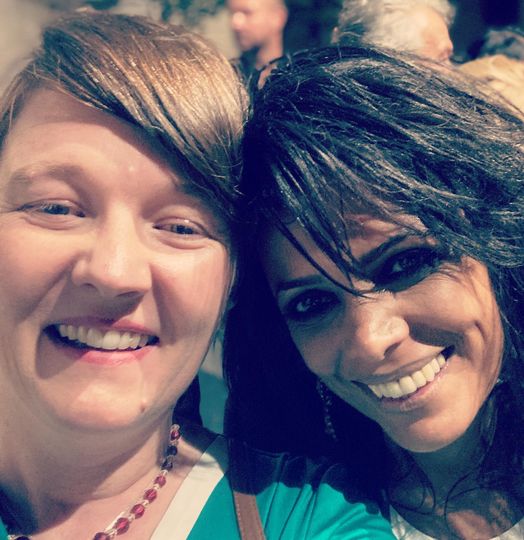 Late night supper with my Ukrainian family mniam mniam ! Celebrating their safety in #greatbritain #westandwithukraine
Celebrating #ukraineindependenceday#slavaukraini it was an honour to march through the centre of #krakow with a 20 m Ukrainian flag chanting #saveoursoldiers#kievwarszawa to spolna sprawa #niechzyjepolska#dziekujemy I will never forget the moment the heavens opened by the Russian consulate on ul Biskupia … We chanted ' Russia is a terrorist state …. The Polish police lifted their thumbs in agreement … #thankyoupoland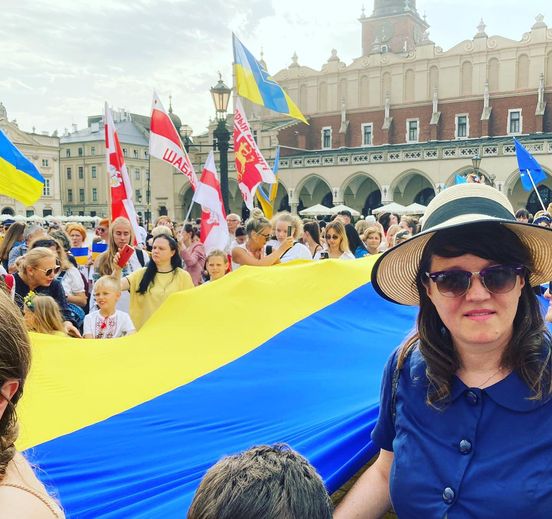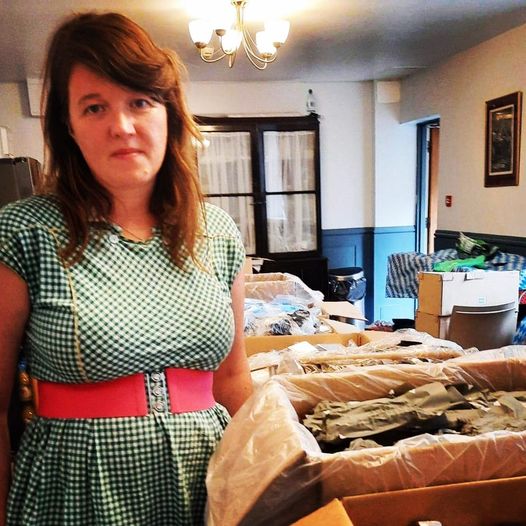 In a private location in #London there is an army of volunteers helping to pack special first-aid kits for the soldiers fighting in the war in #Ukraine – We are packing emergency bandages tourniquets and a list of special medicine and medical supplies for those people fighting for the freedom of their country on the front line. I'm incredibly moved to help the volunteers and that they have trusted me to pack the packages safely I say a prayer every time I finish a package and then the packages of packed. There is one Ukrainian lady who blesses every single time she finishes a package and completes the box in the hope that the package will save the persons life – this is serious equipment for soaking up blood and harnessing blood loss. ★WE REMEMBER★RIP SERGIUSZ PAPLINSKI (1927 – 2022 )We Remember our wonderful #WWII Polish partisan veteran friend Sergiusz Paplinski RIP a central figure in Poland's fight for independence against the Gestapo, the Nazis and the #NKVD Soviet Police. Sergiusz was also a well known artist and personality of London's hip 50s and 60s scene attracting celebrity girlfriends including #ChristineKeeler#londonlife#weremember#pamiętamy Below Sergiusz with his amazing artwork – he was a great artist …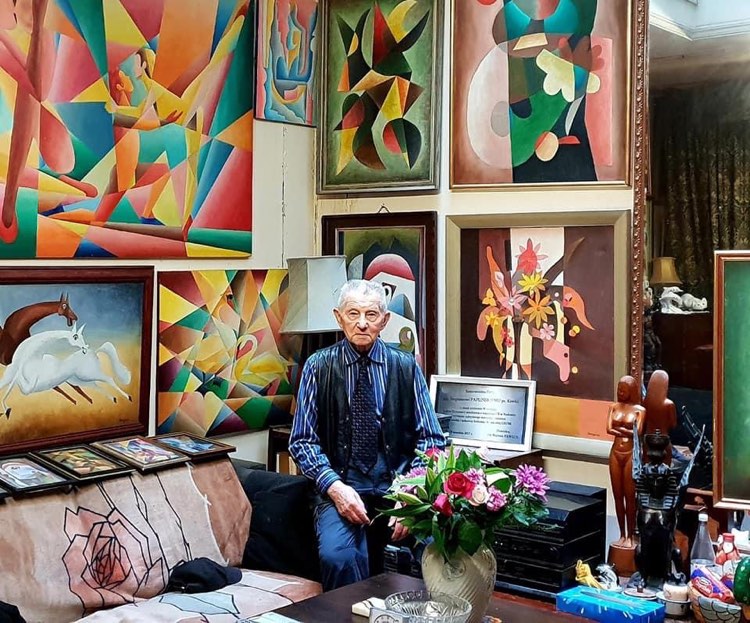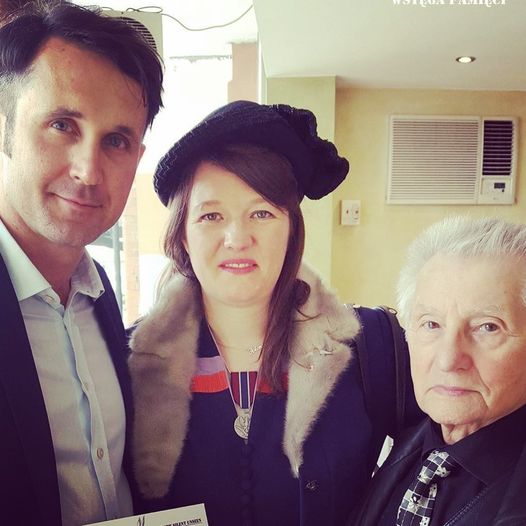 RIP ANDRZEJ TUTKAJ – A Great ambassador of the Polish community in Great Britain. Thank you for everything you did for all of us link us all together with your Tutkaj News website. You will be greatly missed – Foto used with kind permission of Bozena Karol. Funeral will be announced soon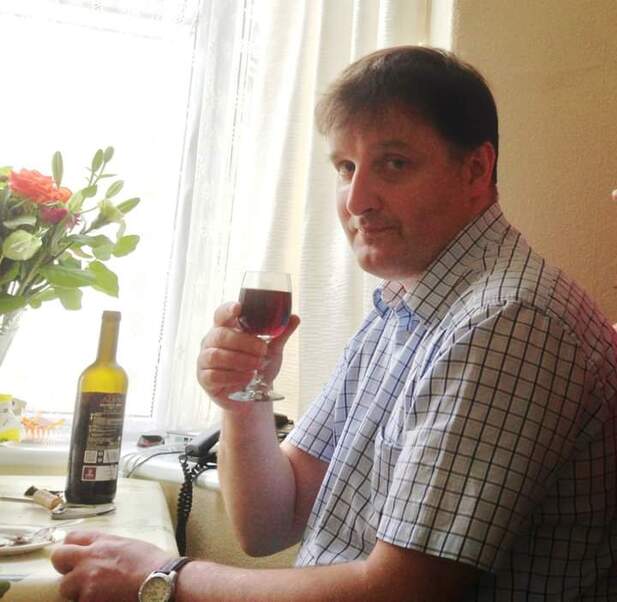 RIP ARTUR SKOWRON (1982 -2022)Remembering a beautiful moment with the Emotionalists #nyc Art Collective artists Janusz Skowron, Lubomir Tomaszewski RIP, myself Katy Carr and musician and #newyork friend Artur Skowron RIP. Thinking of his dear family Ania mamusia and Janusz tatuś and sending love and prayers to you ✨✨✨🙏🇵🇱🇺🇸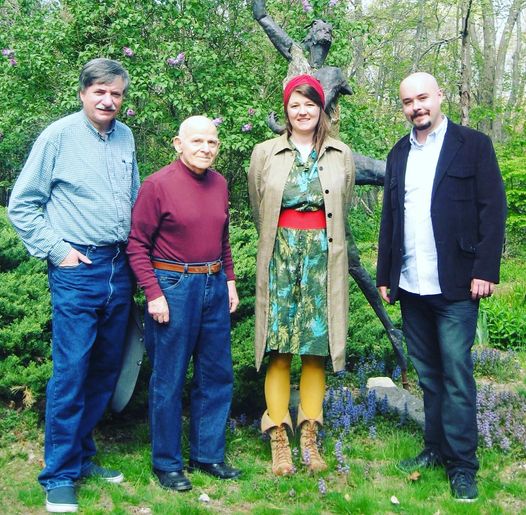 Janusz Skowron – Artur's father recently hosted an event of Artur's work – if you would like to purchase an artwork please contact the Skowron family – e: skowronjanusz08@gmail.com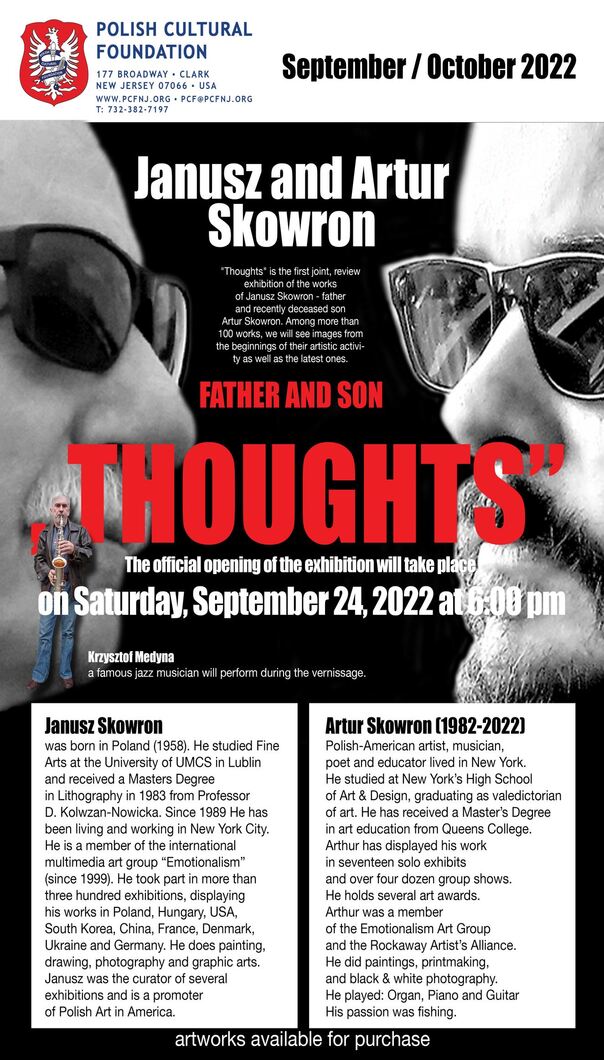 RIP HER MAJESTY QUEEN ELIZABETH IIGod Rest the Queen RIP Queen Elizabeth II our beloved monarch of over 70 years and being a figure of stability and Royal tradition. My Grandma Dorothy was a proud subject of the Queen and inspired me in her love of the Royal Family and love of Great Britain. #ProudtobeBritish #GreatBritain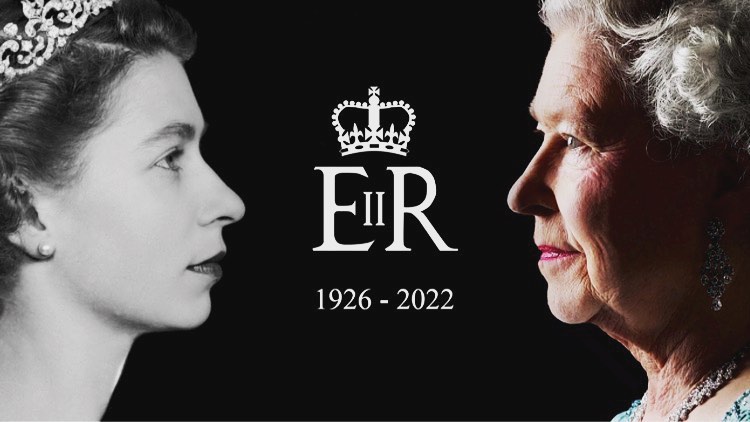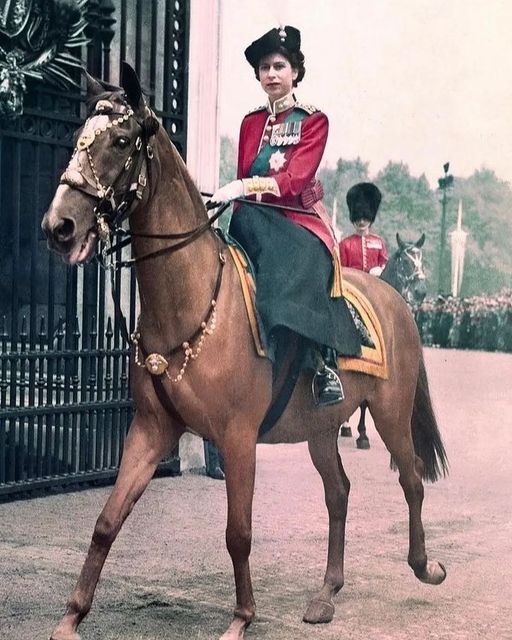 ★ STAY SAFE AND STRONG ★ ❤️Thank you for your continuing support of my music ❤️Keep in touch ! Lots of love to you and your family i pozdrawam serdecznie✸✸✸✸✸ Katy Carr and the Aviators ✸✸✸✸✸❤️❤️❤️