★Hello lovely friend! ★ I hope you are very well 🙂
Thank you for following my music and for all your support. It always means alot to me to hear your comments via email and my social media channels (follow me here www.katycarr.com). I love my fans and you mean so much to me so thank you for your care and inspiration. In this newsletter I'll be sharing some events I'm involved with this next month as well as some highlight moments of the last month.
★NEW VIDEO ! ★ Exciting news I released FREEDOM SONG (Providence) Watch my new lyric video for 'Freedom Song' dedicated to the brave people of #Ukraine and #Poland in #WWII #WeStandWithUkraine https://www.youtube.com/watch?v=4NUv3n_IhZ0
★Freedom Song★ is out now on all streaming platforms. Make sure to share the song with friends and loved ones #WeStandWithUkraine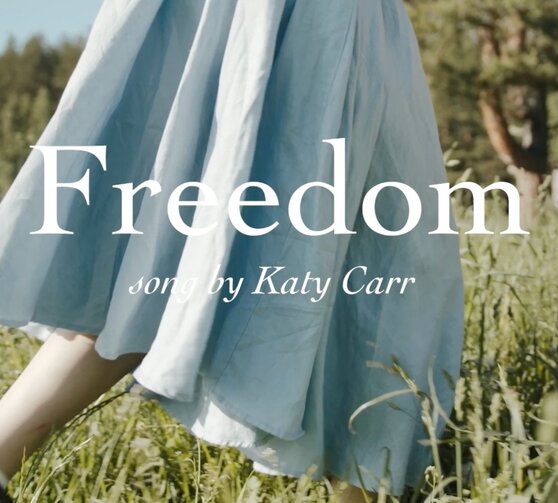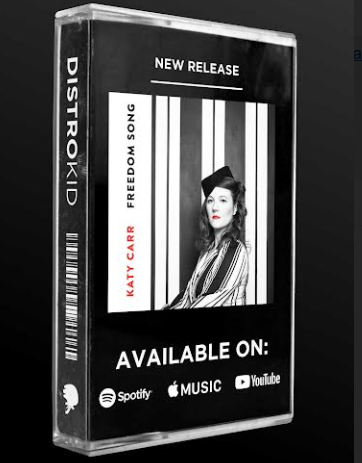 ★JUNE EVENTS★
3rd June : Katy Carr is performing two concerts afternoon 130pm and 4pm at Barking Folk Festival – link here https://www.lbbd.gov.uk/barking-folk-festival event rund Friday 3rd June 2022 11am to 9.30pm Barking Abbey Green and Abbey Ruins Free event – no tickets required.
18th June : Katy Carr performs at the D-Day Museum in Portsmouth for a special event celebrating British – Polish friendship in cooperation with the 307 Polish Night Fighter Squadron Project http://www.307squadron.org/ Event is from 11am – 5pm. The Mayor of Portsmouth and other dignitaries will be in attendance. Everyone is welcome.
20th June 12 noon : Katy Carr will be honouring Polish boy scout and Auschwitz escapee Kazimierz 'Kazik' Piechowski's 80th Anniversary of his escape from Auschwitz with the Premiere of Kazik and the Kommander's Car – on #YouTube. This film was inspired by Kazik's legendary friendship with Katy and the first occasion where the songwriter presents Kazik with her song Kommander's Car.
Watch the film Premiere link here https://youtu.be/cwxzIArOIFc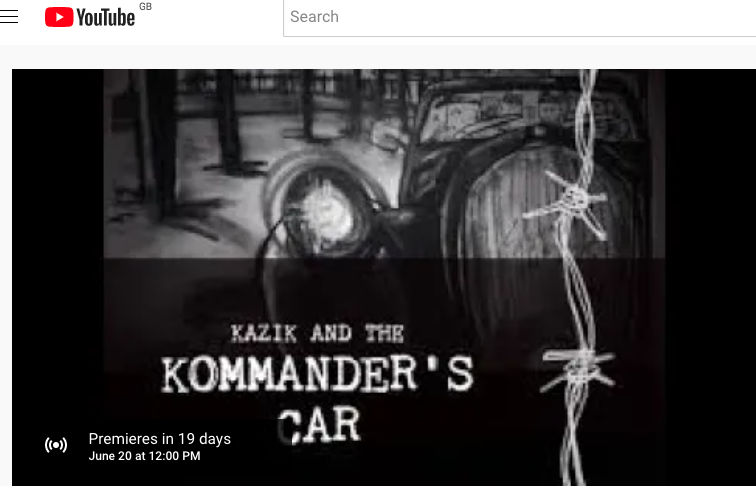 24th June : 8pm Katy Carr has been selected to perform at The Roundhouse Pub, Lodge Ave, Dagenham RM8 2HY the @roundhouse_pub_dagenham @summeroffestivals in the semi finals of a singing competition – fingers crossed for the finals ! Info: https://studio3arts.org.uk/event/roundhouse-unsigned-2022/ Booking link: https://thelittleboxoffice.com/studio3arts/book/event/159979
Roundhouse Unsigned is back and Studio 3 Arts are working with the London Borough of Barking and Dagenham's Roundhouse Music Festival to celebrate and platform local music talent in the borough, East London, Essex, and beyond. Join us for the LIVE SEMI FINALS at the Roundhouse Pub in Dagenham, and support the solo artists and groups moving one step closer to taking the top prize! From over 60 entrants, and 3 heats. we've selected 8 acts to battle it out at the Semi Finals: Jordan Hemingway Maxi Zee Sofi Vonn The Kid and I Coupdekat Gon von Zola Katy Carr The Gents26th June : 5:30pm Katy Carr & the Aviators return for the second time to perform at Góbéfest Festival in Cathedral Gardens in Central Manchester. Link here https://gobefest.com/artist/katy-carr/ Free entrance everyone is invitedGóbéfest was established in 2017 to celebrate the little-known culture and traditions of the Székler people – a group of ethnic Hungarians living in Transylvania, which is part of Romania. A Góbé is a friendly word for a 'crafty Székely'. With its roots firmly in Transylvania, Gobefest will also showcase the practices and folklores of other cultures from across Europe.below Katy Carr performing at Góbéfest Festival 2021
★MAY NEWS ★ Thank you for supporting my music 🙂 I have had some interesting events in May please check out the links below…
★ NEW SPOTIFY PODCAST SERIES ★
Exclusive on Spotify: Behind the lyrics with Katy Carr Follow Katy on Spotify and listen to her podcast series 'Behind The Lyrics' Link https://open.spotify.com/show/6yWRrPoeYOyPW51aEDmqMJ
Katy Carr talks about the meaning behind the first four songs from her album Paszport which celebrates its 10th year anniversary this year. Visit the link above to hear the show In the 2/3/4 episodes, Katy Carr continues to go through her album Paszport and explain the story behind the songs Ep1. Paszport – Behind The Lyrics (tracks 1-4)Ep2. Paszport – Behind The Lyrics (tracks 5-8)Ep3. Paszport – Behind The Lyrics (tracks 9-12)Ep4. Paszport – Behind The Lyrics (tracks 13-16)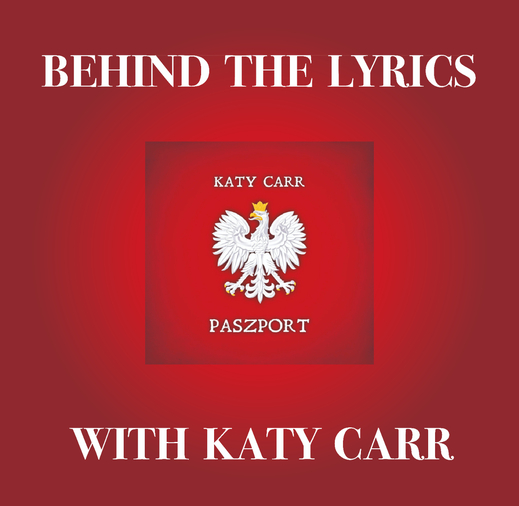 TV CHANNEL NEWS : KATY & MARY PRESENTS : British songwriter Katy Carr speaks with US Film maker Mary Skinner in a series of meetings to discuss the war zone in Ukraine from an artistic and personal perspective.
★WATCH★ on YOUTUBE all episodes of Katy & Mary presents with renowned US film maker Mary Skinner. Katy performs one of her songs during each episode Here is our playlist link ★ https://www.youtube.com/playlist?list=PL4FUeH-sAXLKdu9nOdVrZoq7p0mrXUjsz
★LISTEN★ on SPOTIFY ★ https://open.spotify.com/playlist/430FPVYffBSMa2gHwa1Api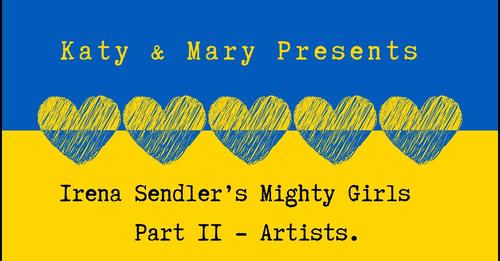 Katy Carr talks about the inspiration behind the song The Red poppies on Monte Cassino – Czerwone maki na Monte Cassino- Watch full interview on #YouTube https://youtu.be/vnmoSYcEz3Y ( Episode 7 ) Katy & Mary Presents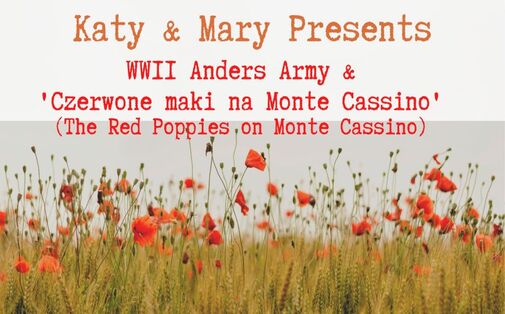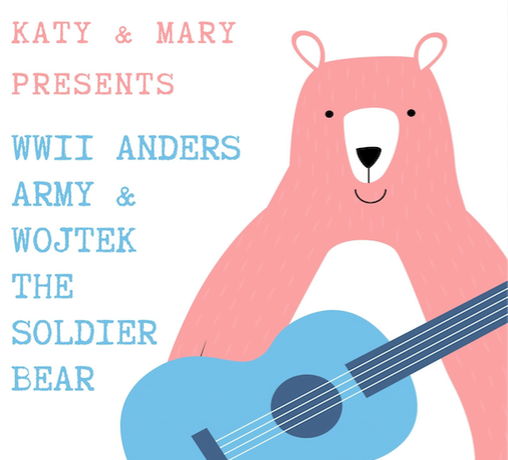 ★PRS MEMBERS DAY ★ I was so excited to attend the @prsformusic members day this week @prsfoundation thanks for inviting me brilliant day with @wearethemu @ppl_uk @thesavoylondon met amazing people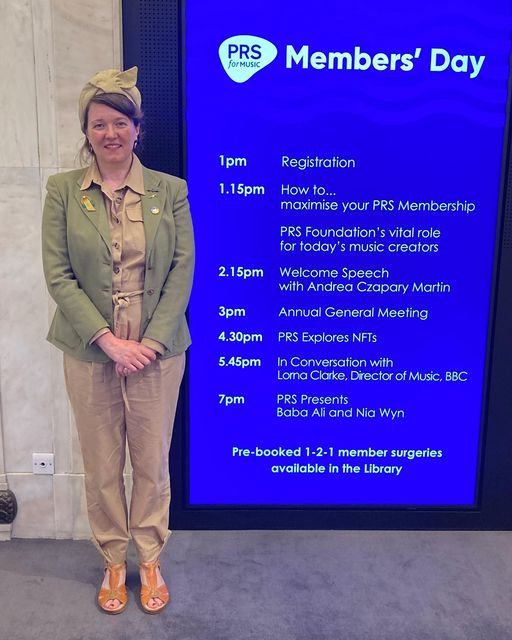 Amazing to meet @widedubz – thank you so much for your lovely energy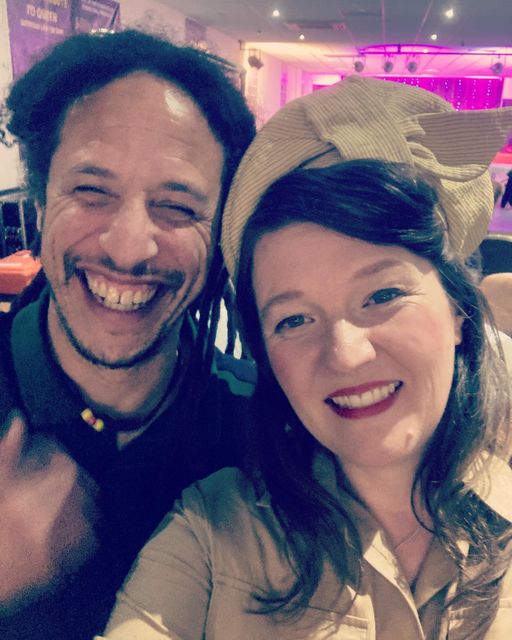 A delight to talk music, melodies & all things song related with Adrian Reid – keyboard player with #BoneyM – I'll be inviting Adrian to talk on my #KatyCarrPresents music channel soon ! Thank you Adrian 🙂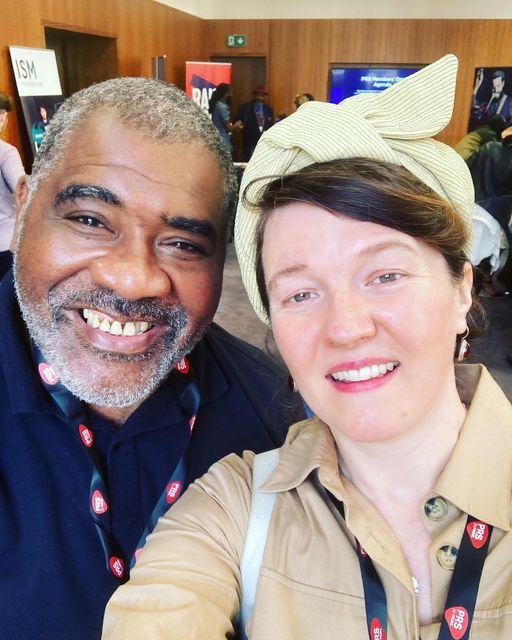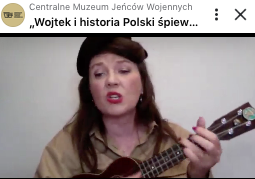 ★ LOVELY ONLINE EVENT IN POLISH ★ "Wojtek i historia Polski śpiewająco" A big thank you to #NocMuzeów2022 #NightattheMuseum in #Poland Centralne Muzeum Jeńców Wojennych for inviting me to perform live and discuss in Polish the topic of #Wojtekthebear ! … This was a free Facebook live event organised by the Prisoner of WWII War Museum in Opole – Centralne Muzeum Jeńców Wojennych Wojtek the soldier bear was the mascot of the 22nd artillery supply company of the Polish II Corps And helped the Polish soldiers lift crates of ammunition during the Battle of Monte Cassino a Polish victory on the 18th of May 1944 – which opened the road to Rome – Battle of Rome Watch event link and discussion here https://www.facebook.com/CMJWLambinowiceOpole/videos/5716919561656293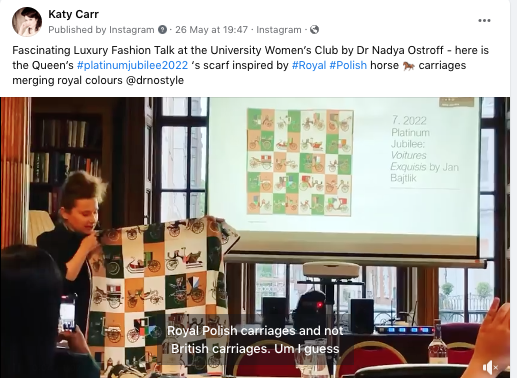 A BIG THANK YOU to Dr Nadya Ostroff for inviting me to the most amazing talk on fashion and luxury at the University Women's Club in Mayfair and for showing us her AMAZING Hermes scarf for the Queen's Platinum Jubilee inspired by Polish Horse carriages 🙂 – you can buy it on ebay now for £700 ! Below I couldn't be happier with my Ukrainian family and friends singing for Freedom for Ukraine 🇺🇦 #westandwithukraine Iryna's mama – our babusja is safely here with us now 🏴󠁧󠁢󠁥󠁮󠁧󠁿🏴󠁧󠁢󠁥󠁮󠁧󠁿💙💛💙💛🇺🇦🇺🇦🇺🇦🇵🇱🇵🇱🇵🇱🇵🇱❤️❤️❤️❤️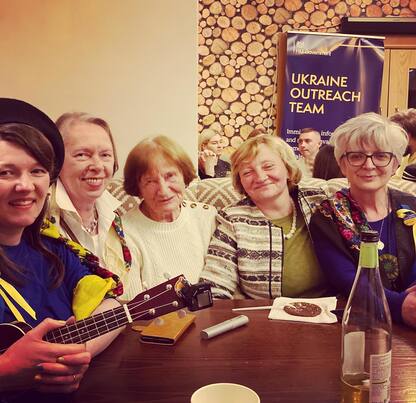 It was lovely to perform at the O.R.P. BŁYSKAWICA 80th Anniversary weekend at East Cowes this month. Thank you to everyone involved especially to the Polish Cultural Institute, Friends of the Bylskawica – Agnieszka & Steve Rackett, and Polish Battle of Monte Cassino Veteran Otton Hulacki pictured below 🙂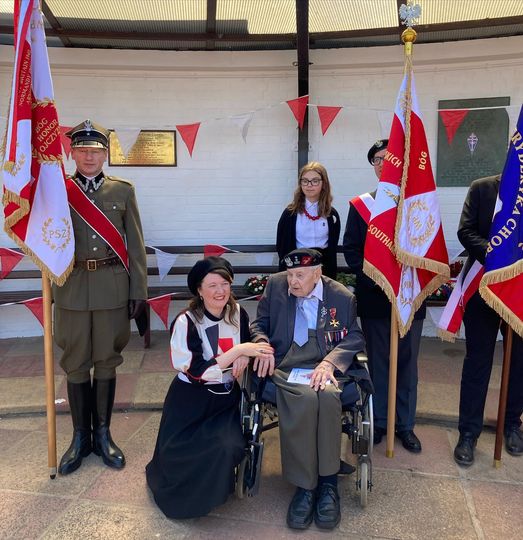 With crew members of the Wodnik just after my concert at the O.R.P. BŁYSKAWICA Memorial in Cowes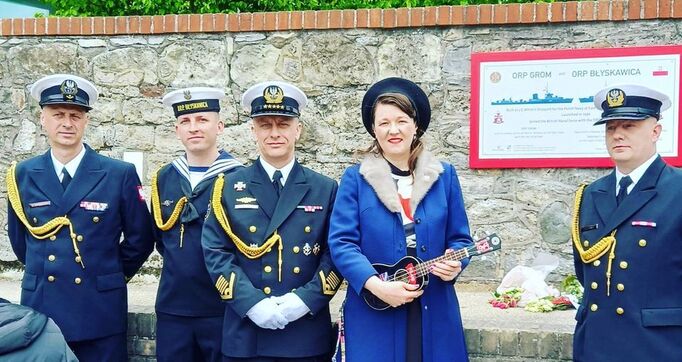 ★WE REMEMBER★RIP EMILIA NOWAK (NEE GORYL) – MY POLISH AUNTIE XXXIt is with great sadness that I had to say goodbye to my wonderful auntie Emily from Poland, eldest daughter of the Goryl family – my mum's eldest sister. Ciocia Mila was very inspiring to me as a person – she was a great Polish teacher and introduced me to Polish piano music when I was young, I saw my first Chopin music competition concert when I was 14 years old in Wroclaw with her as she was working at the conservatory. She also took me to my first ever Polish theatre performance and I loved her company (very intelligent) and her delicious cooking especially her cakes, makowiec and ogorkowa zupa. Ciocia Mila witnessed and shared very deep and hard family secrets with me and helped me understand what it was like to grow up in the Polish mountains in dire poverty and starvation during the Cold War. She talked of domestic violence and her escape from domestic horror to find a new life in Wroclaw. She talked of my Polish Grandfather's Auschwitz syndrome and his brutal cruelty to his children (including my Mother RIP), his wife (my Grandmother) and his 9 children. Conversations I recorded and will never forget. These stories have come to frame who I am and why I make the music I make. I'm so devastated to learn of her passing – her knowledge was outstanding. She tried so hard to share her truth and finally did. Thank God she did and I pour it into the songs I compose. Emilia now joins my own mother RIP . May the angels guide her soul safely on. THANK YOU FOR YOUR FOREVER LIGHT AND INSPIRATION DARLING CIOCIA MILA xxx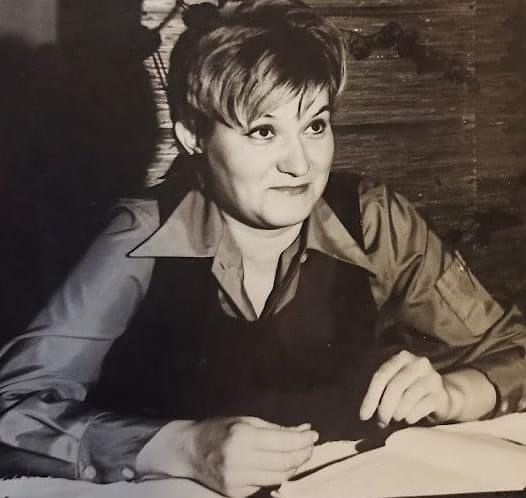 RIP SYDNEY LEVINSON – A DEAR FAMILY FRIEND Sydney Levinson – the news of your passing has deeply saddened and devastated us all – sending much love and prayers to your beautiful family Anne Levinson & Emma Levinson – you were a light that shined so brightly for all of us, inspiring and supporting the artistic community in London Town. You opened your long arms to us all – kind and generous in every moment. Thank you for being a wonderful friend, loving all music makers and sharing your West London Synagogue community and helping so much in all our lives. May the angels guide you safely on xxxx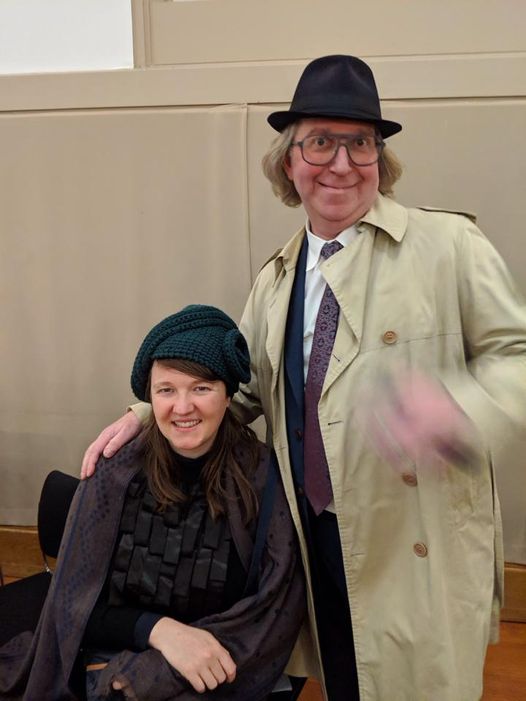 RIP IRENA GUT OPDYKEThis month marked her 100th posthumus birthday to Irena Gut Optdyke – the Polish heroine of my Song Mala Little Flower : listen here https://open.spotify.com/track/MalaLittleFlower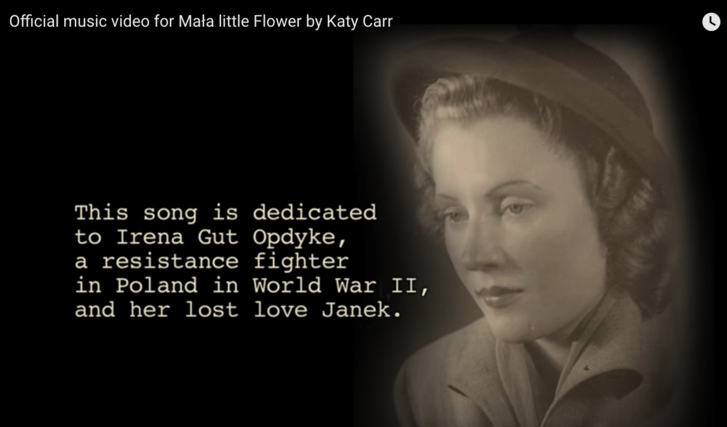 ★ QUEEN'S PLATINUM JUBILEE ★ Looking forward to the Queen's Platinum Jubilee – 70 years of our glorious monarch – Long Live and God Save the Queen! Decorations done ! #flowers are beautiful! Can't wait for #platinumjubilee #celebration #queenelizabeth 70 years on throne #british #greatbritain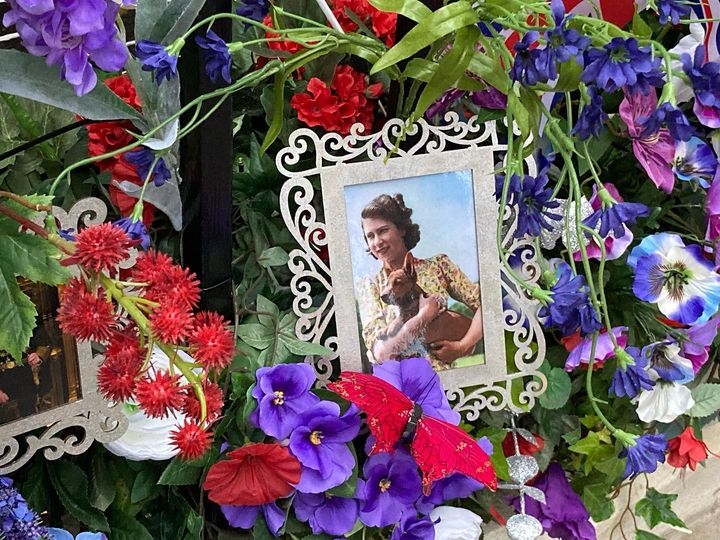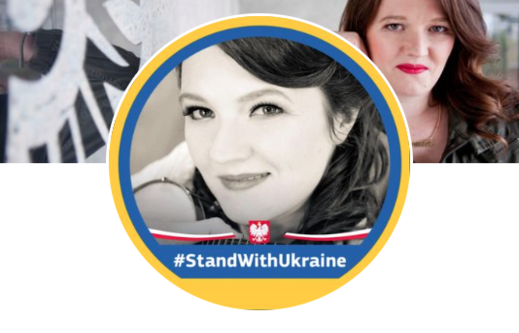 ★ STAY SAFE AND STRONG ★ ❤️Thank you for your continuing support of my music ❤️Keep in touch ! Lots of love to you and your family i pozdrawam serdecznie✸✸✸✸✸ Katy Carr and the Aviators ✸✸✸✸✸