✸✸✸✸✸ Dear Friend ✸✸✸✸✸
This month has unleashed a desperate and horrific state of affairs for our European sisters and brothers in the Ukraine🇺🇦 All our prayers go to every family and loved one in and out of the warzone and we pray for everyone's safety🇺🇦
I've been singing and praying for you everyday – I hold you close in my heart UKRAINE XXXX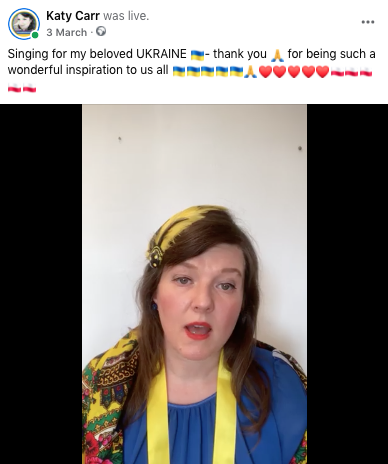 Link to this concert https://www.facebook.com/KatyCarr1940/videos/1208027409604429
The kindness and incredible spirit of the international community this month has been overwhelmingly inspiring and has moved me to tears on many occasions. I wanted to send a big thank you to all the projects and leaders that have been working so hard. You have all been so inspiring and have given so much in this horrific situation. Thank you for all the support and compassion. I wanted to thank everyone from the bottom of my heart for being so wonderful helping and sharing your love, time and energy at this darkest of hours for our friends and family in Ukraine (Weeping as I write this as I am so worried for everyone's safety) We continue to work, sing and pray for peace.
A special thank you to everyone in Poland for helping the most vulnerable .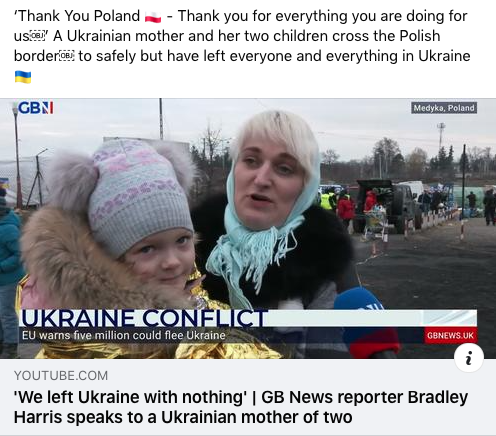 MY BELOVED GENERAL : On a lighter note I would like to wish the great Polish WWII Allied Military Commander General Stanisław Maczek a very happy 130th Birthday STO LAT ! General Maczek was born #OTD 31st March 130 years near Lviv. I'm so proud to be an honorary member of his 1st Polish Armoured Division. I'm raising a toast and singing My Beloved General (released on my Polonia album) to remember a very special Freedom Fighter and inspiration Listen to the song here : https://katycarr.bandcamp.com/track/my-beloved-general#YearOfTheThreeGenerals With thanks for the artwork to Susan Burghart Illustration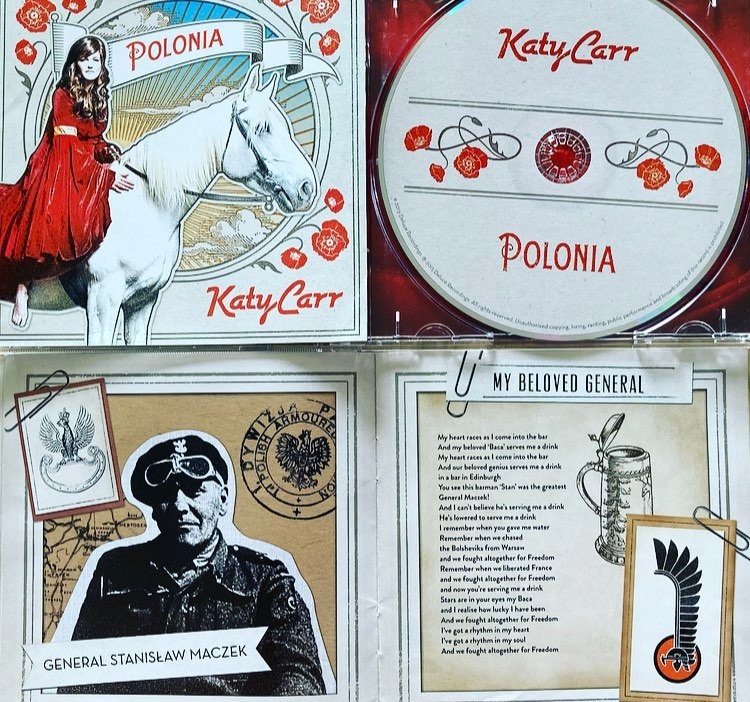 🇺🇦NEW EVENTS🇺🇦
KATY AND MARY PRESENTS tonight
EVENT 1 : Thursday 31st March at 730pm 1930 UK/ 13:30 US /20:30 PL / 21:30 UKRAINE TIME Direct link to event : https://youtu.be/_5uk6WjWdOk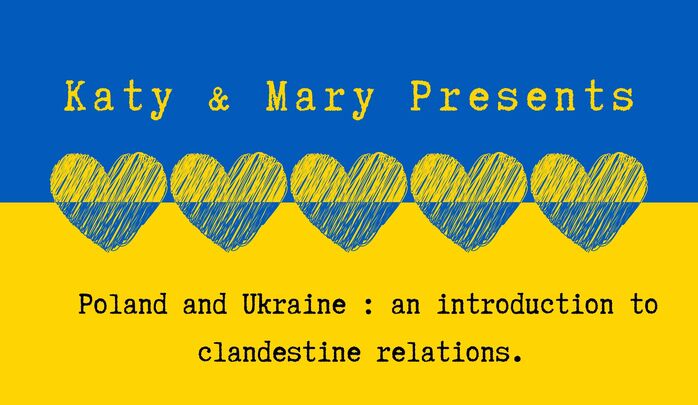 In this new discussion initiative, British songwriter Katy Carr speaks with US Film maker Mary Skinner in a series of meetings to discuss the war zone in Ukraine from an artistic and personal perspective. This first meeting discusses the connections between Poland and the Ukraine and discusses the theme of Polish hospitality and why two million Ukrainian refugees have entered Poland with the past month – amounting to the largest mass migration of people accepted by any European country in the past 500 years. Katy performs the song Hej, Sokoły (Hey, falcons, Polish: Hej, Sokoły, Ukrainian: Гей, соколи), proper title Żal za Ukrainą (Longing for Ukraine) or Na zielonej Ukrainie (In green Ukraine) which was popular among Polish soldiers during the Polish-Soviet War 1919-1921, and was also sung by the Polish Home Army resistance fighters during World War II. This series of talks celebrated Poland and Ukraine friendship as brothers and sisters in arms and we want to share our love for Ukraine and to let our friends and family know that we are thinking of them and sending our love at this darkest of hours. #WeStandWithUkraine 🇺🇦EVENT 2 : The second event will be scheduled on Thursday 7th April at the same time 7:30pm 1930 UK/ 13:30 US /20:30 PL / 21:30 UKRAINE TIME Direct link : https://youtu.be/-lYpOCVSTmk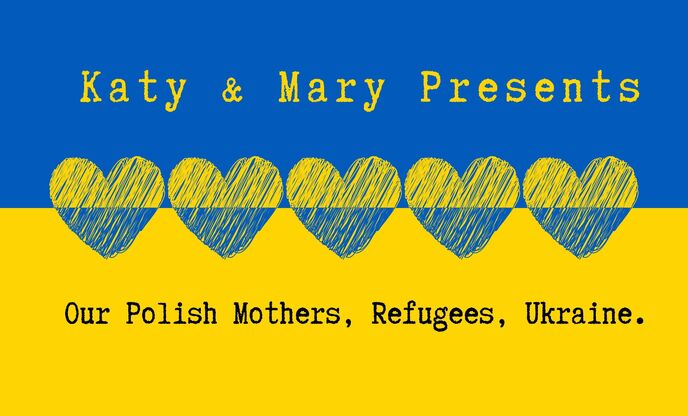 MARCH 2022 NEWS In a reaction to this month's events about the war in Ukraine, I've been fundraising to help the most vulnerable and continuing to help raise awareness and understanding. I've performed at events aimed at raising money for basic food for people living in combat areas as well as supplies for the military, Motorolla 4400 hand held radios desperately needed for evacuating communities and supplies for refugees who have escaped the war and their homes with absolutely nothing. We have a request for military hand held Radios if anyone can help us …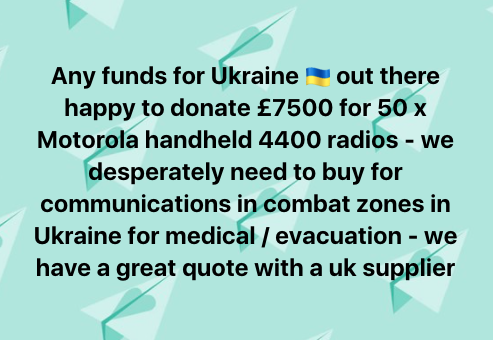 Here are some of the events where I have performed this month 🙂 YOUTUBE CONCERT Concert featuring Katy Carr and Rupert Gillett on cello performing the very beautiful Polish-Ukrainian folk song Hej, Sokoły, Ukrainian: Гей, соколи, proper title Żal za Ukrainą (Longing for Ukraine). Direct link to performance : https://www.youtube.com/watch?v=7R3Do75kTVY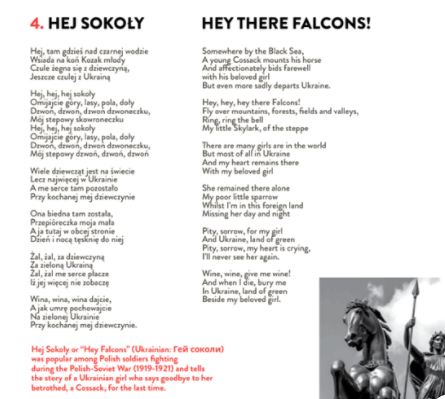 RICH MIX, LONDON Rich Mix concert link : https://fb.watch/c5DRhs9X0i/Appeal chat : https://fb.watch/c5D-mqx-Tn/Performing at Rich Mix London to help raise money tonight for Motorola 4400 radios 📻 to send for evacuation teams in war torn Ukraine 🇺🇦 to help people in the most bombed regions – if any one has links to Motorola please 🙏 get in touch … we want to buy as many handsets as possible to help move people to safety …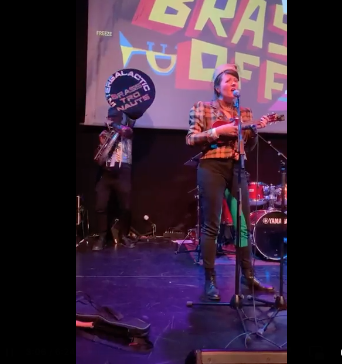 HOLLAND PARK UKRAINE CENTRE VOLUNTEER DISCUSSION Video link : https://www.facebook.com/662581501/videos/991437678187280/
Here at Holland Park with Pani Ela SuzinEla supporting the Ukrainian people if anybody has any donations please bring a lot of food canned food pasta cereals dry mixtures food medicine stretches anaesthetics antibiotics alcohol bandages blood stopping harnesses sterile gloves iodine tourniquet women's pads pseudo cream cotton diapers baby diapers baby wipes clothes new only socks pants T-shirts thermal underwear new shoes new or used military boots new or used helmets body armour new or used new fire resistant clothes gloves batteries power bank adapter cords lamps headlights. We are loading the vans THANK YOU ROSE for the message below Wishing you a speedy recovery xxxxx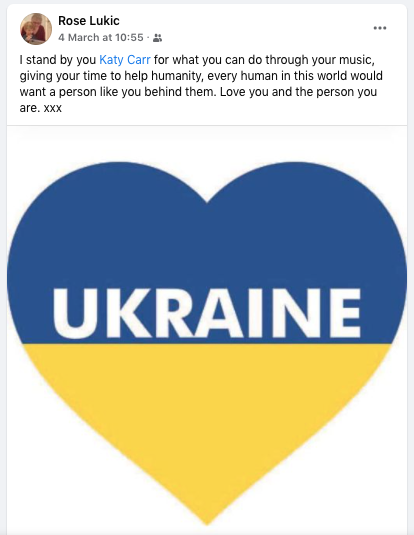 COLLIERS WOOD FUNDRAISER Thank you to everyone who came and participated, volunteered, supported the fundraising for Ukraine event organised by MP Siobhain McDonagh tonight 12th March at the Community Centre 65 High Street ColliersWood. We raised a lot of money for the Polish Family Association and all the proceeds from the sales of my CDs went into the fund.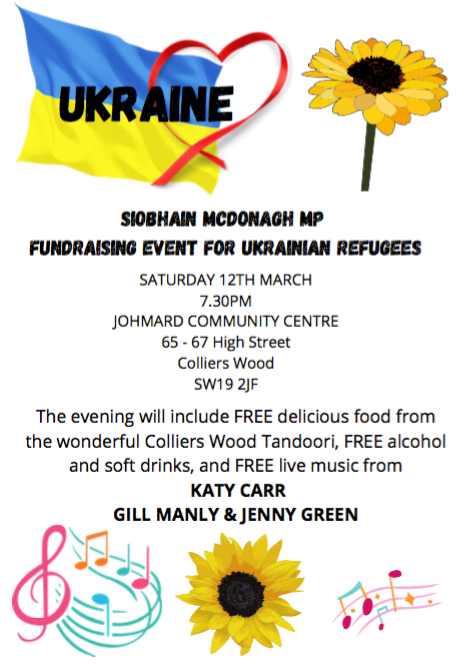 Thank you to Basia Zarzycka for your very kind donations of jewellery for the raffle. Congratulations everyone. Slava Ukraini! Glory to Ukraine! #WeStandWithUkraine and support the people of Ukraine#FreedomForUkraine#freedomforukraine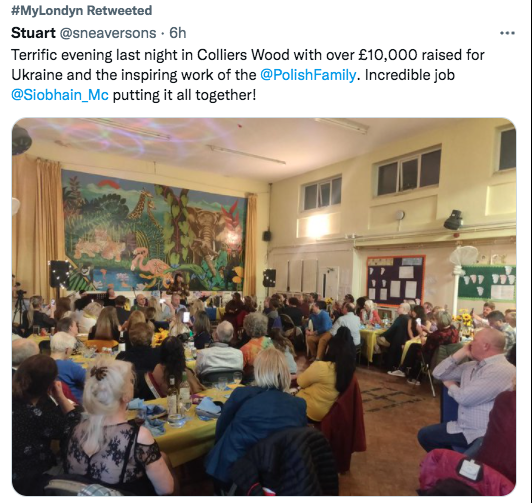 This is the amazing team behind the fundraising event For Ukraine
we've raised £14,000 together! Thank you to everybody who supported the night and is continuing to support the fundraiser we love you so much Ukraine
XXX you are our inspiration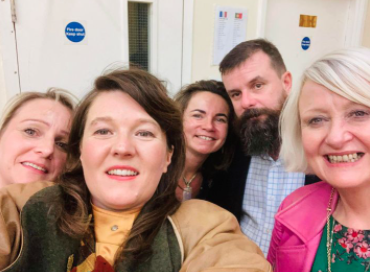 Here I am with London's best team !!!! @PolishFamily Association, Aneta Olsz and MP @Siobhain McDonagh who has just informed me that the total has now raised to £12000 for our Saturday night's Fundraiser for #Ukraine !!!!! #CONGRATULATIONS everyone and THANK YOU so much to everyone who gave so much to help. What a MASSIVE achievement – I loved the evening and the camaraderie. Such a beautiful time with wonderful people who really #makeadifference#WeStandWithUkraine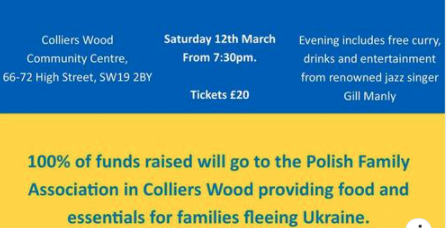 Katy Carr performs at a special fundraising event organised by #MP Siobhain Mcdonaugh for #Ukraine tonight 12th March at 7.30pm Community Centre 65 High Street #ColliersWood SW19 2JF Everyone welcome – ticket/donation link : Link to Ukraine Fundraising concert here : https://www.facebook.com/662581501/videos/649355569626913/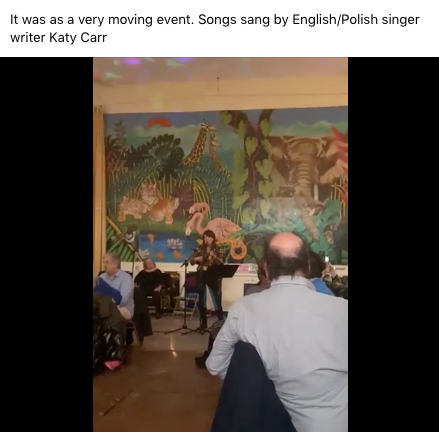 ORWELL'S HOUSE, HAMSPTEADPerformance at George Orwell's home 77 Parliament Hill in HampsteadLink to concert : https://fb.watch/c5BPSiYAuV/Katy Carr does her music practice for the Ukraine Fundraising concert in Colliers Wood tonight at 77 Parliament Hill, Hampstead, London which was the home of George Orwell writer of 1984, Animal Farm. We are thinking of all the people and their families in Ukraine and making their journey out of the war zone. We wish them safe passage.To my delight @Elzbieta Kaczmarek happened to be walking past and started singing in Polish and I invited her – a now new friend to join my practice. I am sure my Polish mum sent her to me as today also marks the 4th year of her passing RIP.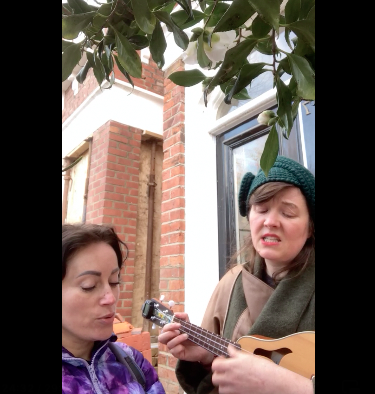 Enjoy the songs. It's hard not to cry when I sing them. Thank you Sister Mary-Joy Langdon for her beautiful peace song which I sing here and will sing later tonightsee you later x Katy CarrDetails about event later :Fundraising event on Saturday March 12th at 7.30pm at Colliers Wood Community Centre. Tickets are £20 (include drinks food & music) Every penny will go to The Polish Family Association who are providing support to the Ukrainian refugees who have already fled to Poland.WILLIAM BLAKE CONGREGATION Performing music at a meeting with the William Blake Congregation in Central London. Link to performance here : https://fb.watch/c5Buw7MQBE/William Blake wrote many poems warning about the horror of war. In the recent year I have been learning his poems and writing music to accompany the songs. We come together as poets and musicians to spread light in the darkness of what is facing all of us in Europe at the present time. Freedom, Intelligence, artistry, music, love and light MUST WIN #williamblake #poetrycommunity #westandwithukraine >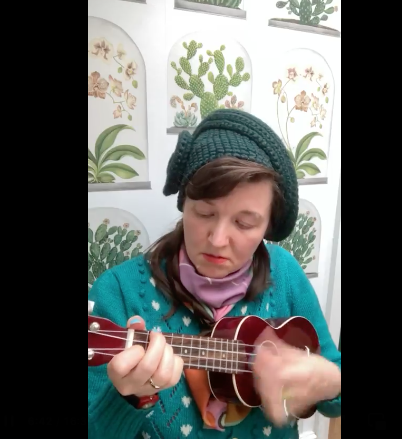 KATY WRITES ALBUM FOR UKRAINEAfter several requests from my fanbase to write a song like 'Mala Little Flower' I've also written a beautiful collection of songs and poured my sorrow in the words and tunes which I will shortly share with you all and hope to record in the near future. I've turned to my music as a tool for communication as that is my weapon of war. If anyone would like to be involved let me know 🙂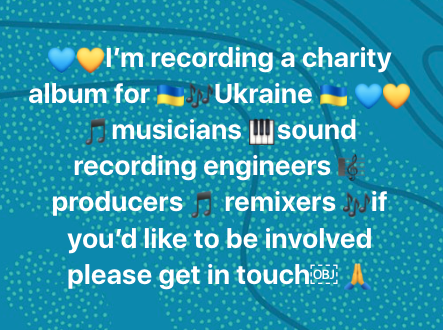 WE REMEMBERRIP MY POLISH MAMUSIA KRYSTYNA I'm remembering my Polish Mother RIP mum (b12th Dec 1947- 12 March 2018). I found this beautiful quote 'You were my home, Mother. I had no home but you.' Janet Fitch .Since my mother's death, I continue to talk with my Mamusia everyday. She has always been my best friend and biggest inspiration.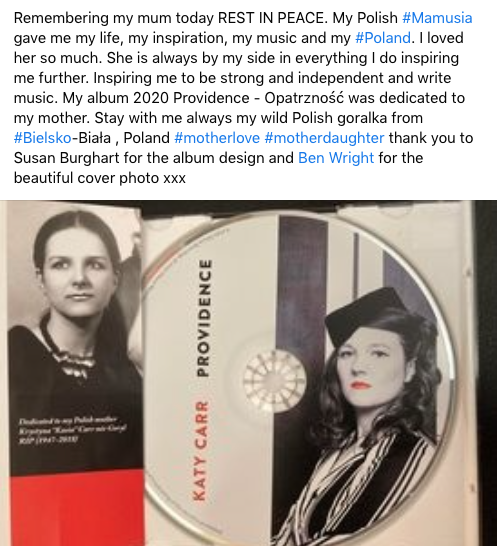 RIP JAN CORNELLISSONS 1st Polish Armoured Division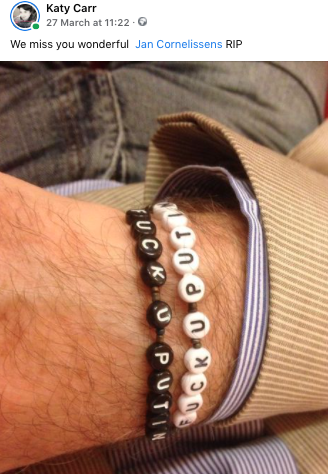 RIP MARZENNA SCHEJBAL a beloved friend and inspiration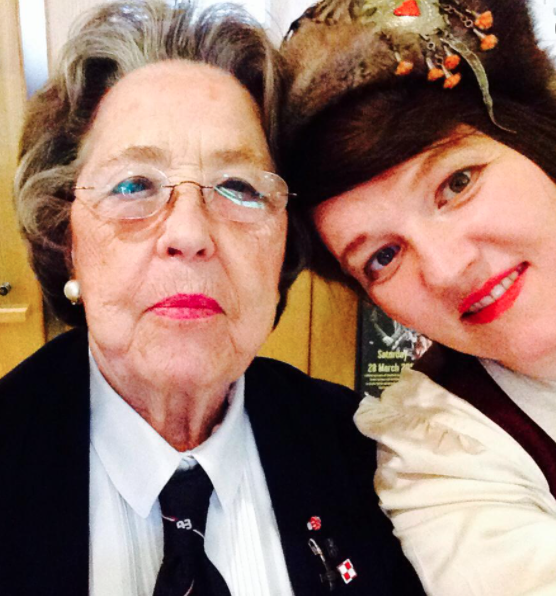 Foto Poland Street at the POSK event 20th March 2022 link to https://www.facebook.com/polandstreet.org.uk/photos/katycarrW niedzielę 20 marca odbyło się spotkanie upamiętniające panią Marzennę Schejbal – uczestniczkę Powstania Warszawskiego i zasłużoną działaczkę polonijną, które zorganizowaliśmy wspólnie z Polish Klan Association i Polska YMCA.Było to spotkanie przepełnione wspomnieniami o życiu i działalności pani Marzenki, dające gościom szansę do uczestnictwa w wydarzeniu łączącym kilka pokoleń Polonii – tak jak pani Marzenka, która swoją postawą, dobrocią i poczuciem humoru, łączyła pokolenia.Dziękujemy wszystkim, którzy uczestniczyli w spotkaniu, dzieląc się swoimi wspomnieniami oraz artystom z grupy Retro Signers, Mazury Dance Company of the Polish YMCA, London i Katy Carr.Wsród specjalnych gości znaleźli się: aktorka Irena Delmar, Konsul Generalny Mateusz Stąsiek; Konsul Radosław Gromski; Attache Obrony Wojskowego, Morskiego i Lotniczego płk. Mieczysław Malec; Zastępca Attache Obrony Wojskowego, Morskiego i Lotniczego- płk Tomasz Ferfecki; Zastępca Attache Obrony Wojskowego, Morskiego i Lotniczego- płk Robert Pawlick; Starszy Chorąży Sztabowy Mar. Paweł Ilnicki; oraz TVP Polonia.Wielkie podziękowania dla naszych sponsorów: Fundacja SPK, Jacek Nowakowski – Funeral Directors, Jan Wuszt, Mecenas Robert Demczuk, Dariusz Augustyniak DARQUS BUILDING CONTRACTORS, the Polish Bakery oraz Prezes POSKu Marek Laskiewicz.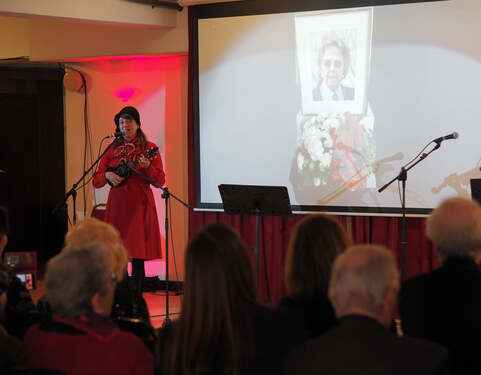 Performing at Marzenna's grave at Gunnersbury Cemetery on day of the performanceLink here : https://fb.watch/c5E2cq7-Xx/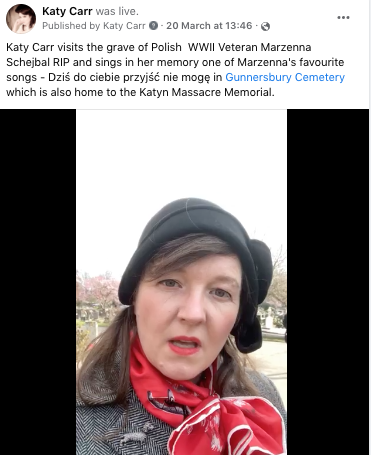 RIP OLEKSANDR BEZUHLIY
We are sending our love and prayers to Kateryna Bezugla's family. Her beloved husband, 'my hero, father of my children, Oleksandr Bezuhliy , died defending us, Kharkiv, Ukraine.'
A Beautiful man REST IN PEACE who died in Grace fighting for freedom for his country… There is no greater valour than fighting for your Freedomand ours. May the angels guide his soul to the beauty the safety of heaven
#lestweforget2022 #WeStandWithUkraine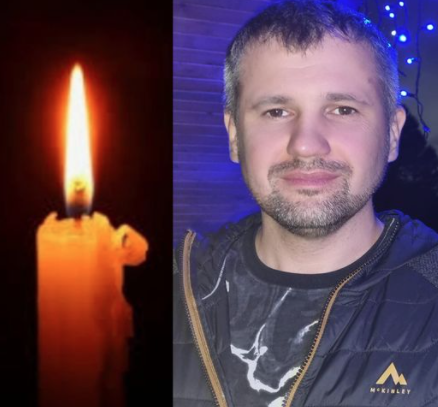 FOR DONATION LINKS SEE BELOW
On the 24th of February 2022, Russia started a premeditated, unjustified, and unprovoked war against Ukraine.The Embassy of Ukraine to the UK has set up this platform to provide humanitarian support to Ukraine and its people.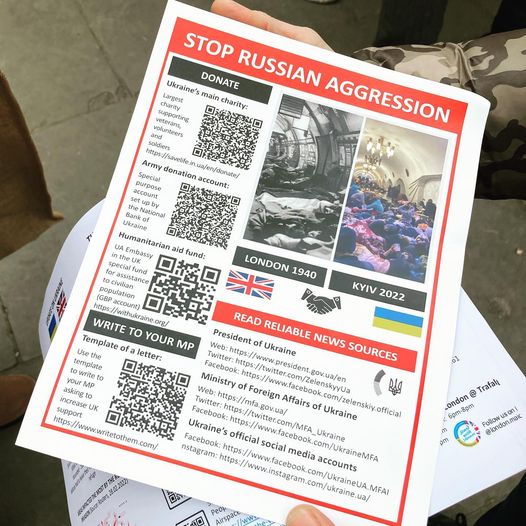 ★ STAY SAFE AND STRONG ★ ❤️Thank you for your continuing support of my music ❤️Keep in touch ! Lots of love to you and your family i pozdrawam serdecznie✸✸✸✸✸ Katy Carr and the Aviators ✸✸✸✸✸