★Dear Lovely Friend! ★
I'm delighted ❤️ to invite you to my concert later ★TODAY★ Thursday 27th May 7:30pm UK (20:30 PL / 1:30pm CT). I will take you on a journey through 20th century British- Polish friendship as the Finale of this year's 2021 Polish Heritage Days #PLHeritageDays. I'll be performing with my group Katy Carr and the Aviators together with British musicians Rupert Gillett (cello), Alan Dunn (accordion), Chris Haigh (violin).
*Click on the *links below to join the event on youtube/ facebook – you are all kindly invited 🙂
★CONCERT LINK YOUTUBE★ ❤️https://www.youtube.com/watch?v=wXL_piCBiac❤️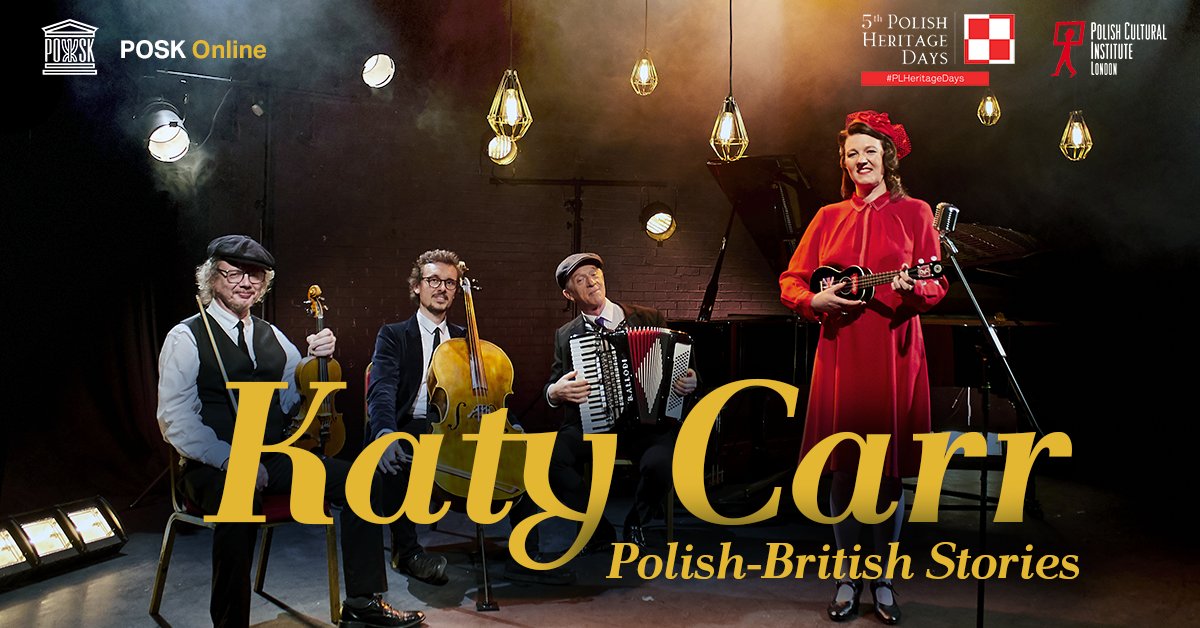 ★CONCERT EVENT LINK FACEBOOK★ https://www.facebook.com/events/298568815321024 ❤️
It is my great honour to have the support of POSK Polish Centre London, The Embassy of the Republic of Poland in London @PolishEmbassyUK & The Polish Cultural Institute, London @PLInst_London.
The concert is in cooperation with POSK ONLINE at the Polish Centre in Hammersmith – extra information links for you below 🙂
English : http://www.posk.org/en/news/katy-carr-and-polish-british-stories-polish-heritage-days-2021/
Polish : http://www.posk.org/pl/wiadomosci/katy-carr-w-posk-online-na-final-dni-polskiego-dziedzictwa/
Polish Heritage Days #PLHeritageDays is an annual festival organised and run under the patronage of The Embassy of the Republic of Poland in London. The idea behind Polish Heritage Days is to promote and celebrate Polish culture, heritage of past generations, and Polish contribution to the cultural, economic, and social life of the United Kingdom.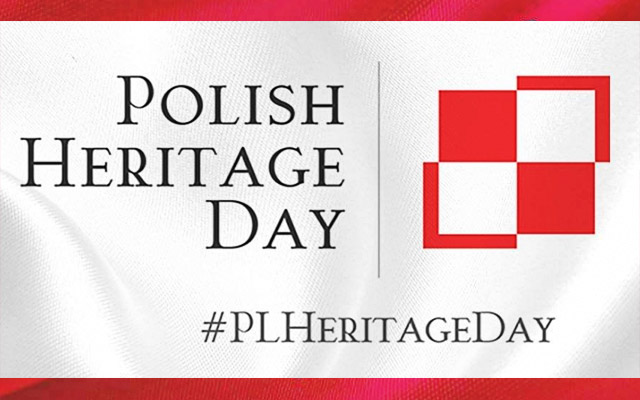 ★A BIG THANK YOU★ to Jakub Krupa for your organisation, funding and impeccable help, ❤️Juliette Bretan for your pre -production and attention to detail in script creation and to all the POSK Theatretechnical staff, Zubair Dhalla, the two Matts for realising the production of this great concert, ❤️Marlene Andersson for the fab makeup, ❤️Basia Zarzyckafor the red hat !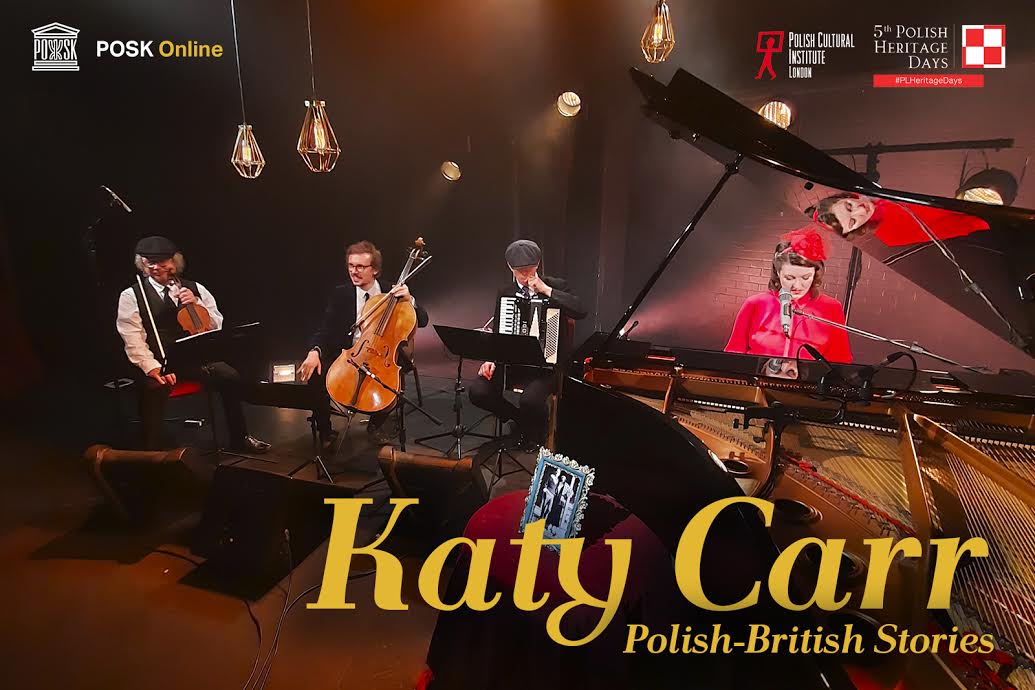 ★EVENT PRESS RELEASE ★
❤️Katy Carr to share Polish-British Stories for the finale of Polish Heritage Days 2021 ❤️
To celebrate the fifth Polish Heritage Days, POSK Polish Centre invites you to the event 'Katy Carr: Polish-British Stories – a journey through 20th century Polish-British friendship, through the music of singer-songwriter Katy Carr. '
POSK Online: Katy Carr: Polish-British Stories
27th May 2021, 7.30pm Streaming for free on www.posk.org & YouTube POSK Polish Centre
Inspirational and wide-ranging – though sadly too often forgotten today – the social and cultural connections between Britain and Poland in the early 20th century crossed into all walks of life.
The interwar period – following the restoration of Polish independence – marked a particularly prosperous time for Polish-British friendship. Whilst the Polish-born Pola Negri was lighting up silver screens across the world – and dallying with Charlie Chaplin – Polish songs were being sold and translated into English and vice versa. Meanwhile, in literature and the arts, prominent Polish figures worked closely alongside their British counterparts, creating a vast network of cross-cultural inspiration and influence, from Joseph Conrad to Feliks Topolski, and many more.
And Polish-British cooperation strengthened ever further during the Second World War. Many Poles played a pivotal role in the British war effort, in a variety of sectors – with vital contributions in the Royal Air Force, codebreaking, and espionage. Other Poles joined the Allied fight in Europe, with the Polish II Corps, led by General Władysław Anders – and including many pre-war Polish artists, performers and musicians – achieving victory at the Battle of Monte Cassino in 1944.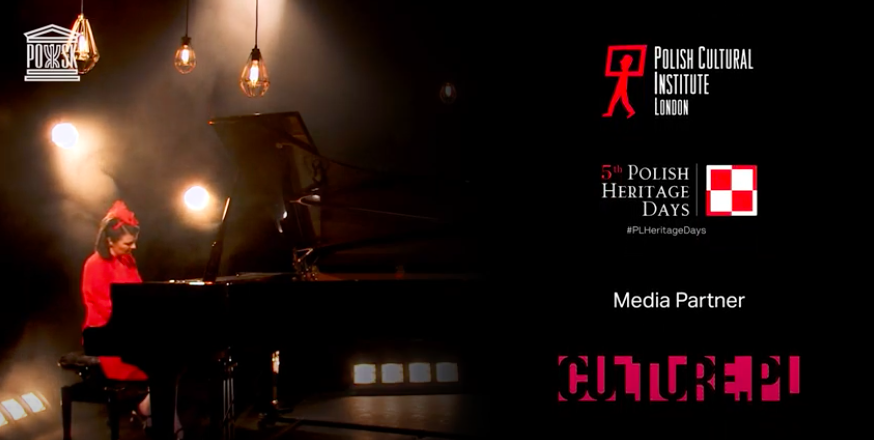 Post-war, thousands of Poles also decided to settle in Britain, fostering Polish communities across the country – from Scotland to Yorkshire, Lincolnshire to London. The capital was home to a particularly wide array of post-war Polish cultural institutions and organisations, with shows, events, and Polish figures – including Marian Hemar, Zosia Terné and Feliks Konarski – still remembered fondly today among the Polish community.
The POSK Online concert features a range of music, from 1930s Polish hits, to Carr's own songs about Polish-British history, including pieces inspired by Sir Edward Elgar and Polish concert pianist (later Prime Minister of Poland) Ignacy Paderewski, Wojtek the Soldier Bear, and Krystyna Skarbek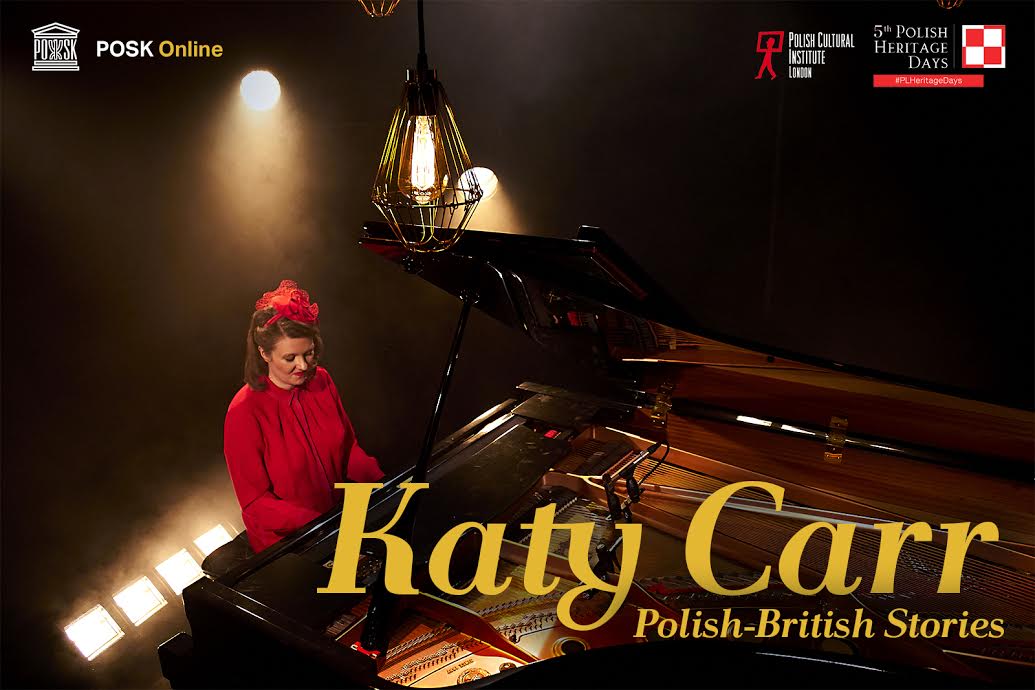 Katy Carr is a British singer – songwriter – recording artist with Polish roots and has self-released six albums. Her recent trilogy Paszport (2012) – Polonia (2015) Providence (2020) has been inspired by the WWII experience in Poland. A musician, aviator and multi-instrumentalist (piano, ukulele, banjolele, vintage keyboardist) she has performed her music internationally with live concerts & tours, intergenerational outreach workshops throughout Great Britain, Poland, Europe (France, Belgium, Italy, Norway, Sweden, Germany) USA, Mexico, Canada as well as connecting with her audiences via live streaming during 2020/21.
The event – finale of the Polish Heritage Days 2021 – is supported by the Polish Cultural Institute in London and the Embassy of the Republic of Poland in the United Kingdom.
★ STAY SAFE AND STRONG ★