★ Hello Lovely Friend ★
It's lovely to connect with you again and I hope that you are staying safe and strong. I just wanted to say a huge thank you for continuing to support of my music. Lockdown has been a daunting time for every musician and so I really appreciate your support through these unusual and challenging times for all of us. I am so happy to share my creative progress with you as it keeps me inspired so keep in touch and sending me your thoughts.
★NEWS★
This month I have been preparing my second single release 'Afterwards,' (19th March) with a music video from my recent album release Providence.★ SINGLE RELEASE ★ AFTERWARDS ★Join me in for the single release 'Afterwards' on 19th March. As a big thank you for all your care all I am sharing a secret, unlisted link to my music video which was filmed in Hampstead Heath overlooking the view that my mother saw on the last few days of her life from The Royal Free Hospital, London NW3. It is a Lockdown video. RIP Mamusia… ★ SECRET MUSIC VIDEO LINK ★ only available here (official release 12th March) https://youtu.be/XUhzZ2gJMgg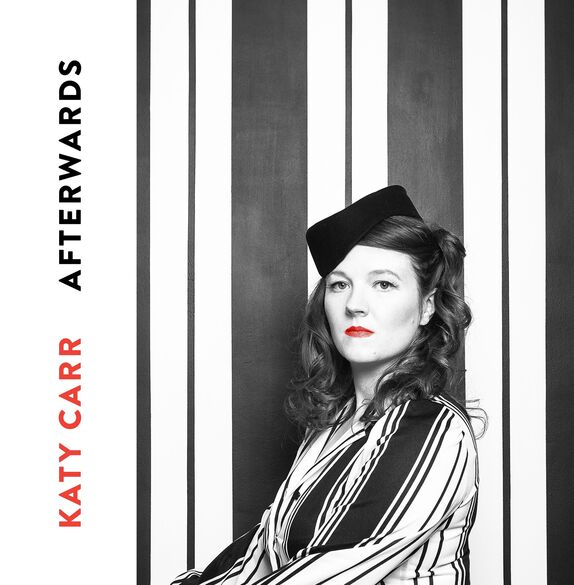 ★SINGLE ON SPOTIFY★ Please re-save my new single "Afterwards" on Spotify: https://distrokid.com/hyperfollow/katycarr/afterwards-2 I was moved to record 'Afterwards as a tribute to my Polish mother RIP (1947-2018). The third anniversary of her death is on 12th March 2021 and I will release the music video to the song on this date.★PETER HAMMILL QUOTE★"I particularly like the way Katy has somehow returned the song to its original Folk roots." This song was written by Peter Hammill of Van Der Graaf Generator in 1969 for their debut album – The Aerosol Grey Machine. I love Peter Hammill's music and I am thrilled to receive a lovely quote of support about the recording which features the incredible cellist Rupert Gillett who produced my album Providence.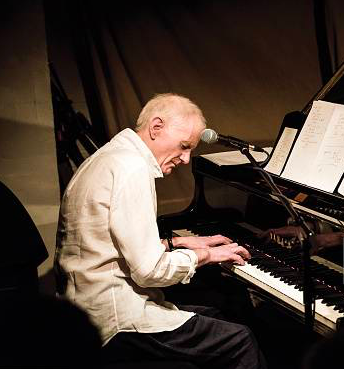 Peter Hammill the wonderful, British, songwriter of 'Afterwards'. Listen to his original recording here from 1969 https://www.youtube.com/watch?v=LJrS5OIonKM . Please support this amazing artist and discover his work. ★BUY YOUR COPY OF AFTERWARDS AT MY SHOP★
Afterwards is on my latest CD, 'Providence'. ★link to the shop★ : www.katycarr.com/shop
Every CD is signed by myself, Katy Carr in person and you will receive a bespoke, handwritten dedication on every CD with my signature. I love my new shop as I have a direct link to my fans.★NEXT GIG INFORMATION★ I'm also performing a livestream concert at The Green Note livestream on 3rd March (details below). You are warmly invited to take part please see details below…. Wednesday 3rd Marchat 8pm @The Green Note, Camden (Winner of Time Out's "London's Favourite Music Venue Award 2015″Winner of Time Out's "London's Favourite Music Venue Award 2015)★LINK TO JOIN MY CONCERT★ @The Green Note livestream join us here 8pm UK time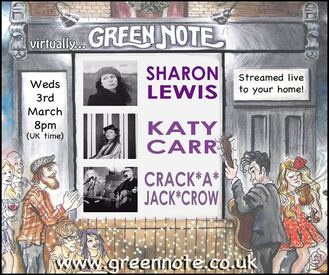 ★SHARON LEWIS★
I will be livestreaming with three wonderful musicians including Sharon Lewis who is an amazing songwriter. I have known Sharon since I started writing songs and I love her music. It is wonderful to be performing with one of my best friends in the songwriting, music business. Thanks to Sharon's encouragment in the early days alowing me to support her wonderful band Pooka, I am a musician today.
Much revered for her tender and heartfelt songs, enchanting songstress Sharon Lewis weaves a rare and compelling spell with haunting vocals and poignant lyrics. Formerly one half of highly regarded duo Pooka, she has collaborated with eclectic artists such as Orbital, 1 Giant Leap, Nick Hemming from The Leisure Society and most recently her song 'Music Is The Light' has been sampled by The Avalanches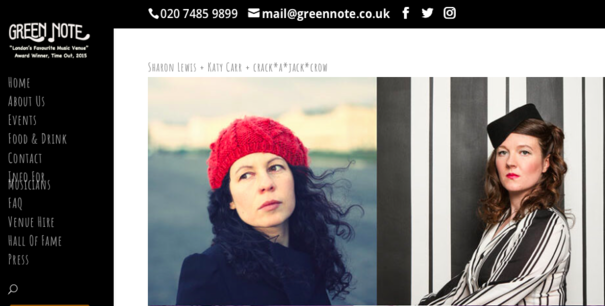 Information page is here please ★click and ★share the link★ http://www.greennote.co.uk/production/sharon-lewis-katy-carr-crackajackcrow/★JOIN MY VIP FACEBOOK GROUP★ I've just created a private Katy Carr VIP group to thank you for supporting my music which will give you exclusive access to my news, releases and music updates. Join herePlease ★click and ★share the link★www.facebook.com/groups/katycarrvipThank you for joining the Katy Carr global family. Your love and kindness is helping create more new music. ★GIG PROMO★
Thank you to Howard at Camden Town Radio for promoting our livestream concert and for playing my song Butterfly from my album Coquette …
★LINK★ to Camden Radio show here : (tune in at 5 mins for Katy info and song) https://youtu.be/IuOO5mxndGc?t=320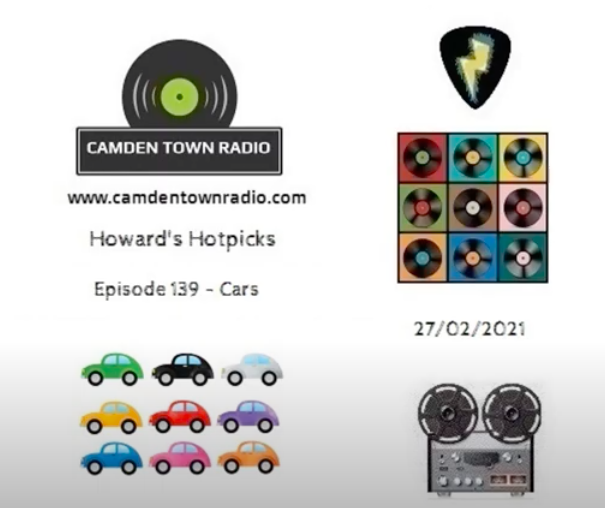 ★TOP FAN★
Thank you to Tim Smith for your inclusion of my album for The Union Music Store Album Club.I love the picture!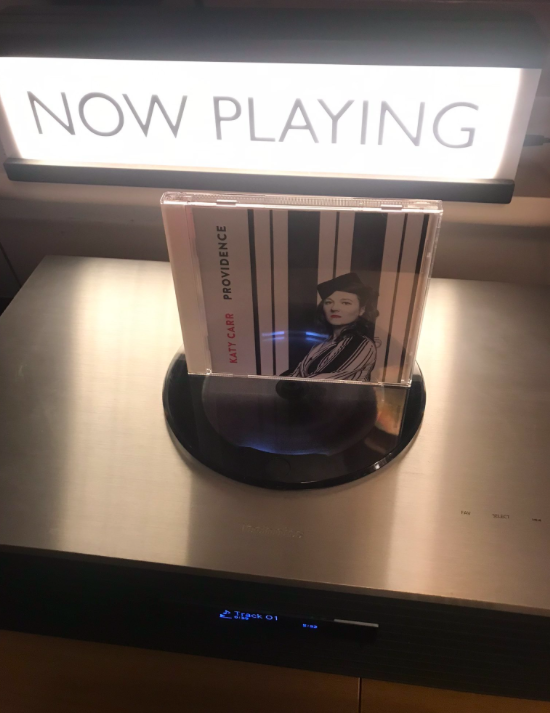 ★KATY CARR FEATURE IN INTERNATIONAL EXCELLENCE★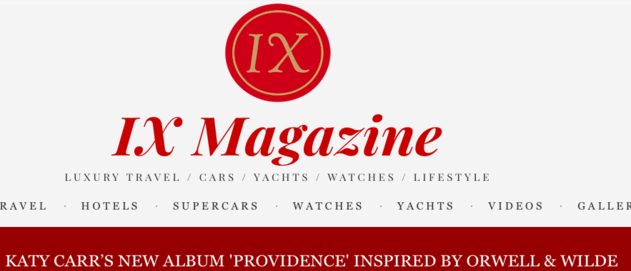 ★Thank you so much to ★Roger Aitken★ for his great write up read the feature here ★
Award-winning songwriter Katy Carr's latest #album, Providence, gets my review – thumbs up. #Songs inspired by dream sequence. Refs to George Orwell, Oscar Wilde, #Polish legends + Queen Boudicea set in post WW2 #Hampstead.
★LINK TO ARTICLE★
https://internationalexcellence.co.uk/katy-carrs-new-album-providence-inspired-orwell-wilde★ STAY SAFE AND STRONG ★ Thank you for your continuing support of my music.Lots of love i pozdrawam serdecznieKaty Carr and the Aviators visit my shop★katycarr.com/shop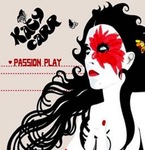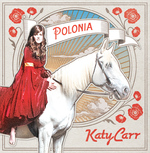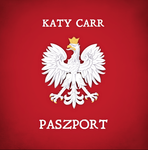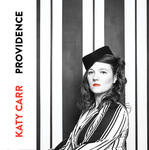 Katy Carr is an award winning British recording artist and has released 6 albums. An Ambassador of Polish History in Great Britain, her recent albums. Paszport (2012), 'Polonia' (2015) Providence (2020) are inspired by the Polish WWII experience. In 2016 Katy was awarded the Pro Patria medal for her humanitarian and musical work.
★Katy Carr's music Quotes★– 'Carr is a fine example of that much-maligned beast we call Authenticity …' – 'never less than immaculate' Sunday Times Culture Magazine– 'Concept album of the Year' The Guardian– 'Her idiosyncrasy as a musician was meant to follow – even the most avowed labels fight shy of butterflies' – 'She's a true original, standing out like the shine generated by a Swan Vesta applied to a cigarette in the Blackout.' ★Katy Carr's Awards★2016: Nominated Best Concept Album, Polonia, Independent Music Awards2016: Pro Patria Medal (Poland) 2014: Honorary membership, Polish 1st Armored Division 2014: Best Concept Album, Paszport, Independent Music Awards 2013: Nominated for Best Artist, Songlines Music Awards 2013: Polish Daily Award for Culture 2012: Nominated for the National Lottery Good Causes Award2011: Nominated for the London Music Award ★Links★shop★www.katycarr.com/shopw ★ www.katycarr.com e★ info@katycarr.comt★twitter.com/KatyCarrmusicfb ★ facebook.com/KatyCarrMusic i★ www.instagram.com/KatyCarrMusic videos ★ youtube.com/KatyCarrMusicChannelwiki★wiki/Katy_Carr bc★ https://katycarr.bandcamp.com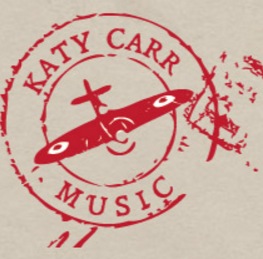 © 2021 Katy Carr. All rights reserved. Illustration and web graphics Susan Burghart © 2021