Hello lovelies!
Hope you are all having a lovely summer. It has been a fun summer and hats off to the Olympics and Team Great Britain and all the glorious medals that were won and records that were broken. You done us proud and thankyou!
As summer gently comes to a close and autumn approaches we here at team Katy are gearing up now for the release of the Katy Carr 4th album release entitled 'Paszport,' in Britain on 11th November 2012. Exploring her British born and Polish roots – 'Paszport,' is an album inspired by the Polish WW2 experience and plays homage and salutes those brave Polish people who fought for an Independent Poland and for their courage, loyalty, honour and defiance in the face of absolute adversity. The album has been licensed to MJM Poland and will be coming out in Poland on 17th September 2012 to mark the Anniversary of the Soviet invasion of Poland in 1939.
We are also proud to say that Kommander's Car has been on the Radio Trojka FM [equivalent to Radio 1 here in the UK]  playlist for nearly a month now from commencing as song of the day on 8th August 2012 – see link here [Katy Carr on Trojka FM]
~
NEXT KATY CARR AND THE AVIATORS CONCERTS:-
1st September 2012 : Katy Carr and the Aviators upon the kind invitation of the City Council of Tczew have been asked to perform a special concert for Kazimierz Piechowski [b1919]to mark not only Katy Carr's forthcoming album release of 'Paszport'  in Poland 17th September 2012 but also the Anniversary of the outbreak of WW2 in 1939. The concert will be part of Tczew's memorial commemorative events at which the President of Poland will be present. Tczew is 30km away from Gdansk, where the first German invasion of Poland took place. On 4th Sept 1939, the Germans had occupied the region and murdered many innocent people in the main square in Tczew. Katy Carr and the Aviators will be screening excerpts from the film Kazik and the Kommander's Car which features Tczew the town.
Gig poster below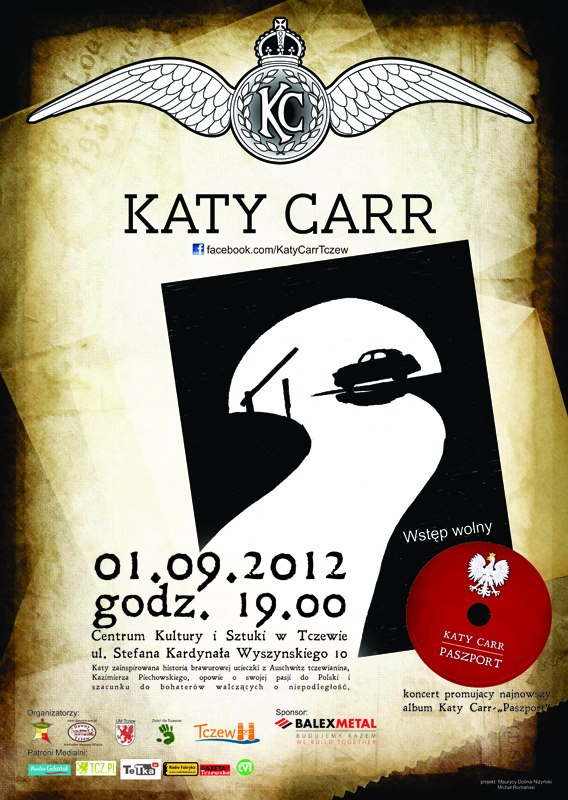 Youtube.com link to Katy's welcome
Koncert Message for 01/09/2012 click here!
below posters for Katy's Concert being put up by the people of Tczew – THANKYOU!!!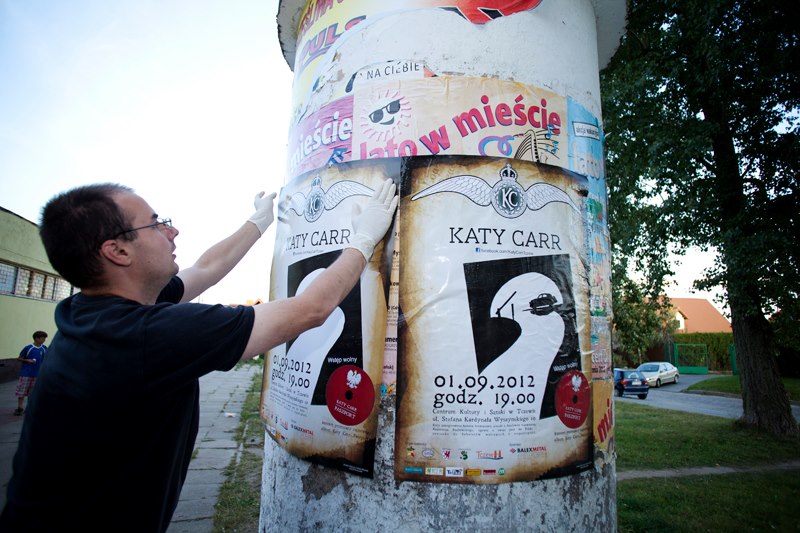 Katy Carr will also be appearing at the Battle of Britain Weekend taking place at the R.A.F Museum in Hendon on 15th September 2012. Expect a performance or two after the Flypast and also next to the Avro Lancaster R5868 in the Bomber Hall of the RAF Museum Hendon, Grahame Park Way, Hendon, London NW9 5LL, England. 020 8205 2266
~
We hope that you had a happy and fun summer and hope to see you soon!
Much love i Buziaki
Katy Carr and the Aviators 🙂
~
SPECIAL REQUEST FROM KATY – 'POLONIA KONCERT APPEAL' :-
Katy Carr and the Aviators are wishing to book a concert tour around Polonia to meet Polish communities in The UK and around the globe between the period of November 2012 throughout 2013. Please get in touch to book a performance for your local Polish community.
International Polish communities that have enlisted for a Katy Carr concert are below-
U.S.A. –  NYC, Michigan, Detroit, Georgia, Hollywood, Connecticut,
New Britain, San Fransisco, Chicago, ,  Arizona, 🙂
Canada – Toronto  🙂
Europe – Switzerland, Sweden, Germany, Belgium, France 🙂
Please add your town to the list –
Dzienki i pozdrawiam serdecznie 🙂
U.K. – just confirming locations — we will be visiting Slough, Birmingham, Milton Keynes, Kent, London, Manchester, Dunstable, Wales and Scotland …. more info soooooon!!!
~
Quotes ….
– 'Carr is a fine example of that much-maligned beast we call Authenticity…'
– 'Her idiosyncrasy as a musician meant she'd have to forge ahead under her own steam – even the most avowedly avant labels fight shy of butterflies they can't easily net… '
– 'She's a true original, standing out like the spark generated by a Swan Vesta applied to a cigarette in the Blackout.'
LINKS AND KEEP IN TOUCH 🙂
Katy Carr, Musician, Songwriter Performer
Katy Carr on FACEBOOK FAN
Katy Carr on TWITTER
t : +44 [0] 7972254710