Hello from Katy Carr – July 2010 has been a GREAT GREAT month and I have met lots of very lovely people on this side of the Atlantic and across the water…  North Carolina and Georgia and the southern States of America embraced me with open arms at the beginning of the month and I very much welcome another trip there. The people I met were fantastic as well as the learning I gained about the land and the struggles many endured in previous times.
a fun pic below courtesy and thanks to Melinda G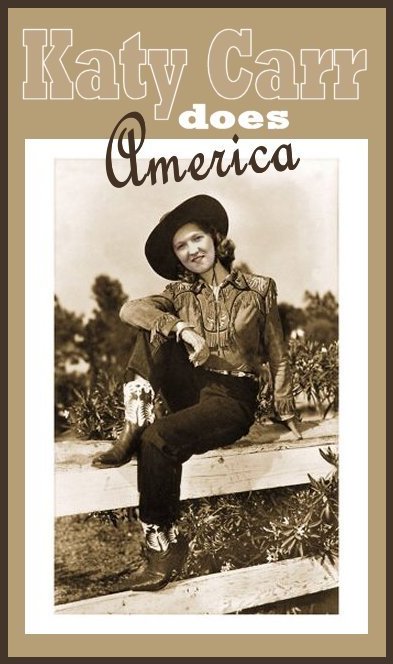 Special thanks to Big Steve BS[Arlenes] who generously picked me up from Atlanta and drove me to the record and film producer, Craig H's house which was located at the foothills of the Appalachian mountains.  The landscape was breathtaking and I spent a number of heavenly and blissful days strewn in what I can only call a musicians paradise, writing new songs, swimming in the creek, panning for gold [- well fools gold!], chasing firebugs, gazing at stars and singing to the hummingbirds.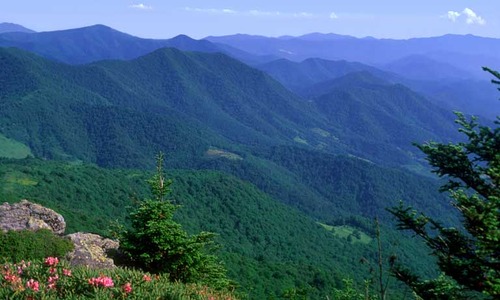 Meeting the fabulous local celebrity singer Greta Newton was magnetic and i hope to to write and make an album with her in the near future. BS and I also played landmark gigs at The Diana Wortham Theatre in Asheville, part of Craig's Asheville Skyline Festival, N Carolina and had the good fortune to meet some of the movers and shakers in town's vibrant city community including Gigi at Vintage Moon – big thanks to her for inviting me to play at her store – loved it! and here's a link to a short video of the concert —
Thanks also to Bobos, 22 Lexington and Elizabeth and DJ Candice for being so vibrant and inspirational – I AM RETURNING FOR MORE OF DE DRUM AND DE BASS!!!! DJ Candice is one of Asheville's thriving and premier DJs and plays and assortment of Drum n Bass and 80s, 90s, electronika… WE like!!!
We
Katy Carr and The Aviators
are Francesca Ter-Berg, Hannah Lovell, and Camilo Tirado.  Some of our memorable gig moments this summer are shared below. At the end of June we were honoured to play with Paul Tkachenko in front of the World War Two Veterans, The Mayor of Ealing at Ealing Armed Forces Day.
Below at Walthamstow Festival our stage collapsed[!!] and you can see us trying to prop it up – i continued to sing but the power cut out thus deflating the environmentally friendly solar powered stage- hilarious!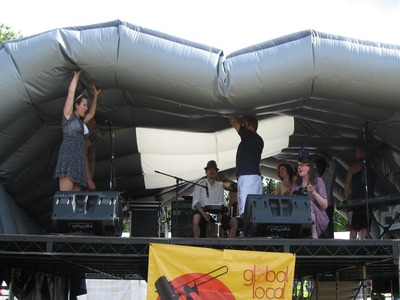 David Carter at 40 winks presented an incredible evening at The Royal Exchange and I have to thank Emma Hope Shoes for giving me a pair of beautiful pair of black suede shoes for my gigs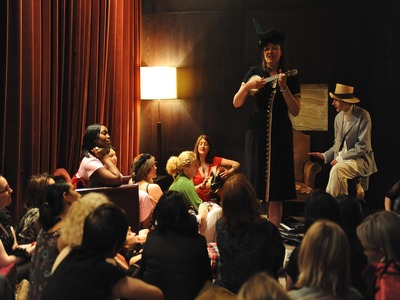 and Continental Drifts my agents excelled again with Lollibop Festival in Stoke Newington where I duoed with the superb Rupert Beatboxer as well as the recent City of London Festival gig at New Street Square, Chancery Lane London. More thanks go to Graham Manning at Tittyfest, Bury St. Edmunds, Palmers Green festival –  Di Neros, Katharine at 15 Minute Factory, Metamorphoses at The Greenwich Theatre, The Magpie's Nest's Joe Biurski and all at the NRTF Conference and Essex University for hosting a great event.
Big Vintage Folk Love to you all, take care of yourselves, see u soon and keep in touch! –  X x x x x Katy Carr
BUY  'COQUETTE' If you would like a copy of Coquette [£10] please email me info@katycarr.com and I will send you a way you can buy it on paypal x x

Katy Carr, Musician, Songwriter Performer

Booking

sophie@continentaldrifts.co.uk

© 2009 Katy Carr. All rights reserved.

Illustration and web graphics © 2009

Susan Burghart