💕HELLO MY LOVELY FRIEND! 💕
Thank you so much for all you love and support this month. I've had a fantastic month meeting so many wonderful friends and so excited to share the memories with you in this newsletter.
🎵 NEXT EVENTS 🎵
7th May 2023 (1-3 pm): Katy Carr performs at the King Charles III Coronation Party, Pilgrims Lane, Hampstead NW3 1SN – audience is invited to bring a picnic everyone is welcome. The event is free to attend and is hosted by the Pilgrims Lane residents association. Expect 1930s / 40s ukulele themed tunes and the cake competition (which I've been invited to judge – yum yum!).
14th May 2023 (11-6 pm) Katy Carr performs at the Polish Heritage Days in Bedford event- Harpur St and Square, Bedford MK40 1LE – all invited free event – https://allevents.in/bedford/bedford-polish-heritage-day-2023/200024447752501?ref=eventlist-cat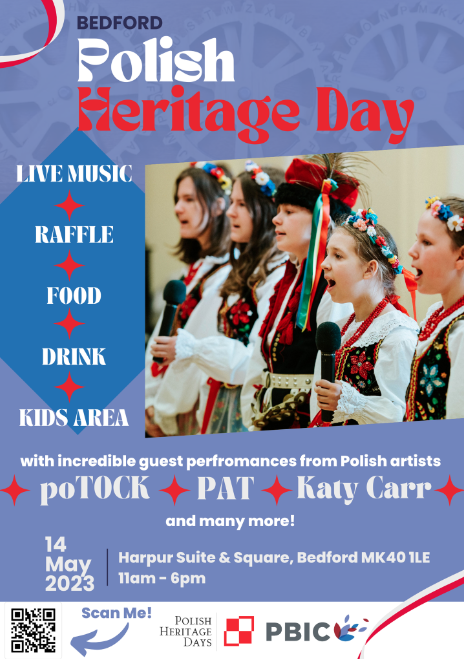 13th May 2023 Katy Carr will be hosting 'We Sing Our History' workshops for the students at the Polish Saturday School in Birmingham Polska Szkoła Sobotnia im. M. Kopernika w Birmingham (details to be confirmed as there is a rail strike that day)
27th May 2023 Katy Carr will be hosting 'We Sing Our History' workshops for the students at the https://www.szkolapolskabedford.co.uk/ Bedford Polish Saturday school – Szkoła Polska w Bedford im Jana Pawla II
10th June 2023 Katy Carr will be hosting 'We Sing Our History' workshops for the students at Akademia Małego Polaka, Maidstone https://smartkidfoundation.co.uk/
❤️ BIG THANK YOU TO : ❤️
🎶THE INSTITUTE OF NATIONAL REMEMBRANCE IN WARSAW, POLAND🎶 for inviting to me to participate at the Congress of National Remembrance as a panelist and performer. It was a unique, international event hosted at the National Stadium – PGE Narodowy w Warszawie discussing the importantance of National remembrance and how to encourage younger generations to become interested in history. The panel I participated on was with Scott Booth Founder and Director of Laguna Spitfire Legacy, Aleksandra Duda Warsaw Uprising Museum Guide, British author Claire Mulley. https://kongrespamiecinarodowej.pl/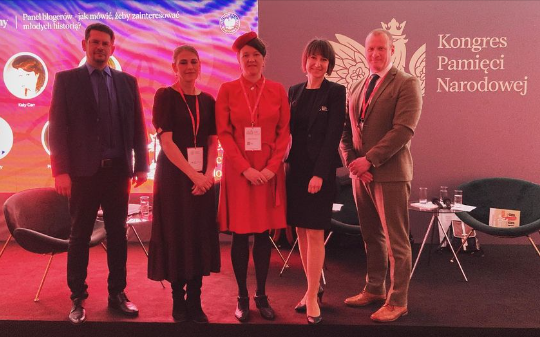 Special thanks to Dr Karol Tadeusz Nawrocki President of the Institute of National Remembrance in Warsaw, Agnieszka Jędrzak the Director of International Cooperation at the Institute of National Remembrance and Przemysław Janiga who hosted the panel.
I received a lovely letter for my participation from the Institute – extract below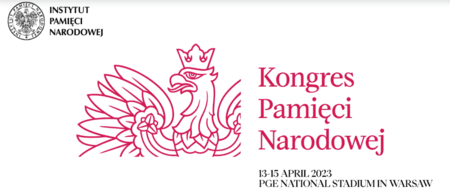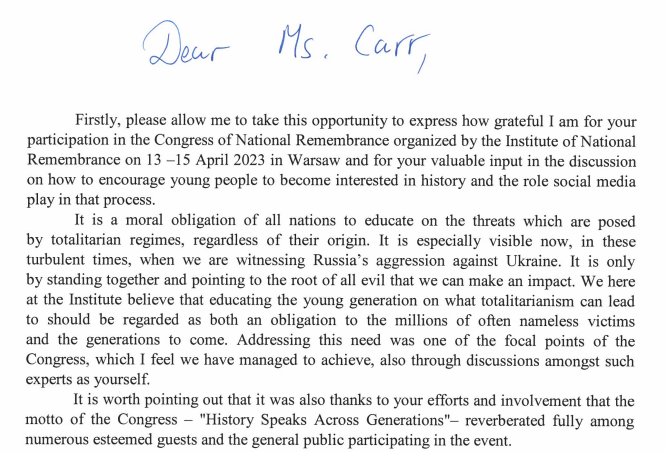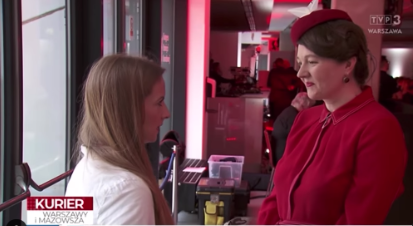 Watch Katy Carr on Polish TV talking about the conference here : Katy Carr on Polish TV Interview
Watch link in Poland 7 mins in : (https://warszawa.tvp.pl/69199795/15042023 )🎶COLONEL STANISLAWA KOCIELOWICZ🎶It was the most wonderful event to sing the Partisan's Lullaby 'Dziś do Ciebie przyjść nie mogę' with Colonel ppłk. Stanisława Kociełowicz ps. "Iskierka" who is a glowing example at 92 years old of her dedication and her devotion to her country Poland having fought for freedom in WWII. Post WWII she was imprisoned by Russian totalitarian Communists in two Moscow jails and sent to Siberia for her work helping the Polish Underground Resistance the Armia Krajowa (Polish Home Army) fight for an independent Poland during WWII. By some miracle she somehow made her arduous journey back to Poland when the monster of the Russia communist regime Stalin finally died in 1953. Watch performance video at the Conference of National Remembrance here by Beata Kasperczyk https://www.facebook.com/100004913618870/videos/1257363608539579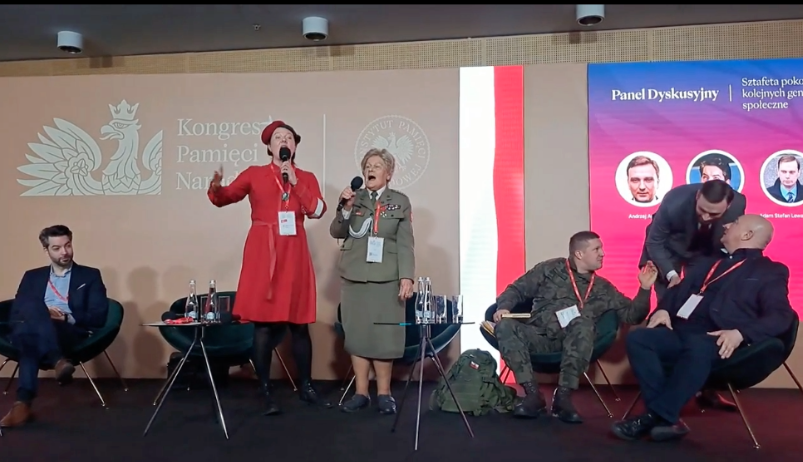 🎶COLONEL JANUSZ GOLUCHOWSKI🎶With one of my favourite friends in #żoliborz #Warsaw Colonel Płk. Janusz Goluchowski who served in #generałmaczek #PierwszaDywizjaPancerna – the 1st Polish Armoured Division in #France during #WWII #brave #soldier #lestweforget – below we are sharing tea and yummy Polish cake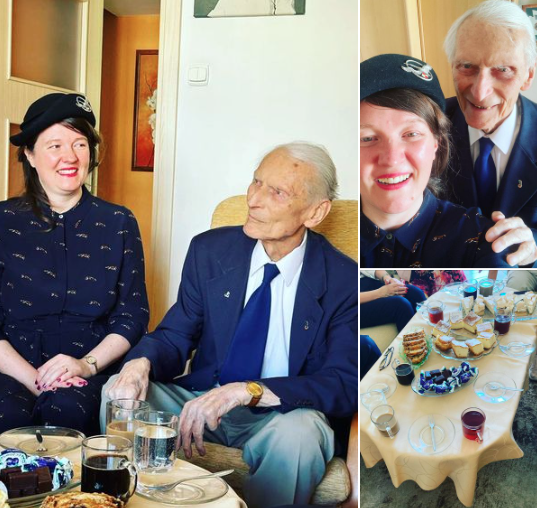 🎶ANNA MARIA ANDERS 🎶It was lovely to meet up with General Anders' daughter – Anna Maria Anders who is the Ambassador of the Republic of Poland to Italy and to San Marino and I look forward to seeing her again soon 🙂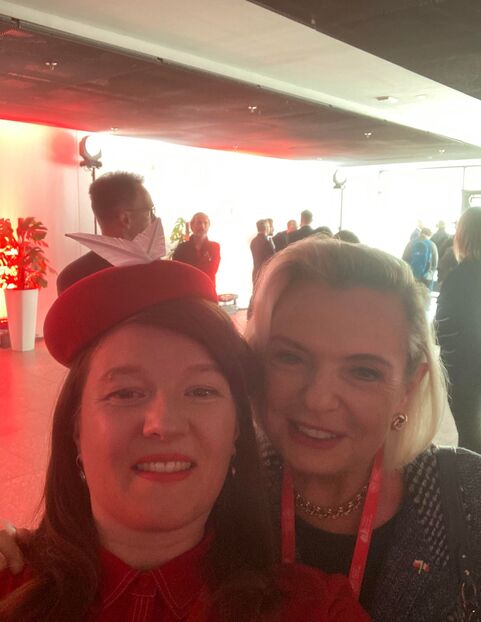 🎶I LOVE BIALYSTOK! 🎶Lovely to meet the Director of IPN Bialystok Marek Jedynak and signing my visitor card – looking forward to a concert soon!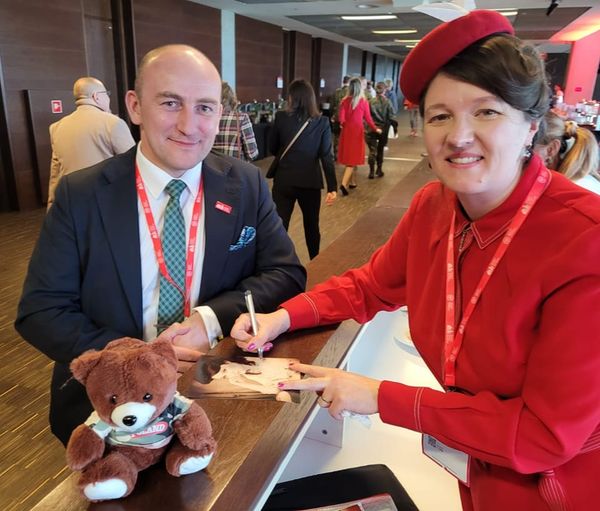 🎶THE POLISH MILITARY🎶 Two little Wojteks making their way back to Great Britain… it is fantastic to see how the story of Wojtek the Soldier Bear has made its way across Poland. When I released my song, Wojtek on my album Paszport in 2012 very few people had heard about the Wojtek story. I'm so pleased to have been able to share and see how the story has exploded over the past decade. Music can have such a powerful momentum and these bears are a present from the Polish Military to wish me good luck with my future concerts, music and workshops #lovebears #wojtek #historymatters #songwriter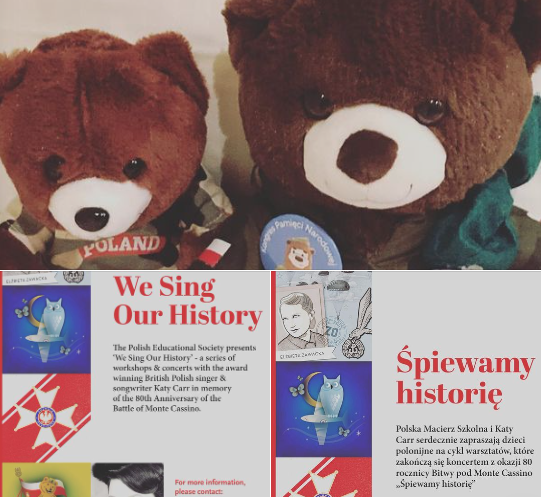 🎶SISTER AUGUSTINA🎶 thank you for her continuing belief in young people and for being such a great person.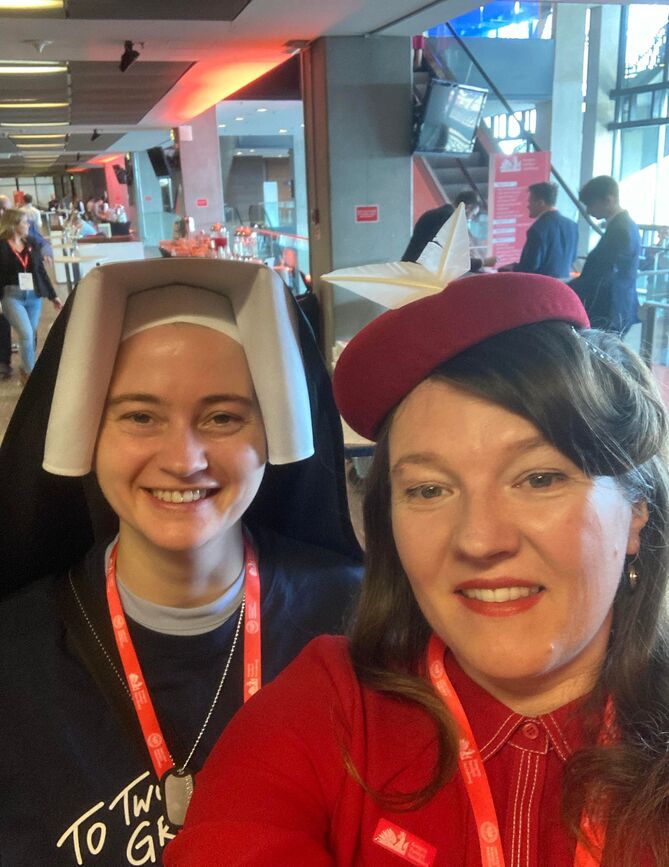 🎶BEATA KASPERCZYK🎶 thank you for all her help and inspiration 🙂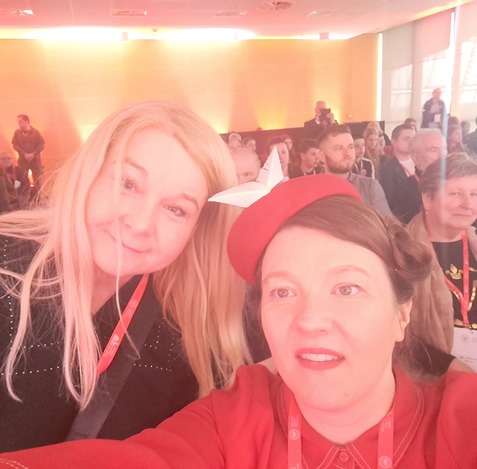 🎶ANGEL CHURCH 🎶 thank you for all the hard work you do to transform lives of people in the Kings Cross/ Islington area of London Town including feeding the homeless, healing the sick and those in pain. Thank you to pastor Regan King for his tireless dedication to his work and mission, Musician and speech therapist Verity Hunt and Tiny Soul creative director, consultant and humanitarian – Suzy.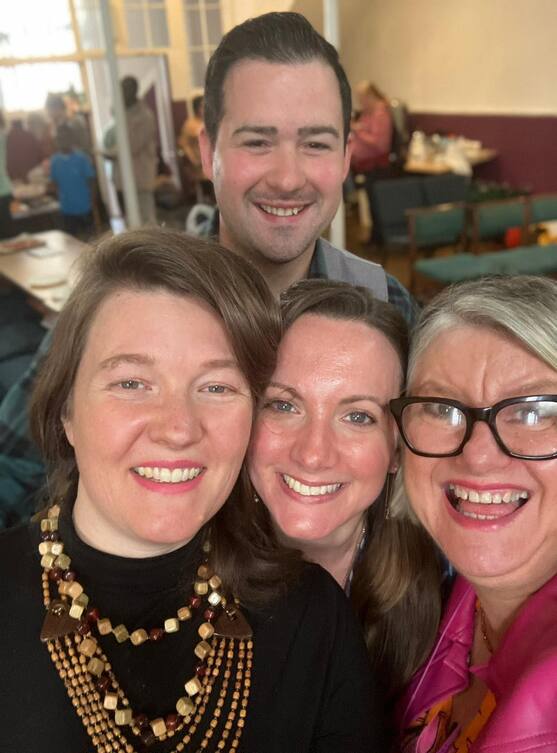 ✨ WE REMEMBER✨ ✨THE SMOLENSK AIR DISASTER 2010-2023 ✨We remember and pray for the victims of the Smolensk air disaster 10th April 2010 RIP – the 96 members of the Polish elite, WWII Veterans, Holocaust survivors and intelligentsia who were making their way to commemorate the 70th Anniversary of the Katyn Massacre. The disaster remains instilled in many people's mindsets to be connected with Russian Aggression against Poland and it is believed that the victims were murdered by Russia #weremember#LestWeForget#russiaisaterroriststate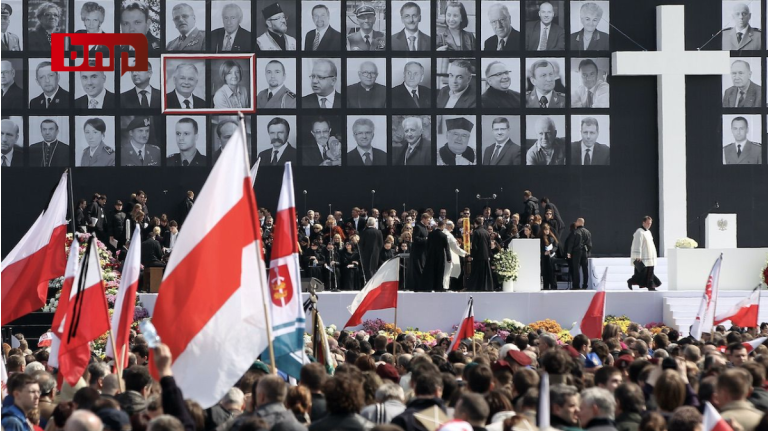 ✨80th ANNIVERSARY WARSAW GHETTO UPRISING 1943-2023✨We Remember 80 years ago the brave Polish Jewish insurgents who fought for the Warsaw Ghetto Uprising @polinmuseum #warsawHere we are laying daffodils at the memorial – thank you Inbal my dear Polish Jewish friend from #Israel #lestweforget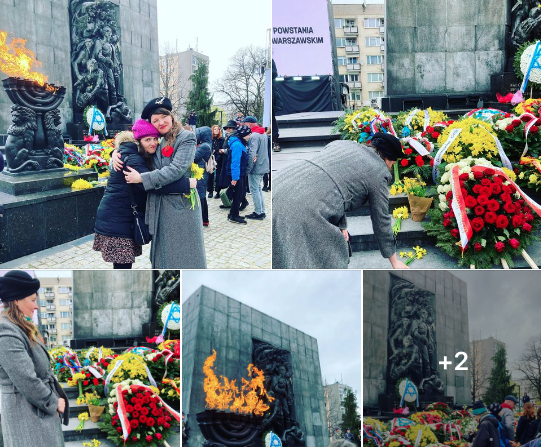 ✨NORA FORSTER RIP✨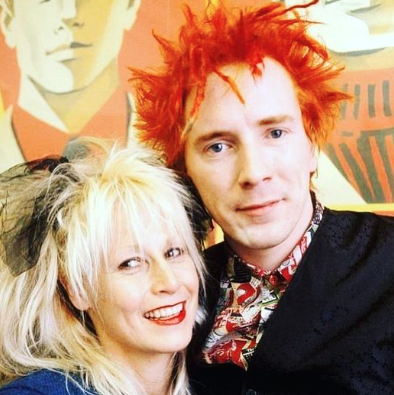 Thank you for the memories, wit, creativity your talented daughter Ari Up who was the frontwoman and singer of The Slits and your support of all of us musicians We will miss youSex Pistol John Lydon's wife Nora Forster dies aged 80 after the 67-year-old punk icon cared for her in years-long battle with Alzheimer's: Star had said life without woman he married 44 years ago would be 'unbearable' – sending our condolences to John Lydon and family. 🎶WORKSHOPS🎶I'm delighted to announce my workshop series 'We Sing Our History' – ,Śpiewamy historię' for Polish Saturday Schools across the UK in cooperation with the Polish Educational Society which celebrates its 70th year anniversary this year. I'm excited to share my songs and help the students to learn the importance of Polish lyrics in the songs and their meanings, as well as learning my own songs which highlight the Polish cooporation towards World Peace and the allied offensive in world war two #WWII#education#history#historymatters For bookings email me and see the posters below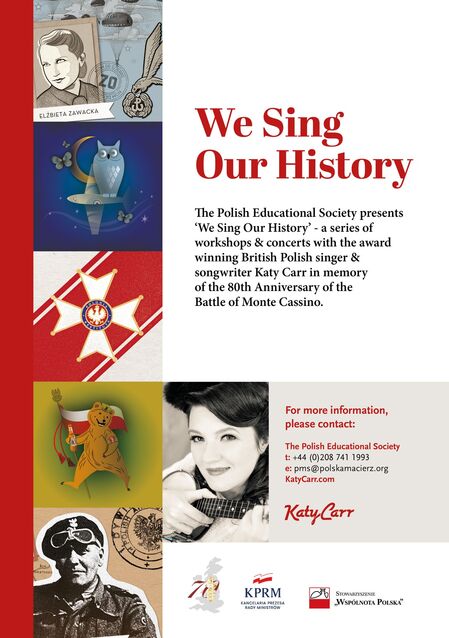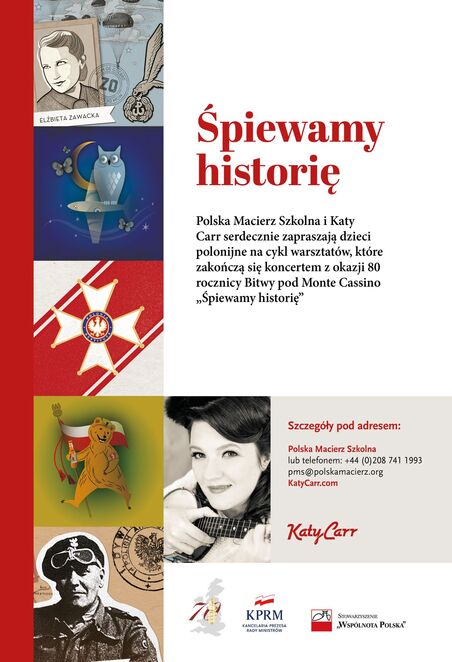 Szanowni Państwo,Serdecznie zapraszamy na wyjątkowe wydarzenie! Polska Macierz Szkolna wrazz Katy Carr organizuje warsztaty muzyczne dla dzieci i młodzieży "Śpiewamy historię".Podczas zajęć dzieci nauczą się polskich piosenek, a także poznają historię ich powstaniai związane z nimi wydarzenia historyczne.Wspólnie z artystką dzieci będą śpiewały piosenki, bawiąc i ucząc się jednocześnie.Zajęcia odbędą w języku polskim, z możliwością tłumaczenia na język angielski.Warsztaty będą składały się z dwóch sesji po 45 minut każda, jedna dla młodszych dzieci i jedna dla starszych.Koszt warsztatów to 250 funtów od szkoły plus koszty dojazdu.Daty warsztatów:22, 29 kwietnia20, 27 maja3, czerwcaProsimy o wybranie odpowiedniej dla Państwa daty i zapisanie się poprzez linki: ŚPIEWAMY HISTORIĘ – 22.04.2023https://www.eventbrite.co.uk/e/spiewamy-historie-22042023-tickets-538684258117 ŚPIEWAMY HISTORIĘ – 29.04.2023https://www.eventbrite.co.uk/e/spiewamy-historie-29042023-tickets-538713204697 ŚPIEWAMY HISTORIĘ – 20.05.2023https://www.eventbrite.co.uk/e/spiewamy-historie-20052023-tickets-538723445327 ŚPIEWAMY HISTORIĘ – 27.05.2023https://www.eventbrite.co.uk/e/spiewamy-historie-27052023-tickets-538746875407 ŚPIEWAMY HISTORIĘ – 3.06.2023https://www.eventbrite.co.uk/e/spiewamy-historie-3062023-tickets-538751669747 W załączniku przesyłamy plakat promujący wydarzenie.Z pozdrowieniami,Magdalena SynowiecExamination Officer
Polska Macierz Szkolna
❤️ STAY SAFE AND STRONG ❤️💕Thank you for your continuing support of my music💕Keep in touch ! Lots of love to you and your family i pozdrawam serdecznie✸✸✸✸✸ Katy Carr and the Aviators ✸✸✸✸✸