Katy Carr's July/Aug Summer 2020 Newsletter: : online concert links
Dear Friends,
I am wishing you all a very happy summer and I hope you are keeping safe and strong. Lockdown has been very necessary to keep the virus contained and to save lives. As part of the artistic and musical community I am wishing all artist friends across the globe continued strength and endurance as our community is facing its darkest hour. With venues closed, concerts, festival and events cancelled, the pandemic has been devastating for everyone involved in the arts. We are having to find new ways to bring our art and music to our audiences.
I am working on my new album release for Oct 2020 (with EP launch in September). More news to follow in my next newsletter. The area of online release promotion is new to me and so I am excited to enter this world. If you would like to join my online team please direct message me at info@katycarr.com
CONCERT UPDATE
I have been performing a number of virtual concerts including the Polish Cultural Institute London's Katchup series over Lockdown – please click here https://instytutpolski.pl/london/2020/06/05/polishculturekatchup-katy-carr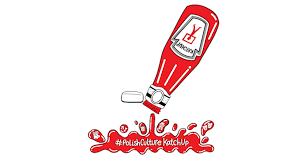 Please click the youtube link above to subscribe and receive music updates from Katy Carr.
POLISH FEST NEW YORK
Polish American journalist and writer Greg Archer interviewed Katy Carr for the 2020 Polish Fest NYC(online this year). Thank you to all who helped organise this festival. Click on this link to hear the interview in English – interview with Katy starts at 4:03:04 https://www.facebook.com/PolishFestNY/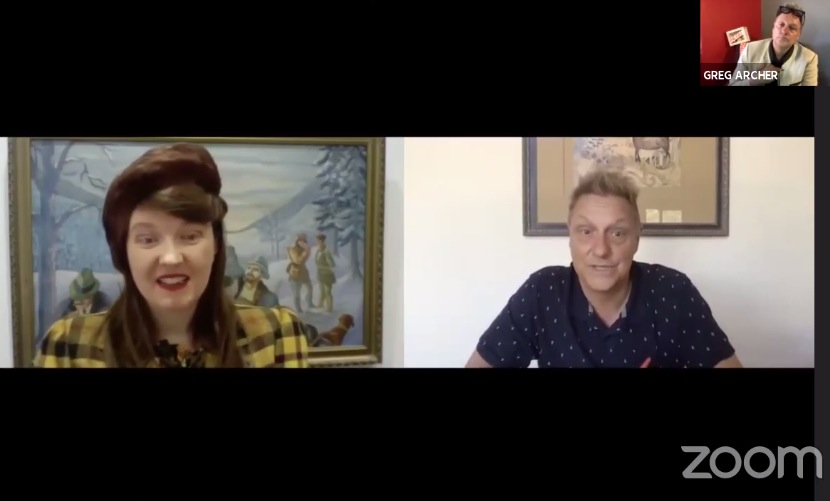 NEWS ARTICLES British journalist Roger Aitken interviewed Katy Carr for his review of the Polish-UK Belevedere 2020 event published on Kafkadesk. The article mentions BBC World's Kasia Madera, Sir Dermot Turing, nephew of Enigma codebreaker Alan Turing, and Anglo-Polish singer-songwriter Katy Carr amongst others. Please click on this link to read more: https://kafkadesk.org/2020/06/29/polish-uk-relations-belvedere-forum-2020
IN COMMEMORATION
1st August 2020 marks the 76th Anniversary of the Warsaw Uprising 1944 and to commemorate the occasion TVP1 Journalist Kamila Kuzar hosted a TV document on the Polish TVP1 Alarm program on 31st July 2020. Artists that were interviewed included Polish musician Dariusz Malejonek (Panny wyklęte), Polish actor Krzysztof Janczar and Katy Carr. I performed (via Skype) my song 'Motylek' inspired by the pilots who flew to help Poland during WWII.
To watch the program please go to 8 mins 40 seconds and click this link https://vod.tvp.pl/video/alarm,31072020-2010,pamietamy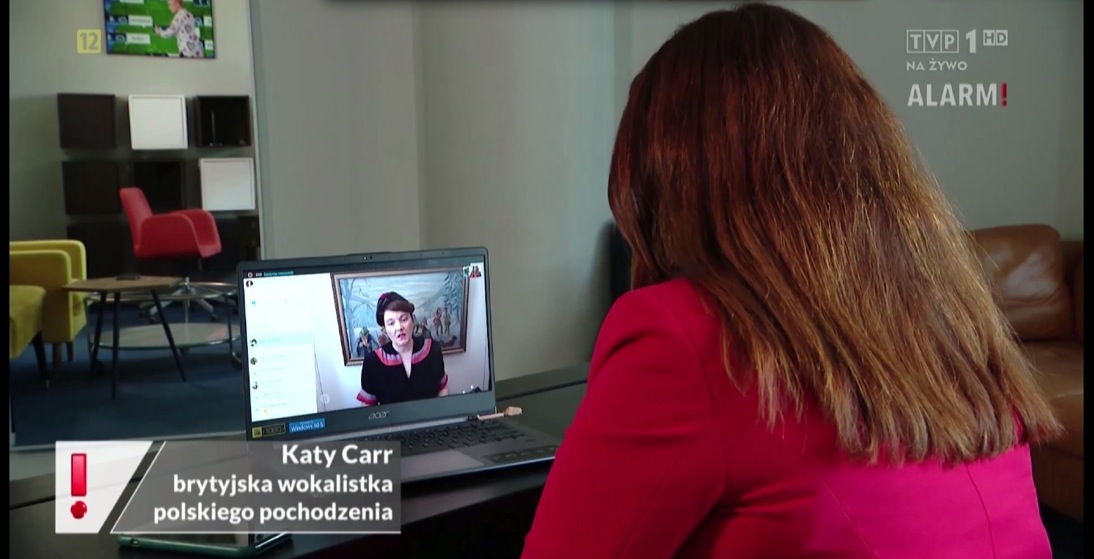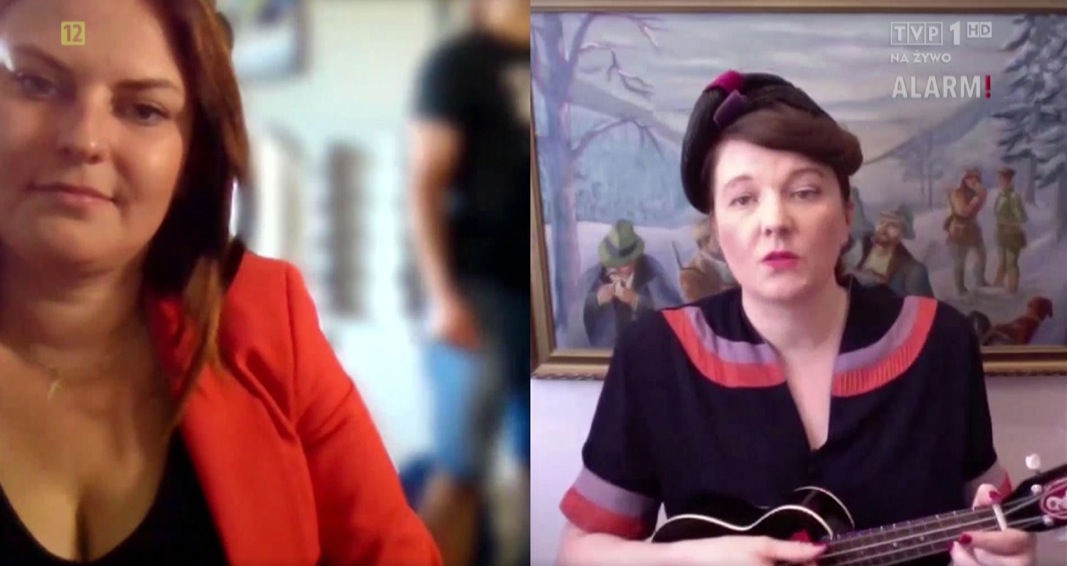 REST IN PEACEDame Vera Lynn RIP who passed away 18th June 2020 aged 103 years. I was so sad to hear that Dame Vera Lynn passed away RIP aged 103. She was such an amazing singer, the forces sweetheart and inspired the British nation, through her singing and music to keep their morale up during the long, hard years of WWII. https://www.telegraph.co.uk/news/2020/06/18/dame-vera-lynn-dead-aged-103/
I had the pleasure of meeting Dame Vera a few years back and she signed my red ukulele https://katycarr.com/meeting-dame-vera-lynn/
Katy Carr performs a special tribute We'll Meet Again to Dame Vera RIP https://youtube.com/katycarr-sings-for-DameVera-RIP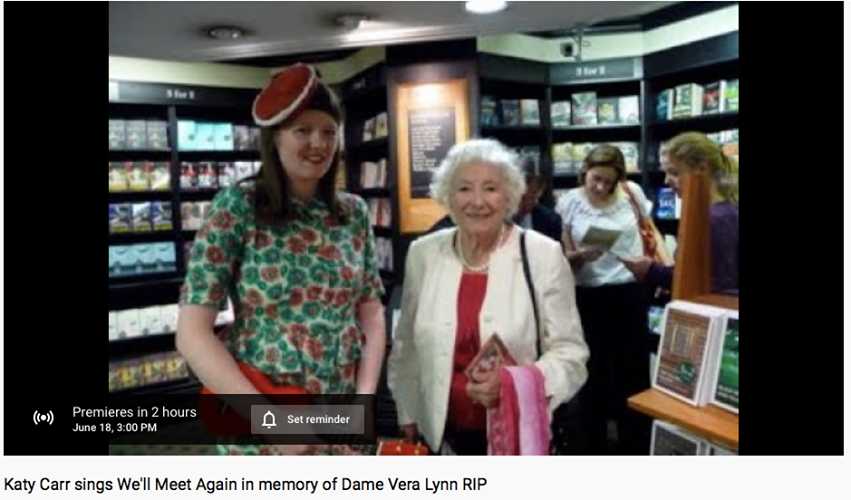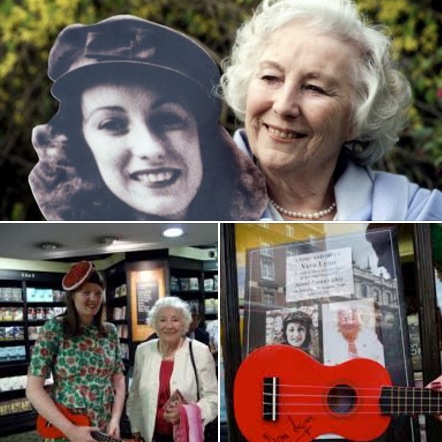 ____________________
STAY SAFE AND STRONG
Please let me know how you are getting on – I always love to hear from you
Thinking of you all …
Love from
Katy Carr and the Aviators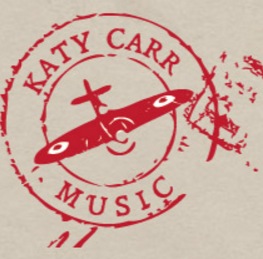 Katy Carr is an award winning British recording artist and has released 6 albums. An Ambassador of Polish History in Great Britain, her recent albums. Paszport (2012), 'Polonia' (2015) are inspired by the Polish WWII experience. In 2016 Katy was awarded the Pro Patria medal for her humanitarian and musical work.