Katy Carr's January/ Feb Newsletter 2020
Dear Friends,
I am writing to wish you all a very Happy New Year 2020. May you all have a great year, great decade and may all your dreams come true and to thank you for all your support with regards my recent concert performance of the songs from the Syrena Record label established 1904-1939 in Warsaw, Poland. I performed on 23rd Jan 2020 at the one-day Conference to Launch Polin: Studies in Polish-Jewry Vol. 32: Jewish Musicians and Jewish Music-Making in the Polish Lands by the Institute for Polish-Jewish Studies at The Embassy of the Republic of Poland in London. A big thanks to everyone who was involved who made this project happen.
A BIG thank you goes to Rupert Gillett – cello, Alan Dunn – accordion and arrangements (thank you so much Alan for working so hard !), Chris Haigh on violin, Juliette Bretan for her involvement with regards helping with the research and archival photographic material that we used for the concert projections.With regards the concert organisors a big thankyou goes to Professor Antony Polonsky (Brandeis University/UCL , Dr François Guesnet (UCL) Conference coordinators: Sara Ben-Isaac (institute of Jewish Studies, UCL), Susan Storring (IPJS), The Institute of Jewish Studies, University College London ijs@ucl.ac.uk, The Institute for Polish-Jewish Studies (IPJS), Mr Vivian Wineman, President of the Institute for Polish-Jewish Studies.
I would also like to thank all at the Embassy of the Republic of Poland in London : His Excellency Arkady Rzegocki Ambassador of the Republic of Poland to the UK, The Polish Cultural Institute (PCI) in London for all your help, PCI Director Marta de Zuniga for your help and support with event planning, Paulina Latham for the concert production and management, Magda Raczynska for the event coordination, Konrad Zieliński, Joanna Snieg and Natalia Puchalska for gig research. Thank you to Filip Slipaczek Chartered Financial Planners for your generous support.
Please find links to the performances here kindly added by the Polish Cultural Institute in London of parts of the performance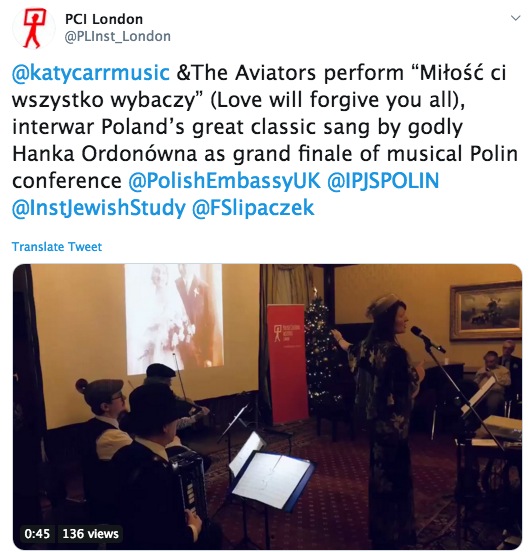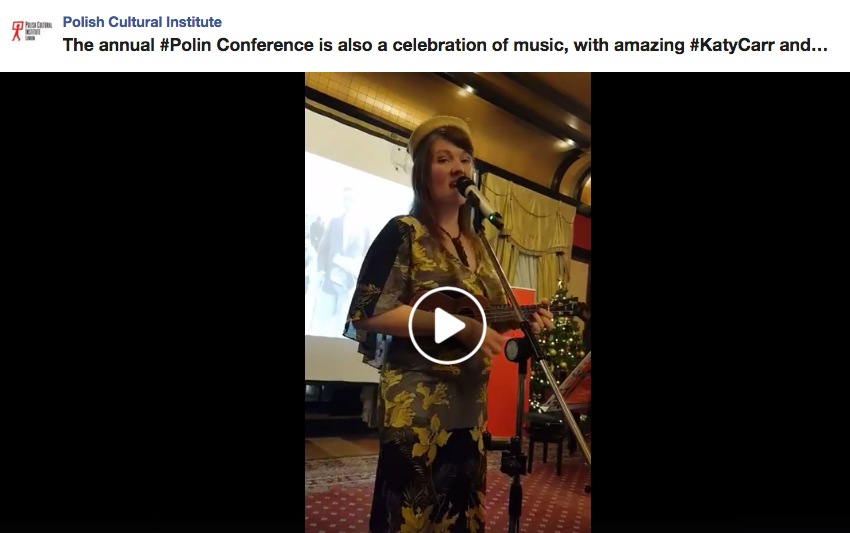 I was so excited to sing Polish-Jewish songs from the interwar period written by a number of Polish composers and artists with Jewish roots including Henryk Wars, Emanuel Schlechter who wrote music for the biggest Polish stars of the interwar period including Hanka Ordonówna, Mieczysław Fogg. I love these melodies and songs so much and can't wait to record them onto a record this year.
For more info please visit the official concert link: http://polishjewishstudies.co.uk/23-january-2020-polin-vol-32-jewish-musicians-jewish-music-making-polish-lands/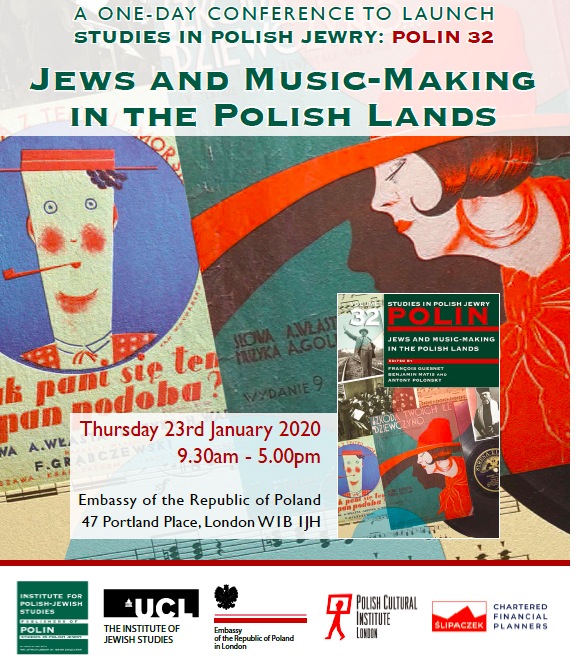 Thanks to the speakers :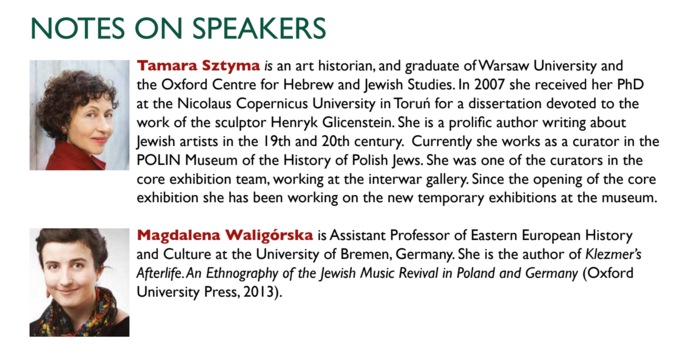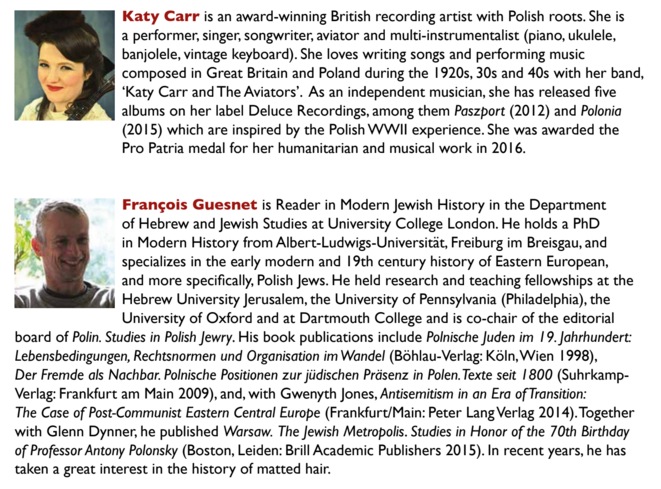 I also wanted to thank the Director of the Auschwitz-Birkenau State Museum Dr. Piotr M.A. Cywiński for inviting me to the 75th Anniversary of the Liberation of Auschwitz. The event took place on 27th Jan 2020. I was very honoured to be at the ceremony and to pay respects to all Holocaust victims including my best friend Kazik Piechowski RIP who made his infamous escape in the Kommander's Car (as in my song link here https://www.youtube.com/watch?v=TqvhgS00UdA), www.kazikfilm.com and my own Polish Grandfather who was a prisoner there from 1941-1942 before finally escaping himself.
I look forward to cooperating with the Auschwitz-Birkenau State Museum this year in 2020 in particular with the 80th Anniversary of the 1st transports to Auschwitz in June 1940. My dream is to work with the Museum on musical workshops and concerts and to help make intergenerational links to the history of WWII Poland. I am also interested in helping create exhibitions worldwide of"Photographic Plates of Memory: Labyrinths by Marian Kołodziej," for another friend – Marian Kołodziej RIP who was introduced to me by Kazik Piechowski – see reference here www.kazikfilm.com for more info on Marian's life history and artwork please see http://harmeze.franciszkanie.pl/marian-kolodziej/ and below
Currently Marian Kołodziej's is being championed by Father Piotr Cuber at the Centrum Św. Maksymiliana w Harmężach which is 3 km form the Museum. If you would like to learn more about the artwork and exhibition hosting please write back to me and below is more info :https://polandin.com/43092924/marian-kolodziej-the-artist-who-drew-pictures-of-his-memories-from-auschwitz Drawing pictures of his memories from Auschwitz became a sort of therapy for the former prisoner of the Nazi German death camp. It took 12 years for Mr Kołodziej to create 200 drawings depicting his memories from the concentration camp. A characteristic motif repeated in his work is a figure representing himself as an old man carrying a younger version of himself from the past. This symbolises a life-long struggle of Mr Kołodziej with the past, said Father Piotr Cuber from the St. Maksymilian Centre. Marian Kołodziej arrived in Auschwitz with the first transport of Polish political prisoners. He was forced to work gathering corpses into a pile, then throwing them into burning pits or taking them to the crematorium. The unique exposition of over 200 of his works can be seen at the St. Maksymilian Centre in Harmęże near Auschwitz concentration camp.
I look forward to sharing more information with you soon
Have a great month and thankyou for your continued support
Best wishes
Katy Carr and the Aviators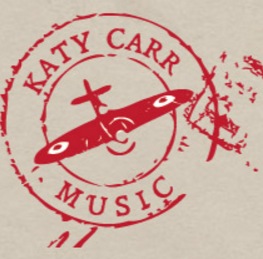 Katy Carr is an award winning British recording artist and has released 6 albums. An Ambassador of Polish History in Great Britain, her recent albums. Paszport (2012), 'Polonia' (2015) are inspired by the Polish WWII experience. In 2016 Katy was awarded the Pro Patria medal for her humanitarian and musical work.
]]
>