Katy Carr's August 2019 newsletter : summer memories, D-DAY 75, Doncopolitan, Raya Herzig RIP
Dear Friends,
I hope you are well and enjoying the summer months. I've been busy recording my new album which I will share more about in the following months prior to its release.
It is also with great pleasure that I am able to share some wonderful moments with you of the past few months. My music concert voyaging has taken me to Poland, France and UK where I have had some lovely experiences and met the most kind and brilliant people.
And please let me know what you think of this newsletter – it is always lovely to hear from you and I am always fascinated to read your comments.
I hope to see you very soon.
Enjoy!
Big hugs
Katy 🙂
June 9th 2019 – DDAY 75th Anniversary in Normandy, France
I am so pleased to have performed at a number of events marking the 75th Anniversary of D-DAY.
It is with great excitement that the "Victory Fly Past" Polish Air Force Memorial in Normandy was unveiled in an official ceremony which took place on the 9th June 2019 to commemorate the role of the Polish airmen who fought in the Battle of Normandy in 1944. The memorial was designed by architect Alexander Smaga.
Architect Alexander Smaga with his Polish Air Force Memorial. Alexander organised all the design, ideas, funding, construction and installation of this memorial so we thank him very much. Poland is lucky to have such a great Ambassador and Alexander should receive a medal from Poland (!!! SOMEONE PLEASE MAKE THIS HAPPEN@!) for all the hard work that he put into creating this memorial in the memory of the Polish Air Force who flew at D-DAY.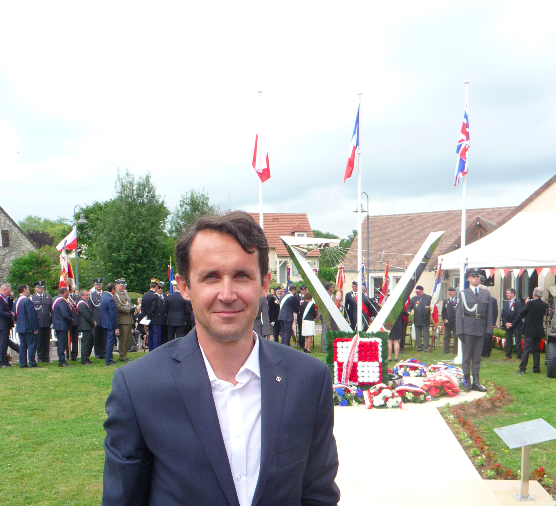 Watch the full video of our inauguration ceremony: https://alexander-smaga.com/2019/07/08/d-day-75-victory-flypast-zwycieski-lot — in Plumetot, Basse-Normandie, France.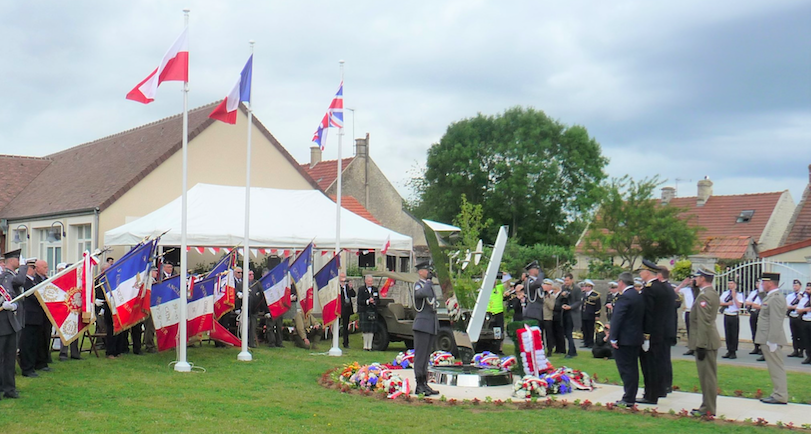 Foto used with kind permission by The Ribbon of Memory Foundation – Fundacja Wstęga Pamięci
A fter my performance with lovely flowers I'm saying goodbye to the Fly Past Memorial from it's home in Krakow (where is was built) before it set off for Normandy in France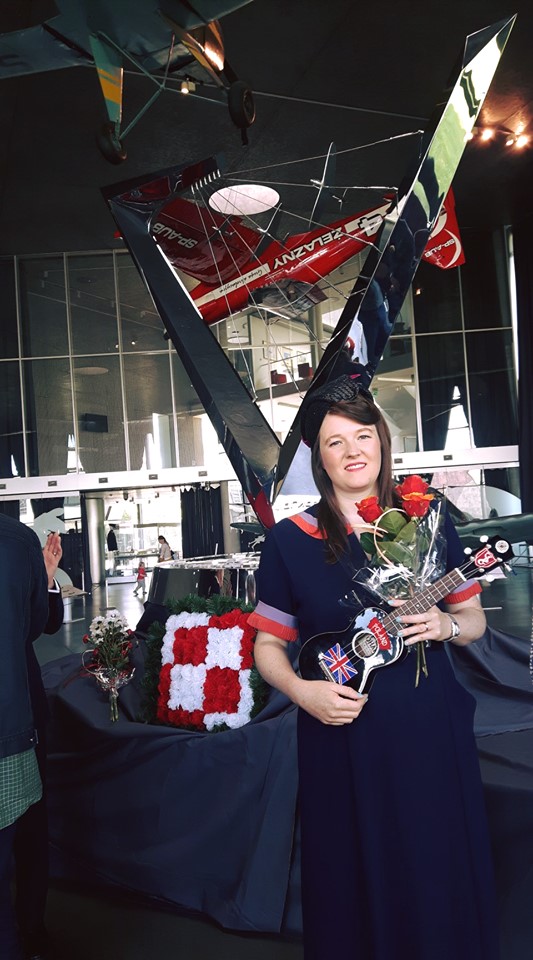 Below saying Goodbye to the Memorial after a blessing at the Polish Air Force Museum in Krakow, Poland
Zbigniew Cichoń, Bogusława Stanowska-Cichoń, Ryszard Kornicki, Alexander Smaga, Eugeniusz Kozłowski, Izabela Auner
Foto : Beata Kasperczyk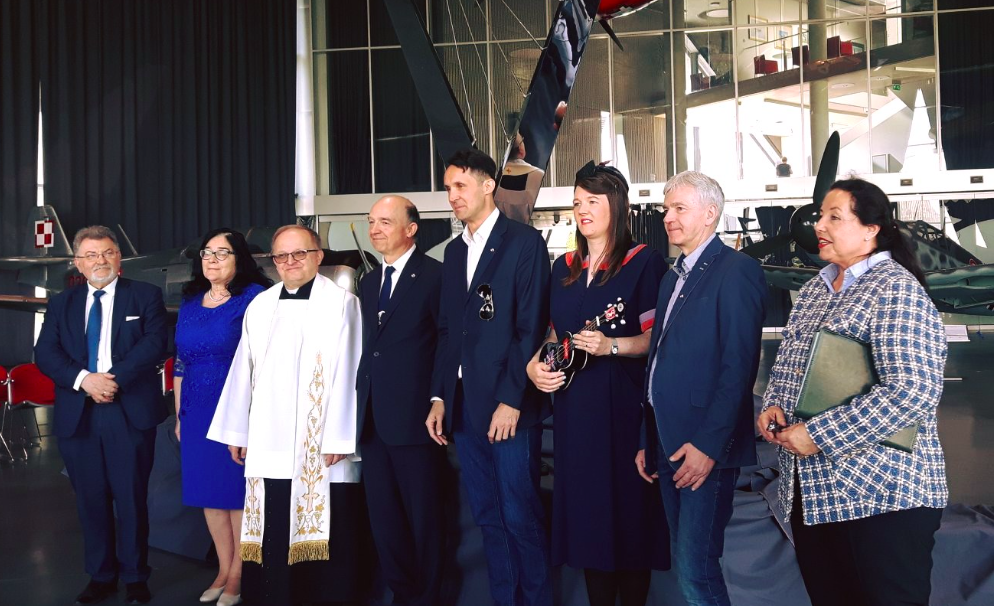 D-DAY STORY MUSEUM CONCERT, PORTSMOUTH, UK
Big thanks to the 307 Squadron Project in association with The D-Day Story for inviting me to perform at The Polish D-Day Story at the The D-Day Story Museum in Portsmouth. The event remembered all those Poles who fought for our Freedom in D-DAY 1944 on Saturday 22nd June 2019. My performance was brought to Portsmaouth in association with the Polish Cultural Institute in London.
Some photos from the event :
Below Katy Carr with the 307 Project Portsmouth after they received Pro Patria medals for organising the Polish D-Day event on 22nd June in Portsmouth which also received patronage from the President of Poland – Congratulations :))))
Michael Parrott, Katy Carr,Agnieszka Michalski, Andrzej Michalski.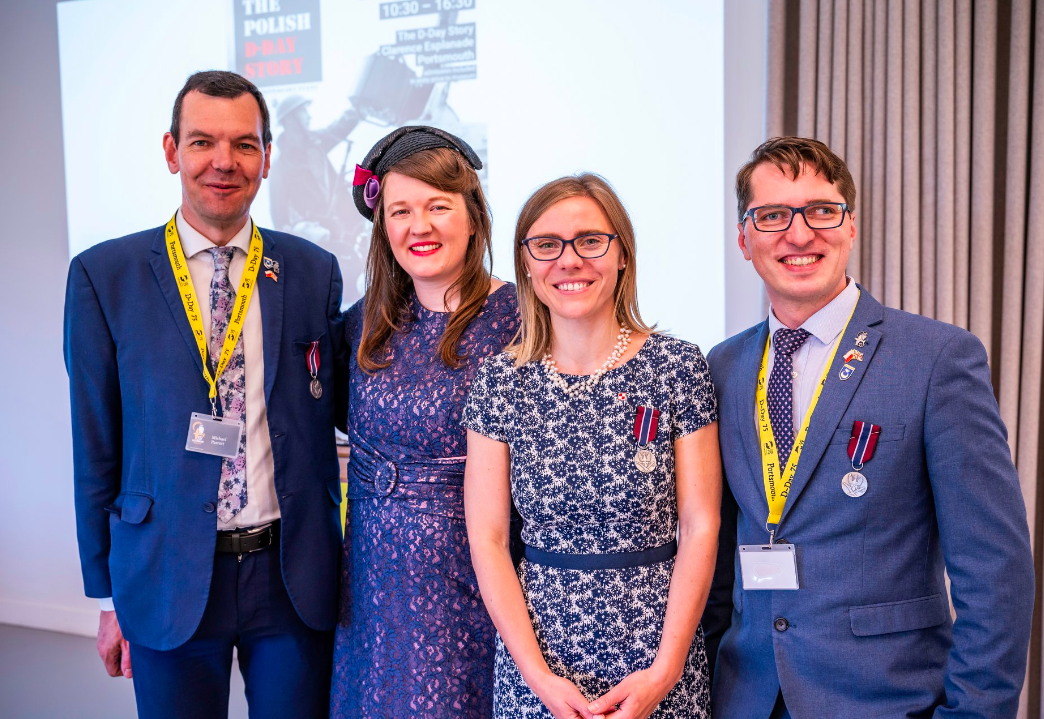 Singing for the crowd at the Polish D-Day Museum Story.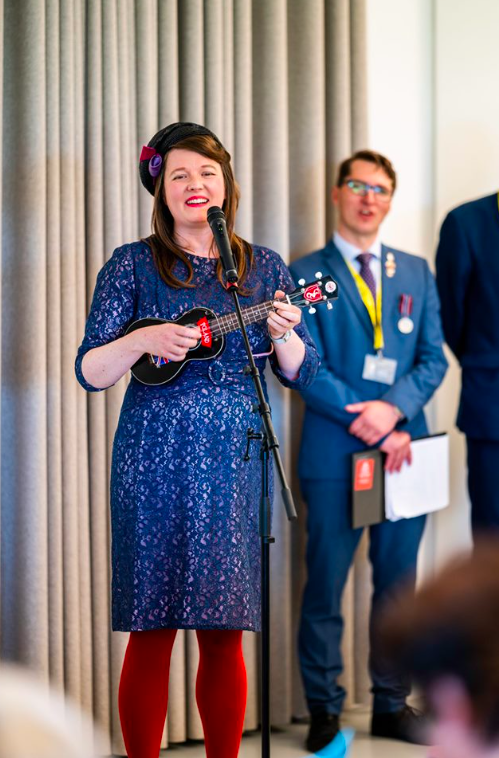 With D-DAY British Veteran Sergeant John Jenkins MBE and Polish Veteran Lieutenant Colonel Otton Hulacki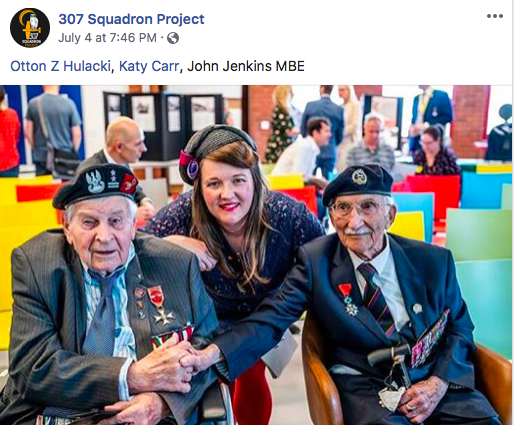 My Ukulele !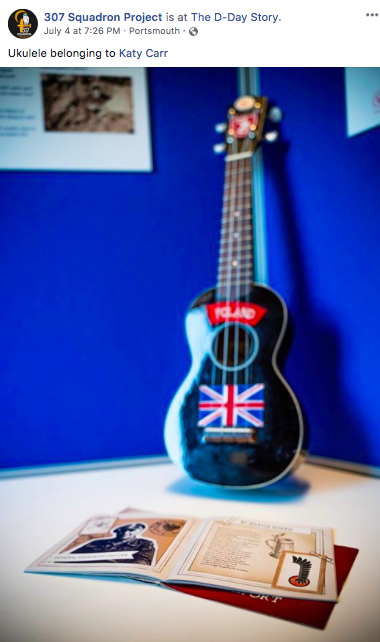 Singing my song Motylek dedicated to General Skalski and all those polish Pilots who fought for Our Freedom and Yours.
With Andrzej Michalski and Michael Parrott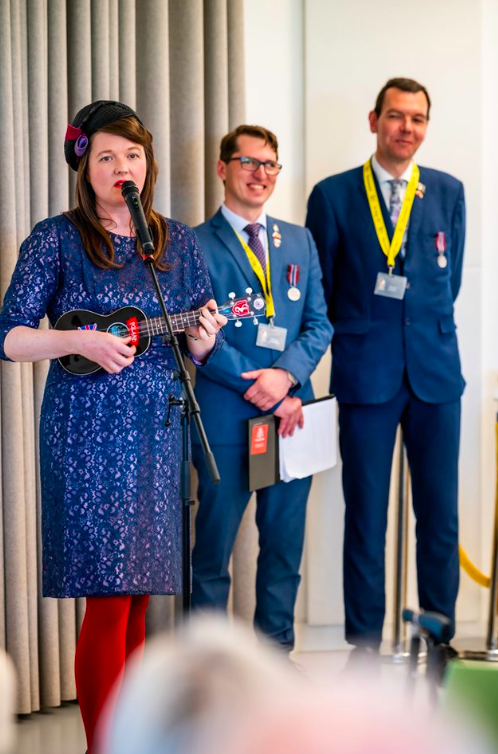 With the 307 Project event organisers with Andrzej Michalski and Michael Parrott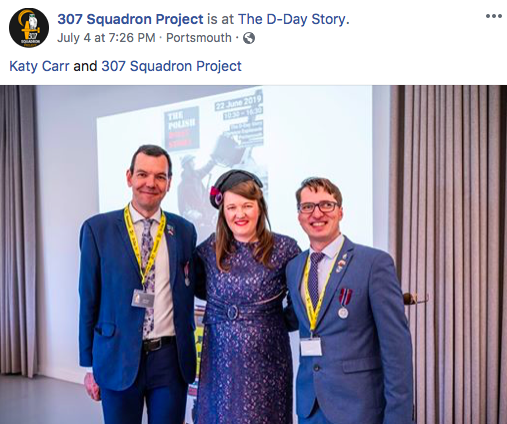 Alexander Smaga Architect discussing the opening event and installation of the Polish FlyPast Memorial in Normandy, France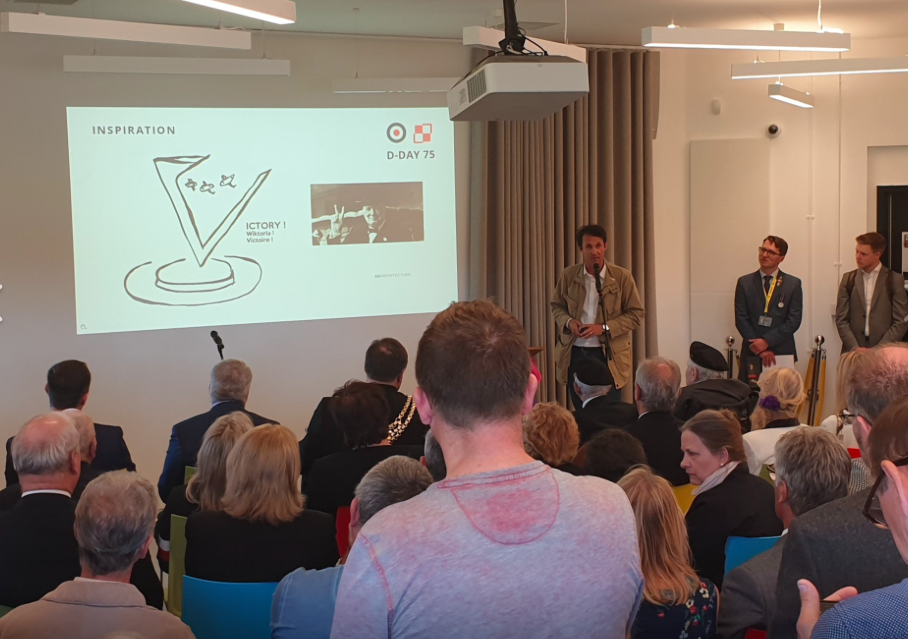 At the event we also watched a film documentary 'Forever a Pilot – Spitfire Liberator: The
Alex Herbst Story' a film about a 303 Squadron Squadron pilot who flew on D-Day. I had first seen the documentary in Belfast and performed at an event organised by Maciek Bator with his foundation For our Freedom and Ours at the Ulster Aviation Society. Expect to hear a song about the unusual story of the pilot of 303 Squadron Witold Aleksander "Alex" Herbst, (pilot dywizjonów 303 i 308) on my forthcoming 6th studio album out later this year. Big thanks to Film director Slawomir Ciok for his creativity and for bringing us this film.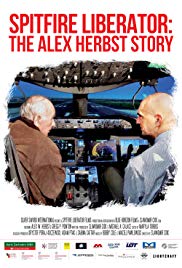 THE DONCOPOLITAN CRAWL JULY 2019 – Doncaster
Big thanks to all who organised the Doncopolitan Crawl and to the Editor Rachel Horne of Doncopolitan Magazine for inviting me to perform. Every worked so hard to make the event a success and I was so proud to take part and to make new friends in the progessive town of Doncaster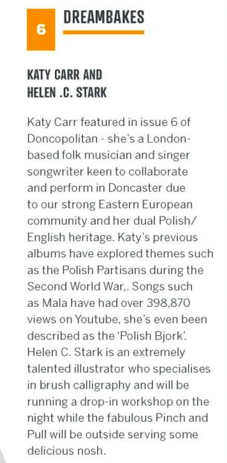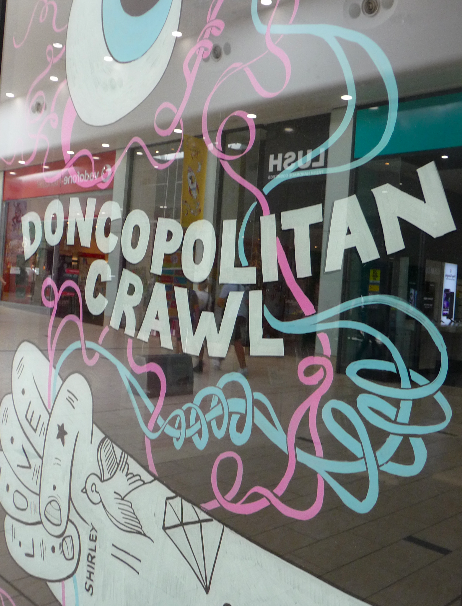 EXCITED !
I was so pleased to have sang on Katharine Blake's new Mediaeval Baebes album 'A Pocketful of Posies'
Listen to one of the songs I recorded with Katharine here – The Lion and the Unicorn
https://www.youtube.com/watch?v=4es6EUolU9E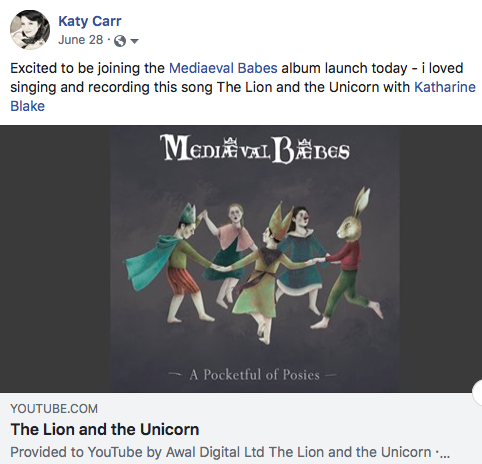 Thankyou also to musician and event organiser Lucinda Sieger for organising a wonderful Lucie's Lounge where I had the delight of meeting fellow folk singer and musician Catherine Rudie from Scotland
__________________________________________________
WE REMEMBER
In this section of my newsletter We Remember absent friends and important historical events.
The 80th Anniversary of the signing of the 'Hitler – Stalin Pact' The Molotov-Ribbentrop Pact- on 23rd August 1939.
Few history books give proper significance to The 'Hitler – Stalin Pact' which basically set about enslaving Poland to Germany and Russia and was the reason why WWII began. So in effect WWII actually started on 23rd August 1939 as the plans to attack Poland were set for the German attack on 1st September 1939 and the Russian Attack on 17th September 1939. The effects of this agreement lasted a bloody 6 years 1939-1945 and a further 45 years when Poland remained enslaved under the Totalitarian regime by Stalin's Iron Curtain Communism. Poland never had a Victory parade and was omitted from taking part in the Victory Parade of June 6th 1946 through London – the British Labour government of 1945 omitted Poland – Britains strongest Ally throughout WWII and Polish forces who had fought alonside British forces throughout WWII from marching through the streets of London at the time because they were worried about offending their friend and psychopath 'Uncle Joseph Stalin'. A tragedy of history that again has not been well documented in history books.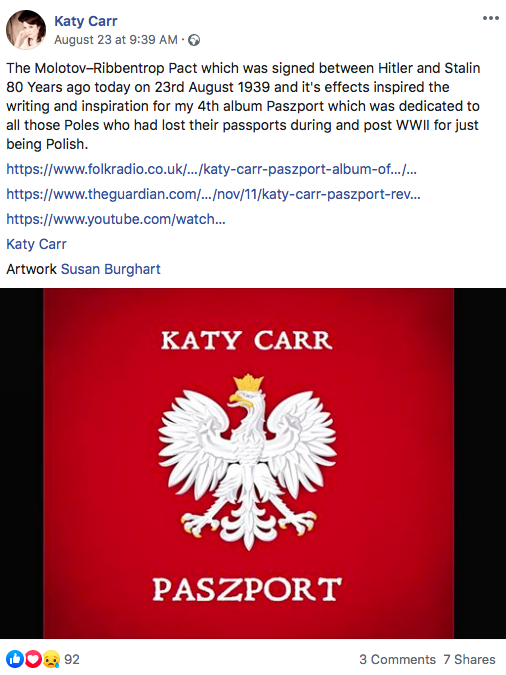 The 75th Anniversary of The Warsaw Uprising 1st August 1944
The Poles fought hard to save their beloved city of Warsaw to be defeated in a bloody battle with a mass loss of Polish lives – numbers extend to over 300 000 Poles. Both German and Russian forces stole Warsaw from under the feet of Poland. When Stalin and his 2 million Communist cronies took over Poland and slammed her behind the Iron Curtain for over 45 years, the brave Poles who had fought for their country were sent en masse to Siberia and the Gulags or tortured in Soviet jails across Poland. Few in the West know about the horrors and crimes of Communism and Joseph Stalin because again history books just do not cover this. Communism put Poland in a reign of terror – some say far worse that Hitler ever did if that is earthly possible and Communism lasted 45 years in Poland.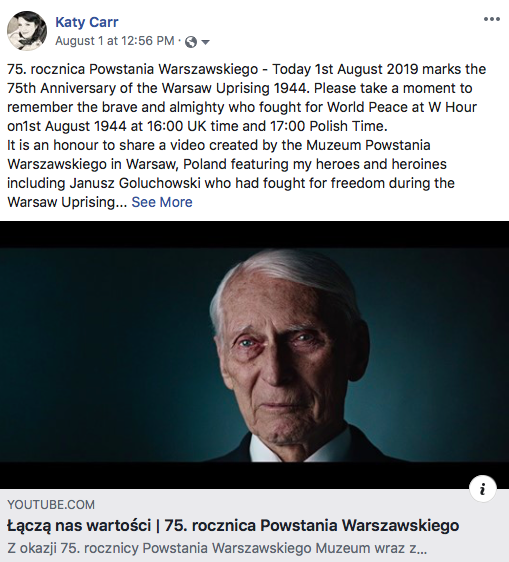 Here my friend Janusz Goluchowski pictured above talking about the Warsaw Uprising. Janusz was also in General Maczek's 1st Polish Armoured Division and presented me with an Honourary Membership to the 1st Polish Armoured Division in 2016
100th Year Anniversary of Kazik Piechowski and his remarkable escape from Auschwitz on June 20th 1942
Kazik Piechowski 77 years ago on 20th June 1942 defied the Germans who had enslaved him in Poland from the beginning of WWII. Kazik a Polish boy scout escaped the German's horrific hellhole that was Auschwitz concentration camp in the camp commandant's car the then Rudolf Hoss. Auschwitz was only one of the 3000 German concentration camps littered by the Germans during in WWII on Polish soil. After escaping Auschwitz, Kazik fought alongside the Allied forces in the Armia Krajowa – the Polish Home Army which was the largest underground Allied Resistance Force in the world during WWII. When the war ended the Communists under the biggest psychopath of the 20th Century Joseph Stalin (who murdered over 200 MILLION people during his reign of terror) known here in the UK as 'Uncle Joe' (Stalin was NO UNCLE!) incarcerated Kazik for a further 10 years incarceration in Communist jail for fighting with the Allies. Kazik became a free man when the Iron Curtain fell in 1989 at age 70 Years of age.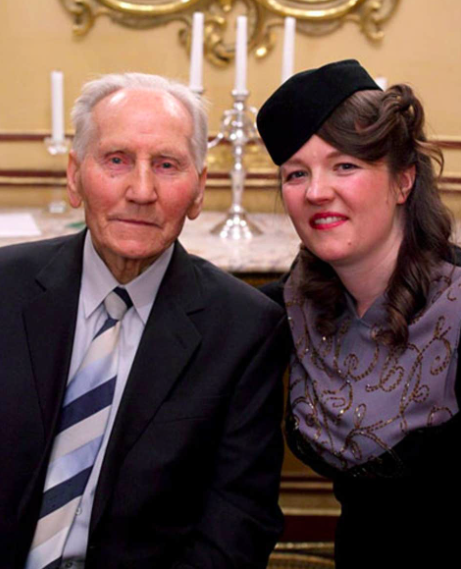 ARTIST RAYA HERZIG RIP :
Fine Artist and Holocaust survivor Raya Herzig RIP Artist and beloved friend passed away. She was an incredible inspiration along with her concert pianist sister
Stella Tjajkovski
for me and my music. Below we are sitting together at her recent art exhibition on the Portobello Road in Notting Hill Gate hosted by
Gosia Łapsa-Malawska
. To lose Raya is a tragic loss of an amazing person who loved life and art and her wonderful family. My thoughts and prayers go to her loved ones, family and friends at this very sad time. We will miss you so much beloved friend and your electric presence will remain in our hearts forever xxxx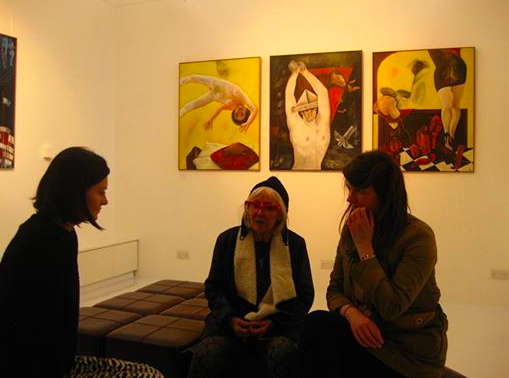 I'll leave you with a picture that Raya took and sent to me when I sang for her at one of her famous garden parties in Exeter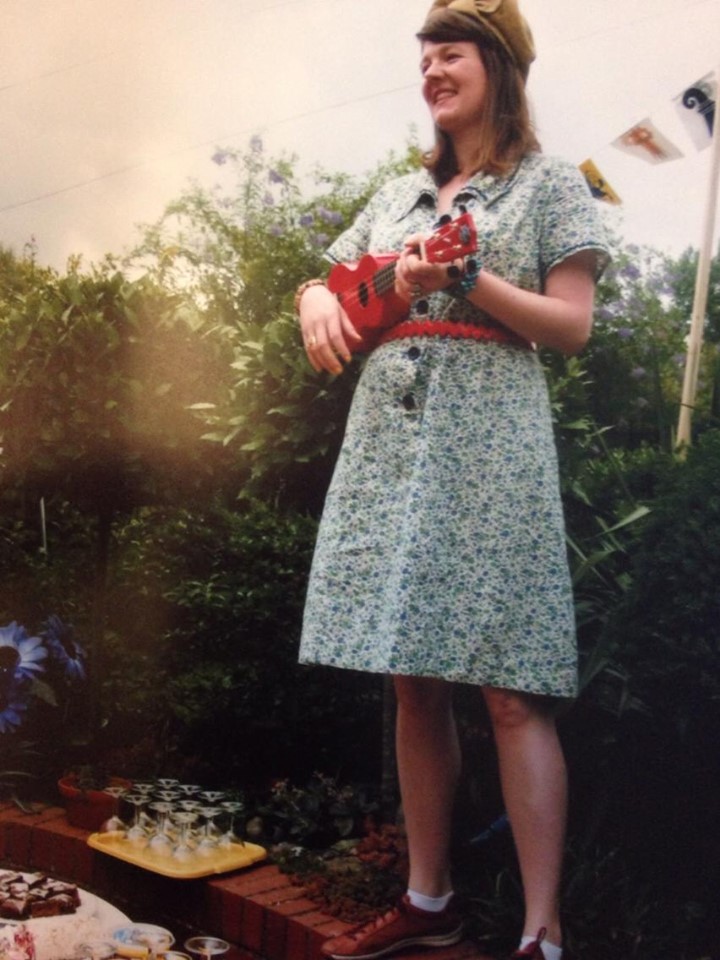 Enjoy the rest of the summer – big hugs and keep in touch
Thanks for reading my newsletter and I'll update you with further information soon
Love from Katy Carr and the Aviators 🙂