Katy Carr's April 2019 newsletter : Katy Carr concerts and The Polish Air Force Memorial leaves Kraków for DDAY 75 Normandy, France 
Dearest Friends, 
Next Concerts – more details for each coming soon 
11th May : 12 noon The Polish Aviation Museum, Kraków, Poland
29th May : For Your Freedom and Ours – Belfast, N Ireland
9th June : Opening of DDAY Memorial, Plumetot, Normandy, France
22nd June : DDAY Museum Portsmouth, UK
I am very excited to invite you to a special event being hosted this Saturday 11th May at 12pm noon at the Polish Aviation Museum in Kraków, Poland. The event is a farewell ceremony for the Polish Air Force Memorial designed by AS Architects – Alexander Smaga Architects which will be opened officially on 9th June 2019 in Plumetot, Normandy, France where it will be stationed forever to commemorate the efforts of the Polish Air Force during WWII and D-Day 1944.
The memorial itself has been crafted and constructed here in Poland and the Polish Aviation Museum in association with The Ribbon of Memory Foundation – Fundacja Wstęgi Pamięci are sharing this exciting and monumental occasion to see the memorial for the last time in Poland. 
Address :  The Polish Aviation Museum,  al. Jana Pawła II 39, 31-864 Kraków, Poland, Tel: +48 12 640 99 60
Details below and ALL ARE WELCOME – so see you there ! 🙂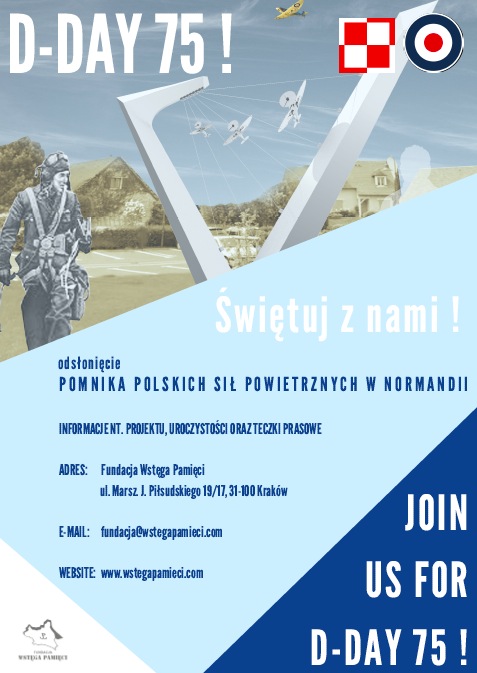 more info is available about the event here at https://aviation24.pl/pozegnanie-i-poswiecenie-pomnika-lotnikow-w-muzeum-lotnictwa-polskiego
Message from the organisers in Polish : Szanowni Państwo, W dniu 11 maja br. o godz.12.00, w hangarze Muzeum Lotnictwa w Krakowie odbędzie się prezentacja i uroczyste pożegnanie pomnika Polskich Lotników w Normandii przed jego drogą do Francji. Inicjatorem pomnika "Zwycięski Lot" to Polish Air Force Memorial Committee w Londynie, mer miasta Plumetot. Patronami projektu są m.in. ambasada RP w Paryżu, władze Normandii, Muzeum Lotnictwa Polskiego w Krakowie, metropolita krakowski arcybiskup Marek Jędraszewski, Instytut Pamięci Narodowej. Partnerem strategicznym Polish Air Force Memorial Committee w Londynie oraz organizatorem prac wykonawczych jest Fundacja Wstęga Pamięci. Rzeźba ze stali została wykonana przez firmę z Małopolski. Pozdrawia Fundacja Wstęga Pamięci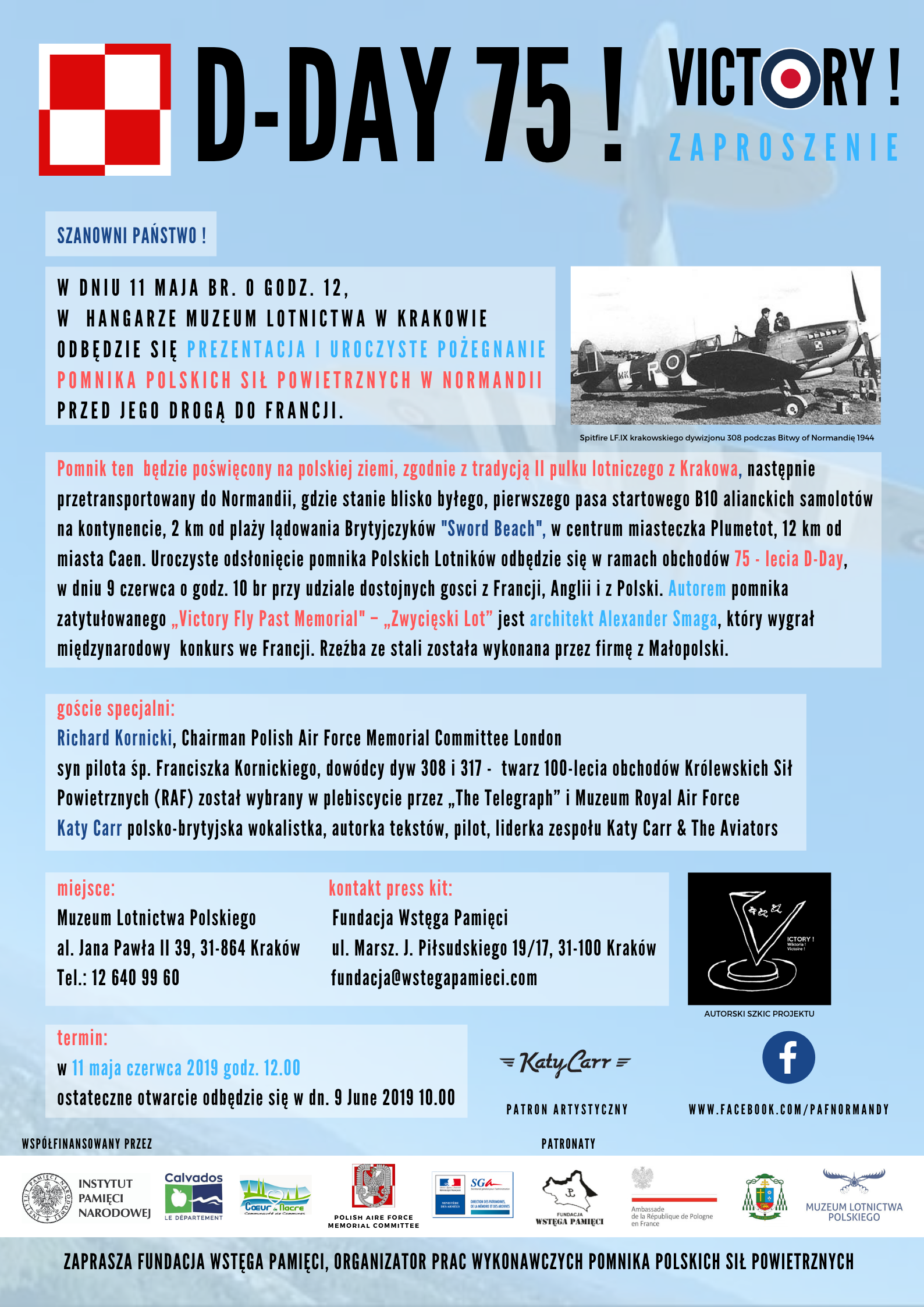 The memorial will be making it's way to its forever place in Normandy, France for the memorial Opening Ceremony on 9th June 2019 at 10 am. 
Find out more here : www.facebook.com/PAFNormandy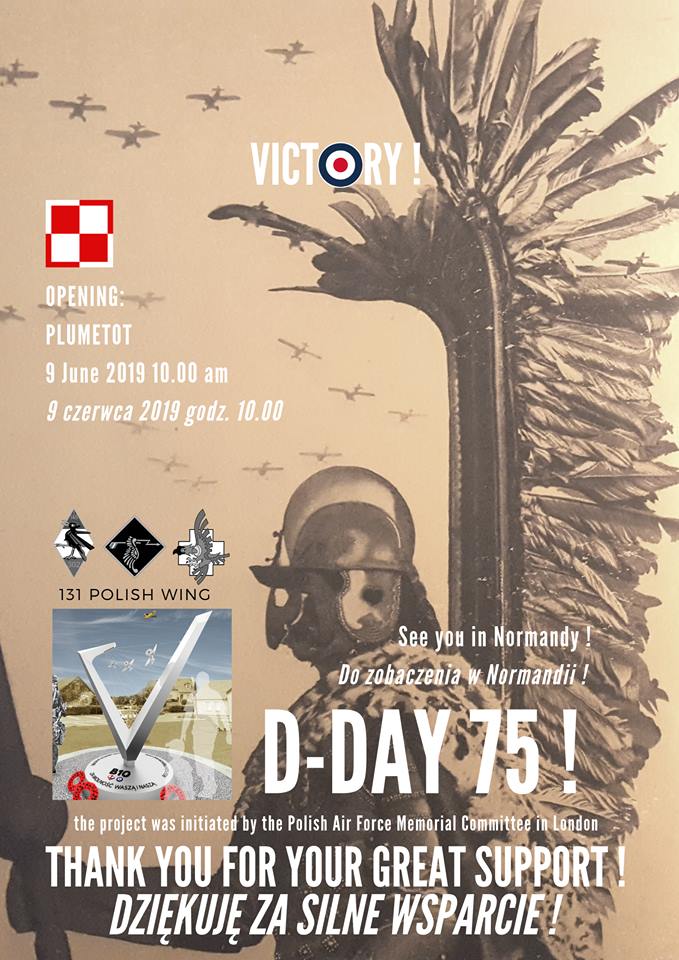 BIG THANKS THIS MONTH GO TO :
Katy Carr and the Aviators for the remarkable concert at the Polish Club Ognisko:
Sam Slater : Acoustic Guitars (nylon and steel) Charango
Rupert Gillett : Cello
Alan Dunn : accordion
Chris Haigh : violin
Hannah Lovell Video director and visuals
Joe Peet – sound engineer
Magdalena Głogowska at Club Ognisko for your pre and post concert care.
FX Rentals for the sound equipment
Katarzyna Zamoyska and all at he Adam Miskiewicz Institute in Warsaw for organising the concert.
POLSKA 100 and The Ministry of Culture and National Heritage of the Republic of Poland and the multi-annual programme NIEPODLEGŁA 2017-2022
The Biggest thank you to YOU our friends and fans who continue to love and support us ….
Thank you to those of you who sent in photos 🙂 ))))
Teresa Potocka 🙂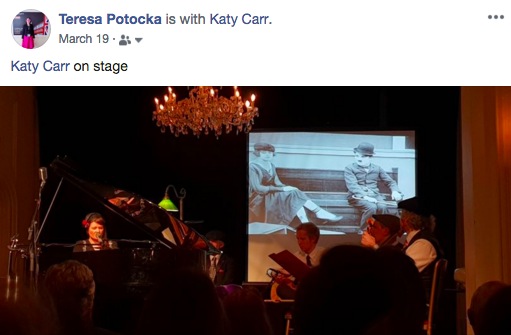 Roger Aitken 🙂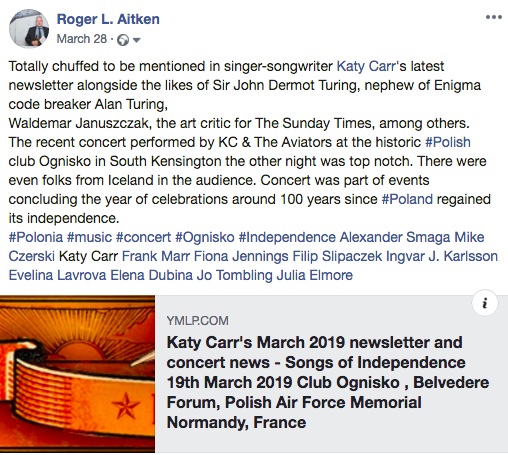 David Stark 🙂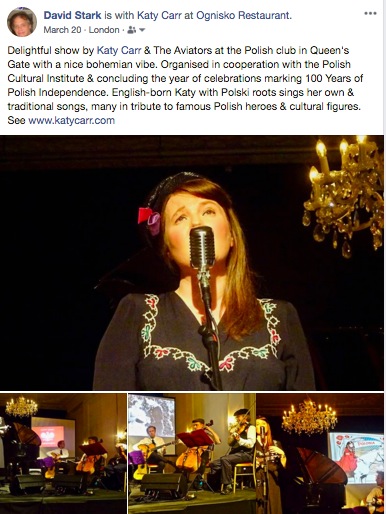 Anna Kalinowska 🙂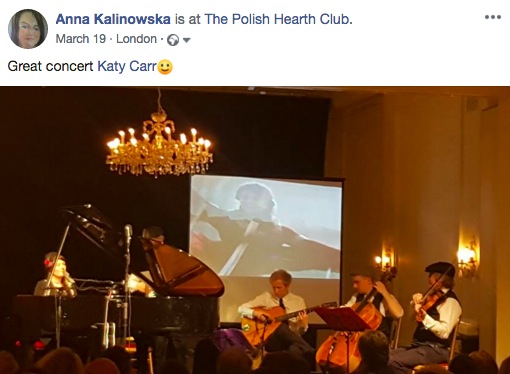 Our Rupert Cellist! 🙂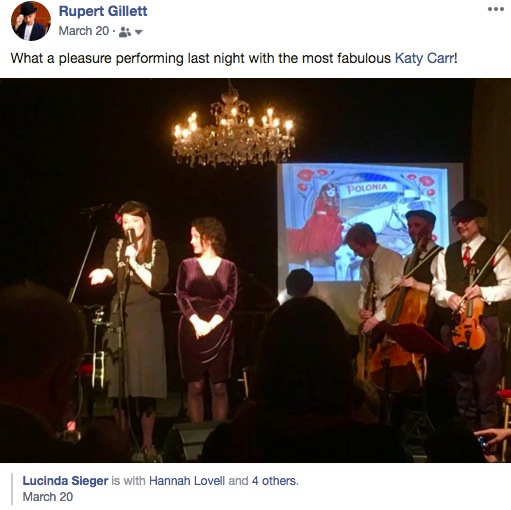 The Lovely Lucinda Sieger for these fab photos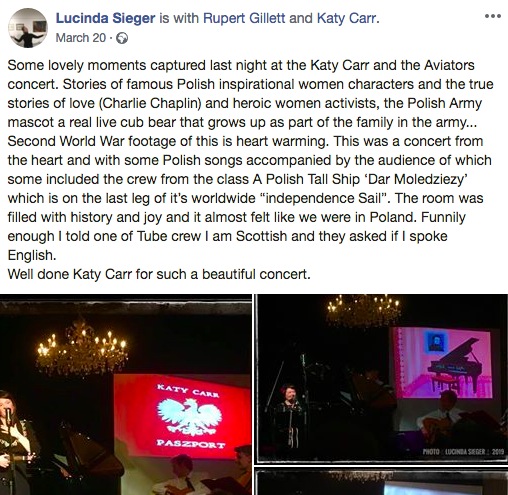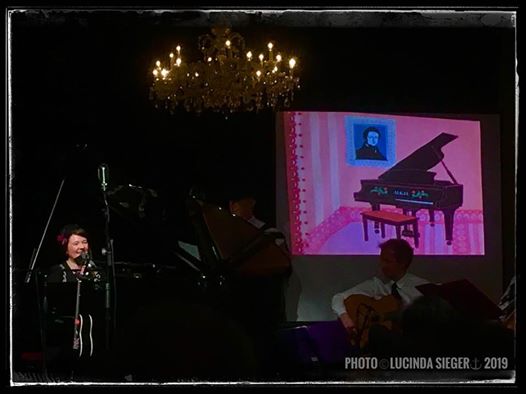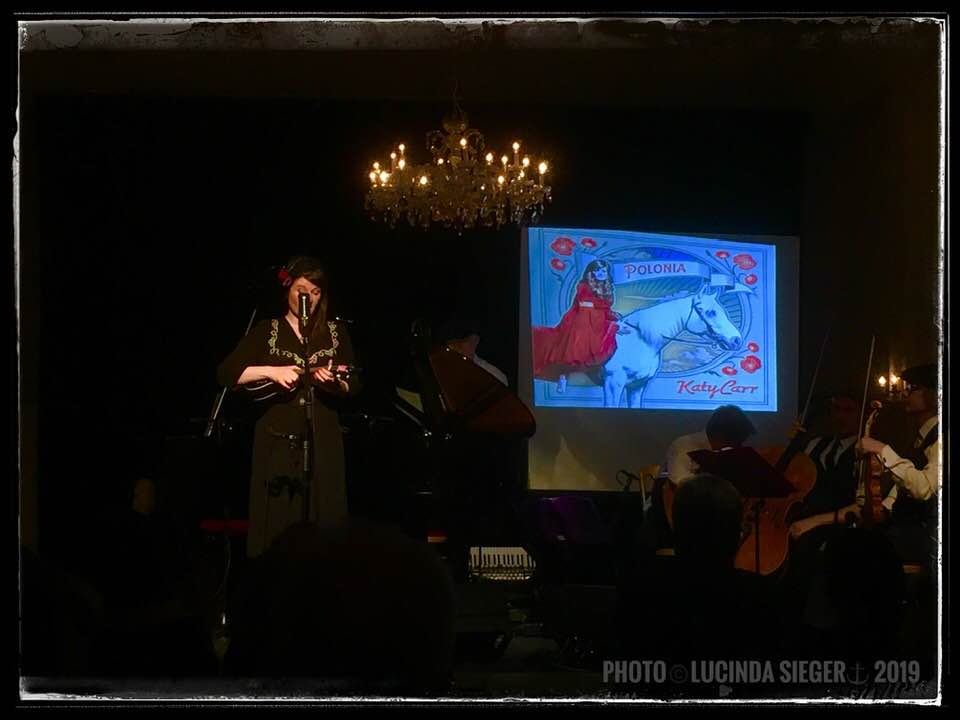 Thank you to you too Agnieszka Sheppard 🙂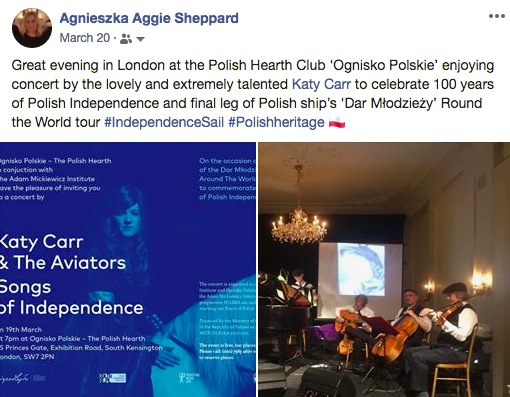 Thanks again for all your loving kindness. Hope to see you soon – maybe at my concert on 19th March 2019
Big hugs and keep in touch
Love from Katy Carr and the Aviators 🙂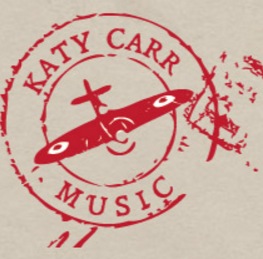 Katy Carr is an award winning British recording artist and has released 6 albums. An Ambassador of Polish History in Great Britain, her recent albums. Paszport (2012), 'Polonia' (2015) are inspired by the Polish WWII experience. In 2016 Katy was awarded the Pro Patria medal for her humanitarian and musical work.