Katy Carr's March 2019 newsletter and concert news – Songs of Independence 19th March 2019 Club Ognisko , Belvedere Forum, Polish Air Force Memorial Normandy, France 
Dearest Friends,
Wishing you a fantastic Spring 2019  and it was so lovely to catch up with all of you who attended my previous concerts in Poland and GB  🙂
Firstly, I am delighted to announce that I will be performing on Tuesday 19th March 2019 with my group Katy Carr and the Aviators at The Polish Club Ognisko : 55 Princes Gate, South Kensington, London SW7 2PN  t : 020 7589 0101 FREE entrance – The venue is located opposite the Science Museum and on the same side of the road as the Victoria and Albert Museum  http://ogniskopolskie.org.uk  
You are ALL WELCOME and invited – The event is free, but places must be booked in advance. Please call: (020) 7589 4670 or email myself or : office@ogniskopolskie.org.uk to reserve places.
I will be performing with the following musicians, Katy Carr : Vocals, Piano/Keys, Ukulele Sam Slater : Acoustic Guitars (nylon and steel), Charango Rupert Gillett : Cello Alan Dunn : accordion Chris Haigh : violin Hannah Lovell Video director and visuals, Joe Peet – sound engineer with thanks to FX Rentals for the sound equipment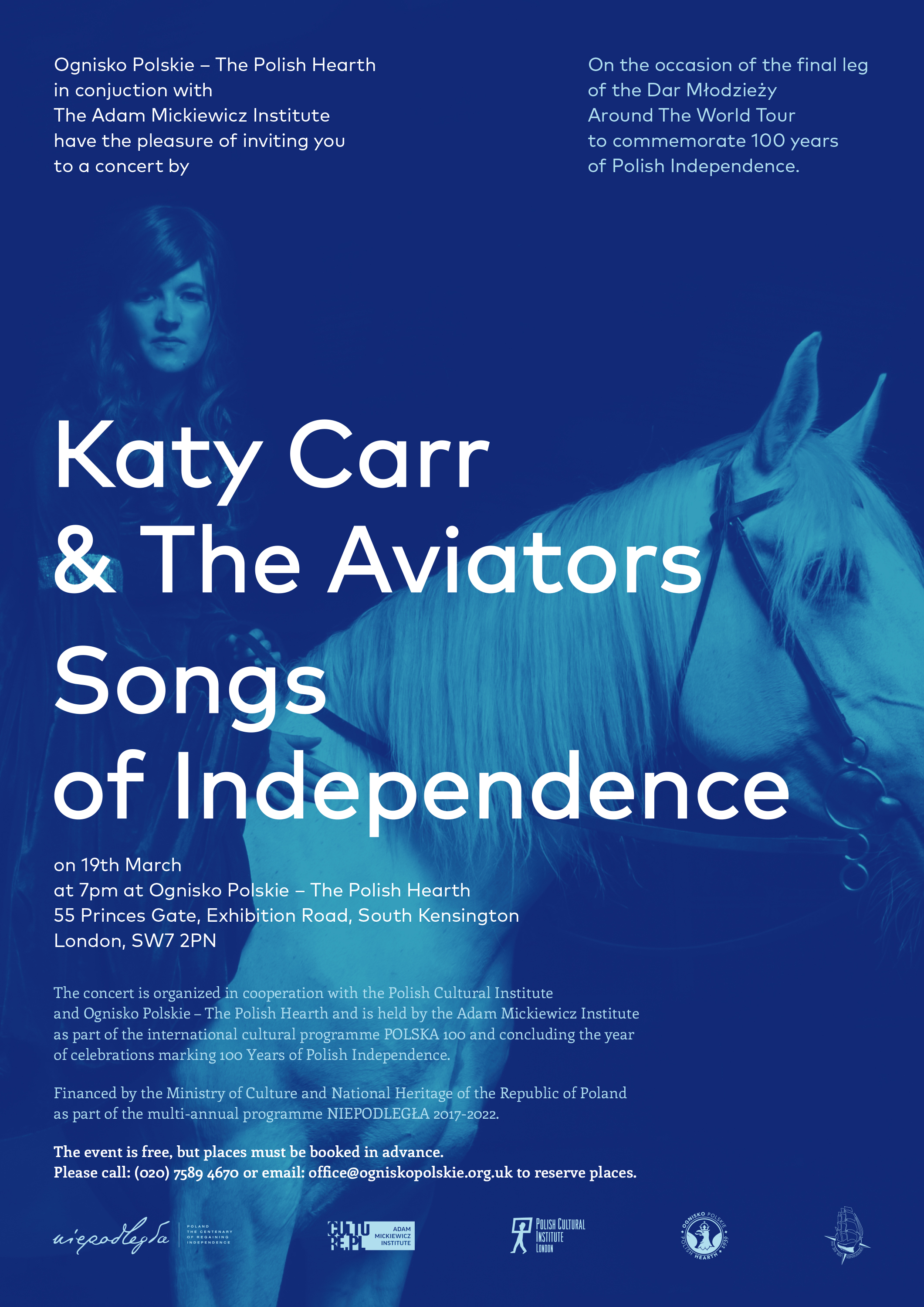 The performance and entrance fee is FREE as this concert is being organised in cooperation with the Polish Cultural Institute and Ognisko Polskie – The Polish Hearth and is announced by the Adam Mickiewicz Institute as part of the international cultural programme POLSKA 100, concluding the year of celebrations marking 100 Years of Polish Independence. Financed by the Ministry of Culture and National Heritage of the Republic of Poland as part of the multi-annual programme NIEPODLEGŁA 2017-2022.
IMPORTANT
: If you wish to attend all tickets are
FREE
available by email or telephone request. Please telephone the club here on  t : 020 7589 0101 or email the club at Office@ogniskopolskie.org.uk myself to request that I put you on the guest list 
info@katycarr.com
Official Invitation below 🙂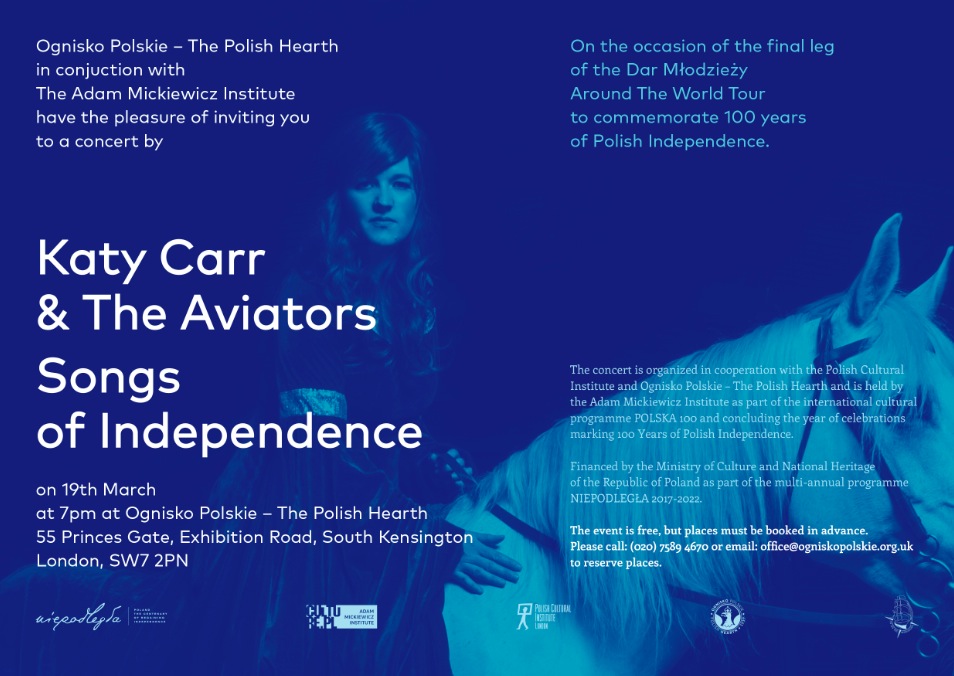 The performance has also been inspired by the Rejs Niepodległości which is as journalist Roger Aitken wrote in a recent tweet (thanks Rog!) here : —-  '*** Newsflash *** The Polish tall ship, "Dar Młodzieży" ('Gift of the Youth'), is on a world tour to mark 100th anniversary of Poland regaining independence, is coming to London + will dock at London's Greenwich Tier, near Cutty Sark, this Sunday (17 March) after a 10-month journey that has taken it around the world, where it will spend 3 days in the capital. London is last stop on a journey that has taken in ports in Bordeaux, Cape Town, Copenhagen, Dakar, Jakarta, Singapore, Osaka and Los Angeles, with c.1,000 young sailors having taken part in the expedition that ends on 28 March in Gdynia on the Baltic coast of Poland. Hope to see you there on Monday late afternoon, if you have a chance to see this amazing ship that some have described as being like a monument. Whilst in London, the ship is open to visitors on the following days: Sunday, 17 March, 13.00-18.00; Monday, 18 March, 14.00-17.00; and, Tuesday, 19 March, 16.00-18.00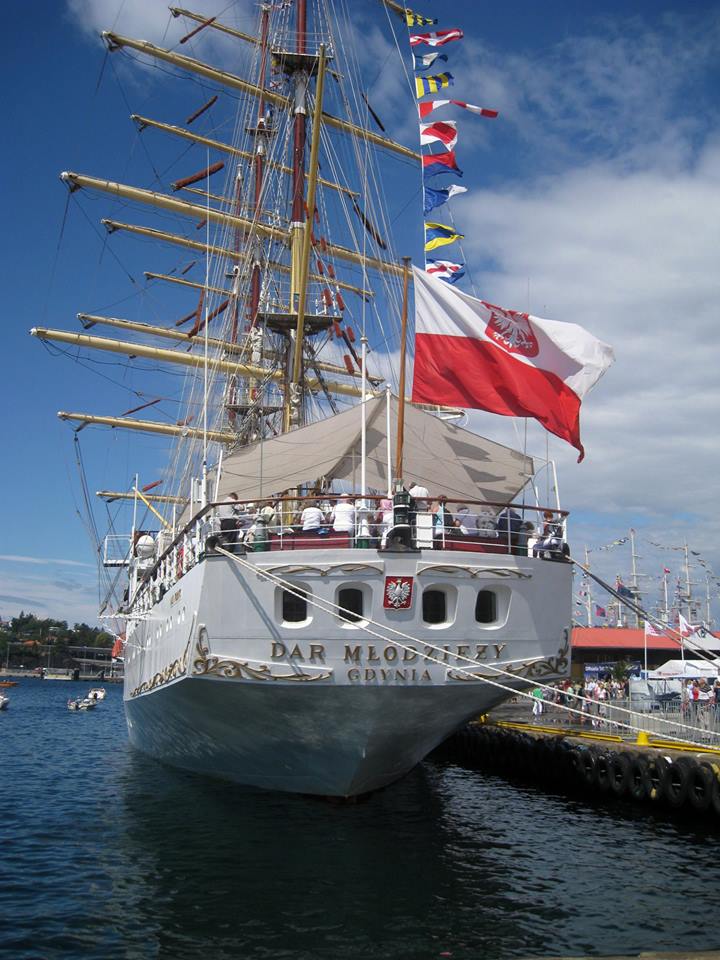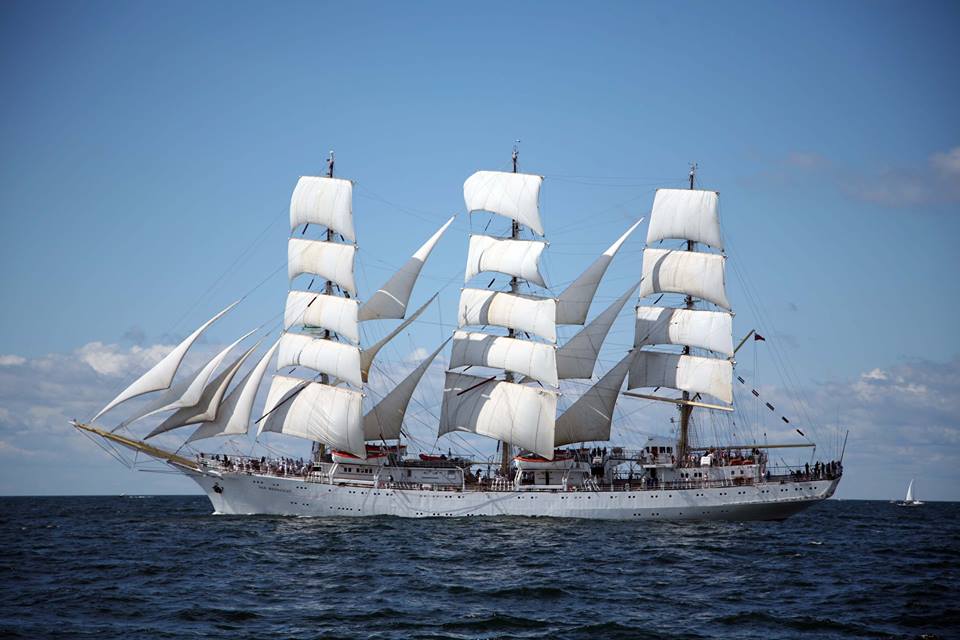 Looking forward to seeing you at the concert 🙂 …..
BIG THANK YOUS FOR LOVELY MEMORIES THIS 2019 GO TO : – 
Alexander Smaga the architect for the Polish Air Force memorial in Normandy to be erected early June 2019 – If you wish to make a contribution The Polish Air Force Memorial Committee in London is accepting donations from individuals and institutions. You can support this great project on: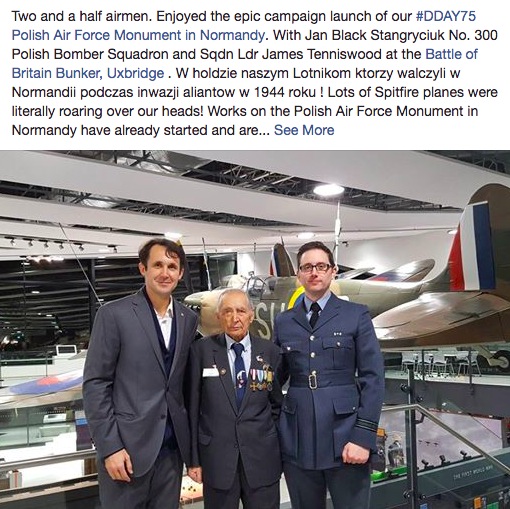 Thanks also to Roger Aitken for his article on the Polish Air Force Memorial in Normandy and his article in International Excellence – please read here 🙂  LINK http://internationalexcellence.co.uk/luxury-magazine/content/roger-aitken/air-force-memorial-normandy-polish-pilots-launches-crowdfund?fbclid=IwAR0OlMeDNiC1gTxFBbzn6Z3UZWyOxm5MK8rprMEb77kc1bGAO2MWy-PXlHg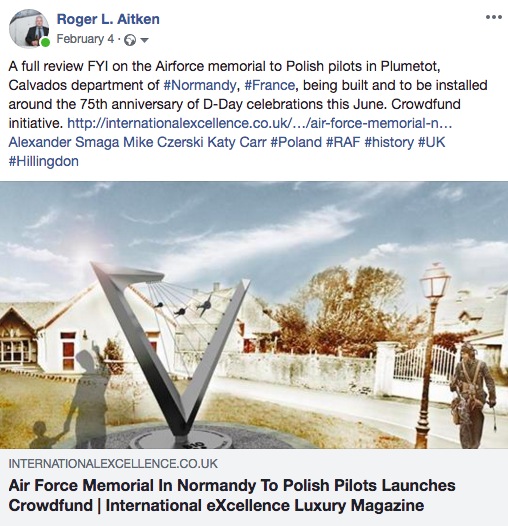 Big thanks to The Belvedere Forum held at The Royal Castle in Warsaw – Zamek Królewski w Warszawie. Special thanks to Jonathan Knott – The British Ambassador to Poland and the British Embassy for my invitation. Thank you to Ruth Burns for your help 🙂
I met some incredible people and was delighthed to be introduced to Sir John Dermot Turing – Alan Turing's nephew and presenting him with my album Polonia and song Bomba about Polish mathematician and cryptologist Marian Rejewski's Bomba machine which first broke enigma codes pre 1939 and WWII – I tried to wear an Enigma style dress 😉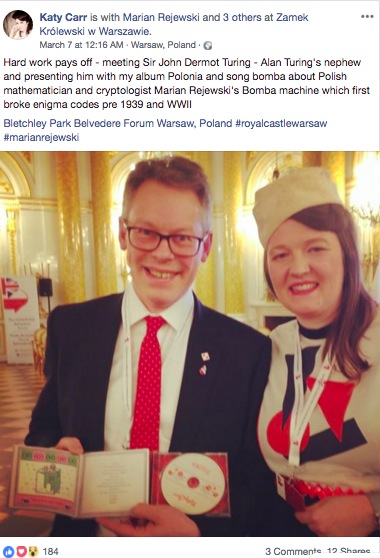 I also met some lovely friendsat the forum Anna M Ruszel and Dr Shola Mos- Shogbamimu 🙂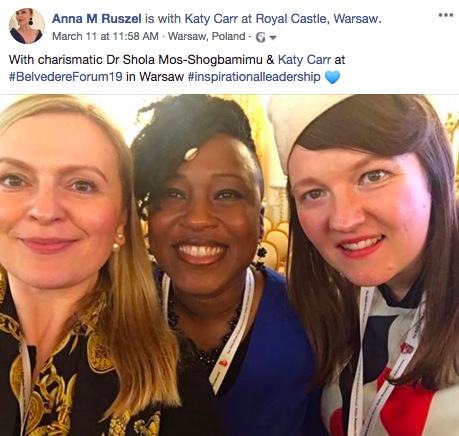 And the delightful writer and journalist for Culture.Pl – Juliette Bretan and Waldemar Januszczak the art critic for The Sunday Times.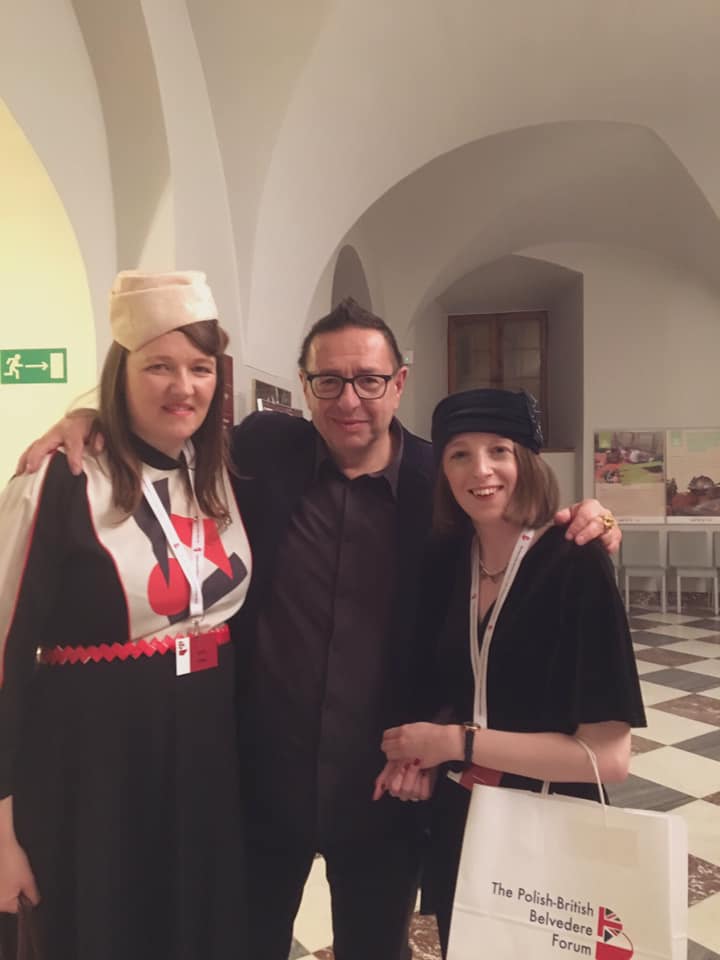 Juliette recently wrote an article here and included my music – thank you Juliette 🙂 https://www.thefirstnews.com/article/from-yiddish-folk-to-tango-polands-dazzling-interwar-music-gets-new-lease-of-life-in-modern-culture-katy-carr
From Juliette's article at the First News
And artists from as far away as the UK are using Polish music to access a deeper understanding of history: Katy Carr, a British musician with Polish ancestry, began performing as an exercise to learn Polish, despite having no introduction to interwar music in her childhood. "I let my voice lead me through the songs and the music," says Carr. "I want to remember the original versions of the songs as sung by the singers of interwar Poland and I have the images of them singing in my mind so I will never veer too far from the original source." For her, interwar cultural production is testament to a rich age of Polish history, which continues in all its resplendent glory despite the vast acres of time which have passed since 1918. This magnificence and maturity is at the very heart of the new interest in a sound which paved the way for a bright Polish future. "I love to sing Eugeniusz Bodo's version of 'Umówiłem się z nią na dziewiątą' on ukulele," she adds. "It is such a beautifully innocent and deliciously lyrical song. The melody flows in and around the words and I feel so unified with the Polish language when I sing this song. I love Henryk Wars' writing and the song's melody. The film version of Eugeniusz singing this song inspired me to celebrate his life and love Poland. I feel Eugeniusz talks to me when I sing this song and that is why I love it."
Good to see you too Teresa Potocka 🙂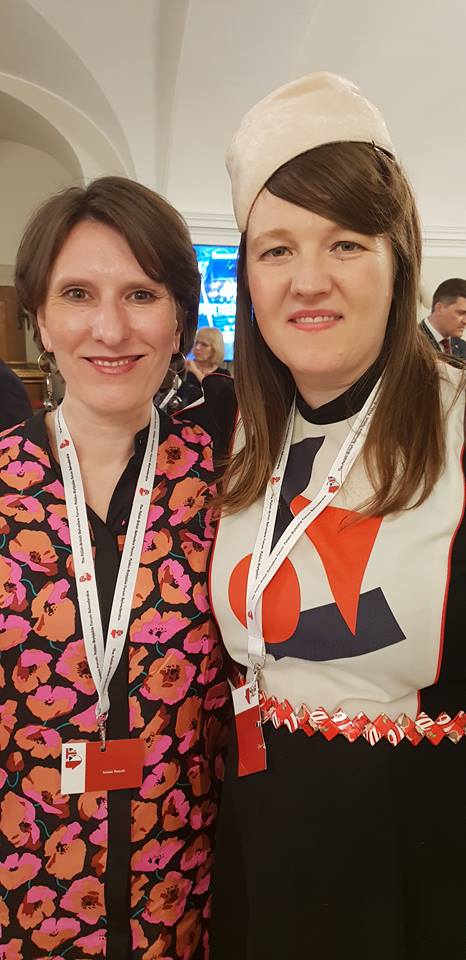 Thanks also to the Tate Britain and the Burne Jones exhibition for including one of my favourite paintings by #burnejones of #polish #pianist#ignacypaderewski @tatebritainlondon – what a delicious surprise! A true Polish patriot painted by a #preraphaelite English painter! Hurray 😊😊😊Burne Jones met Paderewski in 1890 the year of the Polish pianist's london debut concert – he was so taken by the pianist's striking appearance that he likened him to an archangel striding the streets of London 🎶🎶🎶🎶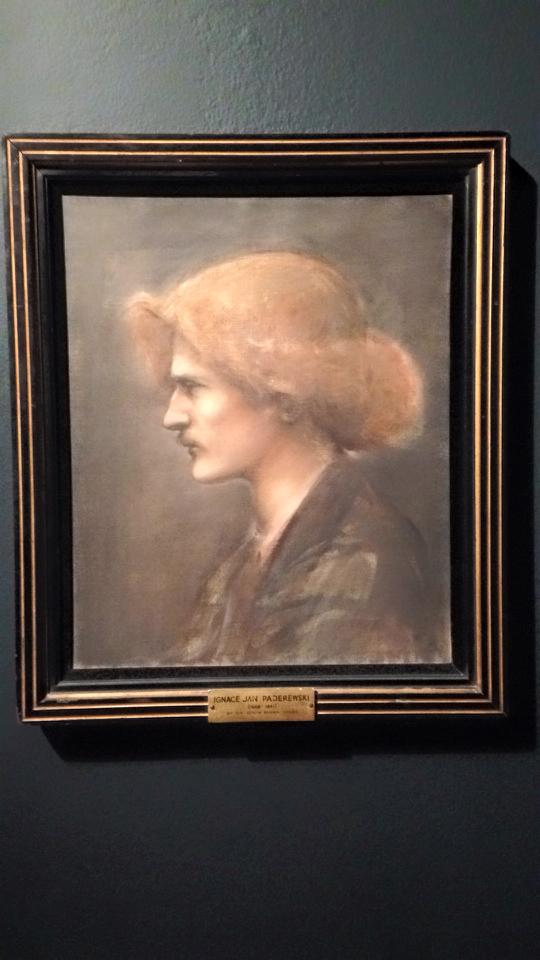 Thanks to Sydney Levinson and the West London Synagogue – I was very pleased to see my good friend Sydney today after what was a very moving service and tribute to those Righteous Among The Nations for Holocaust Memorial Day – Thank you so much for inviting me Nancy Perlman (photo credit below) – you are the best xxx  #WeRemember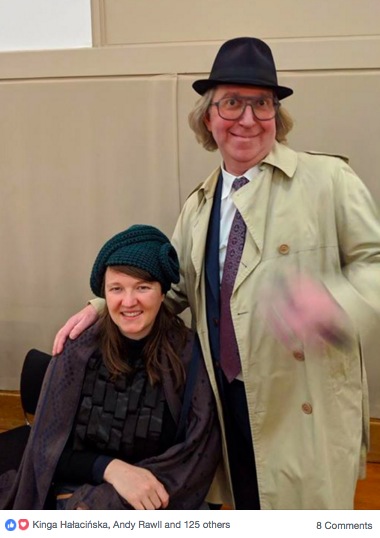 Thanks again to Roger Aitken for your lovely blogs and for writing such nice blogs about my music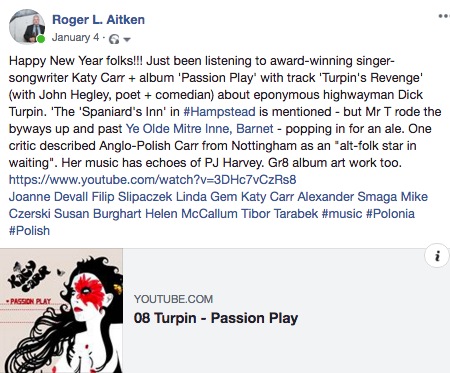 I would also like to thank everyone who sent me condolence messages – as on 12th March 2019 marked the first year anniversary of my mother's passing RIP. All your messages have meant so much to me – I am currently writing my next album and to know that people care means alot to me. It is great to be included in people's thoughts and prayers. So thank you 🙂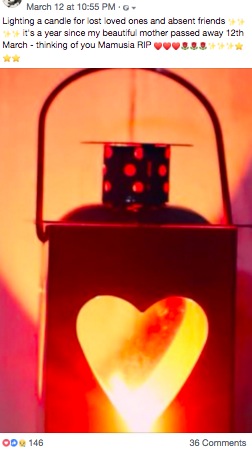 Thanks again for all your loving kindness. Hope to see you soon – maybe at my concert on 19th March 2019
Big hugs and keep in touch
Love from Katy Carr and the Aviators 🙂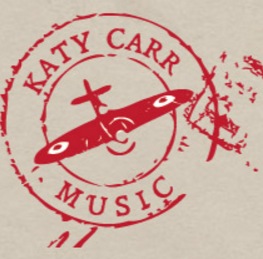 Katy Carr is an award winning British recording artist and has released 6 albums. An Ambassador of Polish History in Great Britain, her recent albums. Paszport (2012), 'Polonia' (2015) are inspired by the Polish WWII experience. In 2016 Katy was awarded the Pro Patria medal for her humanitarian and musical work.