Krystyna 'Kasia' Zofia Poprawska-Carr (née Goryl) R.I.P
Dear Friends,
It is with deepest sympathy and with great sadness that I have to inform you of the passing of my Polish mother Krystyna 'Kasia' Zofia Poprawska-Carr (née Goryl) R.I.P. As you can imagine her passing has left us all completely devastated. My mother was such a brave and courageous lady who loved her country Poland and did everything possible to make sure that her Polish language and Polish traditions were respected. The passing of a mother for a daughter is an experience that is one of deep sadness and heartache. My mother made me the woman I am today. My mother was the reason I started composing music, writing songs and performing. My mother gave me my Polish blood and heritage. My mother gave me life. My mother's soul will always be with me – a strong lady, an independent spirit who always fought for what is right and just. I am so proud of my mother and everything she fought to achieve. I am so proud to be her eldest daughter and her favourite artist and her soldier.
Please include us in your prayers and to pray for the soul of my dear Mamusia Mama Mummy RIP. 
Below a picture of my Beautiful Mamusia in Krakow, Poland in the 1960s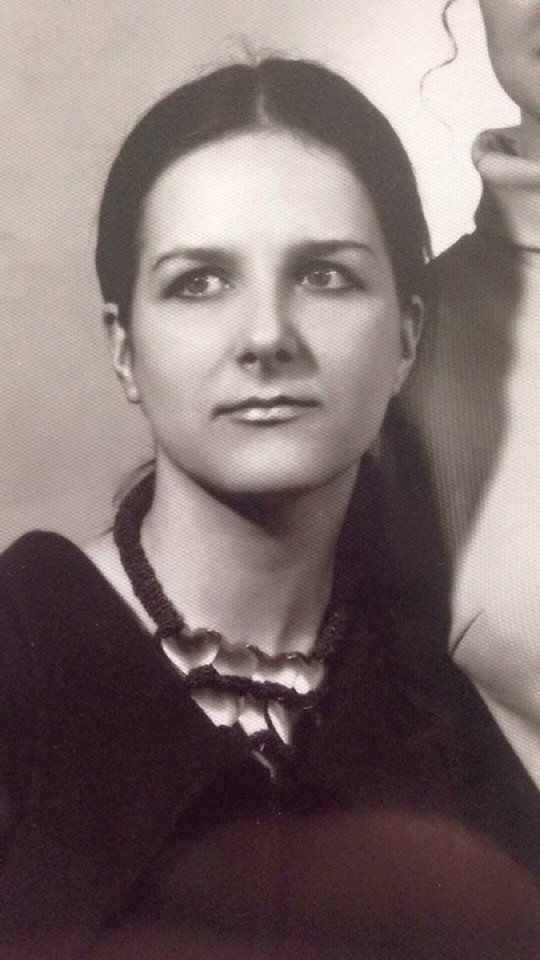 Obituary : Krystyna 'Kasia' Zofia Poprawska-Carr (née Goryl) 
Krystyna 'Kasia' Zofia Poprawska-Carr (née Goryl) age 70 passed away on Monday March 12th, 2018 at the Royal Free Hospital, London after a courageous battle with cancer. Krystyna was the beloved mother of Katy and Sarah and grandmother to Mimi and Croix. 
Born in Bielsko-Biała in the southern mountainous region of Poland on December 12th, 1947, Krystyna will be lovingly remembered by all who knew her including her daughters Katy and Sarah, sisters Emily, Basia, Zdzisława, brother Ryszard, cousin Elizabeth Goryl-Phillips, son-in-law Tom and her countless friends, colleagues and family. 
Funeral services will be lead by Priest Krzystof Kiliszczak and will take place on 6th April 2018 at 14:00 at the Polska Parafia pw. Matki Boskiej Czestochowskiej, Parafia Devonia, 2 Devonia Road, London N1 8JJ followed by a cremation service at 16:00 at Golders Green Crematorium NW11 8BT. 
Friends and family are invited to all the services and for a celebration of Krystyna's life at 1700 at the Old Bull and Bush Pub, N End Way, Golders Green NW3 7HE. 
Krystyna was a brave lady with a strong Polish soul, a loyal Polish heart and a passionate love of her country Poland. Her ashes will be laid to rest in Częstochowa, Poland in the near future (date to be confirmed). 
The A Galla Funeral Directors, London have been entrusted with arrangements.
We kindly extend the invitation for you all to join us in prayer and in person at her funeral services on 6th April 2018.
Nekrolog : Krystyna 'Kasia' Zofia Poprawska-Carr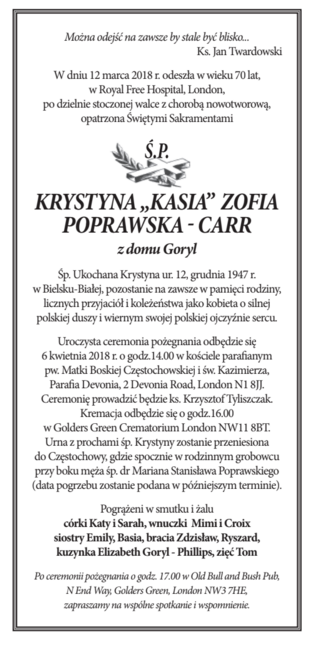 Można odejść na zawsze by stale być blisko… Ks. Jan Twardowski
W dniu 12 marca 2018 r. odeszła w wieku 70 lat, w Royal Free Hospital, London, po dzielnie stoczonej walce z chorobą nowotworową, opatrzona Świętymi Sakramentami KRYSTYNA "KASIA" ZOFIA POPRAWSKA – CARR z domu Goryl Śp.
Ukochana Krystyna ur. 12, grudnia 1947 r. w Bielsku-Białej, pozostanie na zawsze w pamięci rodziny, licznych przyjaciół i koleżeństwa jako kobieta o silnej polskiej duszy i wiernym swojej polskiej ojczyźnie sercu.
Uroczysta ceremonia pożegnania odbędzie się 6 kwietnia 2018 r. o godz.14.00 w kościele parafianym pw. Matki Boskiej Częstochowskiej i św. Kazimierza, Parafia Devonia, 2 Devonia Road, London N1 8JJ.
Ceremonię prowadzić będzie ks. Krzysztof Tyliszczak. Kremacja odbędzie się o godz.16.00 w Golders Green Crematorium London NW11 8BT.
Urna z prochami śp. Krystyny zostanie przeniesiona do Częstochowy, gdzie spocznie w rodzinnym grobowcu przy boku męża śp. dr Mariana Stanisława Poprawskiego (data pogrzebu zostanie podana w późniejszym terminie).
Pogrążeni w smutku i żalu córki Katy i Sarah, wnuczki Mimi i Croix siostry Emily, Basia, bracia Zdzisław, Ryszard, kuzynka Elizabeth Goryl – Phillips, zięć Tom Po ceremonii pożegnania o godz. 17.00 w Old Bull and Bush Pub, N End Way, Golders Green, London NW3 7HE, zapraszamy na wspólne spotkanie i wspomnienie.
I am sharing with you below Mummy's Obituary (in Polish) with you which was printed in the Polish Weekly UK Tydgien Polski today 31 March 2018 – 1 April 2018.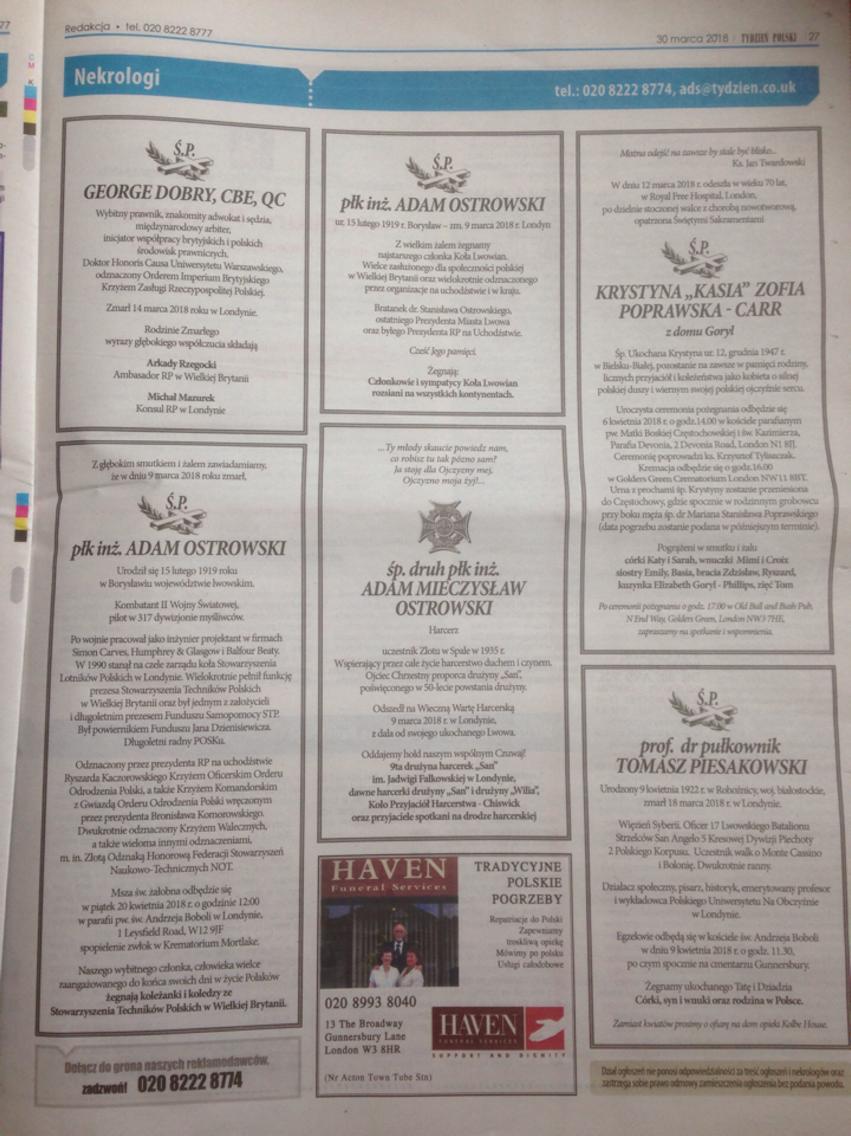 My Mother died on 12th March precisely nine months prior to her birthday on 12th December.  The week my mother died the weather in England changed dramatically with the Siberian frontal temperatures. Moments away from the Royal Free Hospital is Hampstead Heath and I took this photo of the Heath Ponds whilst in a snow blizzard. I was speaking to my mother as I was focussing the shot and I am sure that the bright sparks you can see on the photo were her spirit shining through and making a connection with me….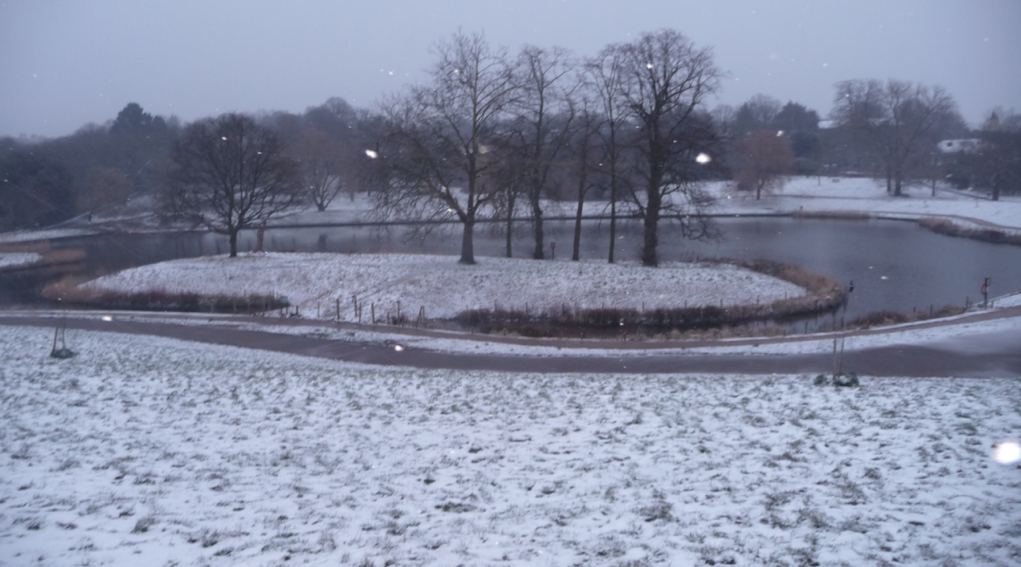 RIP MUMMY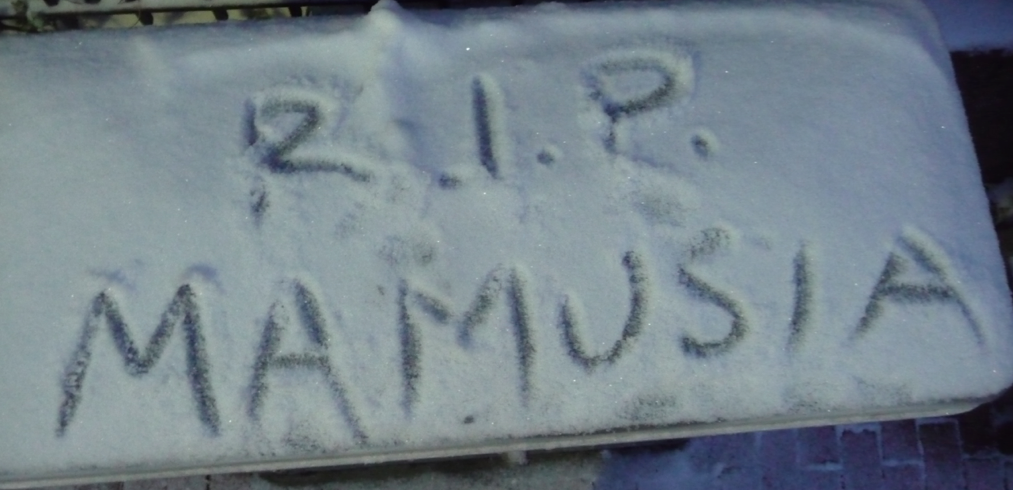 Thank you to you all for your time, kindness and continued support of my music.
My next album will be dedicated to my Polish Mother Krystyna R.I.P.
XXXXXXXXXXXXXXXXXXXXXXXXXXXXXXXXXXXXXXXXXXXXXXXXXXXXXXXXXXXXXXXXXXXXXXXXXXXXXXXXXXXXXXXX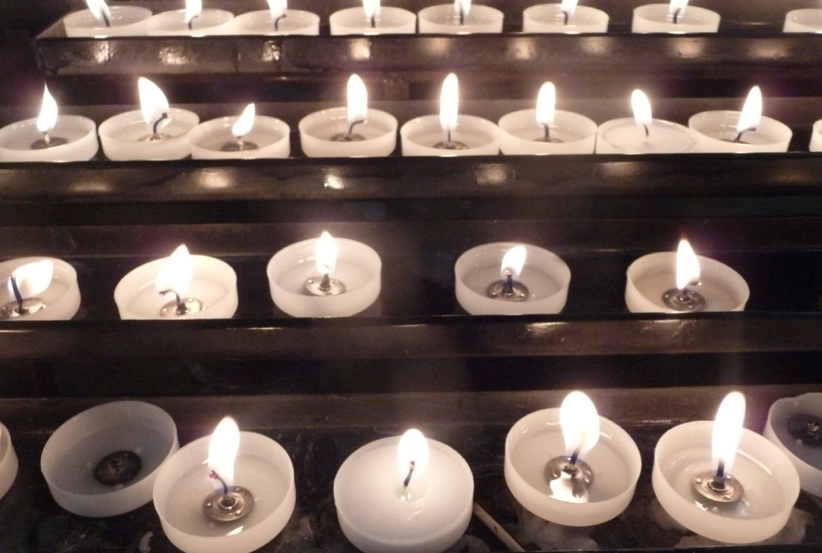 XXXXXXXXXXXXXXXXXXXXXXXXXXXXXXXXXXXXXXXXXXXXXXXXXXXXXXXXXXXXXXXXXXXXXXXXXXXXXXXXXXXXXXXX