Dear Friends, 
I hope you are all having a wonderful summer. This month has been an exciting time as I was invited to take part in some fantastic events including the Natura 2000 Conference in Brussels where I was asked to perform my songs which were inspired by the beautiful forests of Poland and a beautiful concert at Old Garden in Sycewo, Poland. See the quote I made below 🙂
"Nature and the natural world is a never ending source of inspiration for my life, music and songwriting. I listen to the songs of birds, study the intricate architecture of flowers and rejoice in the beauty of the sun, moon, forests, mountains, deserts, sky and the ocean. Nature gives me the power and desire to create, feed my soul and awaken my spirituality. Mother Earth is a treasure we need to respect and honour. I wish that every human being and creature can experience the deep knowledge and grace that the natural world offers, to not only sustain but to help harmonise with all living beings in this lifetime and across time. Congratulations Natura 2000 for bringing us together and long live Mother Earth "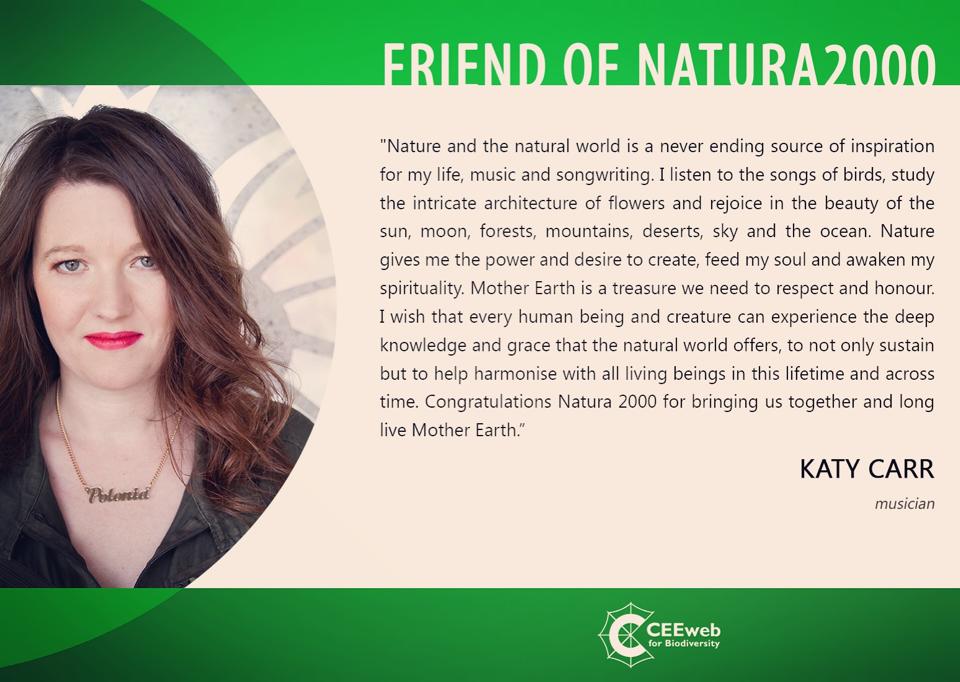 I was also invited to perform at the very lovely Old Garden's 3rd Birthday Party. Set in the countryside in the area of Sycewo, this concert was a truly lovely affair and I delighted in eating delicious Polish country garden food and having a taste of a peaceful Polish country garden experience. Thank you so much to the Michalski family for hosting this event and I am very much looking forward to making a music video here for my song 'When Pola met Charlie'. The music video will be directed by Maciek Michalski, the Polish Film Director who is also a relative of the Silent movie star and Polish film actress Pola Negri.
Below are some pictures from the concert 🙂
Thank you Old Garden ! 🙂 ))

Below singing to a packed house 🙂 
Beautiful posters – foto by MSJ Photography London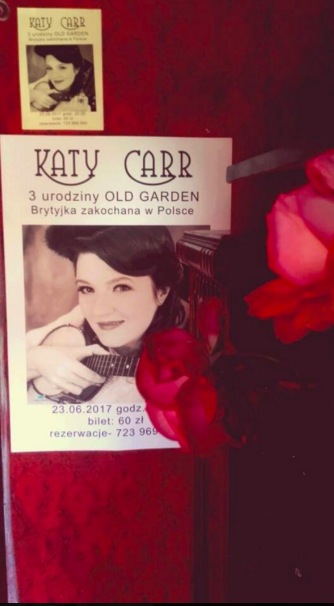 My beloved red ukulele !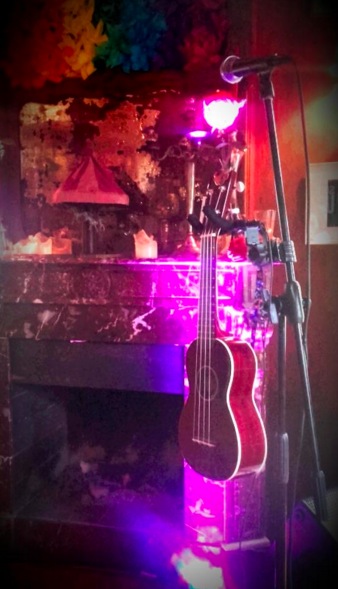 CONGRATULATIONS 🙂 
I just wanted to congratulate CHRIS TOFU on being awarded an MBE 🙂 
THE MOST WONDERFUL MUSIC AGENT IN GREAT BRITAIN Chris Tofu WHO HAS JUST GOT AN MBE 🙂 I AM SO VERY PROUD OF EVERYTHING THAT YOU HAVE DONE IN THE WORLD OF MUSIC Chris Tofu – YOU ARE THE FIRST MUSIC AGENT TO BELIEVE IN ME AND MY MUSIC AND I THANK YOU FOR EVERYTHING THAT YOU HAVE DONE FOR ME AND FOR YOUR TOTAL BELIEF OVER ALL THESE YEARS FROM THE BOTTOM OF MY HEART – MASSIVE CONGRATULATIONS ! FINALLY – WE HAVE BEEN WAITING FOR THIS MOMENT FOR YOU FOREVER !!!  LONG LIVE Chris Tofu I LOVE YOU SO MUCH <3 <3 <3 🙂 ))))))))
____________________________________
Below with Chris Tofu at Wilderness Festival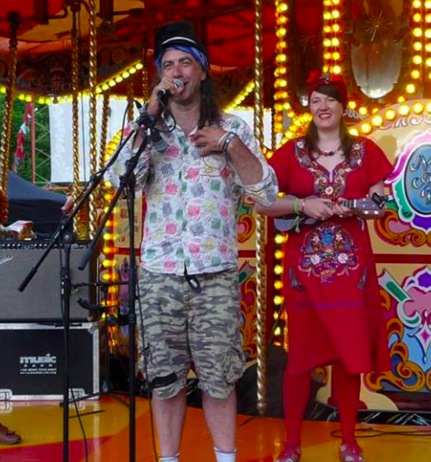 I would also like to congratulate my dear friend Janusz Skowron in New York City for the great work he did to inspire my album Paszport and allow me to meet the great artists and poets of Polonia USA – I awarded him with a medal to show my gratitude for his hard work helping me promote my music in the USA- Please see below a picture that Janusz sent to me with his lovely wife Ania – KOCHAM WAS !!! 🙂 Janusz was the first person in New York to introduce me to the Polonia community. He is a truly wonderful person serving to provide exhibition spaces and concerts for Polonia artists in New York City and across Poland and the USA. Janusz has hosted over 125 Independent Art shows at Starbucks in Greenpoint and countless other events over NYC during the past decades as well as bringing so much joy to all generations including the elderly residents of the Polonia community in New York City at Club Amber. I am in awe of Janusz's great work and salute him a million times 🙂 Thank you Janusz – read more about Janusz Skowron's work here – Janusz Skowron biography
recent article 🙂  https://voicesofny.org/2017/06/the-last-polish-exhibit-in-greenpoints-starbucks/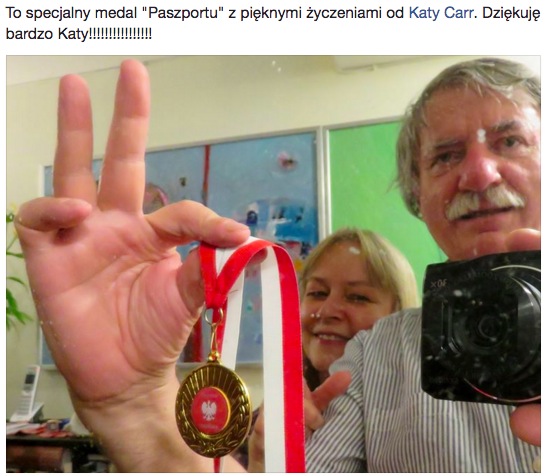 ________________________________________
WE REMEMBER / PAMIETAMY
This month on 20th June we remember the 75th Anniversary of  Polish Boy scout Kazik Piechowski's escape from Auschwitz. Kazik was born in 1919 and he is now 97 years old. I issued an official statement via the Institute of National Remembrance – Instytut Pamięci Narodowej – please click on the link below 🙂 https://katycarr.com/katy-carr-official-statement-to-kazimierz-piechowski-20th-june-2017-in-english-and-polish/

IN ENGLISH
Dearest Kazik, 
Thank you so much for your kind invitation to attend your event today in Tczew on 20th June 2017 to commemorate the 75th Anniversary of your escape from Auschwitz. I apologise that I am unable to attend and be with you today but please know that my heart and soul is with you. I am currently performing in the UK to audiences where I am sharing your history through my song 'Kommander's Car,' which is inspired by the last 80m of your infamous escape on June 20th 1942 . My audiences worldwide are always inspired by your story as they marvel at the genius of the abilities of a Polish scout who with his fellow Polish political prisoners managed to  escape and thus overturn the so very cruel German occupation of Polish soil during WWII. 
Our first meeting in August 2009 changed my l
ife. You were kind and patient with me whilst sharing with me your broad knowledge of Polish history and your extraordinary life experience. You taught me my first Polish words and also I sang my first Polish songs with you – Dziś do ciebie przyjść nie mogę and O mój rozmarynie. Over the past 7 years I have been in continual contact with you and you have not only inspired but mentored me to write 30 songs about various Polish WWII history topics on my albums Paszport (2012) and Polonia (2015). You inspired me to for instance to visit the Warsaw Uprising Museum and write my song Motylek about the Polish Pilots who the aces of the Battle of Britain. You inspired me to write my song 'Bomba' about the Polish mathematicians who first deciphered the Enigma machine cyphers with Marian Rejewski's machine of genius. You inspired me to learn about the great Polish Victory at the Battle of Monte Cassino in 1944 and discover the joy that was Wojtek the Soldier Bear.
Kazik, you are a wonderful and kind person. You realised the strength of my musical voice and talent and you undertook the great task of encouraging me to create songs that have allowed people worldwide to learn more about the rich and deep history of Poland. Kazik you are a loyal Polish boy scout and you deserve the honour of owning and wearing the Golden Scout Cross. Zloty(złoty krzyż harcerski).
You are a very special soul Kazik and I am very proud that I can call you my friend.
See you soon Kazik and Czuwaj!
Love from your friend Katy Carr
Central London 20th June 2017
______________________________
PO POLSKU
Drogi Kaziku,
Bardzo dziękuję za Twoje uprzejme zaproszenie na dzisiejszą uroczystość w Tczewie, 20.06.2017 aby upamiętnić 75 rocznicę Twojej ucieczki z Auschwitz. Jest mi bardzo przykro, że nie mogę w niej uczestniczyć i być z Tobą w tym dniu osobiście. Wiedz, że jestem z Tobą sercem i duszą.
Obecnie występuję w Wielkiej Brytanii, gdzie dzielę się Twoją historią poprzez piosenkę Kommander's Car inspirowaną ostatnimi 80 metrami Twojej niesławnej ucieczki z obozu 20 czerwca 1942 r. Międzynarodowa publiczność, która przychodzi na moje występy jest zawsze poruszona Twoją historią i podziwia geniusz umiejętności polskiego harcerza, który wraz z innymi więźniami politycznymi zdołał uciec i w ten sposób uniknąć okrutnej niemieckiej okupacji na Polskiej ziemi podczas II wojny światowej.
Nasze pierwsze spotkanie w sierpniu 2009 zmieniło moje życie. Byłeś uprzejmy i cierpliwy podczas dzielenia się ze mną Twoją ogromną wiedzą o polskiej historii oraz Twoimi niezwykłymi doświadczeniami życiowymi. Nauczyłeś mnie pierwszych polskich słów, wraz z Tobą po raz pierwszy zaśpiewałam polskie piosenki – Dziś do ciebie przyjść nie mogę oraz O mój rozmarynie. Przez ostatnie 7 lat pozostawałam z Tobą w kontakcie, a Ty nie tylko zainspirowałeś mnie, ale także zostałeś moim mentorem podczas pisania 30 piosenek o różnych tematach związanych z polską historią czasów II wojny światowej, które pojawiły się na moich albumach Paszport (2012) i Polonia (2015). Zainspirowałeś mnie między innymi do wizyty w muzeum powstania warszawskiego oraz do napisania mojej piosenki pt. Motylek, która opowiada o polskich pilotach, asach Bitwy o Anglię. Zainspirowałeś mnie do napisania piosenki Bomba o polskich matematykach, w tym Marianie Rejewskim, którzy jako pierwsi złamali szyfr Enigmy. Zainspirowałeś mnie do Kazik,  zdobycia wiedzy o wielkim polskim zwycięstwie w walce pod Monte Cassino w 1944 r. oraz odkrycia radości, jaką był Wojtek – niedźwiedzi żołnierz.
Kazik, jesteś wspaniałą i uprzejmą osobą. Uświadomiłeś sobie siłę mojego muzycznego głosu i talentu i wziąłeś sobie za cel zachęcenie mnie do napisania piosenek, które umożliwiłyby ludziom na całym świecie pogłębienie wiedzy o bogatej i głębokiej historii Polski. Kazik jesteś lojalnym polskim harcerzem i zasługujesz na posiadanie i noszenie złotego krzyża harcerskiego. Jesteś wyjątkową osobą Kazik i jestem bardzo dumna, że mogę nazywać Cię moim przyjacielem.
Do zobaczenia niedługo Kazik i czuwaj!
Pozdrowienia od Twojej przyjaciółki Katy Carr
_______________________________
WE REMEMBER
We remember the victims and familes of the London's horrific terror attacks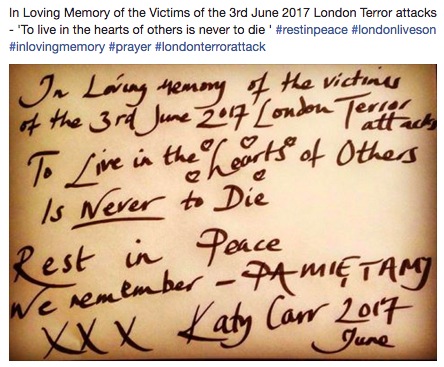 WE REMEMBER
 The Grenfell Tower victims. Here I would like to share a poem by the Nigerian poet Ben Okri who has expressed this tragedy in his eloquent and moving poem '
Grenfell Tower' please click and read
Our hearts and souls are with the families and victims of these human tragedies.  Rest in Peace.
                                      Thanks again for all your support of my music and keep in touch and take care
Much love to you all – Katy i Pozdrawiam serdecznie xxxx 🙂