Katy Carr's Jan/ Feb  2017 Newsletter 🙂 ))) – January 2017, special friends, Scotland, Poland,  Sir John Soane's Museum, London 
Dear Friends, 
Happy New Year 2017! I wish you much joy, success and happiness for the year ahead. I am looking forward to sharing my music with you and I have many events coming up so see you soon!
FEB KATY CARR GIG : (MARCH GIGS TO BE ANNOUNCED SOON!)
10TH FEB : Sir John Soane's Museum,  13 Lincoln's Inn Fields,  London WC2A 3BP – please join Katy Carr for a very special performance to celebrate Valentine's day  at the historic house, museum and library of distinguished 19th century architect Sir John Soane. At Soane's request, the house has been left untouched since his death – almost 180 years ago so it will be a very special atmosphere.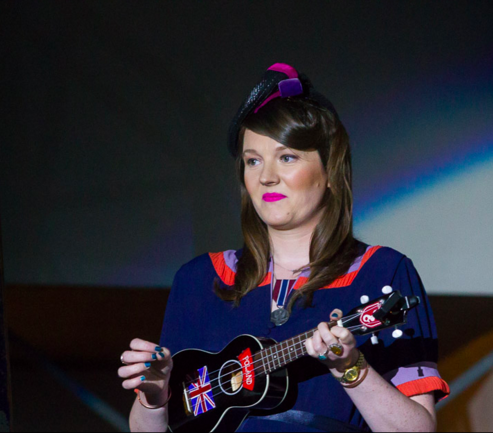 JANUARY NEWS 🙂 
The month of January has already brought some lovely moments. I was able to share New Year happiness with some of my favourite people on the planet – my wonderful Polish Freedom fighter friends and learn more about their incredible life stories which have played such a great inspiration for my recent two albums.
POLISH HOME ARMY SOLDIER AND SCOUT KAZIK PIECHOWSKI
Born 1919, so 97 years old now – I visited my best friend in Poland and inspiration Kazimierz Piechowski earlier this month in Gdansk. A Polish Home Army veteran, Kazik's infamous escape from Auschwitz concentration lead to the creation of my song – Kommander's Car which really was the key for me to discover my Polish heritage since 2009. Watch video
KOMMANDER'S CAR LISTEN here  🙂
For those of you who want to find out more about Kazik's first meeting with Katy Carr please watch Kazik and the Kommander's Car – watch film here 
http://www.kazikfilm.com/
KATY CARR AND KAZIK PIECHOWSKI JAN 2017 in Kazik's flat in Gdansk, Poland – please note the Wojtek Soldier Bear behind – thanks with courtesy of Scottish author Aileen Orr.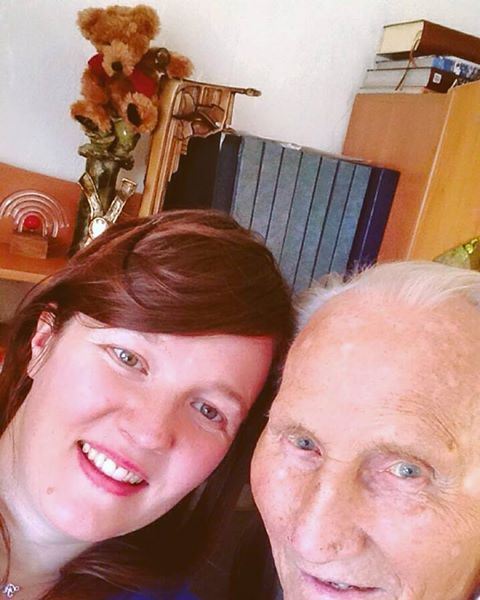 Since 27th Jan 2017 marked Holocaust Memorial Day – I would just like to ask you to spend a moment of thought for our sisters and brothers on this planet who have or are currently witnessing the devastating human tragedy of war at this very moment. Our love and prayers are with them every day for their safety and protection.
I visited the wonderful Professor Wojtek Narebski in Krakow who was nicknamed 'Little Wojtek' during his service in the 22nd Artillery Supply Company of the Polish II Corps, in WWII. Wojtek inspired my song
'Wojtek the Soldier Bear' – watch video here 🙂 
Wojtek the Soldier bear was a Syrian brown bear, who was found by the Polish soldiers in Iran during WWII and was so loved by them that he served as a 'Soldier' bear with full Corporal papers with the Polish II Corps and accompanied troops to the Battle of Monte Cassino 1944. Raising the morale of all the soldiers he met, the story of this bear is truly amazing. If people want to find out more about this story please visit and read Aileen Orr's true account of the Wojtek story. Aileen has a very particular link to Wojtek because her family hosted the exiled Polish soldiers after WWII on their farm in Scotland where Wojtek the soldier bear lived very happily. I was fortunate this month to be able to visit Aileen and walk on the road that Wojtek walked on…  Many people have used Aileen's book as an inspiration to make splinter Wojtek the Soldier Bear historical accounts but the best book on the topic can be found here –  
Wojtek the Bear Polish War Hero by Aileen Orr.
In fact so is Aileen's devotion to the bear  – she took it upon herself to found the Wojtek Memorial Trust and fund the entire project herself to build the memorial in Princes Street Gardens in Edinburgh. A mammoth effort, I have to commend her very highly for this great achievement and I am very proud to have her as a wonderful friend in my life.
Photo below taken in Edinburgh  Jan 2017 :  KATY CARR AND AILEEN ORR at the Wojtek the Bear Memorial in Edinburgh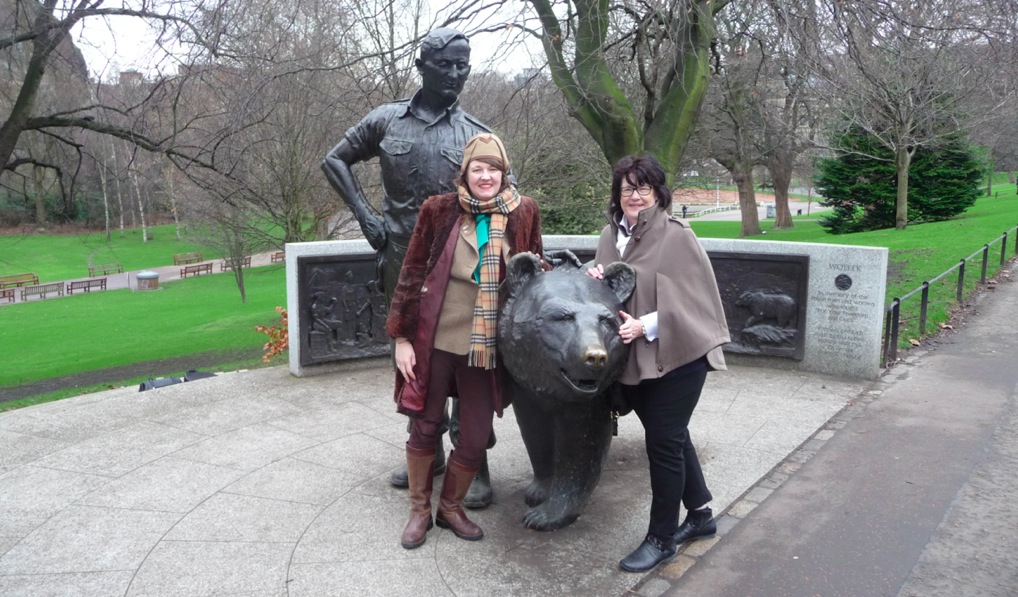 My meetings with Little Wojtek Narebski in Krakow were amazing and he shared so many wonderful videos and footage from his life whilst serving in the Allied Forces – Polish II Corps alongside British troops during the Italian Campaign and especially during the Battle of Monte Cassino 1944. So here is a BIG THANK YOU to Wojtek and I loved visiting the official Oplatek – breaking of bread ceremony by kind invitation of the City of Krakow in Krakow City hall, with Wojtek this month. We had a great time and also met a very interesting Polish Highlander Gorale Folklore group which inspired me to start learning Gorale music – see picture of us below
POLISH II CORPS SOLDIER – PROFESSOR WOJCIECH NAREBSKI AND KATY CARR KRAKOW JAN 2017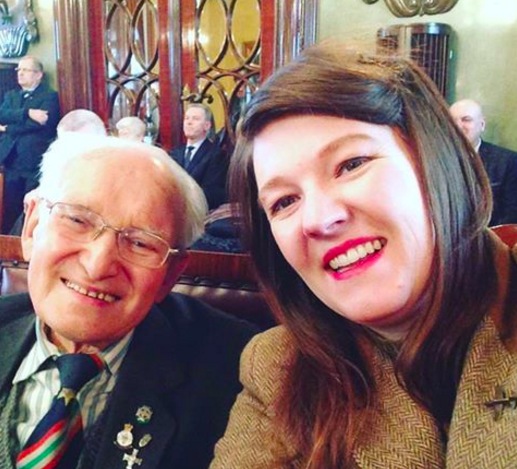 This month I have also been to meet one of my favourite Polish female soldiers,  Lieutenant Danuta Gradosielska of the 316 all female transport Company of the Polish II Corps. Pani Danuta invited me to accompany her to the Oplatek at the Polish Church – Devonia, in Islington as she had a special mission to officially present the Church with a Holy Madonna made by soldiers of the Polish II Corps. I took a photo of the meeting as proof of her devotion to her friends' beautiful artisan and creative work. This is a very rare painting so please feel free to go and visit the church if you wish to see this beautiful piece of art.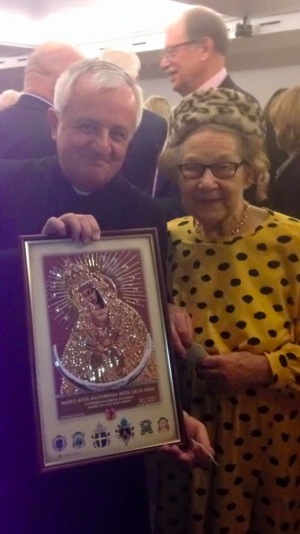 Danuta's story
can be found here
 – Danuta Gradosielska (née Mączka) transported to Stalin's slave labour camps – the Gulags in Siberia when she was 14 years of age. She had been living a happy, carefree life on Osada Krechowiecka (an army settlement) with her parents, two brothers and a sister. While travelling to Siberia on the deportation train, she lay on the top bunk and, looking out of the tiny grated window, wrote a diary, noted all the place names and dates. Follow her experiences from being a schoolgirl in Kresy, Poland … to being a soldier in the Polish II Corps …… and to being a mother of six in London  
here at this link 
Photo below of KATY CARR AND LIEUTENANT DANUTA GRADOSIELSKA, LONDON JAN 2017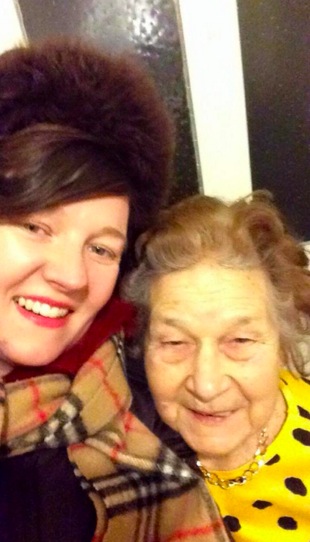 KATY CARR BOOK NEWS
Several people this month have asked me to write a book about my experiences with regards uncovering my Polish roots and discovering the rich and diverse history of Poland and the contribution Polish people have made towards World Peace over the last 1000 years. I am seriously thinking about writing a book as I think it would be an interesting study so watch this space! 
PERFORMANCE PLANS
This year I am planning to perform at these Polish towns – please let me know if you have any links to your local areas and I will come and do a concert near you!
I am also in the middle of organising a  UK Tour  in connection with the Arts Council England, Creative Scotland and the Ministry of Foreign Affiairs in Poland to perform in these regions  – Oxford, Southampton, Plymouth, Birmingham, London, Edinburgh, Glasgow, Cardiff, Sheffield, Coventry, Newcastle, Liverpool, Manchester. Please let me know if you have any UK British / Polish communities you would like me to visit. I am also working in connection with the Royal Air Force Museum and look forward to linking in elements of flying in this exciting new project.
I wanted to share some lovely memories with you of beautiful Scotland
WITH MY WONDERFUL FRIEND AILEEN ORR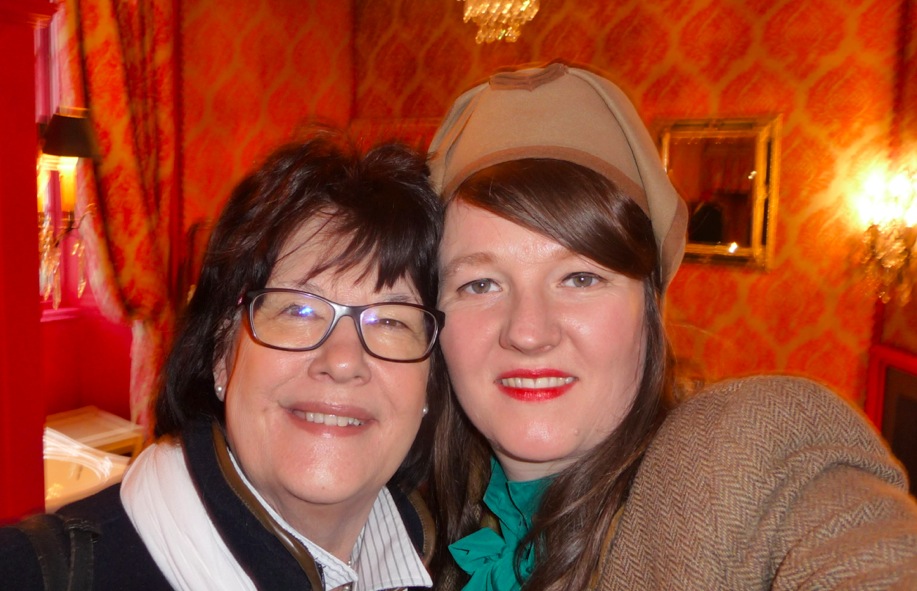 KATY CARR ENJOYING BEAUTIFUL SCOTLAND – expect Katy Carr songs about Bonnie Scotland soon!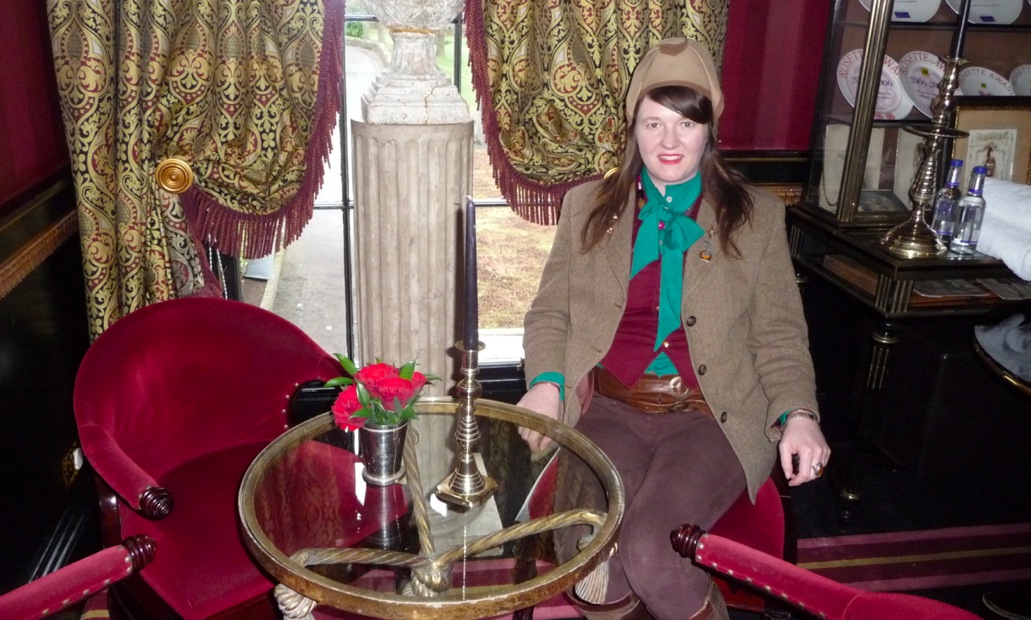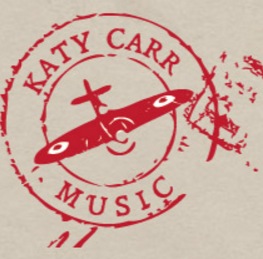 Thanks again for all your support of my music and keep in touch and take care
Much love to you all – Katy i Pozdrawiam serdecznie xxxx 🙂