Dear friends:)
Thank you for your continued support of my music and I am excited to announce that three weeks ago I released my 5th studio record 'Polonia.' I am very proud to announce that the British media have embraced my songs and given my album no less than 4/5 stars across the National Broadsheet Papers and Music Magazines. As you can imagine we are all extremely excited as this is a great achievement especially for an Independent record release. I would therefore like firstly to send out my sincere thanks to all those journalists who have supported my music and the wonderful Team Katy at Evans Above PR, Proper Distribution UK, Fonografika PL, RoRo Management who have promoted Polonia and to all my musicians who created this record with me with special thanks to Nigel of Bermondsey producer of Polonia (2015) and Paszport(2012).
EXCITING NEWS : KATY CARR SUPPORTS KATE TEMPEST AT FUNK THE BORDERS – We are raising money to feed refugees from Syria stranded in refugees in Samos, Lebanon and other Greek islands and French camps. All welcome 🙂 
17th Dec : at Shapes 117 Wallis Road, E9 5LN London, United Kingdom
Visit event page here on facebook / buy tickets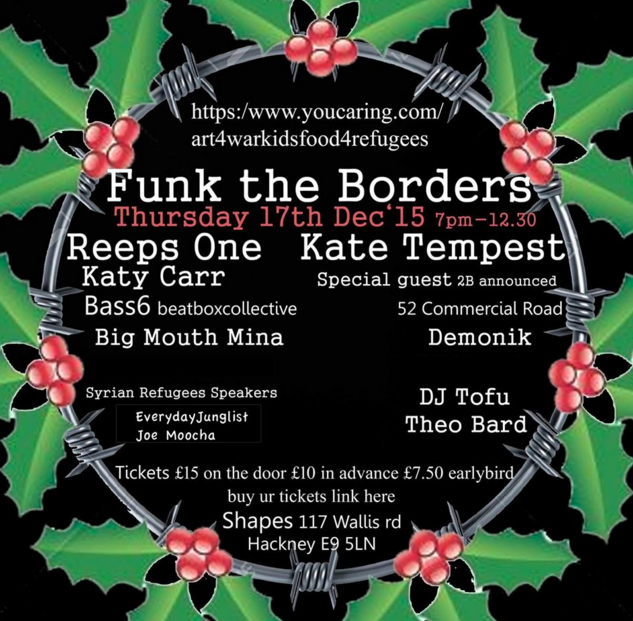 POLONIA REVIEW QUOTES :
'A very desirable artefact,superbly arranged and produced and a fascinating insight into Britain's relationship with its historical closest ally, and a powerful collection of hugely original songs. ' fRoots
'The Anglo-Polish singer brings a numinous reggae-kujawiak in honour of tank commander General Stanisław Maczek, who after the Second World War pulled pints at the Leamonth Hotel in Edinburgh.' MOJO Playlist
'Polonia is charged with romance, historical witness and courage, generating an experience that complements similarly inclined records by British Sea Power or Public Service Broadcasting.' Q Magazine 4 stars ****
'A truly singular creation.' The Observer 4 stars ****
'An eclectic sonic paletta, full of charm and verve but with a melancholy undertow.' The Independent 4 stars ****
'Polonia begins with a love song to Polonia, the Latin name for Poland, that shows her strength as a writer of grand, upbeat melodies.' The Guardian 4 stars ****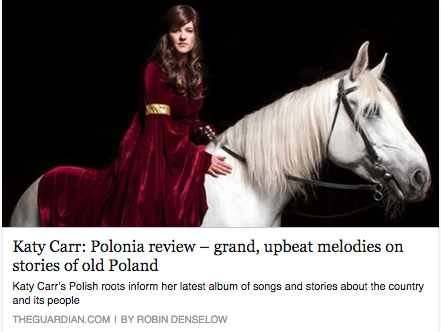 Katy Carr's Polonia music video made it's first debut on 3/11/2015 on The Guardian Playlist 
'Born to a Polish mother and Scottish-English father, Katy Carr has become fascinated by her Polish roots and the country's history during the Second World War. Her last album, Paszport, matched history lessons with strong melodies, and the new set, released this month, broadens the range with stories about Charlie Chaplin and his Polish fiancee or the West's betrayal of Poland at Yalta. This is the title track, a love song to the country the Romans called Polonia.'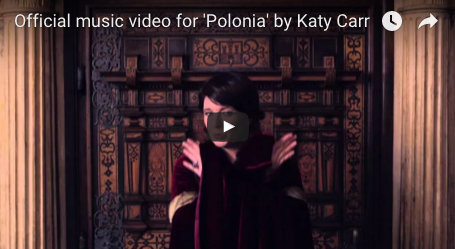 This video was filmed at the Collegium Maius (Latin for "Great College",) which is oldest building of the Jagiellonian University in Krakow ( est 1364) and was purchased with funds bequeathed by Queen Jadwiga of Poland. Notable alumni include the Polish astronomer Mikołaj Kopernik (Nicolaus Copernicus 1473–1543). With special thanks to : The Jagiellonian University Polish Research Centre – Polski Ośrodek Naukowy PON UJ  and the Collegium Maius Museum of the Jagiellonian University in Krakow, Poland. For further info and museum opening times please visit Muzeum Uniwersytetu Jagiellońskiego Collegium Maius http://www.maius.uj.edu.pl/
Polonia was album of the week at Fatea magazine's Along the Tracks show 🙂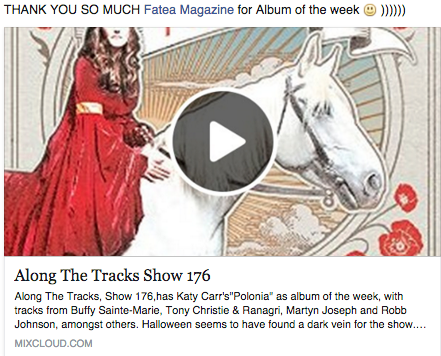 'Carr has described for us once again a world of forgotten people and lost stories and she guides us with an unshakeable vim and enthusiasm, which makes her spirit infectious.'
MEDIA POLAND : 
Polish Radio Interview with
Agnieszka Bielawska on
Radio Poland
(in English)
Katy appeared on Marek Niedźwiecki's television show in Poland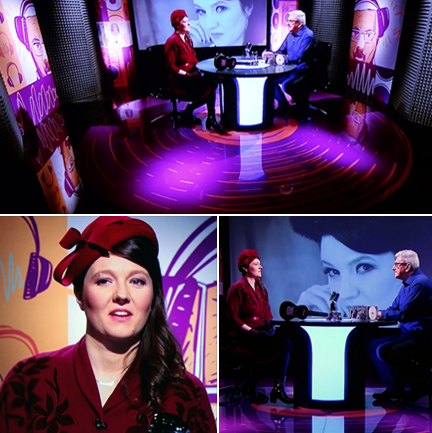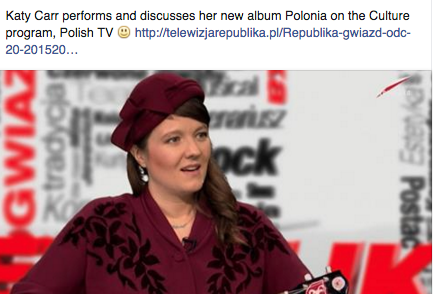 Thank you to Sabina Treffler for the wonderful article below 🙂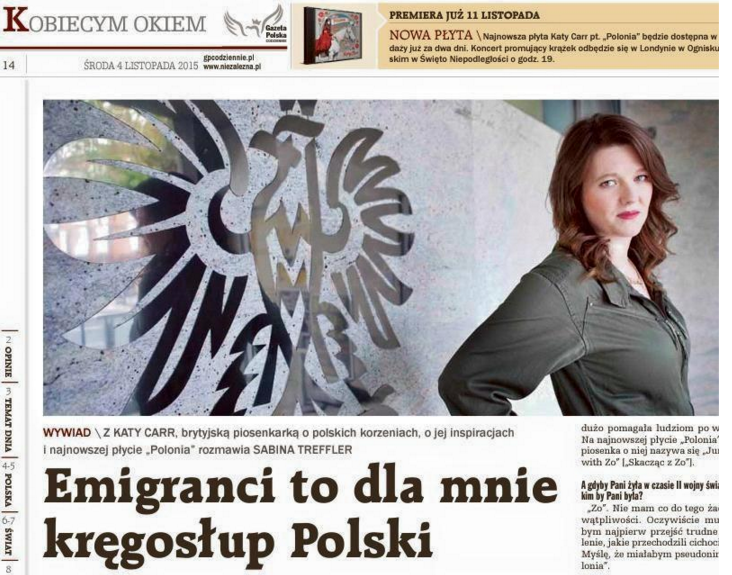 Big thanks to the Dziennik Polski for this fabulous feature and also front cover 🙂 
Article in Polish 🙂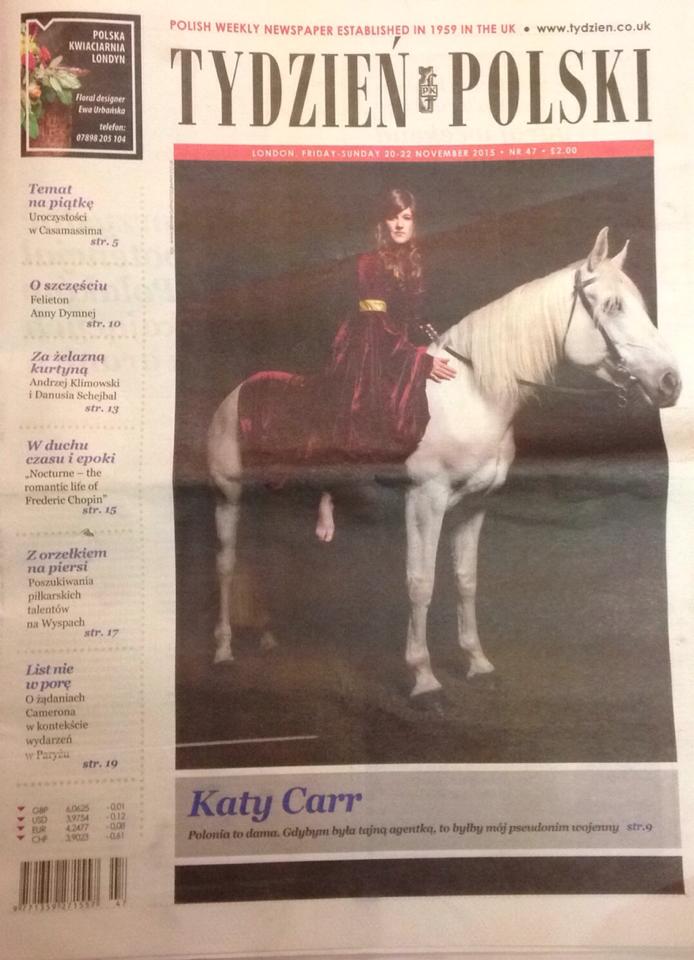 BIG BIG thanks this month go to :
All at Club Ognisko for hosting a wonderful Polonia album launch concert for me on 11th November 2015 – Lady Belhaven,Nick Kelsey and Ania Mochlinska for all your hard work in organising the evening 🙂 Zywiec Beer for the drinks sponsorship and for all the beer glasses that my guests were able to take home with them 😉 Anna Gruszka and all at The Polish Cultural Institute for supporting the album launch and funding the evening 🙂 Clare Mulley and Aileen Orr for speaking so fantically at my album launch, my musicians Oliver Parfitt, George Simmonds, Steve Beresford, Alexander Drake Brockman, Hannah Lovell for your hard work on the concert projections and music video direction 🙂 Lord Ant B, Elwira Niedzwiecka, Tadeusz Bebnowicz for fab gig photos, Anna Smyk for my makeup  and everyone in Edinburgh for organising such a great concert for Katy Carr and the Aviators at the Unveiling of the Wojtek the Bear memorial with very special thanks to Lesley Duncan (Mummy Edinburgh) and Aileen Orr (Mummy Scotland) Scotpipe, Scot Poles and the Consul General in Edinburgh, Dariusz Adler.
Thank you too all my fans and supporters 🙂 apologies if I left anyone out – you know who you are and i LOVE YOU VERY MUCH XXX
Photos below 🙂 
Presenting an award at the Polonia album launch to Nigel of Bermondey for Best Producer for my fourth album Paszport (2012) which won Best Concept Album at the 13th Independent Music Awards. (Nigel also produced Polonia). Foto Lord Ant B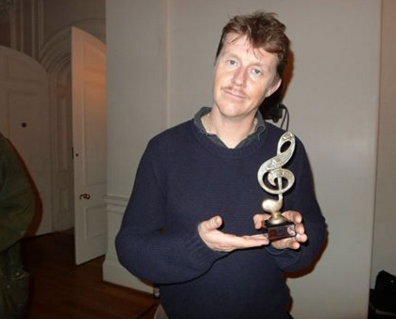 Wonderful concert in Edinburgh – here I am at the end having given medals to both Aileen Orr and Lesley Duncan for their unbelievable hard work in bringing Polish and Scottish communities together. I love them SOOOOO MUCH – I LOVE SCOTLAND SOOOO MUCH!!! AND SCOT PIPE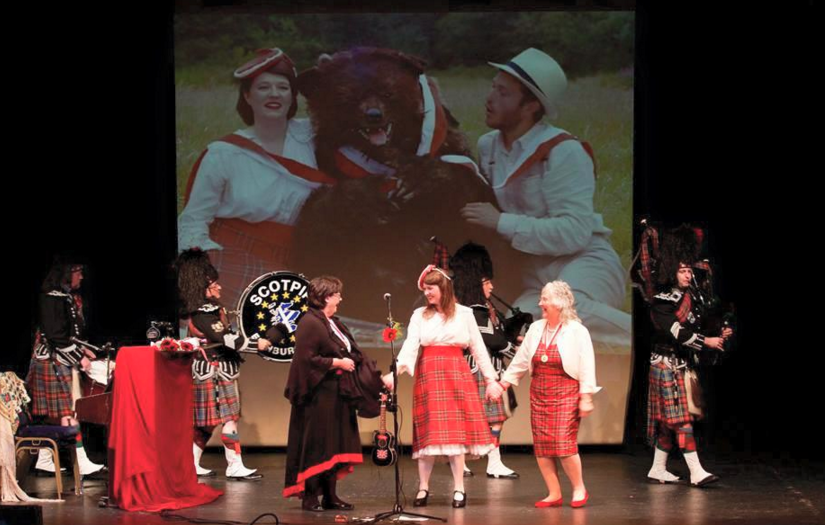 Polonia debuted at the Royal Castle in Warsaw 🙂  This was a wonderful concert 🙂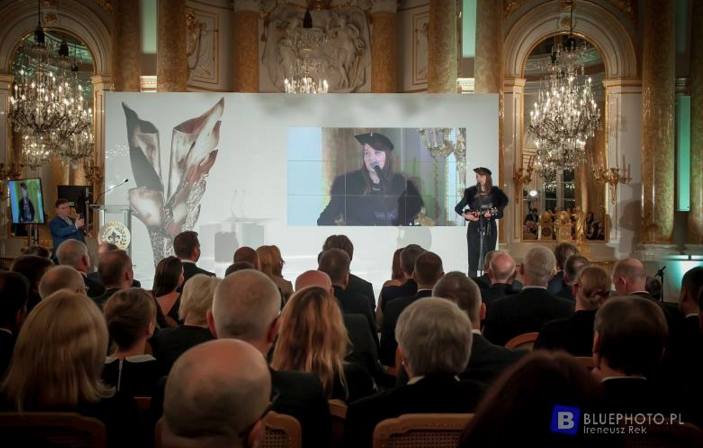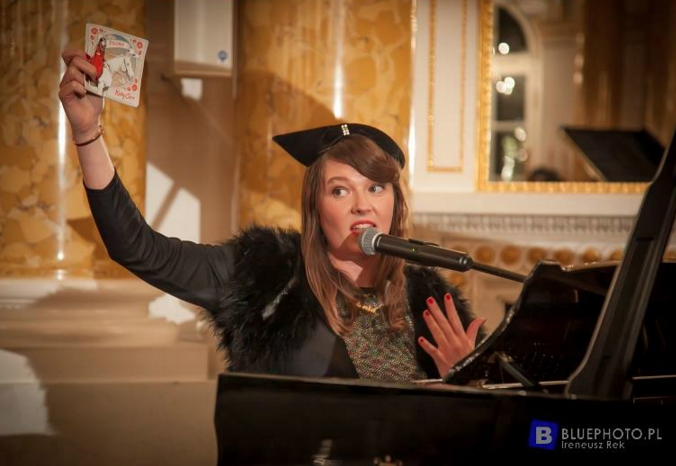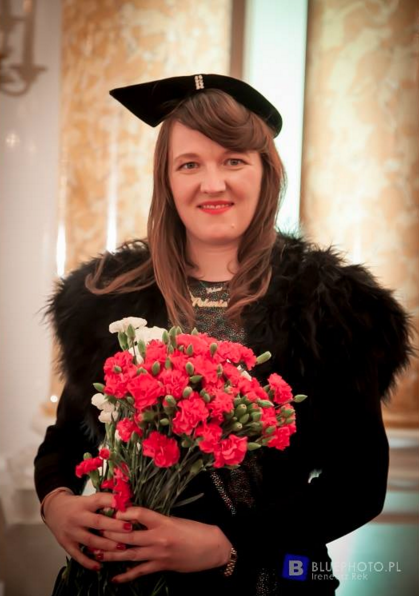 With my dancing friends in Edinburgh before our concert 🙂 ))))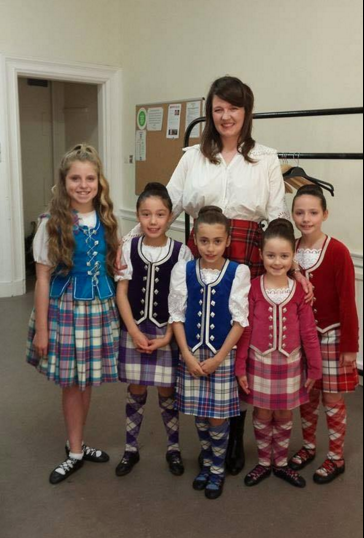 With friends from Acid Jazz at the British Independent Label Market, London
(Katy Carr released an album on Acid Jazz called 'The Crow Club' 2008 )
Foto Jeff the fish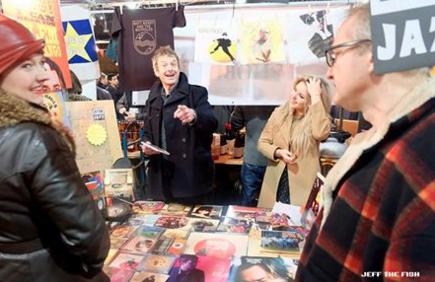 Thanks again for all your support of my music and keep in touch and take care
Much love to you all – Katy i Pozdrawiam serdecznie xxxx 🙂
Katy Carr's music Quotes :
– 'Carr is a fine example of that much-maligned beast we call Authenticity…' 
– 'never less than immaculate' Sunday Times Culture Magazine
– 'Her idiosyncrasy as a musician meant she'd have to forge ahead under her own steam – even the most avowedly avant labels fight shy of butterflies they can't easily net… ' 
– 'She's a true original, standing out like the spark generated by a Swan Vesta applied to a cigarette in the Blackout.' 
Katy Carr's Awards :
Katy Carr was nominated for the London Music Award 2012 alongside Kate Bush, PJ Harvey, Arctic Monkeys, The Good, the Bad & the Queen, Metromony, Ed Sheeran, Jim Jones Review, The Unthanks and Laura Marling.
~
Katy Carr Links below – please keep in touch!!!!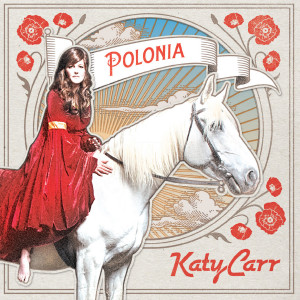 ~