Dear friends, 
I am very excited to announce that my fifth studio album entitled 'Polonia' will be released on 6th Nov 2015 which has been inspired by Poland's greatest freedom fighters during WWII. Polonia, is the Latin name for Poland and this is the realm the artist I am celebrating in my music and songs – a strong brave, sovereignty proud of her freedom fighters and warriors who march to bring justice and peace to troubled times…. FOR MORE INFO about Polonia see the following links :  Polish Cultural Institute | Amazon |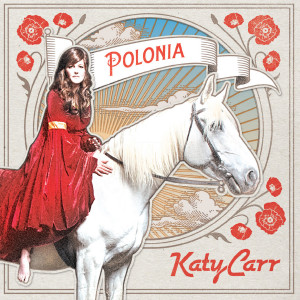 The pre-order information for Polonia is as follows < iTunes – http://apple.co/1il7V87 >  and http://amzn.to/1RfGjgL > 

We have already had some amazing media coverage for the record and there is more to come ! :))))
'Polonia is charged with romance, historical witness and courage, generating an experience that complements similarly inclined records by British Sea Power or Public Service Broadcasting.' Q Magazine 4 stars ****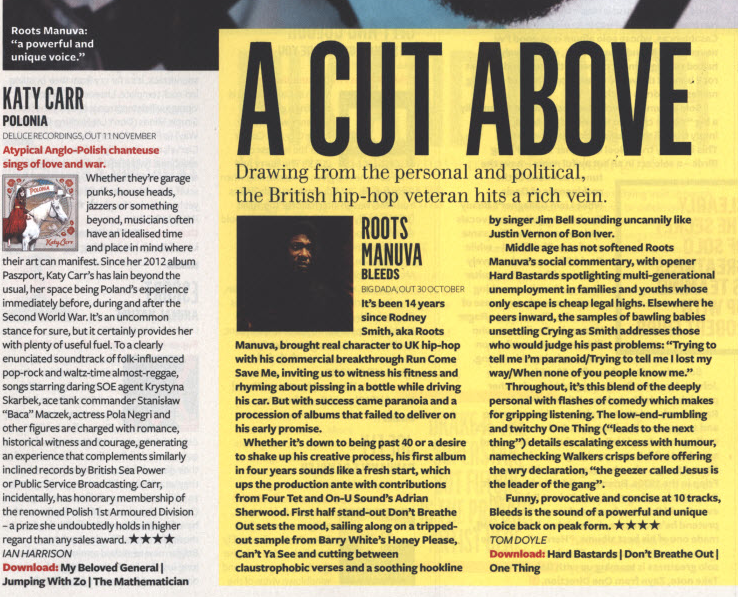 'A very desirable artefact,superbly arranged and produced and a fascinating insight into Britain's relationship with its historical closest ally, and a powerful collection of hugely original songs. ' fRoots 

'The Anglo-Polish singer brings a numinous reggae-kujawiak in honour of tank commander General Stanisław Maczek, who after the Second World War pulled pints at the Leamonth Hotel in Edinburgh.' MOJO Playlist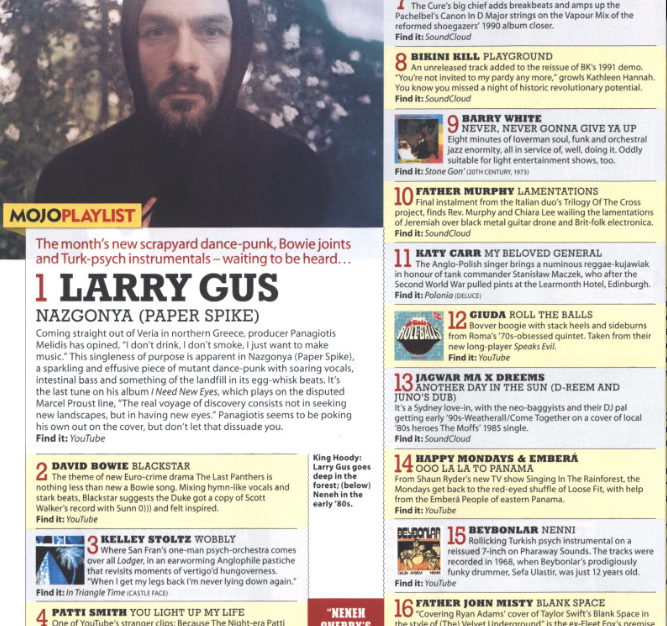 Acoustic magazine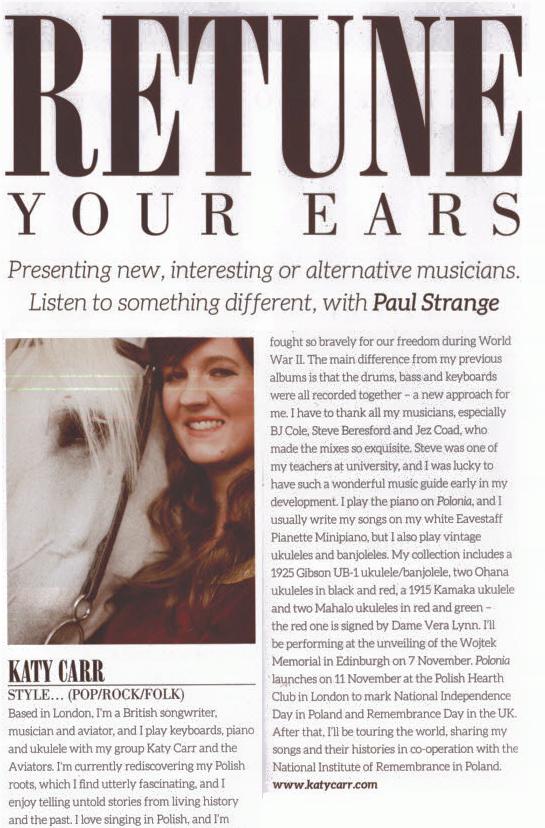 Thanks also to Chris Nickson for a lovely blog review 🙂
read here 🙂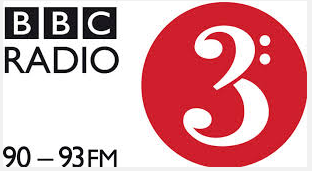 Katy Carr's forthcoming concerts
11th November 2015
 : (730pm – doors 7pm)  Katy Carr's album launch concert for Polonia, Club Ognisko address 55 Princes Gate, London SW7 2PN tel : +44 (0) 20 7589 4670 (the Polish Hearth Club) is in cooperation with Club Ognisko and the Polish Cultural Institute. Special guests include Katy Carr and the Aviators musicians Guy Schalom, Steve Beresford, Oliver Parfitt, British film director Hannah Lovell,  and Clare Mulley author of
The Spy who Loved
– biography of Churchill's favourite spy Krystyna Skarbek (WWII pseudonym Christine Granville) Aileen Orr author of 
Wojtek the Bear: Polish War Hero
 FREE ENTRANCE
The club celebrates its 75th Anniverary this year 1940-2015  having been founded with the combined initiative of the British and Polish Governments and inaugurated by HRH The Duke of Kent in 1940 due to the German and Soviet invasion of Poland in September 1939.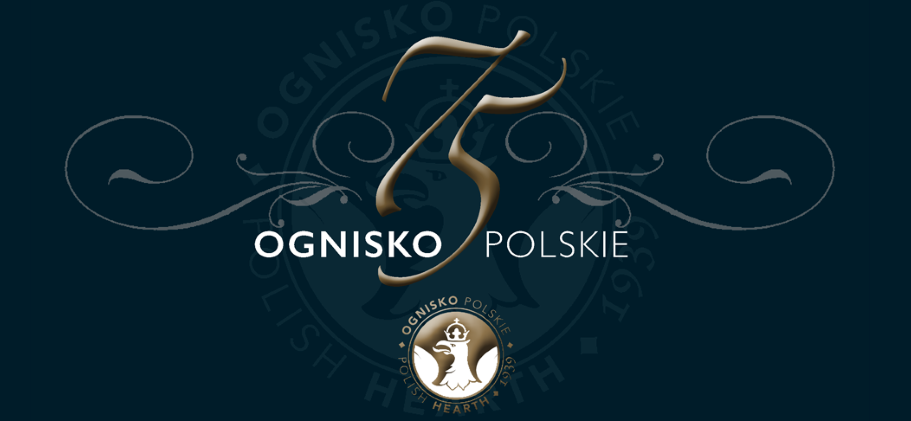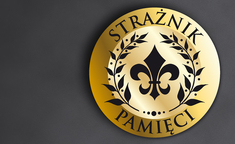 7th November
: 7pm Katy Carr performs at the
Church Hill Theatre, 33 Morningside Road, Edinburgh, Scotland EH10 4DR GB 
– to celebrate the unveiling of Wojtek's statue in Edinburgh. The Consul General of the Republic of Poland in Edinburgh, Mr Dariusz Adler and the Scottish Polish Cultural Association cordially invite you all to the concert of Katy Carr, Polish Folk Group 'Koźlary' with Polish Folk Dance Group 'Ojczyzna' and Scottish Pipe Band SCOTPIPE. Mrs Aileen Orr will read from her book about Wojtek the bear and Professor Wojciech Narębski – one of the few remaining Polish veterans who fought alongside Wojtek in the Polish II Corps during the WWII. EVENT SOLD OUT

ACKNOWLEDGEMENTS 🙂 
Big thanks go to all Katy Carr and the Aviators musicians, Lizzie Evans at Evans above PR, RoRo Management – Roman Rogowiecki, all at Proper Music Distribution,I also wanted to congratulate Scallywagdesign.co.uk for creating my brand new look website – you have done a great job !
Big thanks to all at the Jewish Theatre in Warsaw and to the Singers Festival Singera Festiwal (Aug 2015 )- we were so excited to play for you all and to recieve 3 standing ovations was a real treat !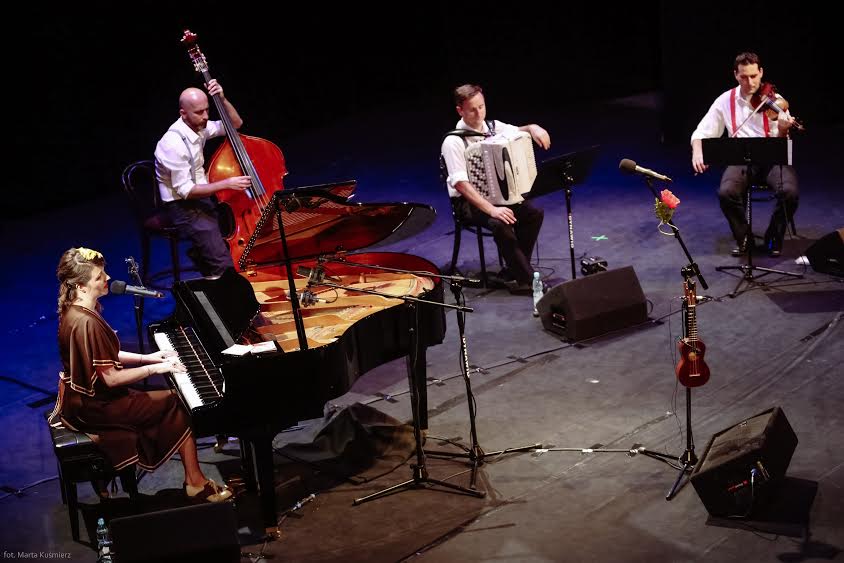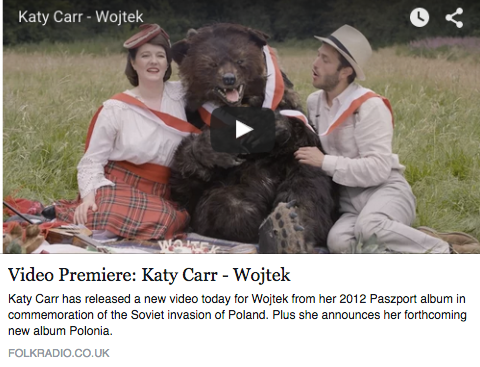 Thank you to all the organisors of the Festiwal Filmowy "Niepokorni, Niezłomni, Wyklęci" Festival in Gdynia and  in particular Arkadiusz Gołębiewski Dyrektor Festiwalu Filmów Dokumentalnych NNW, Basia Muzyka Konarska and Hannah Lovell.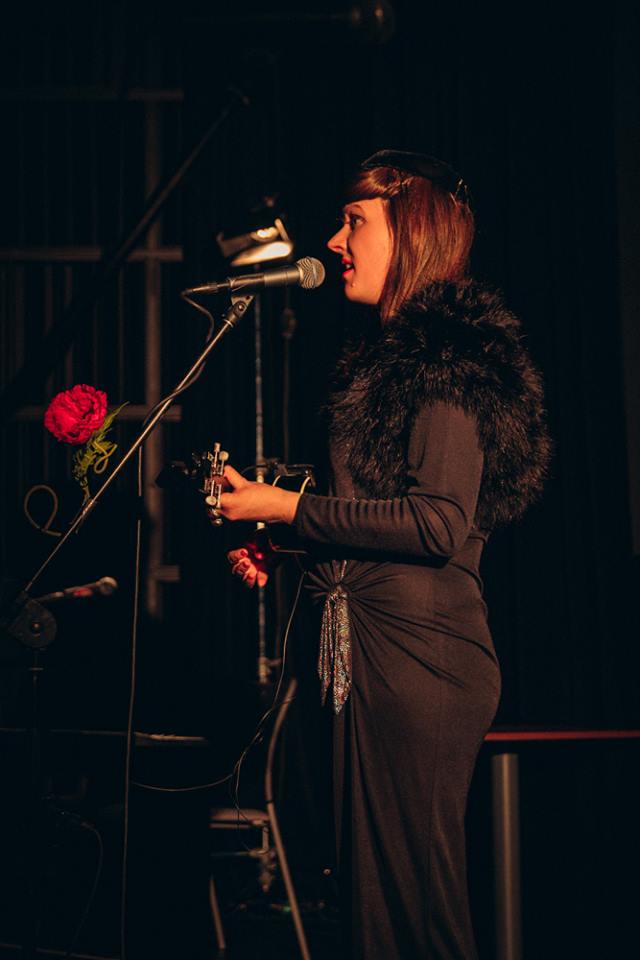 Below I am awarding my muse Kazimierz Piechowski (b1919) at the Festiwal Filmowy "Niepokorni, Niezłomni, Wyklęci" Festival with a medal for inspiring the themes and songs on my album
Paszport (2012) 
 which won Best Concepy Album in the Independent Music Awards 2014.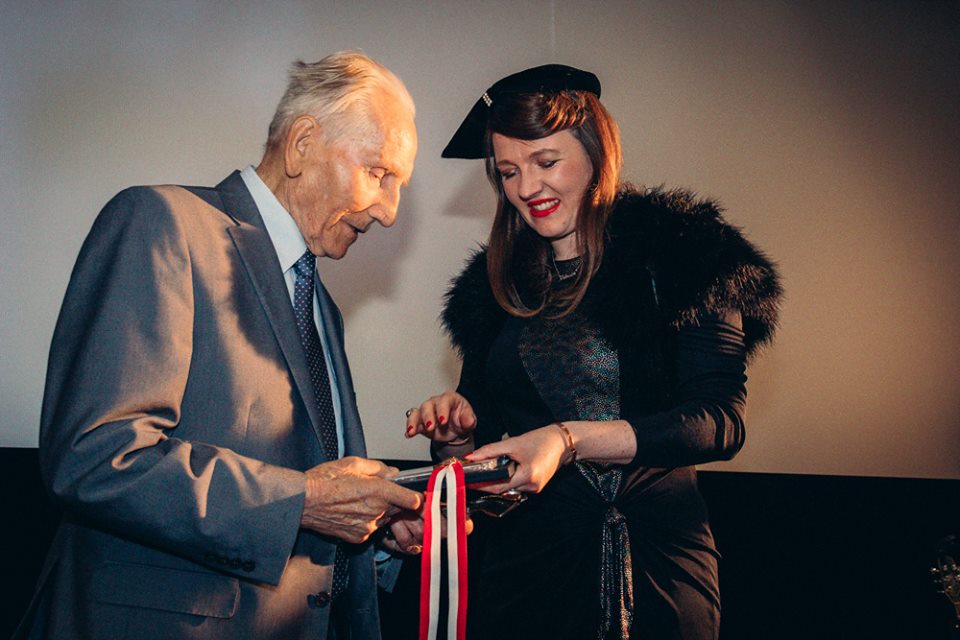 It was also an honour to be a panelist and vintage fashion judge at the Festiwal Filmowy "Niepokorni, Niezłomni, Wyklęci" Festival – see links here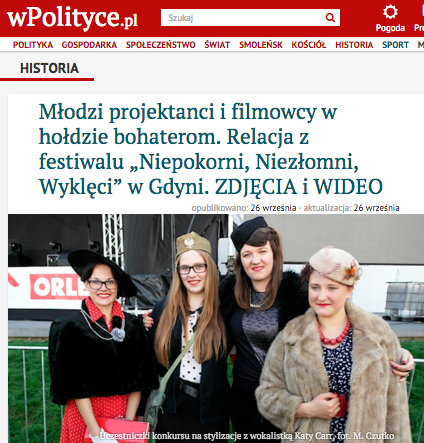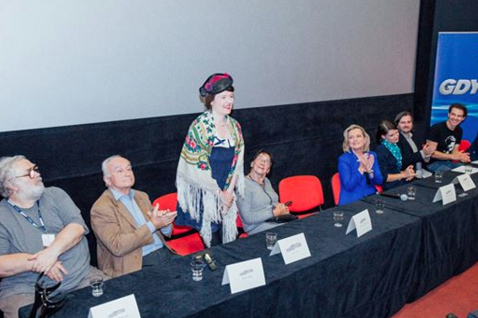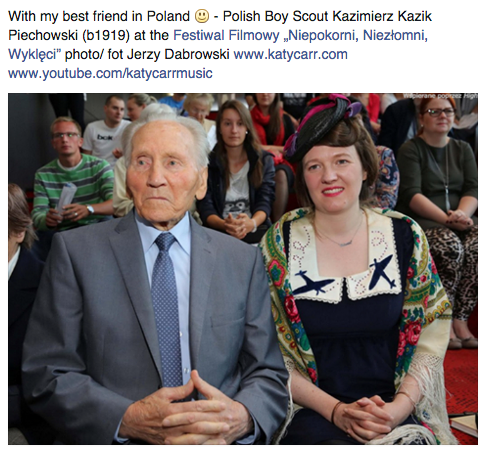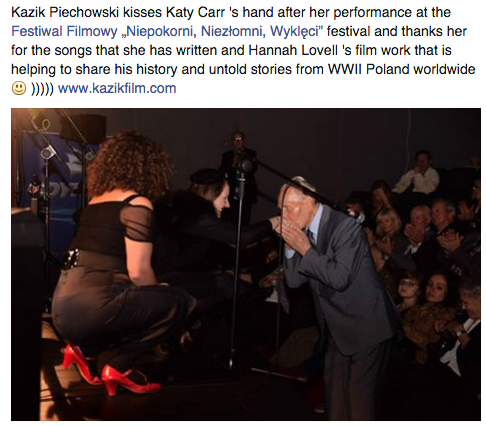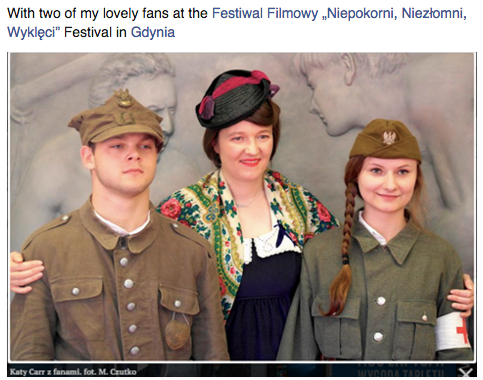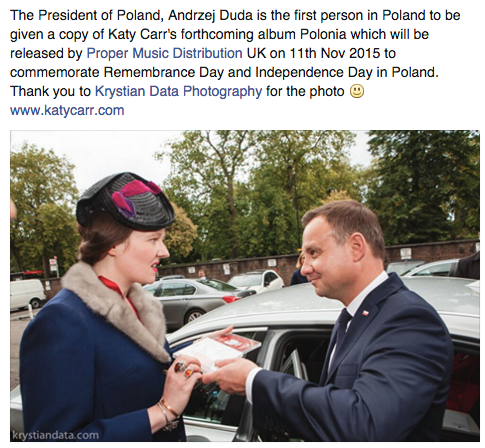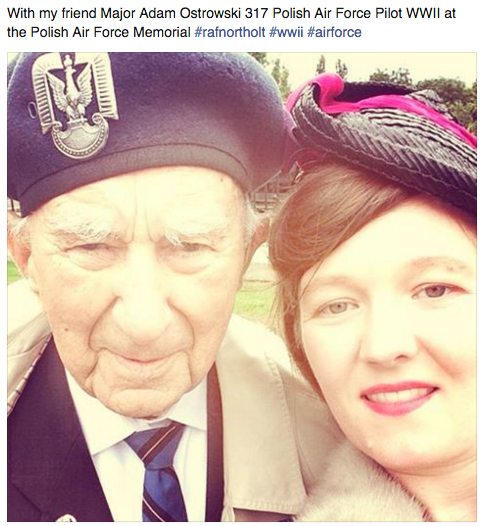 Big thanks to Nigel of Bermondsey who is also my music producer for Polonia 
and paszport for hosting this wonderful Festival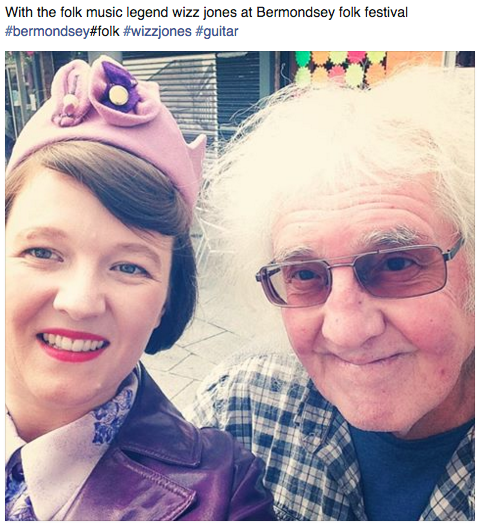 With my new musician friend the brilliant Karsten Troyke at the Jewish Musical
Institute and the Yiddish Song Summer school  🙂
With new friends from Polonia Stoke On Trent after my performance at the British Ceramics Bienale 🙂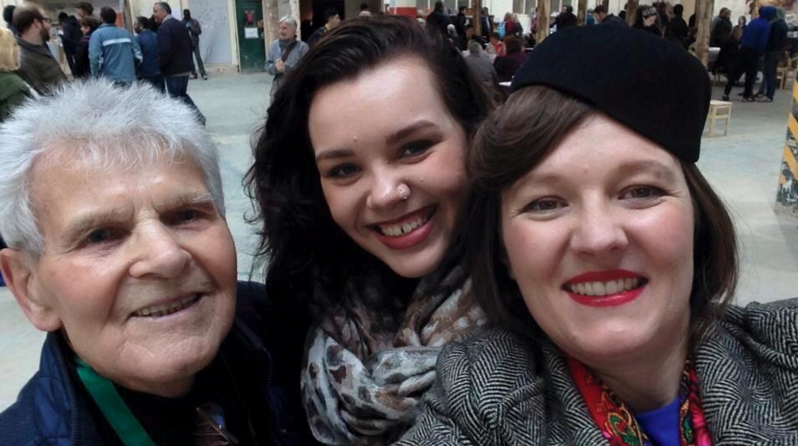 Big thanks to to Maciek Bator for interviewing me for NVTV Belfast, Ireland about my new album Polonia out on 6th Nov 2015 and also my  Anti Hate crime community project in Belfast using positive examples from history of the freedom fighters from Poland including Wojtek – the Soldier Bear – Niedźwiedź Żołnierz Żołnierz and No. 303 Polish Fighter Squadron Fighter Squadron Dywizjon 303 who fought alongside the RAF and were the aces of the Battle of Britain see video here 🙂  
https://vimeo.com/141803130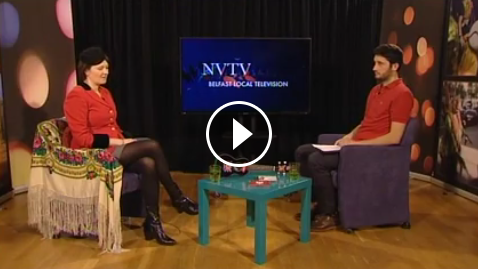 Great to meet the General Elzbieta Foundation in Torun and share my song
Jumping With Zo inspired by her amazing life – as the most decorated woman in WWII 
Poland and the only woman to jump with the Cichociemni (Silent and Dark) the
elite Polish parachute regiment 🙂 A MASSIVE inspiration for my album Polonia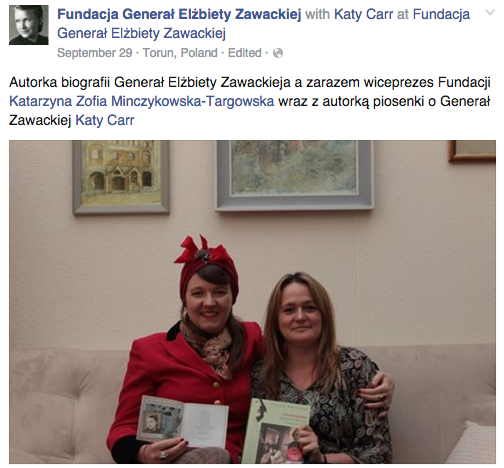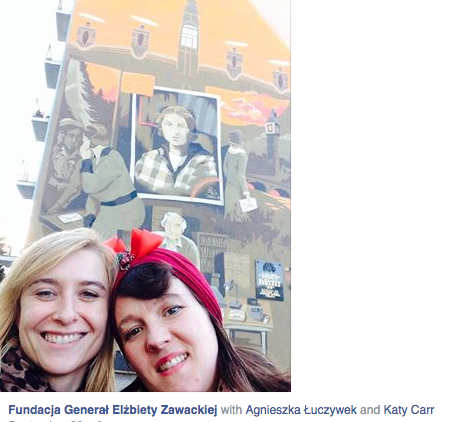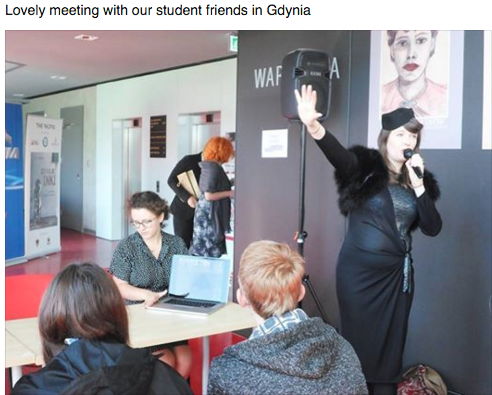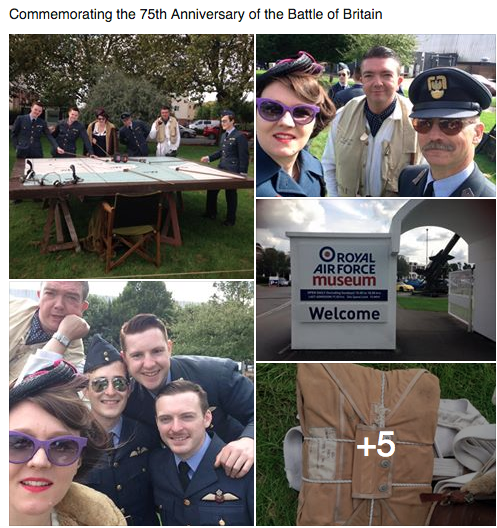 Linking Polish and Belfast communities below in Shankill Belfast 🙂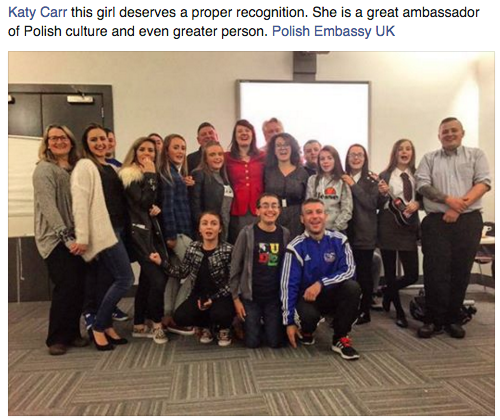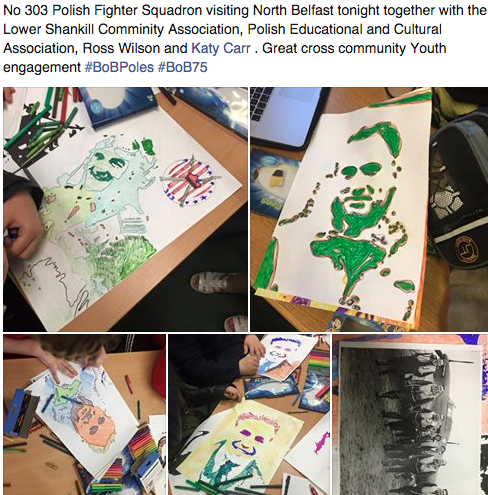 Thanks again for all your support of my music and keep in touch and take care
Much love to you all – Katy i Pozdrawiam serdecznie xxxx 🙂
Katy Carr's music Quotes :
– 'Carr is a fine example of that much-maligned beast we call Authenticity…' 
– 'never less than immaculate' Sunday Times Culture Magazine
– 'Her idiosyncrasy as a musician meant she'd have to forge ahead under her own steam – even the most avowedly avant labels fight shy of butterflies they can't easily net… ' 
– 'She's a true original, standing out like the spark generated by a Swan Vesta applied to a cigarette in the Blackout.' 
Katy Carr's Awards :
Katy Carr was nominated for the London Music Award 2012 alongside Kate Bush, PJ Harvey, Arctic Monkeys, The Good, the Bad & the Queen, Metromony, Ed Sheeran, Jim Jones Review, The Unthanks and Laura Marling.
~
Katy Carr Links below – please keep in touch!!!!