Katy Carr's May/June 2015 Newsletter
Hello friends!  
Thank you so much for all your support over the past month – it was so fantastic to share my music with you all. Below are my upcoming events and I have added in information below with regards the past month's events. I will be releasing a forthcoming 5th album ,'Polonia,' later this year and i will be sharing more information about that in the following months 🙂 
Here is a link to my Youtube channel – please subscribe for up to date videos and blogs 🙂 https://www.youtube.com/user/katycarrmusic – you might like this recent blog of my mini tour in Poland May 2015 🙂 
Click here 🙂
3rd June  – 'Poles in the USSR with Katy Carr'
–
address 7.30pm | Rich Mix, Bethnal Green Road, London, E1 6LA – FREE entrance.
This event is in cooperation and funded by 
DASH ARTS
 a company that creates and produces theatre, dance, music and visual art incollaboration with exceptional artists from abroad, presenting artistic experiences that change the way we see the world.

This is an evening exploring Polish culture during the existence of the Soviet Union and after its collapse(1922-1991) curated by renowned folk musician Katy Carr.Katy will take us on a journey through the Gulag system, deportations, Poland's role within World War II into contemporary Polish relations with the Post Soviet States. Combining in-depth conversation, thought provoking film and a rousing headline set from Katy Carr and the Aviators, this promises to be a powerful evening.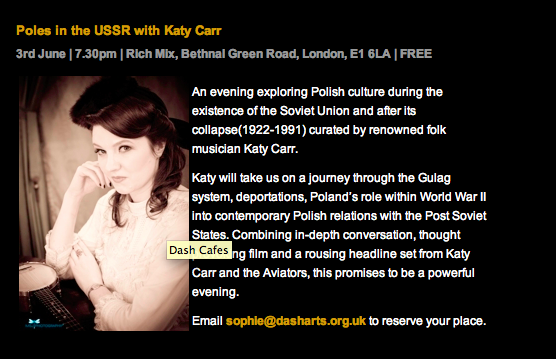 Aided by some fantastic speakers and experts and hosted by Josephine Burton, Katy will take us on a journey through the Siberian and Soviet Gulag system, forced relocation, Poland's role within World War II into contemporary Polish relations with Russia, illustrated and intercut by her own beautiful live performance. Combining in-depth conversation, thought provoking visuals and rousing song, this promises to be a powerful evening.
Special guests include –  
Danuta Gradosielska
– survivor of Stalin's WWII white slave trade and WWII veteran of the all female 316 Transport Company of the Polish II Corps will be joining our event 

Dr Matthew Kelly
 : 
Senior Lecturer at the University of Southampton and has been working on Irish history, the history of Poland, and British environmental history. He is the author of The Fenian Ideal and Irish Nationalism, 1882-1916 and Finding Poland: From Tavistock to Hruzdowa and back again.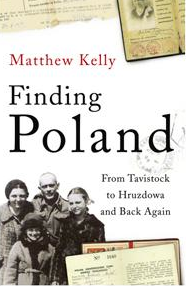 Frank Pleszak
:
Frank was born, raised, and still lives in Manchester. Although an IT professional by trade he has published a book called 'Two Years in a Gulag' about his father's unbelievable journey from Poland to England. It is a truly fascinating, almost unbelievable
story, and is much more than just a description of his father's journey it's a very significant, but almost unknown chapter in the history of a Polish nation and its intrigue continues to this day. Frank has written extensively, and given talks on the plight of the Poles from Eastern Poland through deportation to Soviet hard labour camps and the Gulags, to the formation of a Polish Army in exile and their Battles in Italy. He has visited Monte Cassino several times and is currently preparing a book on the history of the Polish 2nd Corps.He has also written and given talks on some if the little known but highly significant battles on the Eastern Front in WWI.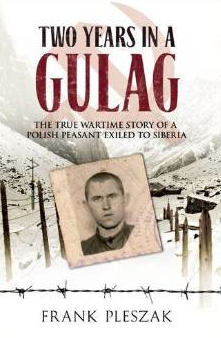 Hannah Lovell
is a British filmmaker. She collaborates closely with singer-songwriter Katy Carr, directing her music videos, as well as video projections for Katy's Paszport album tour and concerts, featuring museum archive footage exploring true stories from WWII, from a Polish perspective. She also directed the short documentary Kazik and the Kommander's Car (2012, produced by Katy Carr) about Polish boy scout Kazimierz Piechowski's daring escape from Auschwitz in 1942.
6th June – Katy Carr supports Tinarawen in the Woods 
in cooperation with Smuggler's Records at secret location in Deal, Kent visit this link for more details:)  All welcome 🙂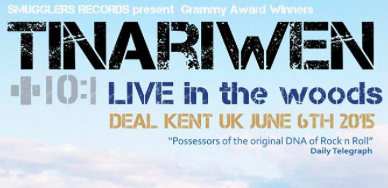 21st June – Katy Carr performs at the DASH ARTS DACHA festival
more info here 🙂
Address :  Leyton Jubliee Park Seymour Road London E10 7BL Transport: Tube: Leyton in cooperation wit DASH ARTS who are also hosting my event on 3rd June – Poles in the USSR with Katy Carr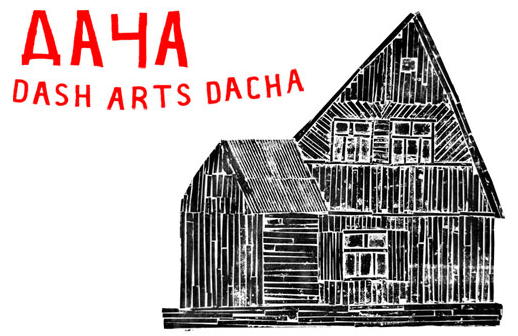 BIG THANKS THIS MONTH go to everybody who cooperated and supported my May 2015 concerts and the series of concerts in Poland in early May to commemorate the 70th Anniversary of the end of WWII. Below are some post Katy Carr concert news articles relating to these performances.
After Katy's performance at the Filharmonia, in Opole, Poland read article here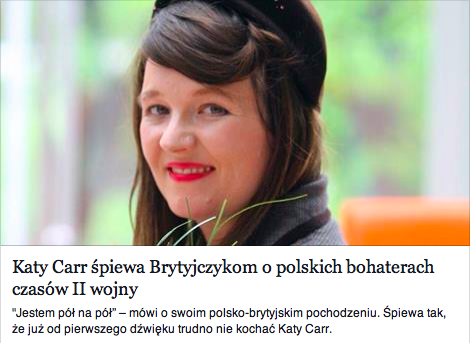 It was a beautiful concert 🙂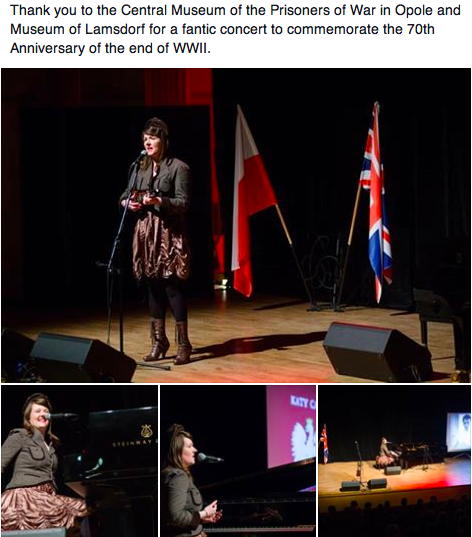 with a wonderful surprise !!!
See our concert blog here 🙂 http://youtu.be/ffwXGVoCofw
 And this wonderful article after the concert!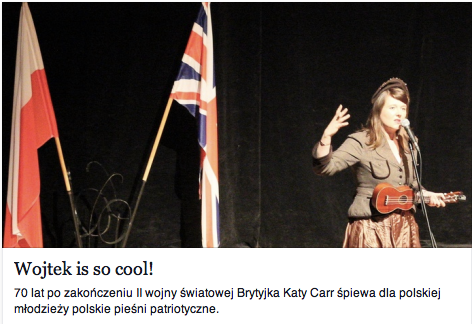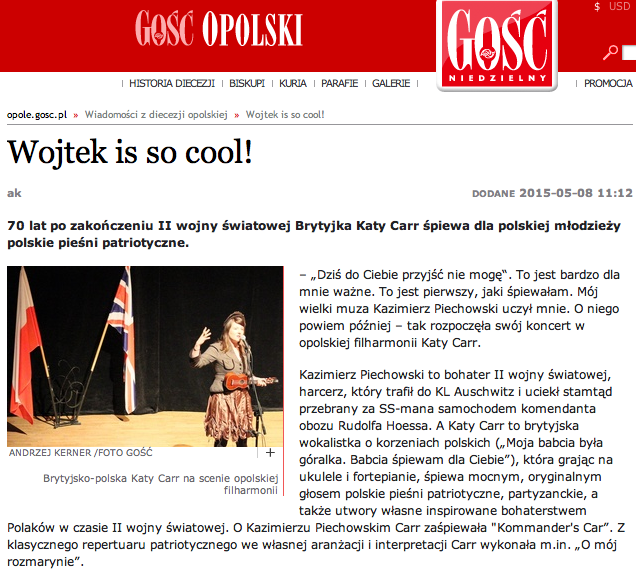 Two of my lovely fans had a special gift for me after the concert – thankyou so much Ola and Dominika ! 🙂 ))))))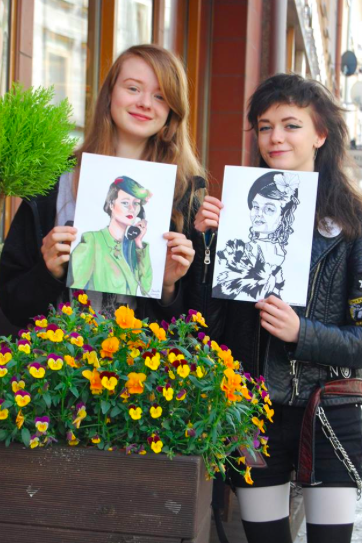 Thank you to the Arts centre and house of culture in Kiekrz, Poland
Here is an article : Katy Carr podbiła serca publiczności w Kietrzu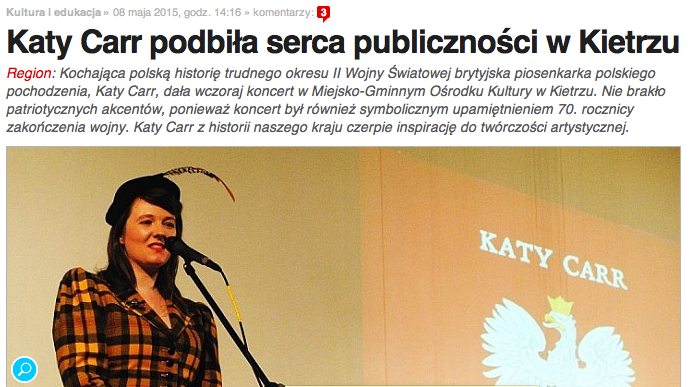 It was a wonderful concert 🙂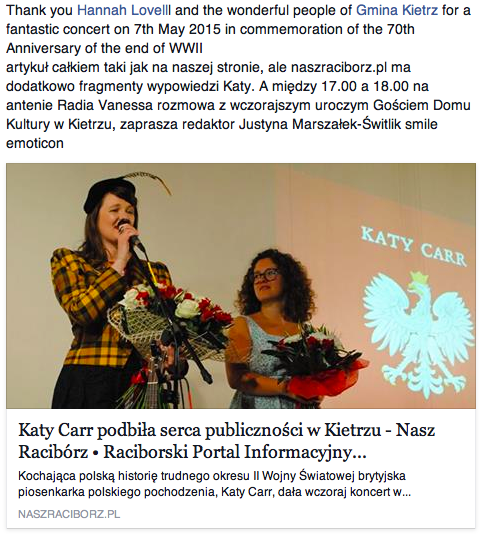 Article here 🙂 http://www.kietrz.pl/PL/3102/88/Katy_Carr_podbila_serca_publicznosci_w_Kietrzu/k/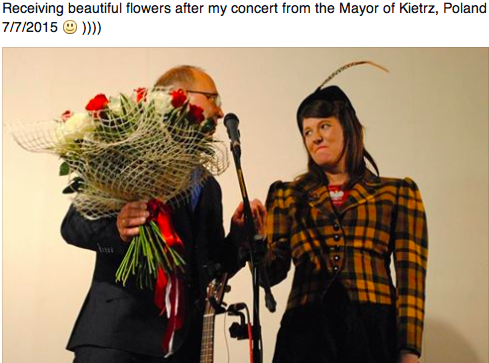 Thank you to the Museum of Lamsdorf, Poland 🙂 and the wonderful hand made paper poppies I received – they made it back to London! 🙂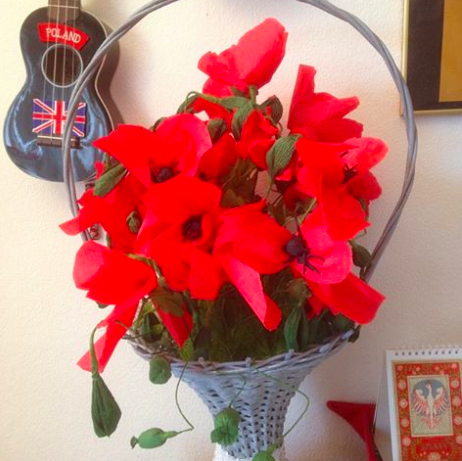 Meeting the wonderful Polish scouts of Głubczyce who came to my concert at the Museum of Lamsdorf 🙂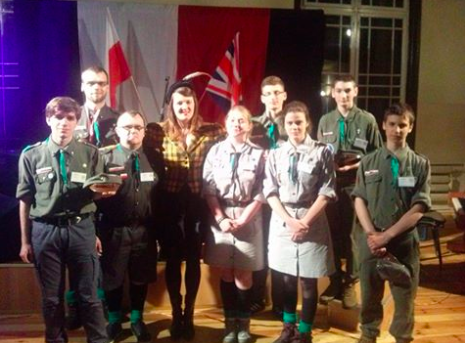 A big thank you to the Fundacja im. Cichociemnych Spadochroniarzy Armii Krajowej – the Polish Eilte Parachute and Home Army Foundation for inviting me to perform at their event at the Royal Castle in Warsaw. It was a great event and a real pleasure to meet my Cichociemni Scout friends from Poznan 🙂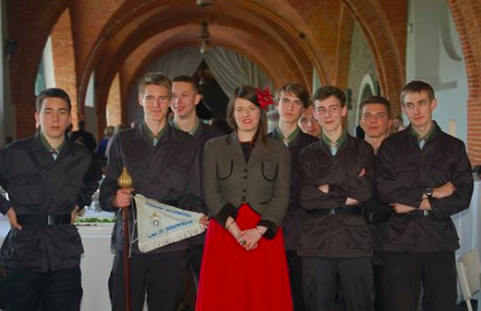 I was so honoured to receive a gift from a GROM military official  who was so moved by performance that he removed his badge off his uniform and gave it to me – I was very honoured and I will treasure it forever. GROM is Poland's elite counter-terrorism unit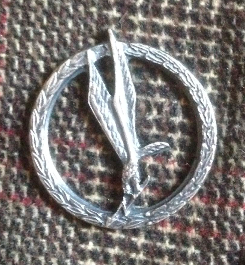 I also wanted to thank the organisers and my guests at Bradford Literature Festival for a fantastic event to commemorate the 75th anniversary of Stalin's wartime deportations of almost two million Polish citizens to forced labour camps in Siberia, which followed the Russian invasion of Poland in 1939.  http://www.bradfordliteraturefestival.co.uk/events/commemoration-event-for-75th-anniversary-of-siberia-deportations/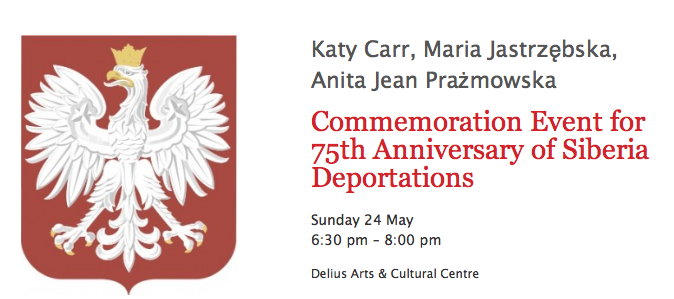 Thank you to our multiculural audience and our guest speakers Dr Matthew Kelly, Professor Anita Jean Prażmowska and Maria Jastrzębska poet, for your fantastic contributions 🙂 here are some pictures from our event below – We look forward to putting on another event next year and cooperating again with the festival. It was wonderful to meet people not only who had survived this notoriously cruel Soviet slave trade in WWII but also to find people whose families in India, New Zealand, Iran,  had helped to house the Polish victims and orphans seeking sanctuary within WWII and afterward the Iron curtain fell. The reach of Polish history and experience is global and we thank you Irna and Bradford Literature festival and all of you from the bottom of our hearts for organising and attending our very moving event.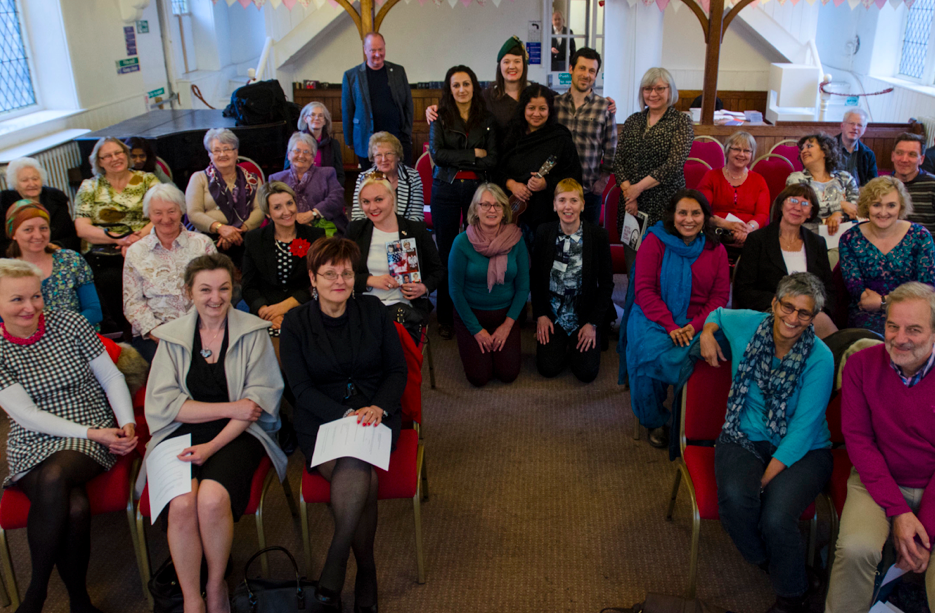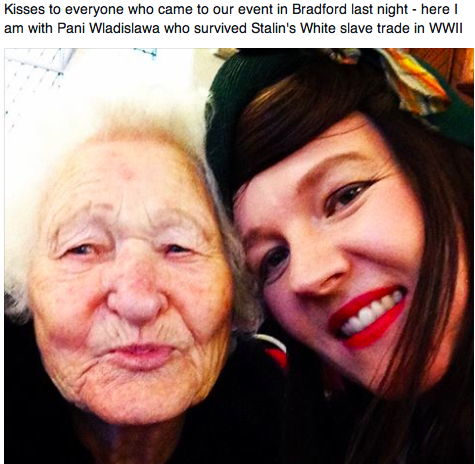 In addition I performed at the opening of my dear friend Olimpia's Biodiversity Academy in Bialowieza. We had a wonderful time and i wish her much success with her forthcoming projects and exciting new venture – more info here www.wejmutka.pl. Here we are standing in the train platform that Olimpia rebuilt – the original was burnt down along with the magnificent palace of Bialowieza by the Germans in WWII.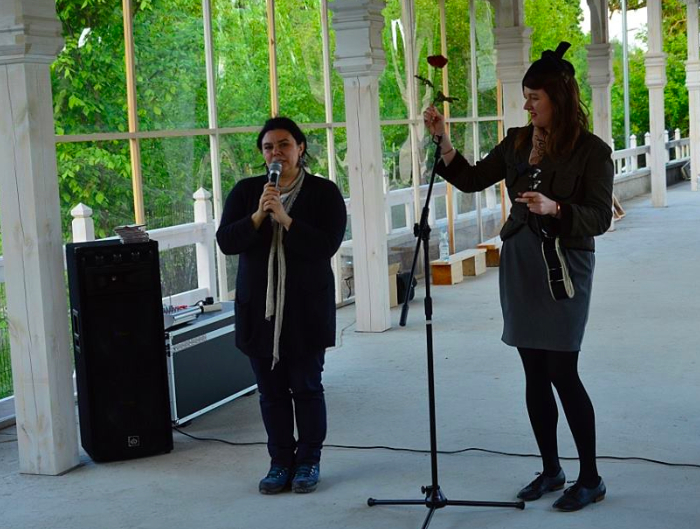 the orginal palace would have looked like this …
This picture was compiled by Patrick de Rochford who is the great great great Grandson of the french gentleman who had designed this palace!
I also wanted to congratulate Kazik Piechowski for winning an award – Well done we are so proud of you 🙂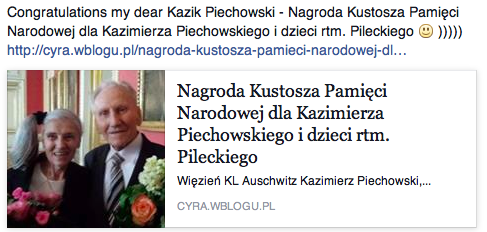 Congratulations my dear Kazik Piechowski – Nagroda Kustosza Pamięci Narodowej dla Kazimierza Piechowskiego i dzieci rtm. Pileckiego
 And thank you to the school in Lambinowice near the Museum of Lamsdorf for a wonderful meeting with the students!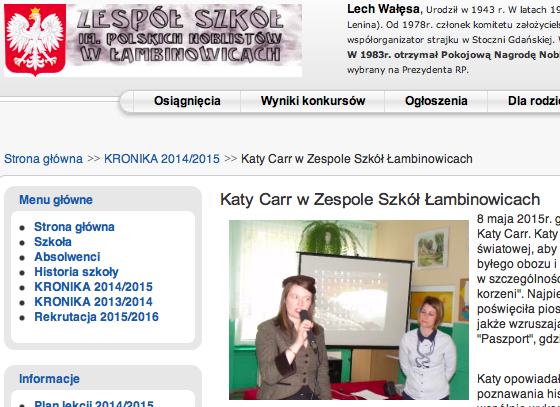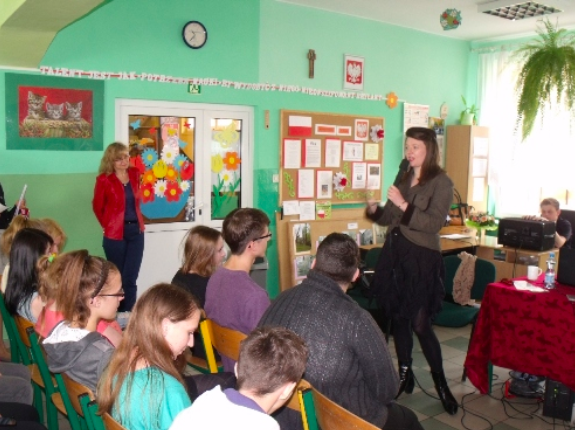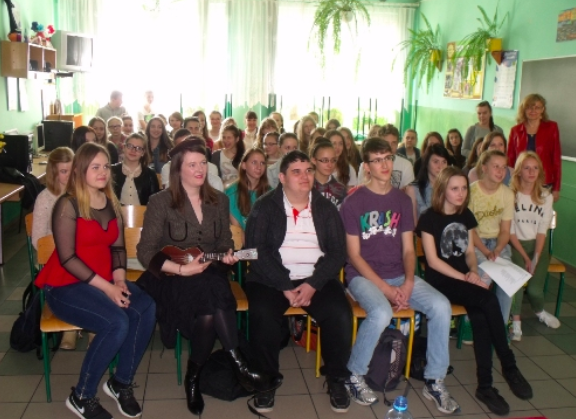 and to the school in Opole 🙂
I was very honoured to visit and meet with the students of the II Liceum Ogólnokształcącego in Opole and tell them about the themes associated with my album Paszport – the loss of Polish passports for all Polish people during WWII as Poland was enslaved by both Germany and the Soviet Union due to the Molotov-Ribbentrop agreement signed by Hitler and Stalin weeks before Germany and the Soviet Union invaded Poland in Sept 1939 and the topic of the Polish military in exile and  refugees who couldn't return to Poland after WWII and their communities across the globe….
link to School visit here 🙂 Katy Carr śpiewa piosenki niepodległościowe. Co ją inspiruje?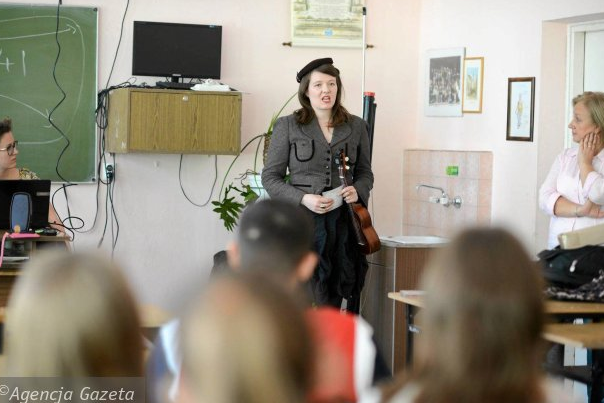 And to end – a lovely festival in Ochotnica Gornia – The Gorale – The Polish highlanders have my heart with their amazing artwork, craftmanship, music and laughter! Click link for article !  🙂 Podsumowanie IV Spotkania Artystów i Twórców Ludowych na Szlaku Łuku Karpa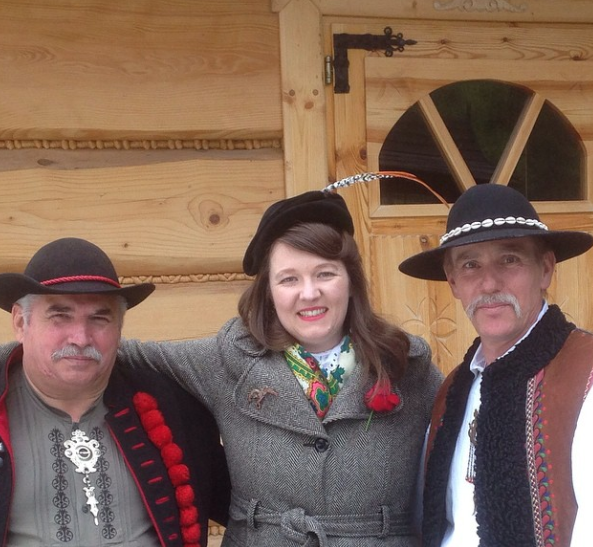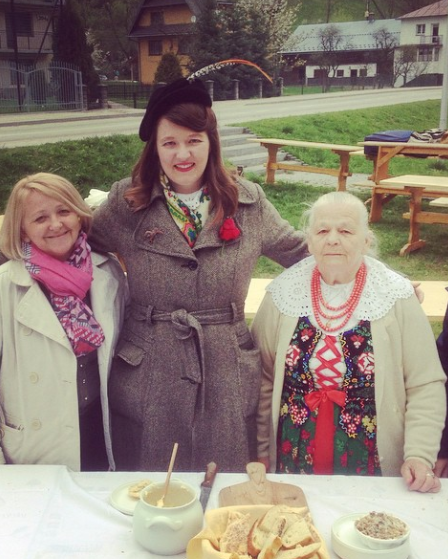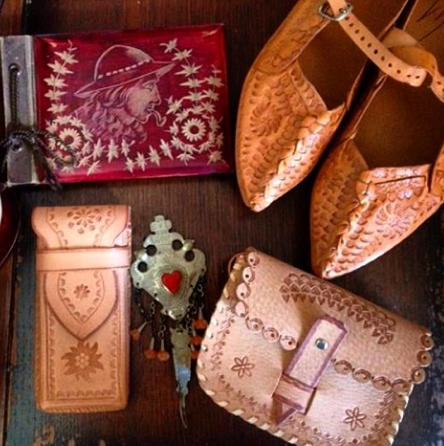 Thanks again for all your support of my music and keep in touch and take care
Much love to you all – Katy i Pozdrawiam serdecznie xxxx 🙂
Katy Carr's music Quotes :
– 'Carr is a fine example of that much-maligned beast we call Authenticity…' 
– 'never less than immaculate' Sunday Times Culture Magazine
– 'Her idiosyncrasy as a musician meant she'd have to forge ahead under her own steam – even the most avowedly avant labels fight shy of butterflies they can't easily net… ' 
– 'She's a true original, standing out like the spark generated by a Swan Vesta applied to a cigarette in the Blackout.' 
Katy Carr's Awards :
Katy Carr was nominated for the London Music Award 2012 alongside Kate Bush, PJ Harvey, Arctic Monkeys, The Good, the Bad & the Queen, Metromony, Ed Sheeran, Jim Jones Review, The Unthanks and Laura Marling.
~
Katy Carr Links below – please keep in touch!!!!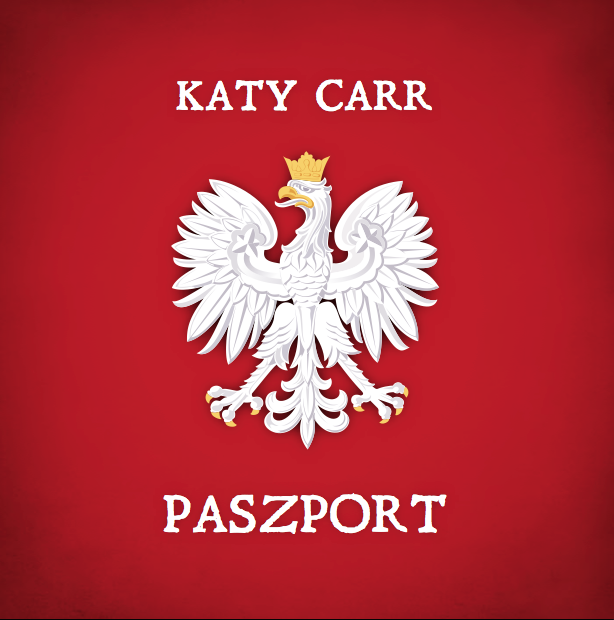 ~

I