Katy Carr's April/May 2015 Newsletter
Hello friends!  🙂
Katy Carr will be performing a series of concerts in Poland in early May to commemorate the 70th Anniversary of the end of WWII. Please find information below with regards these concerts.
2nd May – Nowy Targ, Poland
7th May 13:00 – Opole Filharmonia, Poland
7th May 19:30 – Kiekrz, Poland
8th May  1700 – Museum of Lamsdorf, Poland 
Further concerts include :
24th May : Bradford Literature Festival, at the Delius Arts & Cultural Centre, 29 Great Horton Road, Bradford, West Yorkshire BD7 1AA- Katy Carr performs at a special cultural evening of words, poetry and music to commemorate the 75th anniversary of Stalin's wartime deportations of almost two million Polish citizens to forced labour camps in Siberia, which followed the Russian invasion of Poland in 1939. Join us for an evening of insight and reflection. Event info is here : http://www.bradfordliteraturefestival.co.uk/events/commemoration-event-for-75th-anniversary-of-siberia-deportations/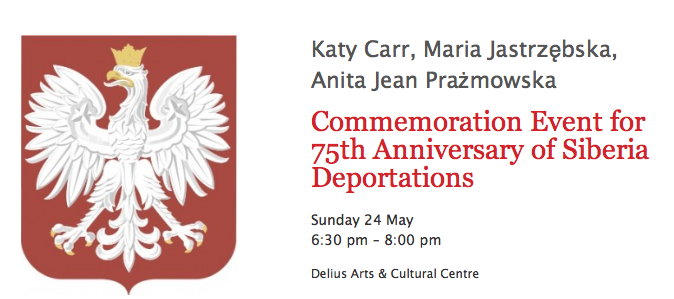 3rd June : Dash Arts Cafe at Rich Mix, London – Katy Carr curates an evening exploring exploring Polish culture and history in various post Soviet countries – more info to follow 🙂 Expect an evening of music – Katy Carr concert , film screening and conversation with special panel speakers and survivors of Stalin's notorious white slave trade and Gulag system where 2 million inncocent Polish people were kidnapped and then perished as Soviet slaves during WWII – this history still remains largely untold in Western history books.
Below please see below for more information on each Polish concert tour date as mentioned above with full addresses and venue details 🙂
2nd May – Nowy Targ, Poland
Time :18:30
Please see this youtube link for an invite to Katy Carr's concert from the artist herself 🙂 
Address : Nowy Targ Os. Oleksówki 26przy żółtym szlaku na Turbacz – 'MAJÓWKA W GORCACH  – inaugurująca ogólnopolską Kampanię NIE RZUCIM ZIEMI organizator: UNIWERSYTET CZŁOWIEKA OGNIK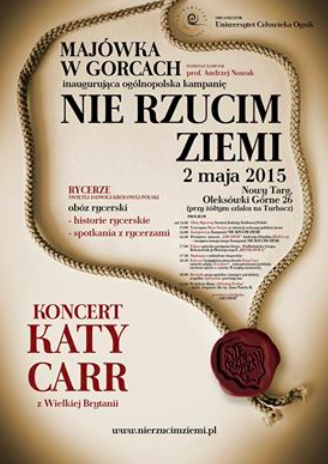 7th May – The Opole Filharmonia – link to concert here : http://www.ngopole.pl/2015/04/09/dzis-w-radio-opole-rozmowa-z-piosenkarka-katy-carr/ –  Katy Carr's performance includes specially crafted live video projections by British filmmaker Hannah Lovell.
Time : 1300
Address : Krakowska 24, 46-020 Opole, Poland Tel +48 77 442 32 70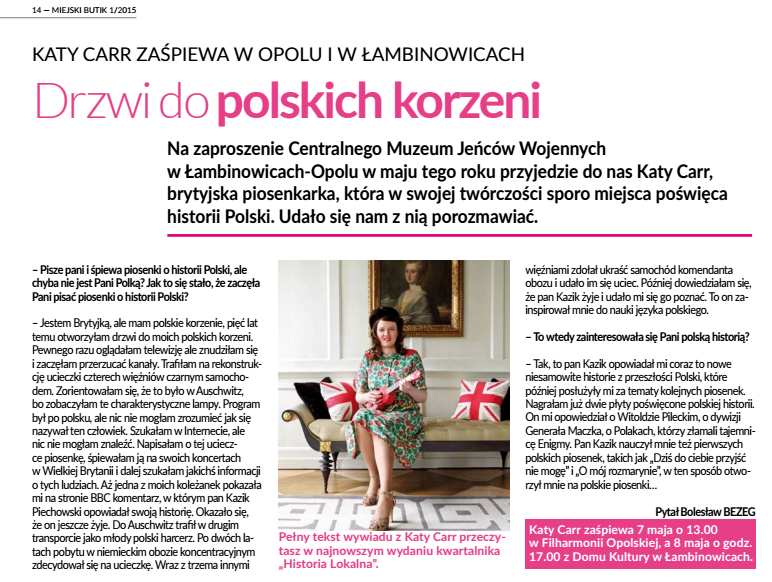 7th May Kietrz : Katy Carr's performance includes specially crafted live video projections by British filmmaker Hannah Lovell.
Time : 1930
Address – Sali Widowiskowej Miejsko-Gminnego Ośrodka Kultury w Kietrzu
Link to Katy's concert in Kiekrz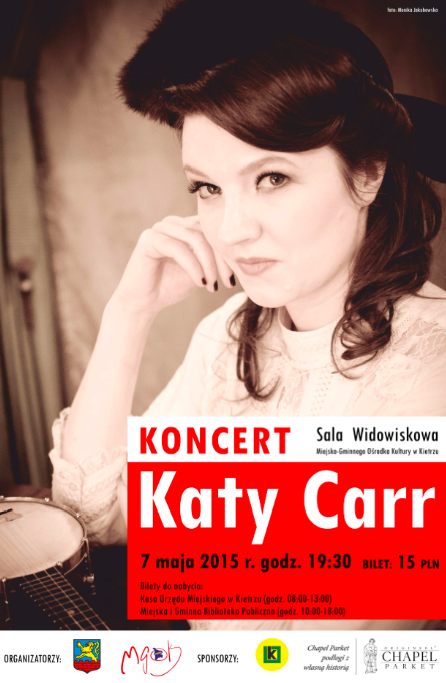 8th May 2015 – Museum of Lamsdorf : Katy Carr's performance includes specially crafted live video projections by British filmmaker Hannah Lovell.
Time : 1700
Address : Dom Kultury, Museum of Lamsdorf, ul. Muzealna 4, 48-316 Łambinowice tel./fax +48 77 434 34 75  email: lambinowice@cmjw.pl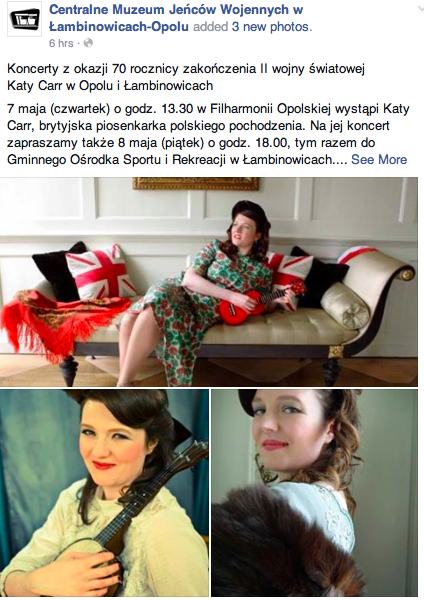 Please note that the concerts in both Opole and Lamsdorf have been organised in cooperation with the town of Opole and the Museum of Prisoners of War in Opole [more info here ] and Lamsdorf to commemorate the 70th Anniversary of the end of WWII. Special thanks to Museum director Violetta Rezler-Wasielewska, Janusz Wójcik from Radio Opole, Poland, the Emigra Film Festival. All are welcome – please find more details here
Below are a few extra links you may enjoy. Katy Carr has been busy completing her forthcoming album, 'Polonia,' which is to be released later this year. More news on that to follow soon! I am sure that you will all be excited to hear it 🙂
Katy Carr was very excited to meet the Polish film director Krzysztof Zanussi at the 13th KINOTEKA Polish Film Festival in London with films scpecially selected, restored and presented by Martin Scorcese.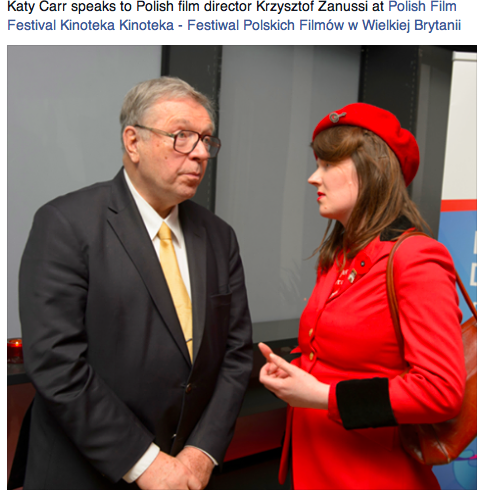 A MASSIVE THANK YOU goes to Polish blogger  Justyna Chudy for writing an amazing blog about Katy Carr 🙂 
Please see Justyna's English version blog here and also below – Katy Carr : National Identity
Sidewalks in the morning

When I go, I don't talk to anyone

How is it on Sunday morning

After the Saturday parties the sidewalks are all puked over" – this colorful landscape of Poland showed us Kazik Staszewski in 1987. Gray, sad, awful place. "I hate you Poland" sings Czesław Mozil in his new album. "It's hard to find here human, it's easier to meet boor" we hear in Farben Lehre's song. This is totally depressing. But is this all true? I don't think so! Of course we can meet different people, bad situation, but dear artists, is this all you see? It covers up your reality so much? I know that now complaining is fashionable. Sarcasm and ridicule is popular. But we don't have to do only what is popular. Our country is beautiful, with great culture and history, and it's sad that I have to look for good songs about it in english. I found people who don't think what's popular, and are looking for beauty in life. In history. This is for example Swedish band Sabaton, and hero of today post – charming, British singer and author – Katy Carr.
What a music! What a originality! What a style, glamour! I won't lie if I'll say that long time nobody didn't surprise me so positively!
But slow down girl, you have to start from beginning. Katy Carr was born in Nottingham to a British man, and Polish woman. She was always interested in soldiery and aviation, and she dreamed about being a pilot in Royal Air Force. She completed the licence, but it turned out that she loves music more and she started her career.

Her 4th album called "Paszport" is talking about members of Polish resistance movement in World War II.
For today writing I chose song "Mała little flower". A the outset, after reading title we can suspect what an interesting hybrid it will be. It started from charming voice singing "Kocham Cię Janku, mój Janku" (I love you John, my John) with accompaniment of sweet, gentle bells. Maybe it's not perfect polish accent, but when I heard it for the first time, I really was sure, that it must be polish singer!
Lyrics show us sad love story from time of World War II. I'm sure you saw a lot of movies where there is big, beautiful love and then it comes to war, and everything is ruined. Wifes loose their husbands, mothers loose their children, whole families die. How huge charisma has this amazing woman, if she touch my heart more than all this movies? So wonderful lyrics. With simplicity, and real, unconstrained sadness.
And her voice. It's something absolutely unusual. Brilliant vibrato, beauteous british accent (I love british accent so much), intriguing, superlative timbre. And what's more? Beautifull, classical piano and violin – it's a key for me. High tones in 0:46 makes me gooseflesh, it's ideal emphasis for dreaming, metaphorical words "And he takes my hair, and it's golden, And he takes my hand, and I'm dancing". And this music, when she asks if she heard the guns fire? If she will see her beloved again? Just perfect – lyrics are so compatible to music, it's so hard to don't feel it in deep of heart. But nothing is exaggerated, there is no painful screaming, everything's balanced and classy. It's so rare.. And in this beautiful finish… Gooseflesh in whole body. Amazing.
This song is masterpiece.
Katy, we are proud that You're one of us. Polish people.
chudylover.
"Bałtyk śmierdzi ropą naftową,

Poranne chodniki,

Gdy idę, nie rozmawiam z nikim

Jak jest w niedzielę nad ranem,

Po sobotnich balach chodniki zarzygane" – taki barwny pejzaż Polski przedstawił nam Kazik Staszewski już w 1987 roku. Szare, obrzydliwe, godne pożałowania państwo. Smutek, alkoholizm, prostactwo. "To jest Polska, tu się ciężko oddycha" – pojawiło się w kawałku Markowskiej i Sychy, opisanym 3 wpisy temu. "Nienawidzę Cię Polsko" śpiewa Czesław Mozil na swojej najnowszej płycie "Księga Emigrantów. Tom I". "Żyję w kraju" moich ukochanych Strachów również nie ma w sobie grama pozytywnych myśli. "Bardzo smutna to kraina, Dumna i sponiewierana, Trudno tutaj o człowieka, Dużo prościej spotkać chama"- a tu z kolei wizja Farben Lehre. Przykre spojrzenie, dołujące, bolesne. Ale czy prawdziwe? Chyba nie do końca. Jasne, że spotykamy różne osoby, różne tragiczne sytuacje itd, ale drodzy polscy artyści, czy one aż tak przysłaniają Wam rzeczywistość? Serio widzicie więcej meneli niż wspaniałych ludzi na ulicy? Nie wiem czy to kwestia Waszego realizmu czy pesymizmu, ale takie przytłaczające wizje są według mnie przesadzone. Czy żeby chwalić Polskę trzeba mieszkać z dala od niej? O tym przekonuje nas Sabaton – genialna szwedzka grupa heavy metalowa nawiązująca w tekstach do historii świata, oraz urokliwa, brytyjska wokalistka Katy Carr – bohaterka dzisiejszego wpisu.
Co za muzyka! Co za oryginalność! Co za klasa! Nie skłamię jeśli powiem, że dawno nikt mnie tak pozytywnie nie zaskoczył całokształtem.
Ale od początku – Katy Carr urodziła się w Nottingham ze związku Brytyjczyka oraz Polki. Gdy odkryła swoje korzenie zakochała się w Polsce i jej historii. Zaczęła pisać cudne utwory łączące w sobie polską muzykę z czasów II Wojny Światowej i brytyjski indie rock z różnymi cudacznymi elementami.
"Mała little flower" – 
kliku
  już na wstępie, samym tytułem, pokazuje nam jaka hybryda nas czeka. Rozpoczyna się od cudnie wyśpiewanych, chociaż może nie do końca akcentowo idealnych słów – "Kocham Cię Janku, mój Janku". Tekst przedstawia niezwykle smutną historię miłości w czasie II Wojny Światowej. Na pewno widzieliście masę filmów w których jest wielka miłość, nagle przychodzi wojna i wszystko się rozpada. Żony tracą mężów, matki dzieci, umierają całe rodziny, wszyscy przyjaciele. Jak wielką charyzmę ma ta kobieta, że przekonuje mnie bardziej niż te wszystkie filmy razem wzięte? Pięknie napisane. Z prostotą i prawdziwym, niewymuszonym, nieegzaltowanym smutkiem.
A Jej głos. Jest czymś absolutnie niezwykłym. Genialne wibratto, cudny brytyjski akcent (mam do niego wyjątkową słabość), intrygująca, nieprzeciętna barwa. Do tego klasyczne pianinko i skrzypce, które według mnie są tu absolutnie kluczowe. Wysokie dźwięki jak w 0:46 sprawiają, że mam gęsią skórkę, perfekcyjnie akcentują znaczenie rozmarzonych, metaforycznych wersów  "And he takes my hair, a
nd it's golden, And he takes my hand, and I'm dancing". A muzyka w momencie gdy artystka pyta czy słyszała strzały? Czy zobaczy jeszcze ukochanego? Nieziemskie, tekst jest tak kompatybilny z muzyką, że aż ciężko się nie wczuć. Ale nic nie jest przesadzone, na siłę, nie ma rozpaczliwych krzyków, rozdzierającego bólu w każdym słowie. Wszystko wyważone i z klasą. Taką jakiej naprawdę mało w muzyce. I jakby moich dreszczy było jeszcze mało zakończenie z pozytywką. Niezwykłe. Całokształt jest dla mnie arcydziełem.
Na sprostowanie smutnego wstępu – to nie jest tak, że nie ma artystów w Polsce, którzy potrafią pięknie pisać o historii i kraju. Nie. Jako przykład dam zespół, który zdobył moje serce na tegorocznym Woodstocku i na pewno niedługo znajdzie na moim blogu swoje miejsce – Lao Che. Cudeńko, perełka wśród świadomej, polskiej muzyki. Niestety perełka jest jedna, a smutnych ziaren piasku wkoło wielka kupa. A jak pewnie wszyscy wiedzą – w kupie siła.
 And below I am posting this picture in praise and awe of artist Susan Burghart the artist who has created the most amazing artwork for my albums Coquette [2009] and Paszport [2012] as well as currently working on my next record due for release later this year 'Polonia.' Below the artwork is for my song 'Alicja' on my previous album Paszport 🙂
Thanks again for all your support of my music and keep in touch and take care
Much love to you all – Katy i Pozdrawiam serdecznie xxxx 🙂
Katy Carr's music Quotes :
– 'Carr is a fine example of that much-maligned beast we call Authenticity…' 
– 'never less than immaculate' Sunday Times Culture Magazine
– 'Her idiosyncrasy as a musician meant she'd have to forge ahead under her own steam – even the most avowedly avant labels fight shy of butterflies they can't easily net… ' 
– 'She's a true original, standing out like the spark generated by a Swan Vesta applied to a cigarette in the Blackout.' 
Katy Carr's Awards :
Katy Carr was nominated for the London Music Award 2012 alongside Kate Bush, PJ Harvey, Arctic Monkeys, The Good, the Bad & the Queen, Metromony, Ed Sheeran, Jim Jones Review, The Unthanks and Laura Marling.
~
Katy Carr Links below – please keep in touch!!!!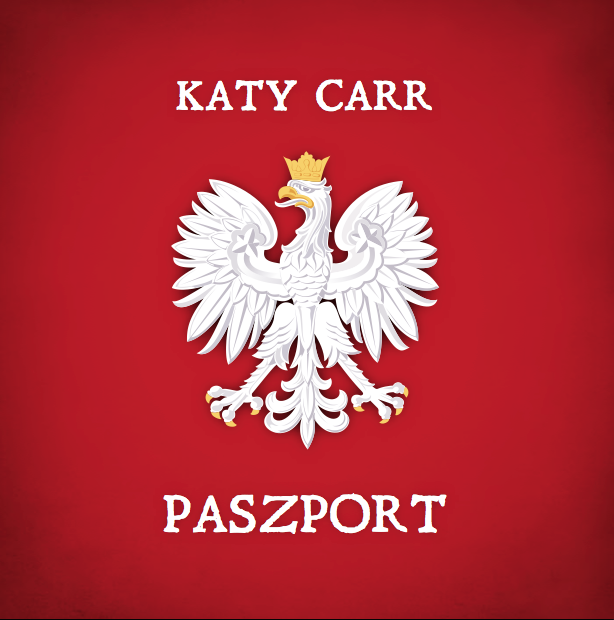 ~
I