Hello friends!
Katy Carr and the Aviators have had some fantastic concerts this month and this is a message to say thank you for all your support 🙂 Our next events include
15th June 2014: 'Katy Carr and Haymanot Tesfa,' in cooperation with South Bank London, Refugee Week and Celebrating Sanctuary at Bernie Spain Gardens, South Bank London SE1. Click here for more info: This new collaboration has been commissioned by Counterpoints Arts for Celebrating Sanctuary London where the singers will unpick personal stories and influences from their cultural backgrounds of Poland and Ethiopia. This new musical collaboration will pay homage to those Polish refugees who had no choice but to remain in exile from their beloved Poland after WWII and to those current Ethiopian refugees waiting for safe passage home.
See a video about the collaboration by clicking here 🙂

KATY CARR IS COMING TO EDINBURGH!!!!
21st June : Katy Carr and Aviators play Summerhall, in cooperation with Polish Scottish Heritage – address 1 Summerhall Edinburgh, EH9 1PL – more info please click here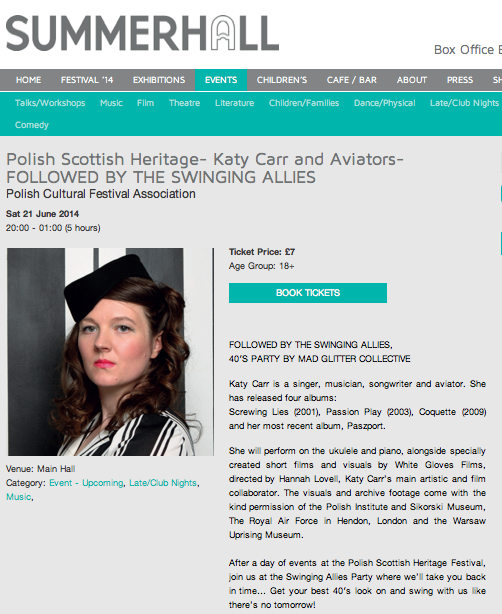 22nd June 13:00-14:00 : address 1 Summerhall Edinburgh, EH9 1PL – Katy Carr workshop –
Katy Carr will be leading a music based workshop for all ages with specially prepared visuals selected from archive footage exploring and celebrating the rich association that Scotland has had with Poland in connection with the Polish Scottish Heritage Festival: Our Shared Heritage Polish Cultural Festival Association. Expect to learn about Wojtek the Soldier Bear who was the mascot of the Polish II Corps, and later the star attraction at the Edinburgh Zoo, thrilling millions of Polish and Scottish children until his death in the 1960s – more info please click here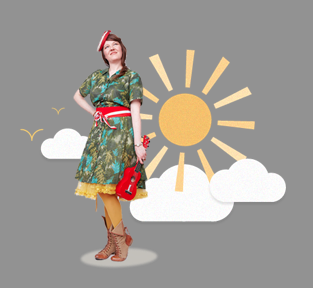 The highlight of May 2014 for Katy Carr and the Aviators was performing at the town of Cassino in Italy on 17th May 2014 on the Eve of the commemoration of the 70th Anniversary of the Battle of Monte Cassino in cooperation with the Kresy Siberia Foundation and the Ministry of Foreign Affairs of the Republic of Poland MSZ. Big thanks go to Hannah Lovell who projected specially created short films and visuals from archive footage which were projected with the kind permission of The Polish Institute and Sikorski Museum, London, The Royal Air Force in Hendon, London and the Warsaw Uprising Museum.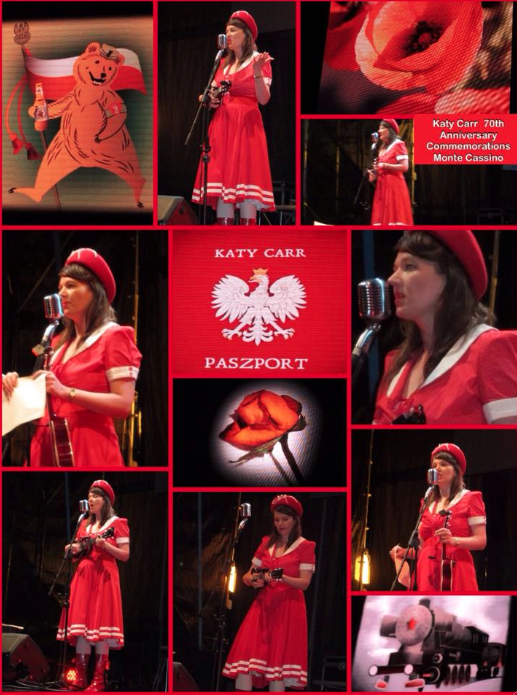 Above Katy Carr performs at the 70th Anniversary commemoration of the Battle of Monte Cassino 1944 at the Piazza A. Labriola, Cassino. Italy. Photo montage courtesy of Helena Czechowska Gullotti.
The most moving moment during my concert was when I sang the famous Polish WWII song, 'Czerwone maki na Monte Cassino,' (The Red Poppies on Monte Cassino) on a stage which faced the ancient Benedictine monastery of Monte Cassino. In early 1944 it was a German stronghold and had blocked the Allies' advance toward Rome. This song was composed during the Eve of the Polish Army's capture of the German stronghold on 18th May 1944. It is a truly beautiful song and I also sang it at the Polish Cemetery on 18th May 2014. The song has a beautiful chorus with is familiar to all Poles: –
'Czerwone maki na Monte Cassino, Zamiast rosy piły polską krew. Po tych makach szedł żołnierz i ginął, Lecz od śmierci silniejszy był gniew. Przejdą lata i wieki przeminą. Pozostaną ślady dawnych dni I tylko maki na Monte Cassino Czerwieńsze będą, bo z polskiej wzrosną krwi. '
English translation : 'The Red poppies on Monte Cassino Drank Polish blood instead of dew… O'er the poppies the soldiers did go 'Mid death, and to their anger stayed true! Years will come and ages will go, Enshrining their strivings and their toil!… And the Red poppies on Monte Cassino will be redder for the Polish blood in their soil.'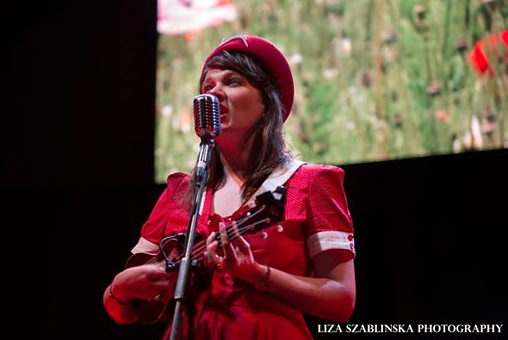 I wanted to share with you the following two inscriptions which are truly beautiful and moving on the Holy ground at The Polish memorial at Monte Cassino. The first is based on the Epitaph of Simonides :
'Go tell Poland – That we have perished obedient to her service,'
The second translates from Polish:
'For Your freedom and Ours
We soldiers of Poland
Gave Our soul to God
Our life to the soil of Italy
Our hearts to Poland
To hear about about my visit to Monte Cassino please listen to my recent interview on Soho Radio London – Interview comes in at 58:56 click here to listen 🙂
Below with Lenny Beige, Katy Carr and Tim Arnold on Soho Radio 🙂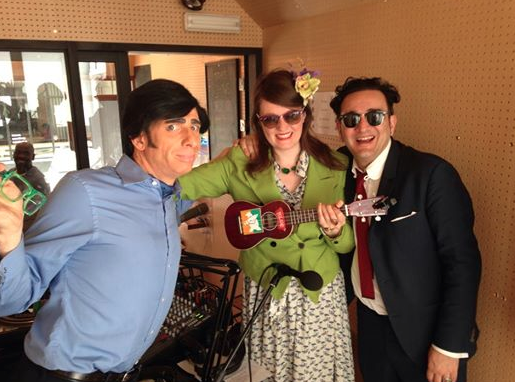 Below I sing, 'Czerwone Maki Na Monte Cassino,' for Polish TV with my Polish II Corps friends at the Polish Cemetery, Monte Cassino, Italy 18th May 2014 — with Professor Wojciech Narebski who was serving at Monte Cassino with the 22nd Artillery Supply Company of the Polish II Corps and knew Wojtek the Bear 🙂 and Danuta Gradosielska nee Maczka who served as a driver in the all female 316 Transport Company (PWSK) of the Polish II Corps serving in Palestine, Egypt and the Italian campaign – transporting ammunition, provisions, fuel, equipment to the second and third supply lines of the Polish II Corps.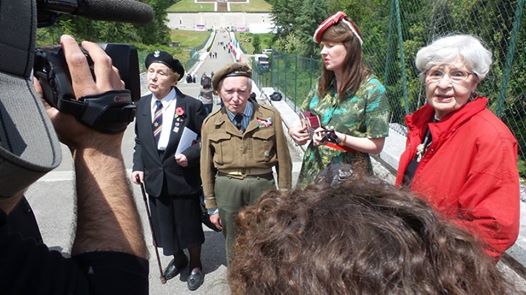 I love Danuta Gradosielska nee Maczka who served as a driver in the all female 316 Transport Company (PWSK) of the Polish II Corps.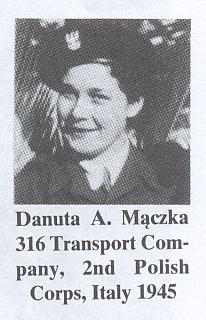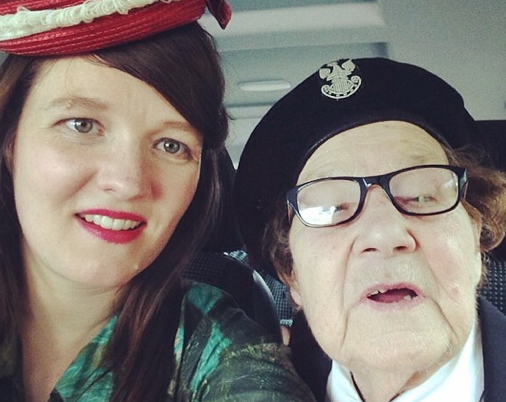 I love Professor Wojtek Narebski who served with the 22nd Artillery Supply Company of the Polish II Corps.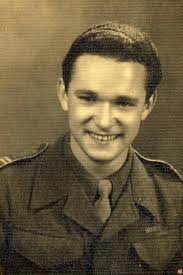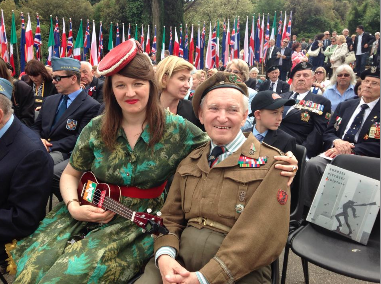 It was lovely to meet Anna Maria Anders – General Anders daughter at the Polish Cemetery memorial exhibition.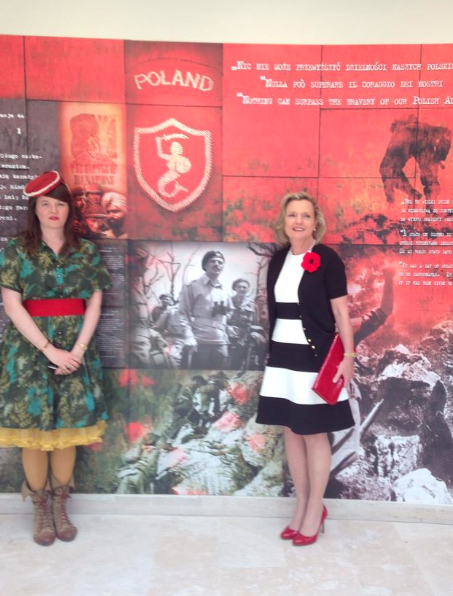 In my next newsletter I will sharing our video blog of our experiences with you all to pay homage to all our Polish II Corps friends who served at Monte Cassino, past and present. We love you all 🙂
Below is the concert flier for my concert on the eve of the 70th Anniversary of the Battle of Monte Cassino 🙂
I also wanted to say a big thank you to 2Sisters PR for a very successful Days of Poland Festival on 4th May 2014 which was held at Tower Bridge. It was lovely to play for such a wonderful audience and I had a wonderful time as I quoted to the Polish Daily – Dziennik Polski :
'I was very honoured to play at the Days of Poland Festival last weekend. The atmosphere was electric and it was extremely inspiring to see Polish culture being celebrated with people of all ages and from all corners of the globe. A particularly moving moment for me was when I sang my song 'Motylek,' off my recent album 'Paszport,' which was inspired by the Polish Air Force pilots of the 303 squadron – the Aces of the Battle of Britain. Facing both Tower Bridge and the Tower of London, I reminded the audience how these pilots as were refused the right to march in the Victory Parade of 1946. At that precise moment, as if by magic, we heard the sound of an aircraft flying above the festival – the audience applauded and saluted the beautiful blue sky and we all believed we felt the the presence of our Polish Pilot friends who had flown in especially to say hello to us all 🙂 …'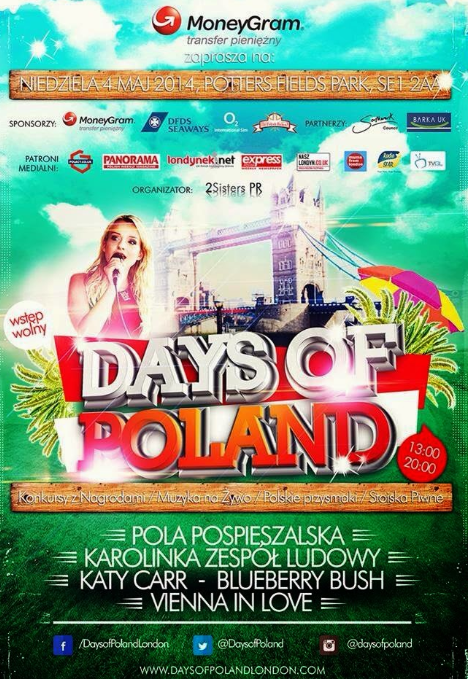 Here are some pictures from Days of Poland : On stage with musician Paul Tkachenko playng accordion:) Photo courtesy of Elwira Shaheen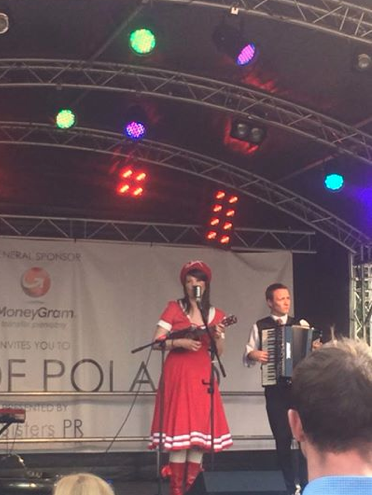 I also wanted to say how lovely it was to meet and sing for new Nigerian and Polish friends at the Polski Ośrodek Lewisham- Lewisham Polish Centre 🙂 Here I am holding my new little friend who spoke perfect Polish – so cute!!!!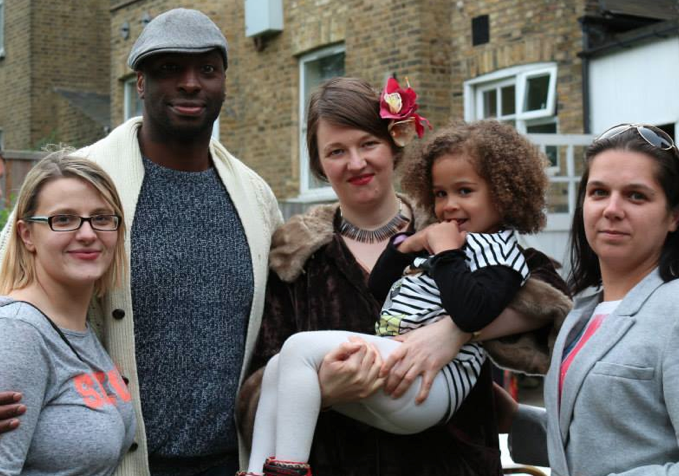 I wanted to thank musicians Leszek Kulaszewicz and Tomasz Bura for organising a lovely concert for the Ilford Polish community – we had a fab time – especially singing my song Wojtek! 🙂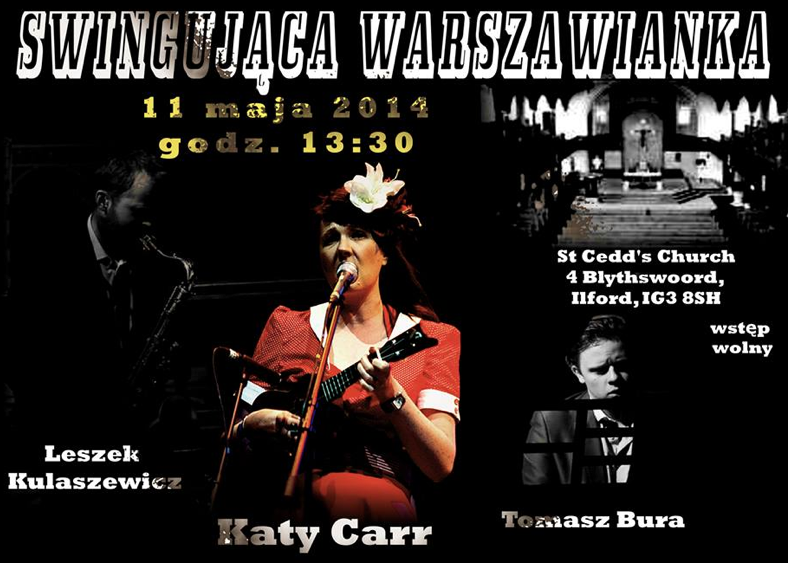 I wanted to also say how lovely it was to sing at the Embassy of the Republic of Poland in London at a special concert with Hannah Lovell projecting specially crafted visuals on 29th May 2014 to raise awareness and funding for BARKA UK. Here I am with the director of BARKA UK – Ewa Sadowska and Lesley Duncan of teh Duncan Family and Scotpipe, Edinburgh 🙂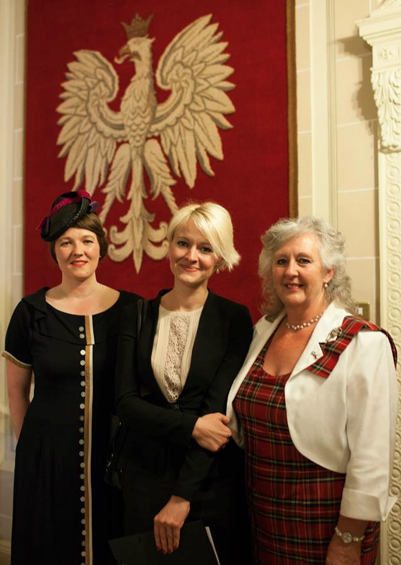 I love the Scotpipe's beautiful Scottish bagpipe music. I would love to record with them one day! Here we are altogether at the Embassy of the Republic of Poland in London. Long live Poland! Long live Scotland!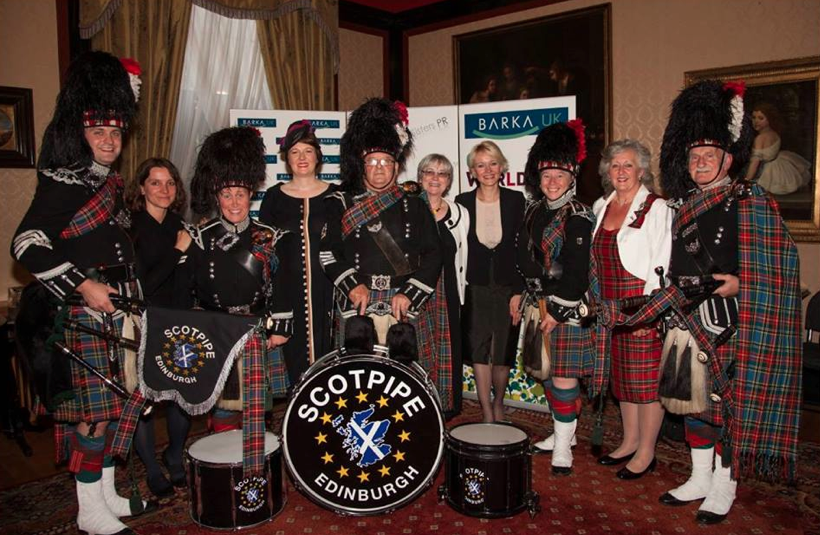 So as my song, 'Chodźmy, Partyzanci!' (Let's go, Partisans!) says – I leave you with my homage and praise of all the Polish people who have fought for an Independent Poland as well as contributing to World peace – We remember and salute Poland which was the third largest Allied coalition military presence in WWII after USA and the UK at the end of the war. We love, honour and salute you for our right to be free and you will continue to inspire us forever. Freedom is worth fighting for. 'For Your Freedom and Ours!'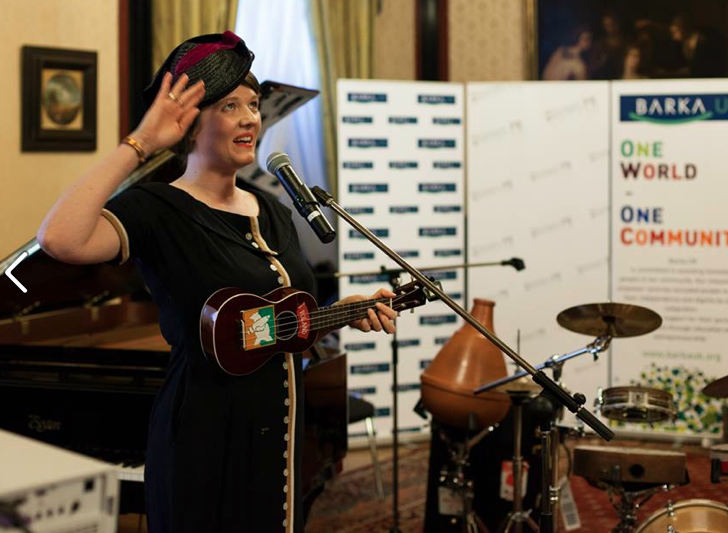 Above Katy Carr salutes the Polish Soldiers of WWII at the Embassy of the Republic of Poland, london 29th May 2014.
Much love, keep in touch and take care Katy – Pozdrawiam serdecznie 🙂
Katy Carr's music Quotes :
– 'Carr is a fine example of that much-maligned beast we call Authenticity…'
– 'never less than immaculate' Sunday Times Culture Magazine
– 'Her idiosyncrasy as a musician meant she'd have to forge ahead under her own steam – even the most avowedly avant labels fight shy of butterflies they can't easily net… '
– 'She's a true original, standing out like the spark generated by a Swan Vesta applied to a cigarette in the Blackout.'
Katy Carr's Awards :
Katy Carr was nominated for the London Music Award 2012 alongside Kate Bush, PJ Harvey, Arctic Monkeys, The Good, the Bad & the Queen, Metromony, Ed Sheeran, Jim Jones Review, The Unthanks and Laura Marling.
~
Katy Carr Links below – please keep in touch!!!!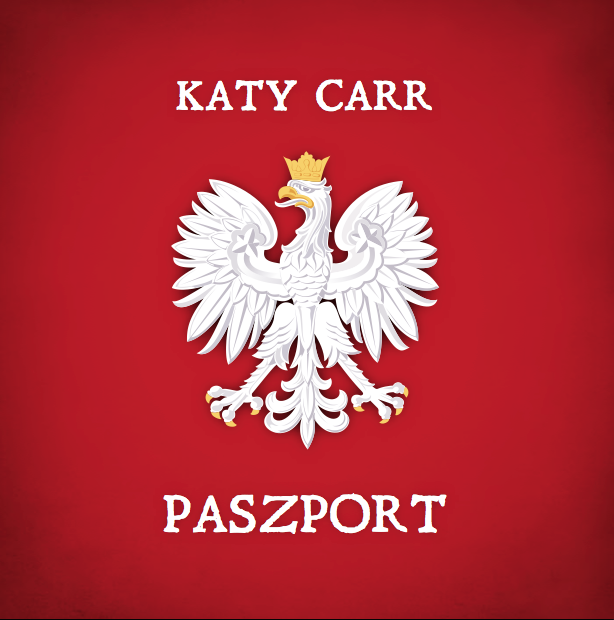 ~