This final newsletter of 2013 is to wish all my lovely friends at home and across the globe especially my very new and growing global family – 'Polonia,' a very Happy New Year 2014 and to thank you so much for all the support, joy and happiness that you have brought to my life and music in 2013. May all your dreams come true as "Laughter is timeless, imagination has no age, and dreams are forever," as quoted by Walt Disney 🙂
2013 has been packed full of exciting adventures for Katy Carr and the Aviators and it has been so amazing to meet you all. I am so proud that I have had the opportunity to share my album 'Paszport,' with you in person and at our incredible events over the past year. The responses that you have all given to my album, the beautiful heartfelt good wishes, comments of love and support, as well as appreciation in the mainstream media by music journalists and beyond throughout Great Britain and Poland and Polonia – the Polish diaspora abroad have been incredibly inspirational to me. I wanted to share our achievements with you below – this information has been copied from the Katy Carr Wikipedia site : http://en.wikipedia.org/wiki/Katy_Carr
In April 2013 Paszport was voted Album of the month on Folk Radio UK
[60]
In May 2013 Katy Carr and the Aviators performed in
Belfast
,
Northern Ireland
at the 14th The Cathedral Quarter Arts Festival in connection with Polish Cultural Week Befast and with supported by the Consulate General of the Republic of Poland in Edinburgh. Katy also read the poetry of
Tadeusz Rósewicz
as part of the London Literature Festival at the Purcell Room, Southbank Centre
[61]
alongside Northern Irish poet
Tom Paulin
, Polish singer, songwriter and actress
Maria Peszek
and
Jan Peszek
, Maria's father and renowned actor in Poland.
In June 2013 Carr performed a special one hour concert with her group Katy Carr and the Aviators on Polish Radio Trojka where she received a three times standing ovation from the audience.
[62]
In addition Katy Carr performed a series of concerts in Poland at
Ursynalia – Warsaw Student Festival
, the opening of the first memorial to
Wojtek (soldier bear)
in Europe in Zagan and a concert with Polish poet, composer and songwriter
Roman Kołakowski
in Torun. June 2013 also saw Katy Carr performing at the Royal Festival Hall,
[63]
Southbank Centre as part of Refugee Week UK and a warm up concert for
Yoko Ono
's
Meltdown (festival)
2013.
[64]
Sylvie Simmons
author of 'I'm Your Man – The Life of Leonard Cohen'
[65]
invited Katy Carr to perform as part of her international book tour at The Horse Hospital in London for intimate evening of songs written by musician and songwriter
Leonard Cohen
.
Throughout the summer of 2013 Katy Carr and the Aviators have played at key British music festivals including Larmer Tree,
[66]
Kendal Calling,
[67]
Shambala,
[68]
Bestival,
[69]
Womad
[70]
where Katy headlined on the Charlie Gillett Stage and was also invited to take part in Womad's 'Taste the World,' where Katy performed a concert with her group whilst preparing a selection of Polish dishes including 'Pierogi ruskie,' and 'Chłodnik,' all recorded by in front of a live audience for BBC Radio 4.
In August 2013 Katy Carr was invited to be a guest of honour and perform at Quo Vadis
Connecticut
, USA and
Montreal
, Canada Young Polonia Leader's conferences. Quo Vadis is an annual congregation of college and graduate students as well as young professionals aimed at creating a sustainable world-wide network of young members of the Polish Diaspora. At Quo Vadis Montreal Katy Carr sang both the Canadian National Anthem and Polish National anthem at the opening ceremony
[71]
and was introduced to key figures of Polonia and the Polish diaspora abroad and Poland including the
Polish Consulate General, New York
and important diplomats from
Poland
,
USA
and Poland.
In September 2013 Katy Carr was invited by The Jagiellonian University Polish Research Centre in London to join a special conference in
Krakow
and
Warsaw
which focussed on providing Katy with the tools needed to continue her work raising the awareness of Polish history and achievement not only in Poland but also throughout Polonia.
In October 2013 Katy Carr and the Aviators embarked on a concert tour in Poland visiting the Cultural houses and Aart centres in Lublin, Krasnik and Swidnik. The Final date was at the Warsaw Uprising Museum, Warsaw where Carr received 3 standing ovations and packed out the performance venue in the under the Liberator Plane, Hall.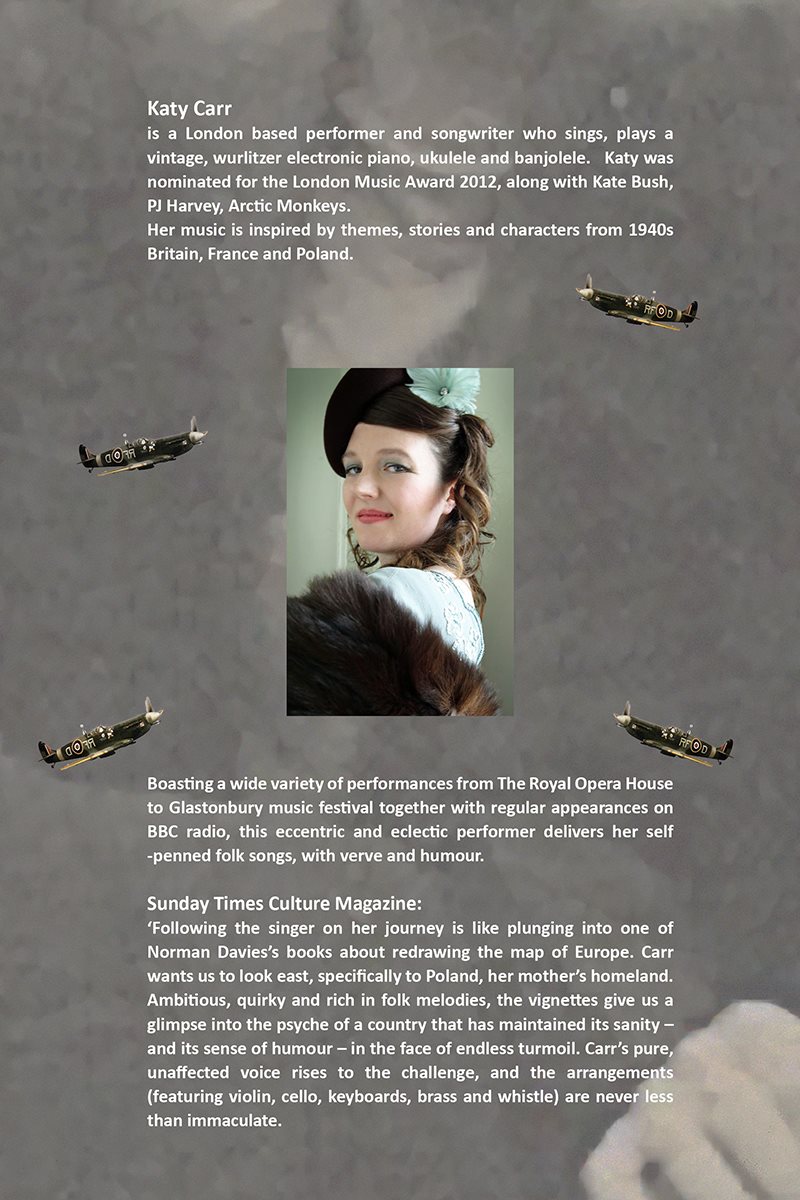 I am so very proud of the above and have so many wonderful people to thank without whom none of this would be possible – so THANK YOU to my main creative collaborator and film director Hannah Lovell who has created brilliant work this year including all my concert projections gathered from the archives from the Royal Air Force in Hendon Museum, Polish Institute and Sikorski Museum, London, Warsaw Uprising Museum and also the creation of the – Mała little Flower Video , which has over 130000 views now on youtube, my musicians all of you :- Paul Tkachenko, George Simmonds, James Keay, Henry Brown, Sam Slater, Emily Pettet, David Insua- Cao, Sam Sankey, Nigel of Bermondsey, crew : Corina – you are the BEST TOUR MANAGER!!! Nathan Thomas Jones at I WANT CAT website design – I love www.katycarr.com!!!! Ben Wright Photography http://www.benwrightphotography.co.uk FOR THE BEST photos an artist could ask for, Susan Burghart Art and Design, business agents : Kasia Terej PL and Sara Silver Projects for Paszport PR and Piranha PR, funding partners : Arts Council England for funding the Paszport Tour, my wonderful booking agents Sophie Cammack and Chris Tofu at Continental Drifts and my concert promoters throughout the UK and Polonia London, The POSK – The Polish Order of Malta Volunteers, Manchester, Liverpool, Milton Keynes, Bristol, Exeter, Kent, Edinburgh, Glasgow, especially my summer touring circuit at WOMAD, Larmer Tree, Bestival, Glastonbury, Kendal Calling, Celtic Connections, Shambala, Two for Joy, Magpie's Nest, Windsor Big Picnic amongst more events across Polonia USA – Buffalo, New York, Connecticut – Little Britain, Montreal, Canada, Florida – The Wall Speaks Project, Polonia Mexico, Polonia Belfast and the Polish Saturday School in Belfast, Ireland and Poland – Lublin BIG THANKS TO IRENA!~~, Swidnik, Krasnik Cultural centres and Poznan – Barka, Krakow – Jagiellonian University, Zagan and the first Wojtek the Bear Memorial in Poland, Warsaw – the Warsaw Uprising Museum, Dom Spotkan z Historia- I am sure that i have missed out a few names so here is THANK YOU THANK YOU THANK YOU to you so much and apologies for the omission 🙂
2014 is a New Year and it will also symbolise the creation of a new album of songs which will be centred on the love that has been generated for my album 'Paszport,' and the admiration and loyalty of those people from Poland and Polonia who have been connected with promoting World Peace over the last 1000 years and I would like to point out this journey of historical discovery about this side of my Polish roots has become extremely exciting to me! 🙂
Upcoming Katy Carr and the Aviators Performance News and Dates :
See you soon !!! – expect quite alot of activity from Katy Carr and the Aviators around the following WWII commemoration dates 🙂
May 2014 : 70th Anniversary of the Battle of Monte Cassino – – – Katy Carr and the Avitaors performances are anticipated the opening of Wojtek the Soldier bear memorials in Edinburgh, Krakow and special event at Monte Cassino
August 2014 : 70th Anniversary of the Warsaw Uprising 1944 – Katy Carr is to release an album of Warsaw songs dedicated to this event
1st Sept 2014 : Release of Katy's 5th album to commemorate the 75th Anniversary of the beginning of WWII
as well as collaborations and co-operations with the
Kresy Siberia Foundation
: — and visits to many places across Polonia.
I CAN'T WAIT for 2014 and
I look forward to seeing you soon again and sharing more news with you soon 🙂
Much love, keep in touch and take care Katy – Pozdrawiam serdecznie 🙂
Katy Carr's music Quotes :
– 'Carr is a fine example of that much-maligned beast we call Authenticity…'
– 'never less than immaculate' Sunday Times Culture Magazine
– 'Her idiosyncrasy as a musician meant she'd have to forge ahead under her own steam – even the most avowedly avant labels fight shy of butterflies they can't easily net… '
– 'She's a true original, standing out like the spark generated by a Swan Vesta applied to a cigarette in the Blackout.'
Katy Carr's Awards :
Katy Carr was nominated for the London Music Award 2012 alongside Kate Bush, PJ Harvey, Arctic Monkeys, The Good, the Bad & the Queen, Metromony, Ed Sheeran, Jim Jones Review, The Unthanks and Laura Marling.
~
Katy Carr Links below – please keep in touch!!!!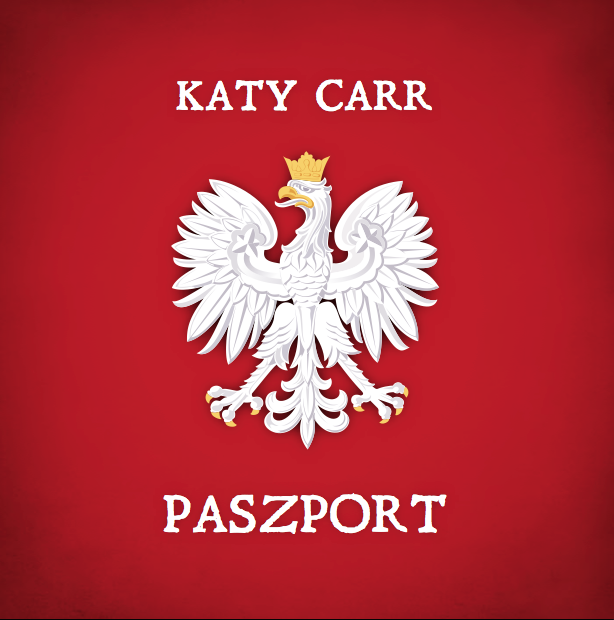 ~