November 2013 has been packed full of exciting adventures for Katy Carr and the Aviators and we would like to thank everyone who have supported our music and created the various events that we have been associated with. Big thanks go to Platforma Festival for organising our 'Songs of Polonia Event ' which comprised of two elements :- an outreach community event at the Manchester Museum with Manchester's Polish Polonia community and our Manchester Polish WWII veterans who were refugees after WWII. Our event celebrated the history, culture and music of the Polish diaspora in Manchester as well as a concert at the University of Manchester in the evening.
Also wonderful thanks to Justine Jablonska for this fabulous interview about my previous events at http://cosmopolitanreview.com/catching-up-with-katy-carr/

It was also an honour to perform at The Rouge Noir Ball hosted by The Polish Order of Malta Volunteers at the Savile Club last night in London W1 – abig thanks to all who bid at the auction – over £8000 was raised in aid of an ultrasound machine for The Poznan Medical Centre in connection with the Oncological Clinic Project at the Poznań Commandery – even a copy of my album Paszport was auctioned for £100 !
To commemorate Remembrance Sunday and National Independence Day in Poland I collaborated with the Library of Polish Song in Krakow and the Jagiellonian University's Polski Ośrodek Naukowy UJ w Londynie where we created two events in both London and Krakow sharing Polish songs with over 10000 participants – below is a photo of Katy Carr and the director of Biblioteki Polskiej Piosenki Waldemar Domański z Ambasadorem Polskiej Piosenki w Londynie Panią Katy Carr w pozie krakowskiej…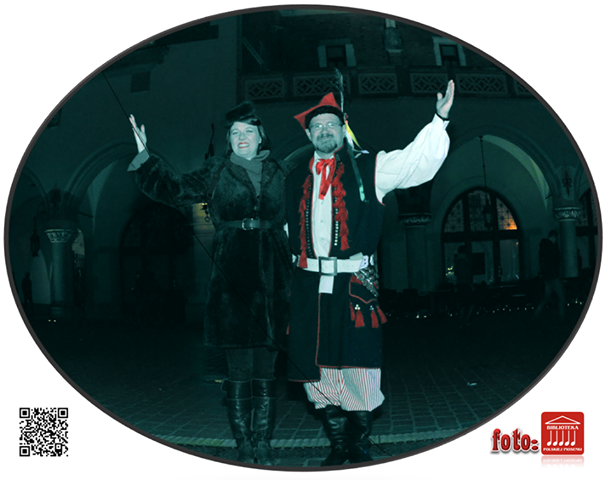 In addition to these special events in connection with National Independence Day in Poland we were honoured to play for Polonia Belfast at two special events hosted by the Polish Saturday School in Belfast at Belfast City Hall and a school workshop project with the children at the school.
A highlight concert for us was at Royal Albert Hall in connection with Songlines Music Magazine supporting the Antonio Forcione Trio. I had the opportunity to play of Elton John's red piano which was a truly magical experience and now all I dream about is owning a red Yamaha Grand piano – if anyone has one spare let me know 😉 We will shortly be sharing blogs from our gigs with you all at youtube.com/katycarrmusic keep an eye out here for our latest updates.
And i would like to express how excited I am to have spent the last part of November with Polonia Mexico who have shown me this beautiful country and opened me up to understanding more about their fascinating community which I will be sharing in more detail and creatively in 2014 with the release of my forthcoming album – its top secret at the moment so more on my future creations concerning this topic to follow 🙂
Below is the poster from my concert that i played at Centro Académico y Cultural San Pablo in Oaxaca, Mexico.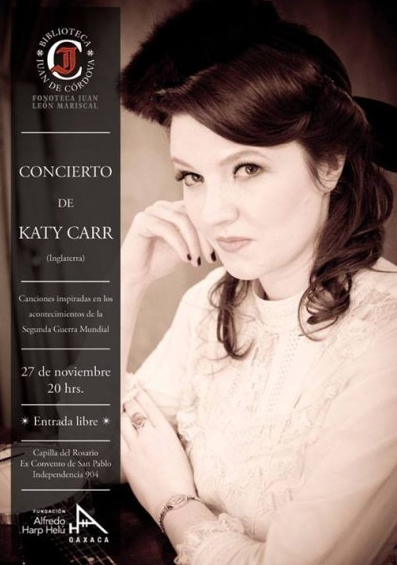 Upcoming Katy Carr and the Aviators Performance News and Dates :
All people are invited to our Christmas song event at Devonia, 2 Devonia Road, Islington, N1 8JJ. The event starts at 8pm and we have special guest Waldemar Domański attending who is the director of the Library of Polish song in Krakow. It will be a fun event – entry free – all proceeds go to Barka UK so see you there !!!!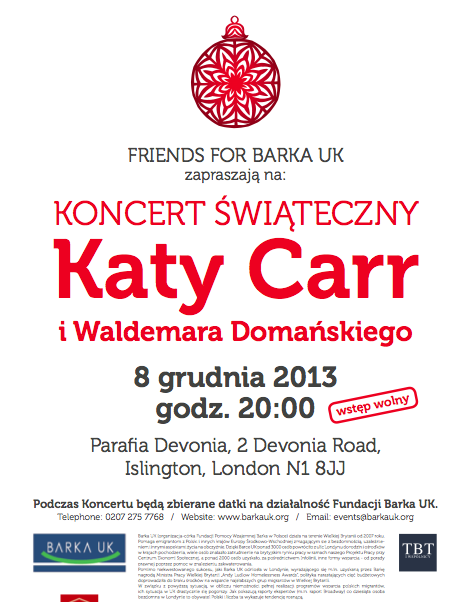 I look forward to seeing you soon again and sharing more news with you soon 🙂
Much love, keep in touch and take care Katy – Pozdrawiam serdecznie 🙂
Katy Carr's music Quotes :
– 'Carr is a fine example of that much-maligned beast we call Authenticity…'
– 'never less than immaculate' Sunday Times Culture Magazine
– 'Her idiosyncrasy as a musician meant she'd have to forge ahead under her own steam – even the most avowedly avant labels fight shy of butterflies they can't easily net… '
– 'She's a true original, standing out like the spark generated by a Swan Vesta applied to a cigarette in the Blackout.'
Katy Carr's Awards :
Katy Carr was nominated for the London Music Award 2012 alongside Kate Bush, PJ Harvey, Arctic Monkeys, The Good, the Bad & the Queen, Metromony, Ed Sheeran, Jim Jones Review, The Unthanks and Laura Marling.
~
Katy Carr Links below – please keep in touch!!!!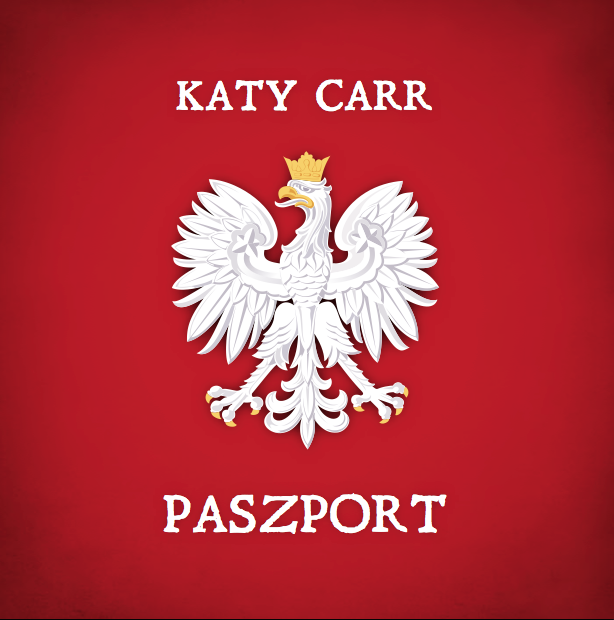 ~