Hello everyone and this is a BIG thank you to everyone who has supported my music over these glorious summer months. I have had the most wonderful July not only playing such incredible concerts but also meeting such lovely people 🙂 The highlights have been Larmer Tree Festival, set in the stunning Larmer Tree Gardens on the Wiltshire/ Dorset border, Kendal Calling Festival which is located in Lowther Deer Park, The Lake District and WOMAD in Charlton Park Malmesbury, Wiltshire – Link for Katy Carr and the Aviators at WOMAD – here – http://womad.org/artists/katy-carr-the-aviators
Below Katy Carr and the Aviators at WOMAD music Festival – picture by Pawel Julian Komorowski –
Katy Carr and the Aviators play Womad – watch us play live here 🙂 https://www.youtube.com/watch?v=tWpuRrPTnfM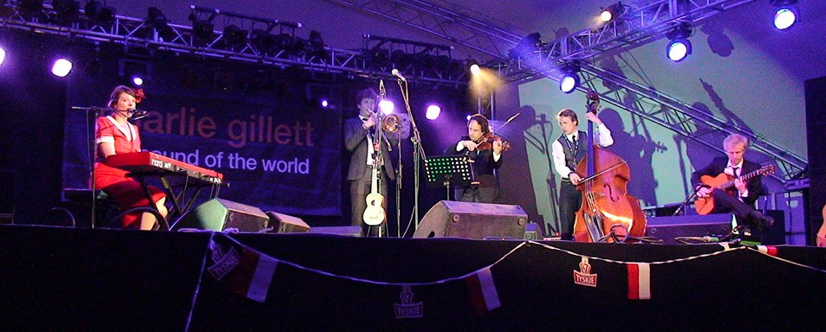 The support that WOMAD festival gave our group has been so amazing – with the following write up – big thanks also to Tyskie Polish beer for sponsoring Katy Carr and the Aviators at Taste the World, WOMAD 🙂
Ambitious songwriter with sharp sense of history
Being called "the Polish Bjork" might be a strange accolade if you'd grown up in Nottingham, almost right in the dead centre of England. But Katy Carr probably loves the comparison. Born to a Polish mother, her sprawling, ambitious music is deeply informed by the life lessons of those on the maternal side of her family tree. Her latest (and fourth) album is Paszport, an impressively expansive work that pays tribute to the resilience shown by her mother's compatriots during the Second World War. It's a record that The Observer correctly identified as "a concept album gone refreshingly right", with Katy's keening voice ¬- one that wouldn't be out of place in any folk club – combining with chilly Mittel-European instrumentation to profound effect. A strong admirer of 1940s culture, Katy Carr is clearly an artist out of time, a songwriter not from the here and now, but from forever.
(Biography written by Nige Tassell 2013)
Taste the World, BBC Radio 4 at WOMAD festival asked Katy Carr and the Aviators to perform and make traditional Polish dishes to share with the audience at WOMAD festival. In order to prepare I visited Jacek Ozaist and all at Robin Hood Zorro restaurant, 218 King Street, Hammersmith, London. W6 0RA and their Pierogi chef showed me the tricks to making the most delicious Pierogi Ruskie for see photos below -the recipe is as follow – for the pastry use white flour, oil, water and for the filling : potatoes special polish cheese – twaróg tłusty and onion – all measurements should be donw by eye 🙂 Photos by Monika S. Jakubowska
KATY CARR makes Pierogi Ruskie 🙂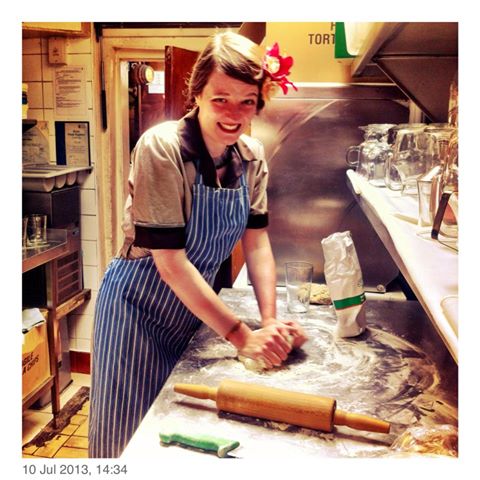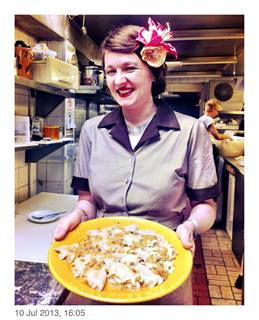 Here is the end result at Taste the World – Katy Carr performs, talks about her Polish influences and makes Pierogi Ruskie!!!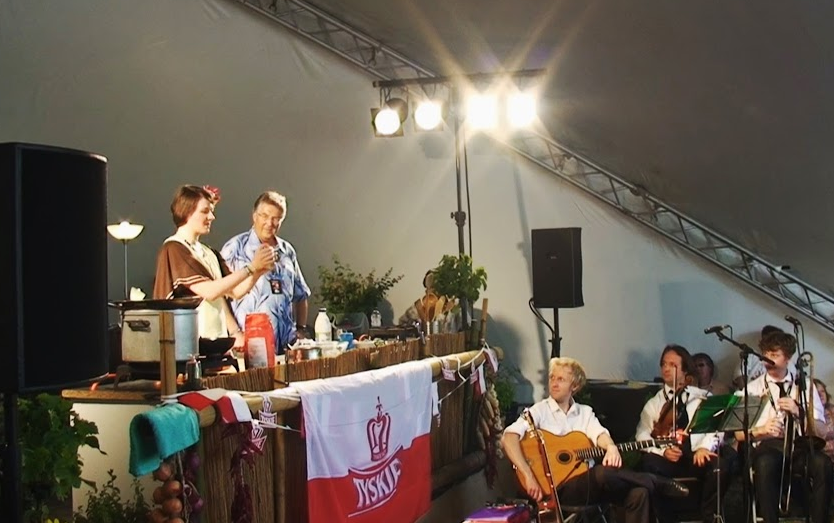 Upcoming Katy Carr and the Aviators Performance News and Dates :
23rd August 🙂 Shambala Festival
30th August 🙂 "Into the Woods," Hampstead Heath – with Katy Carr and Vanessa Woolf : follow us into the depths of the wood at midnight for an incredible story and some extraordinary music…Bring a candle, wrap up in a blanket under the stars… lose yourself in an amazing story from wartime Poland, bought to life by beautiful songs from Katy's acclaimed album Paszport… For address details go the ' Into the Woods' link 🙂 https://www.facebook.com/events/172421089602715/
31st August 🙂 Fire Station Arts Centre in Windsor.
Special thanks this month go to :
My wonderful musicians – The Aviators : Hannah Lovell, Orpheus Papafillipou, Paul Tkachenko, Samuel Slater, George Simmonds and the wonderful Corinna Woolmer for being an amazing help at our gigs driving us everywhere and helping to make sure that everything ran smoothly 🙂 Pawel Julian Komorowski for being a great support and driver, Basia and Marcin for also helping me to practice making pierogi for Taste the World at Womad…
Also I am so pleased that everybody supported and voted for the Kresy Siberia Group to build a virtual museum – they have won a 15k £ grant!!! 🙂 see the link here – this is FABULOUS NEWS 🙂 thank you all for believing!!! together we can win!!! Big thanks to both Songlines and fRoots Magazine for your continued support of my album and to Ken Hunt at R2 magazines for writing the most incredible feature about my music this month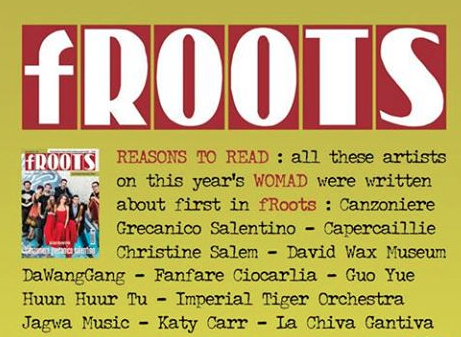 I look forward to seeing you soon again and sharing more news with you soon 🙂
Much love, keep in touch and take care Katy – Pozdrawiam serdecznie 🙂
Katy Carr's music Quotes :
– 'Carr is a fine example of that much-maligned beast we call Authenticity…'
– 'never less than immaculate' Sunday Times Culture Magazine
– 'Her idiosyncrasy as a musician meant she'd have to forge ahead under her own steam – even the most avowedly avant labels fight shy of butterflies they can't easily net… '
– 'She's a true original, standing out like the spark generated by a Swan Vesta applied to a cigarette in the Blackout.'
Katy Carr's Awards :
Katy Carr was nominated for the London Music Award 2012 alongside Kate Bush, PJ Harvey, Arctic Monkeys, The Good, the Bad & the Queen, Metromony, Ed Sheeran, Jim Jones Review, The Unthanks and Laura Marling.
~
Katy Carr Links below – please keep in touch!!!!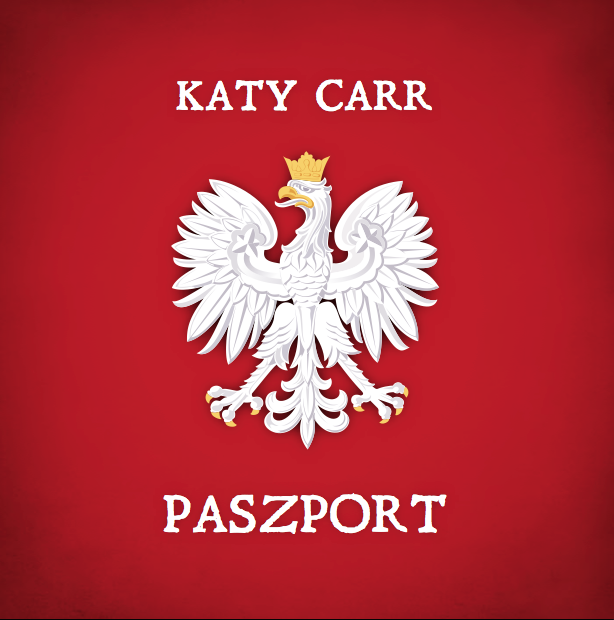 ~