Hello lovely people! I just wanted to say a massive thank you to everybody who has supported our May 2013 Katy Carr and the Aviators events. We have met so many incredible people from and special greetings to my new friends in in Belfast, Northern Ireland, Holland via the Dutch Centre, Italy via the Excel Centre in London, Poland, USA and of course all of you in my beloved London Town – I love you all and please keep in touch – i have included some new gig dates below and see you soon I hope! x x x:)
New Katy News :
I have new dates to announce for July 2013!!! 20th July 🙂 Larmer Tree Festival 27 July 🙂 Kendal Calling
and 28 July 🙂 Womad – Charlie Gillett stage 🙂 and take a look at my new website massive thanks to Nathan Jones and IWANTCAT 🙂 www.katycarr.com
Upcoming gigs in May/ June 2013 include:
31st May 🙂 Tune into Trojka Radio Warsaw 10:00am Polish time, Katy speaks with renowned Polish music journalist Piotr Baron about her music and album Paszport 🙂
1st June 🙂 Tune into Trojka Radio Warsaw 20:00 – 21:00 Polish time – Katy Carr and the Aviators play a live session of songs from Paszport in the Trojka studio
1st June 21:30 🙂 Katy Carr and the Aviators play at Caffe Pawillion ul. Mickiewicza 22, Zoliborz, PL. +48 881 308 738 – a donation of 100zt – 200zt is suggested for high earners as this is a benefit concert for Barka UK – a charity which provides severely excluded Eastern European migrants with the opportunity for reconnection and social reintegration – Friends of Katy – please write to me here at [info at Katycarr dot com or facebook me] for guest list – please note that this is only a suggested price you are all very welcome to give what you can afford 🙂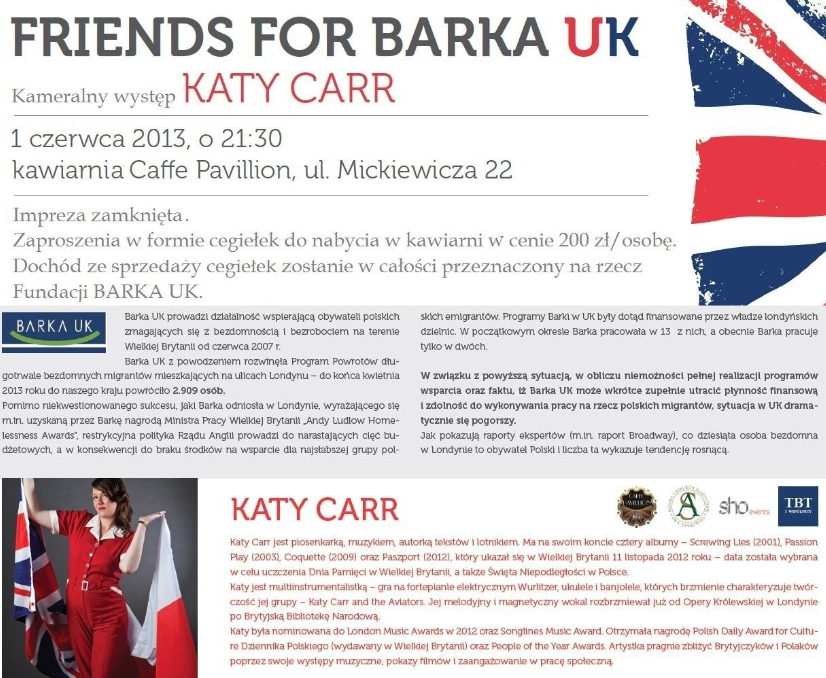 2nd June 🙂 21:45 – 22:50 Katy Carr and the Aviators play at Ursynalia Festival, Warsaw
Warsaw Agricultural University, Nowoursynowska 166, 02-787 Warsaw, Poland 🙂
7th June

🙂

10:00 Katy Carr plays at the opening of the first Wojtek Bear memorial in Zagan, Poland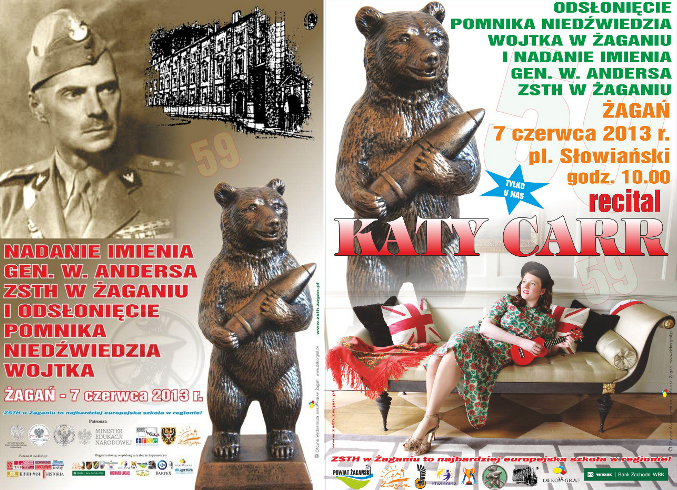 7th June 🙂 20:00 Katy Carr plays in Torun with Polish singer Roman Kołakowski
14 June 🙂1pm Katy Carr and the Aviators do the warm up session for Yoko Ono's Meltdown, Foyer, Royal Festival Hall, Southbank, London
16 June 🙂 2pm Katy Carr and the Aviators play at Celebrating Sanctuary, part of Refugee week at the Southbank Centre
18 June 🙂 Katy Carr plays at the Horse Hospital, London venue details
29 June 🙂 Katy Carr and the Aviators play at Medway Armed Forces Day Venue
Special thanks this month go to :
My wonderful musicians – The Aviators : Hannah Lovell, George Simmonds, Orpheus Papafillipou, Paul Tkachenko, Samuel Slater, Samuel Sankey, Nathan Jones and all at IWANTCAT katycarr.com website design 🙂 Polish Cultural Week Belfast, the Consulate General of the Republic of Poland in Edinburgh, Eva Grossman, Sylwia Spooner for the support you gave us at the Cathedral Quarter Arts Festival, Belfast on 10th May 🙂 Belfast Margriet Schuring and all at the Dutch Centre for our fabulous concert on 15th May supporting Blaudzun:) The Ambassador and the Embassy of the Republic of Poland for a wonderful concert at the International Spring

Fair

and Food Festival, Kensington Town Hall, Musicity and Nick Luscombe and Excel London, The Polish Cultural Institute, London, Magda Raczynska, Joanna Zgadzaj and all at Stork Press, all crew at the Purcell Room, Southbank Centre, London for a fabulous event featuring the very lovely Maria Peszek and her father Jan Peszek, Tadeusz Różewicz for your incredible poetry, George Matlock and ORLA Fm for having me on your program as a regular guest:) and my fans in Great Britain, USA, Poland and across the globe for the your continued support of my music – your wonderful messages and greetings bring so much happiness to my heart 🙂
I thank you all again and look forward to sharing more news with you soon
Much love, keep in touch and take care Katy – Pozdrawiam serdecznie 🙂
Katy Carr's music Quotes :
– 'Carr is a fine example of that much-maligned beast we call Authenticity…'
– 'never less than immaculate' Sunday Times Culture Magazine
– 'Her idiosyncrasy as a musician meant she'd have to forge ahead under her own steam – even the most avowedly avant labels fight shy of butterflies they can't easily net… '
– 'She's a true original, standing out like the spark generated by a Swan Vesta applied to a cigarette in the Blackout.'
Katy Carr's Awards :
Katy Carr was nominated for the London Music Award 2012 alongside Kate Bush, PJ Harvey, Arctic Monkeys, The Good, the Bad & the Queen, Metromony, Ed Sheeran, Jim Jones Review, The Unthanks and Laura Marling.
~
Katy Carr Links below – please keep in touch!!!!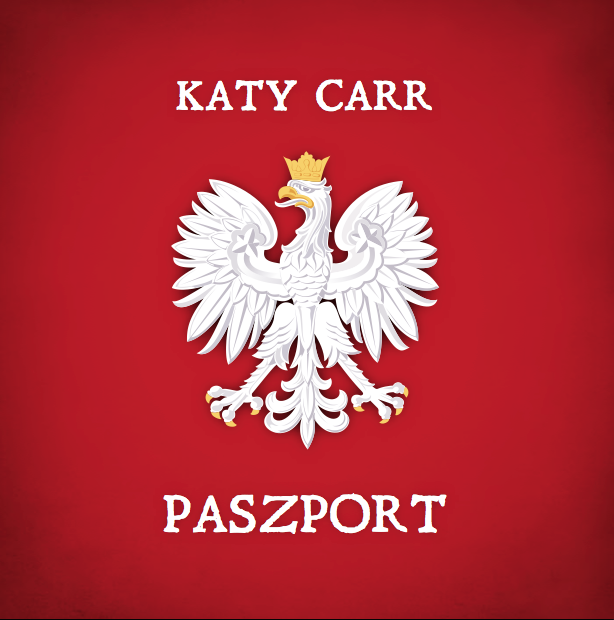 ~