I wanted to say a massive thank you to all my very faithful fans and supporters of my music and I wish you all a very Happy Easter 2013.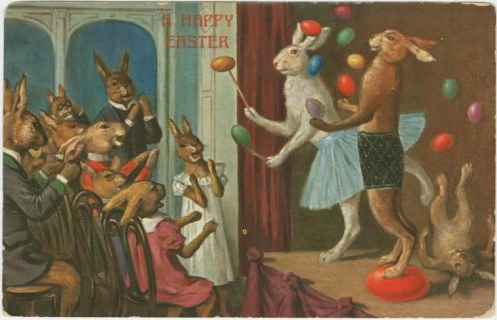 Due to your overwhelming support in terms of the votes I from all of you my album Paszport was nominated for the Songlines Music Awards 2013 in the Best Artist category see link here : http://songlines.co.uk/music-awards/best-artist.php. This nomination is an incredibly important event in helping Paszport gain recognition so thank you all again xxxxxx
I have been busy doing concerts over the last couple of months and so that is why this is my first email newsletter since January this year. I have been on the road here in Great Britain and also in Canada and America, and playing to incredible audiences from all nations who came out to honour and pay respect to the Polish people that inspired my album Paszport and the Polish Army in exile that helped us win WWII – the Polish Army being the fourth largest Ally at the beginning of WWII after the SU, USA and GB.
Katy Carr and the Aviators have had a series of fabulous concerts in the last couple of months especially :
The British Library Holocaust Memorial Day event – I was a number… Memories of the Holocaust here is Professor Mary Fulbrook introducing Kazik and the Kommander's Car http://www.youtube.com/watch?v=Jh1mvpSrQ-w
Our Green note in Camden show : Katy Carr , Greennote http://www.youtube.com/watch?v=iLx1H095y3w
Poles Aloud, Bristol on 10th Feb to commemorate the first transportation of Polish people to Siberia in 1940 : Introduction to Katy made by The Right Honourable Lord Mayor of Bristol is Councillor Peter Main : Katy Carr at Poles aloud : http://www.youtube.com/watch?v=UJsm9UotJMc
And my USA Polonia tour – and MASSIVE THANKS TO all the Polish American, and American audiences and new friends who attended and booked my shows but also to Andrzej Gołębiowski for booking incredible shows at Canisius College and the Adam Mickiewicz Library and Dramatic Circle in Buffalo, New York. Big thanks to Wojtek Sawa and family for his invite for me to collaborate on 'The Wall Speaks' Project with a series of performances that took place at The Arts Centre, Sarasota, Florida, Thomas Hall (Gainesville, Florida) and the John Paul II Center, Clearwater, Florida – I had a wonderful time and loved your beautiful family – lovely talented wife and artist Basia and Baptia Partyzantka – buziaki!!! The Wall Speaks project link for more info 🙂 http://www.facebook.com/thewallspeaks
The Launch of The Campaign for a Memorial to General Maczek : in the New Members Club in Edinburgh : Special thanks to The Right Honourable Lord and Lady Fraser of Carmyllie Q.C and Scotpipe and the Duncan family for inviting me 🙂 – it was a huge honour to play in memory of this incredible Generaland Polish military genius of WWII who in later years was denied the right to have a British state pension and lived in poverty looking after his disabled daughter. I am so incredible inspired that a song is definitely brewing here…..
Katy Carr's Big thanks go to : The musicians who performed on my Arts Council England funded 'Paszport Tour' – Hannah Lovell for her incredible projections, George Simmonds – trombone and history aficionado, Sam Slater – django guitar, David Miles – double bass, Paul Tkachecko – Double Bass and accordion, Maciek O'Shea – baritone and the wonderful Nigel of Bermondsey for being the best music producer ever!
I would like to thank my manager Sara Silver for working so hard on getting Paszport out there and also Sophie Cammack and Chris Tofu at Continental Drifts for my concert bookings – i love you all 🙂 and all the Journalists who have continued to support Paszport – it was extremely exciting to have a wonderful feature in the Scottish Herald for our Celtic Connections gig – see link here : – http://www.heraldscotland.com/arts-ents/music/passport-to-the-past.19925410 as well as in the inflight Wizz Air Magazine which was particularly amusing to me as it mentioned how much I loved my Ciocia [Auntie] Emily's cooking especially her sour gherkin soup!
I would like to thank Vanessa Wolf for doing a wonderful series of outreach work with me and all at Wychavon County council for putting on the events below 🙂 Katy and Vanessa with the students of Pershore High School, Cllr Richard Morris, West Worcestershire MP Harriett Baldwin on 1st Feb [and my birthday – hence the flowers kindly given to me by Pershore High School].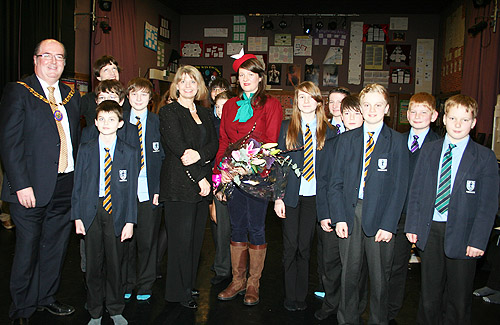 Links to media associated with this event ….
Song and storytelling to mark Holocaust Memorial Day with Katy Carr in Wychavon
MP joins Pershore class remembering Holocaust
Upcoming gigs include:
22nd April – our show at Word in Your Ear at the Lexington, London : – link and address below : 96-98 Pentonville Rd London, Greater London N1 9JB tel : 020 7837 5371 http://wordinyourearlexington-es2005.eventbrite.co.uk/?rank=1
20th April : Katy Carr will also be speaking at the 'Polka in the arts' Congress of Women Conference, The Polish Club Ognisko, 55 Exhibition Road, Kensington, London SW7 2PN tel: 020 7589 4635
I thank you all again and look forward to sharing more news with you soon
Much love, keep in touch and take care Katy 🙂