I am sending love and greetings from London town to all my faithful friends who have supported my music so loyally x x x May 2013 be a year of magic and excitement for you all 🙂
This is my first email newsletter since November 2012 partly because I have been playing concerts in wonderful locations including Poznan in Poland – thank you Barka UK Charity organisation for allowing me to play some incredible concerts for Poznan's homeless community as well as in China – big thanks to Peter Cocks and the Private Widdle Club for inviting me to play at Shenzhen Fringe Festival, a truly incredible experience where I shared my English/Polish tunes to the Chinese people 🙂
As you may already know my fourth album Paszport was released in Poland on 17th Sept 2012 and in Great Britain on 11th Nov 2012 marking Remembrance Sunday in GB and National Independence Day in Poland, Thank you to you all for all your support 🙂 and gorgeous messages on facebook and email – I wanted to share with you the responses from the British media which have been somewhat remarkable. Big thanks go to all those journalists who have written so eloquently about my music – Ian Anderson of FRoots magazine, Neil Spencer from the Observer link to feature here , Robin Denselow of the Guardian link to review here, Clive Davis of the Sunday Times Culture magazine for nominating Paszport at no 4 in the Sunday Times World music chart's albums of the year 2012 , Nick Coleman from the Independent link to review here, amongst journalists from the Telegraph, Q, Mojo, Uncut, Songlines and Polish journalists Alicja Borkowska of the Polish Express, Jakub Ryszko of Goniec link to feature here as well as the Dziennik Polski link to feature here, Cooltura and Kirsty Lang from BBC Radio 4's Front Row for my wonderful interview.
Due to the response of the British Media I am pleased to say that my album Paszport has been nominated for the Songlines Music Awards 2013. I HAVE AN URGENT REQUEST FOR YOU!!!! Please could you support my little record Paszport and vote for me in the best Artist Category – the link and instructions are below 🙂 We need every vote that we can get 🙂
To vote for : Katy Carr – Paszport – Deluce Recordings – 89
1.Visit http://www.songlines.co.uk/phpQ/fillsurvey.php?sid=14
2.Complete all frames with your details and with the e-mail address.
3.In the "BEST ARTIST" CATEGORY choose Katy Carr – Paszport – Deluce Recordings – 89 and select also your favourites in the other categories…. then Click "submit".
4.Check your e-mail and confirm your vote by clicking on the special link include in the e-mail, or by using the special code, according to the e-mail's instruction..
5.Please Share this event, invite your friends, and pass this information on.
AND THANK YOU SO MUCH FOR YOUR SUPPORT!!!!
Katy Carr and the Aviators recent news : includes preparing the music for our 'Paszport' tour funded by Arts Council England which will span over Jan – Mar 2013. We are Katy Carr – lead vocal, ukulele, piano, David Miles – double bass and guitar, George Simmonds – trombone and Hannah Lovell our film director and VJ. Below are a list of venues that we will be visiting as well as incorporating partners from other institutions such as the British Library and please let me know if you have a Polish community in the UK that you would like us to visit as we are always interested in finding new places to visit and play 🙂
January 2013 events …
18th January 2013 : 8pm Katy Carr and the Aviators play at St. George's Hall, St George's Place Liverpool, Merseyside L1 1JJ tel : 0151 225 6911 – event hosted by Merseyside Polonia
19th January 2013 : 5pm Katy Carr and the Aviators play at Wavendon Community Centre: Church End Wavendon Milton Keynes MK17 8LH – event hosted by the Milton Keynes project –
link here to event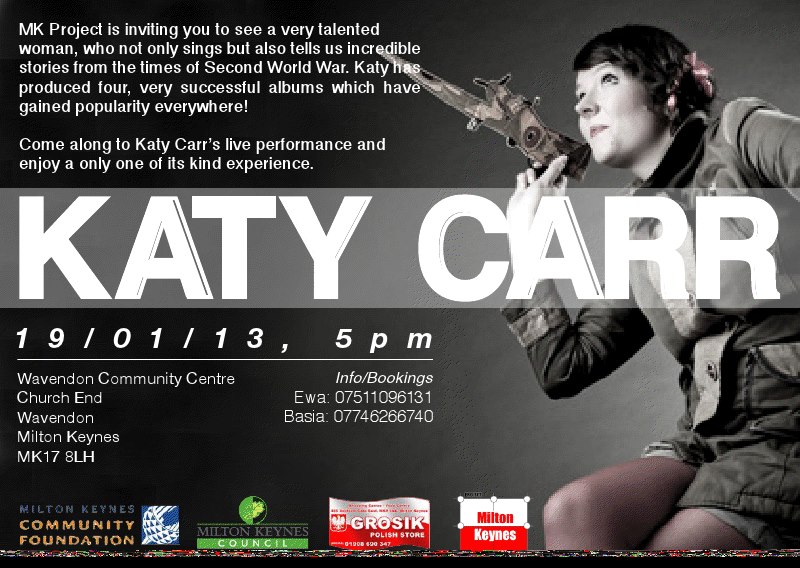 20th January 2013 : Katy Carr and the Aviators play at the POSK in Hammersmith at a special award ceremony event hosted by the Dziennik Polski – the Polish Daily Newspaper honouring those individuals, including Katy Carr, and organisations who have made a significant contribution to the Polish community in the United Kingdom in the fields of culture, the safeguarding of Polish heritage and the cultivation of UK – Polish relations, more details on Katy's award to follow in the next newsletter 🙂
29th January 2013 : Katy Carr plays at the British Library,96 Euston Road London NW1 2DB tel 01937 546060 at a special event entitled
'I was a number,'
commemorating Holocaust Memorial Day. This event includes the screening of Kazik and the Kommander's Car, a short documentary produced by Katy Carr and directed by Hannah Lovell – who will also be projecting archive footage from the Polish Institute and Sikorski Museum
link to event : http://www.bl.uk/whatson/events/event140199.html
February 2013 events …
February 7th 2013 : Katy Carr and the Aviators play at the Green Note in Camden Town, 106 Parkway London NW1 7AN – event hosted with the TG Collective – buy tickets here
February 10th 2013: Katy Carr and the Aviators play at a special event entitled 'Poles Apart' at the Colston Hall, Colston Street, Bristol BS1 5AR tel : 0117 922 3686
NEW KATY CARR Official music video for Mała little Flower please watch here :
Directed by Ben Wright, Hannah Lovell and Katy Carr
Please keep in touch!
AND MUCH LOVE 🙂 x x
Katy Carr, Musician, Songwriter Performer
POLAND! PLEASE SUPPORT KATY'S ALBUM PASZPORT BELOW AND FORWARD TO ALL YOUR FRIENDS TO VOTE 🙂
Katy Carr z albumem "Paszport", znajduje się wśród nominowanych do nagród Songlines Music Awards* w kategorii "Best Artist" i aby znaleźć się w finale konkursu potrzebuje Waszych głosów!
Aby zagłosować na "Paszport", Deluce Recordings ze Katy Carr, w ramach Songlines Music Awards:
1.Wejdź na stronę www.songlines.co.uk/phpQ/fillsurvey.php?sid=14 lub na www.songlines.co.uk/music-awards/index.php i kliknij ">>> CLICK HERE TO VOTE >>>".
2.Wypełnij odpowiednimi danymi puste pola, koniecznie podając SWÓJ ADRES E-MAIL i kliknij "next".
3.W kategorii "BEST ARTIST" wybierz z listy "Katy Carr – Paszport – Deluce Recordings – 89". W pozostałych kategoriach także trzeba wskazać jedną z płyt. Kliknij "submit".
4.Na podany w kroku 2. adres e-mailowy w ciągu kilku chwil powinien nadejść e-mail z linkiem, umożliwiającym potwierdzenie głosowania. Kliknij w link aby potwierdzić głos, lub wykorzystaj kod potwierdzający zgodnie z instrukcją zawartą w e-mailu.
5.Udostępnij event, zaproś znajomych, przekaż wiadomość o głosowaniu dalej.
Zamknięcie głosowania – 31. stycznia 2013 [północ GMT].
Dziękujemy za wsparcie!

*Przyznawane od 2009. roku SONGLINES MUSIC AWARDS to najbardziej prestiżowe w Europie nagrody przyznawane artystom światowej sceny world music przez największy brytyjski magazyn o muzyce świata Songlines w czterech kategoriach: najlepszy artysta, najlepsza grupa, najlepsza fuzja kulturowa, najlepszy debiutant. Dotychczasowi laureaci nagrody to m.in.: Goran Bregovic, Amadou&Mariam, Anoushka Shankar, Tinariwen, Femi Kuti, Yo-Yo Ma, Rokia Traoré, Jah Wobble&The Chinese Dub Orchestra. Wyróżnienie przyznawane jest w wyniku dwuetapowej selekcji. Najpierw w ramach otwartego głosowania Internautów, wybierających swoich faworytów spośród recenzowanych w danym roku przez magazyn płyt, w każdej kategorii wyłaniane są 4 finałowe albumy, spośród których redakcja Songlines wybiera ostatecznego zwycięzcę.
***
Katy Carr – Paszport – Deluce Recordings – 89 is nominated in the category "Best Artist" category of the Songlines Music Awards* 2013.