November 11th 2012 marks Remembrance Sunday and National Independence Day in Poland and the day my fourth album 'Paszport,' will be released in Great Britain. This album is a dedication to Poland and her people during WWII. This album has been written in both English and Polish and was initially inspired by my honorary Polish grandfather Kazimierz Piechowski and the stories he told me of his time in the Polish Partisans 1942-1945, and the time after his escape from Auschwitz concentration camp in 1942 in the Kommander's Car.
Paszport is set to receive more reviews in the next few weeks including the Independent on Sunday this coming weekend and it has already received a glowing review from Ian Anderson, the Editor of the highly acclaimed UK music magazine Folk Roots, FRoots,
'This is so very good it could actually give the terms 'singer-songwriter' and 'concept album' good names. There's so much work, love and singular talent gone into this album on every level and Katy's such a fabulous singer with a clear, expressive but unaffected voice.'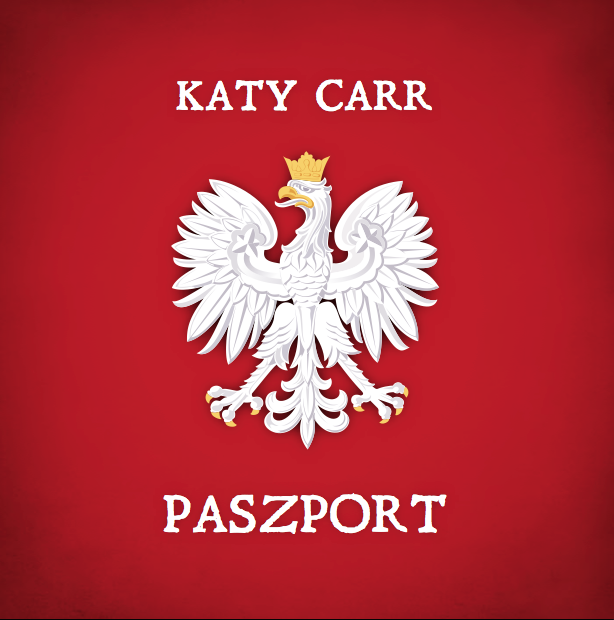 I would like to thank all the wonderful people who have helped work on this album and inspire the songwriting. Special thanks go to Nigel Of Bermondsey who produced my album and my faithful group Katy Carr and the Aviators which are Hannah Lovell, George Simmonds and David Myles. Huge salutes go to the Polish World War Two veterans from Anders Army, Polish II Corps, Polish Air Force Pilots, Polish Partisans, members of the Armia Krajowa -Polish Home Army, Warsaw Uprising, Wojtek the Bear and those who endured cruel imprisonment in German Nazi concentration camps and Soviet transportation to Siberia throughout WWII. We love you and honour you and thankyou for securing our freedom today.
Neich Zyje Polska Nielpodlegla! – Long live an Independent Poland!
We have done some incredible gigs this October including Bath University – big thanks to Michael Bassett and his team for the fabulous promotion work, Bristol Polish Club – big thanks to Grazina and the Anglo-Polish Society for such a fabulous gig with the surprise addition of the Bristol Polish scouts, thankyou to Ewa Sadowska and the Barka Foundation for a wonderful concert tour of the area around Poznan, Poland at venues and events including The Old Bakery social enterprise niche restaurant in the Poznan City, a concert for the Mayor of Czarnkow-Trzcianka Region in Western Poland for local politicians and the staff of the local council, civil society organisations and welfare offices in Czarnkow Region, the International Dignity Day funded by HRH Prince Haakon Of Norway with the support of Amnesty International at the Ursuline Private Gymnasium in Poznan, plus concerts in homelessness hostels and Barka communities for vulnerable adults based on farms as well as a concert for the combatants and seniors of Kwilcz Town attended by the Mayor of Kwilcz Town as well. Also thankyou to Marzena and Anja at the Bal Polski – lovely to play at Ognisko for you all- see you soon!
NEXT KATY CARR AND THE AVIATORS CONCERTS INCLUDE :-
NOVEMBER 2012
3rd Nov at 7pm – Islington Devonia Club – Roman Catholic Church of Our Lady of Czestochowa – 2 Devonia Road,Islington, London, N1 8JJ
5th Nov at 8pm – The Slaughtered Lamb, 34-35 Great Sutton Street Clerkenwell, London EC1V 0DX 020 7253 1516
8th Nov – 11.00-1700 – Conference in Warsaw at the "Faces of patriotism, history and modernity," address : Military Technical Academy, ul. Kaliski 25a. Warsaw, Poland.
11th Nov – Concert in Krakow, Poland for the Pro Publico Bono Foundation founded by prof Buzek president of European Parliament – venue address details to follow…
12th Nov – Concert in Poznan – venue address details to follow…
17th Sat Liverpool Polish Community, Liverpool, Merseyside.
18th Sun Dunstable Polish Club
DECEMBER
13th Dec – Embassy of the Republic of Poland – a concert marking anniversary when Martial Law was declared in Poland in 1981.
Much love – Katy Carr and the Aviators
🙂
~
Big thankyous also this month go to my PR – Rosie Wilby and all the good work she is doing getting the reviews for the album and also to Sara Silver Projects for the music business liasons and Sophie Cammack at Continental Drifts for the venue bookings.
KC Quotes :
– 'Carr is a fine example of that much-maligned beast we call Authenticity…'
– 'Her idiosyncrasy as a musician meant she'd have to forge ahead under her own steam – even the most avowedly avant labels fight shy of butterflies they can't easily net… '
– 'She's a true original, standing out like the spark generated by a Swan Vesta applied to a cigarette in the Blackout.'
KC Links below :
Please keep in touch!
Katy Carr, Musician, Songwriter Performer
~