This is just a quick message to say thankyou to all the lovely people who have supported us at our Katy Carr and the Aviators' concerts throughout September 2012. It has been a wonderful month full of fantastic events including the release of my fourth album , Paszport in Poland on 17th Sept 2012 to mark the Anniversary of the Soviet invasion of Poland in 1939. Expect more information about this record in the forthcoming months as we prepare for this record's release in Great Britain.
Special thanks this month go to : Daniel Piechowski and his entire team at the Centrum Kultury i Sztuki in Tczew, Poland for looking after us so well and for preparing such an incredible press and promotion for us with Radio Gdansk and TV Tczew with regards our Katy Carr and the Aviators concert for Kazik and the people of Tczew on 1st Sept 2012 – the day the President of Poland Bronisław Komorowski visited Tczew to pay his respects and commemorate the Anniversary of the German invasion of Poland in 1939.
We love you Tczew!
Below is a photo from our press conference with Radio Gdansk and the TV Tczew, 31st Aug 2012 :- from left to right – [my little bro] George Simmonds- trombone, Katy Carr- ukulele, voice piano, Hannah Lovell – VJ and film direction and David Miles Django guitar, Double Bass.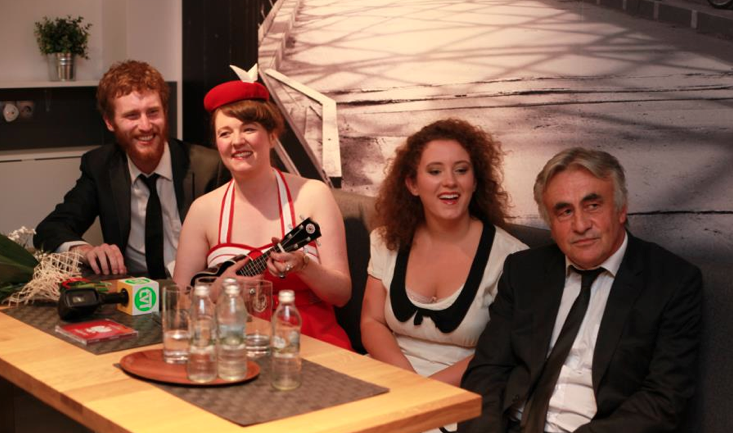 I would like to thank MJM Music Pl for their incredible support with regards the release of my Paszport album this month in Poland – you have been absolutely fantastic and I am very impressed with all the promotion that I received including major interview slots on Poland's top radio station Trojka FM aswell as TV appearances on main Polish TV channels including TVN, TVPolonia, TV24 and TVP Kulturalni PL – see picture below. Please note that my song Mała, Little Flower from my Paszport album was song of the day on Trojka FM 26/09/2012.
more info on Katy's fourth album release of Paszport in Poland here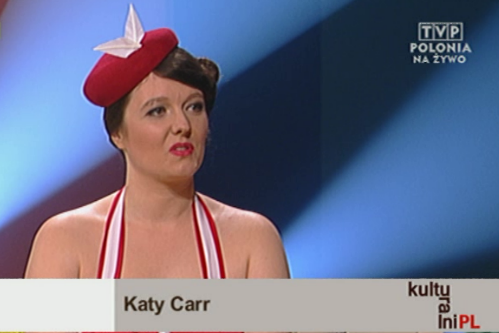 Big thanks also go to Victoria Shearing Millinery for making such wonderful hats for my trip to Poland and to all my music business support in the UK – my manager Sara Silver, agent Sophie Cammack and P.R. Rosie Wilby. Looking forward to the following months and the gigs that we have planned around the release of my Paszport album… more details to follow!
Katy Carr and the Aviators concerts in October 2012 concerts include: –
Sun 28th Oct :- Bristol Polish Club
Sat 27th Oct :- Institute of Contemporary Interdisciplinary Arts (ICIA), Bath University
Sun 14th Oct :- Jagiellonian University conference at Club Ognisko, London
SPECIAL REQUEST : – We have convinced Krakow's wonderful school of Polish language at the Jagiellonian University to come to London – please let me know of anyone who would like to enhance / learn the Polish language — we need a further 8 – 12 people to start the courses and I will be studying too and improving my Polish language skills!
Much love – Katy Carr and the Aviators
🙂
~
KC Quotes :
– 'Carr is a fine example of that much-maligned beast we call Authenticity…'
– 'Her idiosyncrasy as a musician meant she'd have to forge ahead under her own steam – even the most avowedly avant labels fight shy of butterflies they can't easily net… '
– 'She's a true original, standing out like the spark generated by a Swan Vesta applied to a cigarette in the Blackout.'
KC Links below :
Please keep in touch!
Katy Carr, Musician, Songwriter Performer
~