Dear lovers of the summertime,

This past month has been soooooooo much fun! I have not only relaxed and become one with nature – well in terms of playing at some rather lovely English countryside festivals including Big Chill and The Wilderness – both of which were utterly charming but I have also hastened to preproduce my new album which is firmly taking shape and I can now announce that it's producer is the infamous and great talent of Nigel Of Bermondsey. It took a steady and careful hand to finally start the process however we have now realised 14  tracks 70 percent of which are in Polish. I have also booked a rather wonderful Polish tenor to travel to record his wonderful voice on soem of my songs. More on this in the near future – I don't want to give too much away!


I also would like to share a video that was posted up on Winkball @ the Wilderness Festival which I have to say has been my favourite festival this summer simply because I felt so free in the beautiful grounds of Cornbury Estate Deer Park, swimming in the lakes [lots of weeds!] and dancing in the long summer grass . I will definitely be returning – truly magical and on the weekend of the full moon so everybody wanted to have fun!
direct link http://www.youtube.com/user/WinkBallMusic#p/a/u/1/0kld7FOwWA4i
My next shows take me to Poland 26th Sept – 1st Sept where I will be playing for the Wroclaw University academics as well as for a few private functions. I have taken a few weeks off performing in part mainly to write my next Arts Council England funding application for 2012 but also to focus on how my new album is going to sound. I will however be resuming performances in September. On the 9th Sept I play my final date in at The Prince of Wales Theatre in Cannock, Birmingham supporting the Great British Barbershop Boys on their UK 2011 tour. I will also be playing a low key gig on 4th September at the Morden Arms in Greenwich check my website for more details….
I have also uploaded some more gig footage from the Escapologist Tour at our gig at Enfield's Digdale Centre see….
http://www.youtube.com/KATYCARRMUSIC
BIG THANKS THIS MONTH go to — cleopatra,susan matt, mel gareh, clare at the marylebone journal, freda west, anna mickiewicz, sophie cammack, general sikorski, magdalena fajgier, hannah lovell , francesca ter-berg, nigel of bermondsey, pretty boy, lorraine cox, naomi calvert, polska and great britain and all you lovely people!!! xxxxxxxxxxxxx kc
attached is the Marylebone Journal PDF – see pages 20 – 24 for full article about a visit to Marylebone School for Girls as part of my Escapologist Tour 2011…
BUY  'COQUETTE' If you would like a copy of Coquette [£10] please e: info@katycarr.com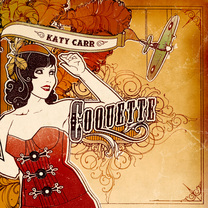 LINKS BELOW JOIN ME!!!

Katy Carr, Musician, Songwriter Performer
Katy Carr on FACEBOOK
Katy Carr on FACEBOOK FAN
Katy Carr on FLICKR