Firstly Katy Carr and the Aviators would like to say a BIG THANKYOU to all of you who have been supporting our Escapologist Tour. We have loved playing for you all and the feedback for our songs and film , Kazik and the Kommander;s Car dir Hannah Lovell have been very positive and at times extremely emotional. It is a great honour to engage with you all on such a personal basis so thankyou again. For those of you who may not have yet come to one of our tour dates please find some information below….
'The Escapologist Tour,' is dedicated to the honour of Kazimierz 'Kazik' Piechowski, a Polish Scout who in June 1942 escaped from Auschwitz concentration camp in a Steyr 220 car. Events include musical performances from Katy Carr and The Aviators & a 25 min documentary screening of Kazik and the Kommander's Car directed by Hannah Lovell & produced by Katy Carr, where Katy first presents Kazik with her tribute song, 'Kommander's Car'.
June 2011 'Escapologist' Tour Dates….
3rd June 2011,  7.30pm at The Dugdale Centre , Thomas Hardy House, 39 London Road, Enfield, EN2 6DS             [Free admission].
12th June 2011 – 1-1-45pm and  6-7pm Holloway Arts Festival  @ The Florin, 563 Holloway Road London N19 4DQ http://www.islingtontribune.com/news/2011/apr/holloway-arts-festival-survives-cuts-popular-event-set-8-17-june
19th June 2011 – 12pm [midday] Screening of 'Kazik and the Kommander's Car' at  UCL [tickets £5 link to buy http://www.wegottickets.com/event/119868] Address LONDON: Screen 2, Festival Hub, Engineering Building
UCL, Torrington Place, Bloomsbury, London
22nd and 23rd June 2011 Exeter Fringe Festival at The City Gate Hotel, 1 Iron Bridge, Exeter EX4 3RB tel: 01392 495 811[ticket price tbc]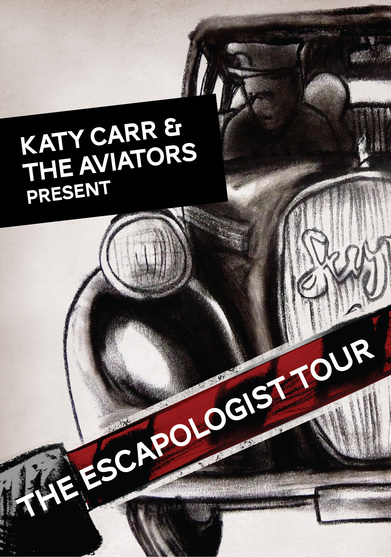 Katy Carr and the Aviators would like to thank :

Will @ Cocos Lovers and The Astor Community Theatre, Stanhope Road, Deal, Kent,  for a lovely gig on 19th May, and for inviting me back to perform on 21st May- I loved the people in Deal and all the wonderful stories i heard from playing my songs and screening
Kazik and the Kommander's Car.
I was especially moved to hear about a Polish war veteran and his movements in WW2 Poland from his two handsome half Polish half Irish grandsons. Big thanks to Sophie Cammack @ Continental Drifts for hosting our gig at Rich Mix and to The Aviators for playing a great gig and to Felix and Christina Hilts at Northants NRTF for planning and promoting our gig at  Hannington Village Hall, School Lane, Hannington, Northants.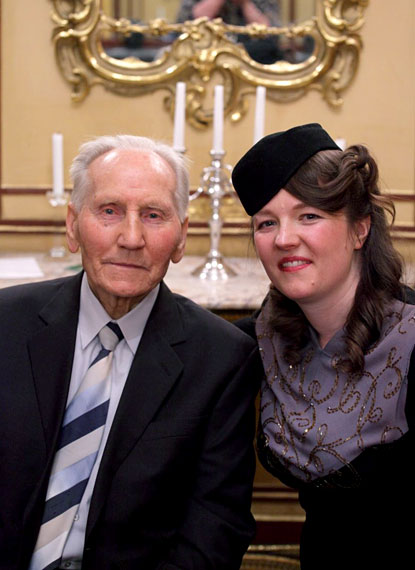 Polish Scout Kazik Piechowski and British singer Katy Carr at the Polish Embassy 29th March 2011
Photograph by Ben Wright Photography March 2011

Katy's LINKS
If you would like to hear the interview on BBC Radio Four Today program check out the link below
BBC TODAY PROGRAM –
'A British singer has dedicated a song and her current tour to a remarkable story about Kazimierz Piechowski's 1942 escape from the Auschwitz concentration camp. The BBC's Sanchia Berg met both Mr Kazimierz and songwriter Katy Carr.' http://news.bbc.co.uk/today/hi/today/newsid_9452000/9452340.stm
BUY  'COQUETTE' If you would like a copy of Coquette [£10] please email me info@katycarr.com and I will send you a way you can buy it on paypal x x
LINKS BELOW JOIN ME!!!

Katy Carr, Musician, Songwriter Performer
Katy Carr on FACEBOOK
Katy Carr on FACEBOOK FAN
Katy Carr on FLICKR