Katy Carr's Mar/April 2014 Newsletter  
Hello friends
March has been a great month and I was so excited to find out that, 'on behalf of the Music Resource Group, The Independent Music Awards, and our distinguished judging panelists, it is our pleasure to congratulate Katy Carr on being nominated in The 13th Independent Music Awards in the following categories – if you would like to vote for me i have two nominations :-
Concept album – 'Paszport'  please follow this link tovote   http://www.independentmusicawards.com/imanominee/13th/Album/Concept-Album 
and "Mala Little Flower" –  Eclectic Song:
http://www.independentmusicawards.com/imanominee/13th/Song/Eclectic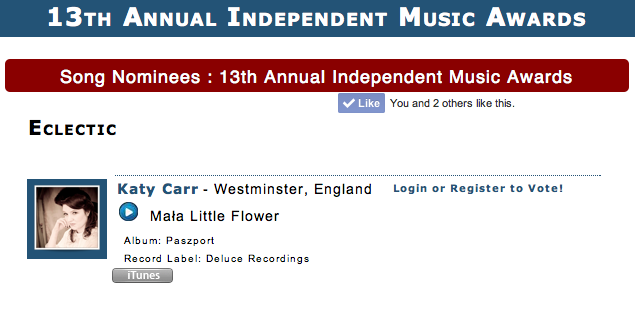 THIS IS SO EXCITING – the winners will be announced in two categories – via a public vote and via a panel vote
So please vote if you can!
March has been an exciting month for Katy Carr and the Aviators as we performed at the splendid Oslo Concert Hall for the 'Outstanding Poles in Norway Awards.' Hosted by the Polish Professionals in Norway, this was a great chance for us not only to play for Polonia Norway but also to a Norwegian audience. Visit this link for more info
 "Wybitny Polak w Norwegii": Katy Carr i The Kuraybers Wystąpią Na Gali w Oslo
Below Katy Carr sings 'Wojtek,' to Polonia Norway at Oslo Concert Hall, 23rd Mar 2014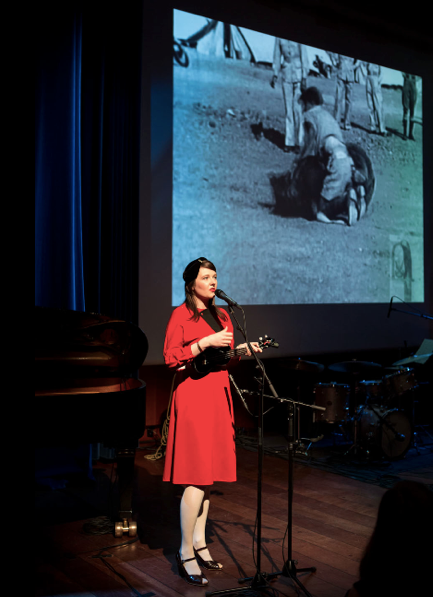 Po mowach otwierających galę wystąpiła Katy Carr, artystka z Wielkiej Brytanii. Matka Katy jest Polką, jej ojciec jest Szkotem. Artystka inspiruje się okresem II wojny światowej, walką o wolność i niepodległość Polski. Publiczność została skutecznie zachęcona do śpiewania razem z Katy, wspólnie wykonywaliśmy refren piosenki "Wojtek", opowiadającej o niedźwiedziu-żołnierzu i daliśmy się ponieść emocjom przy piosence "Hej sokoły". Katy poprosiła wszystkich o wspieranie Ukraińców, którzy walczą o wolność swojego kraju.
http://www.mojanorwegia.pl/polacy_w_norwegii/znamy_juz_wybitnych_polakow_w_norwegii_2014!-7587.html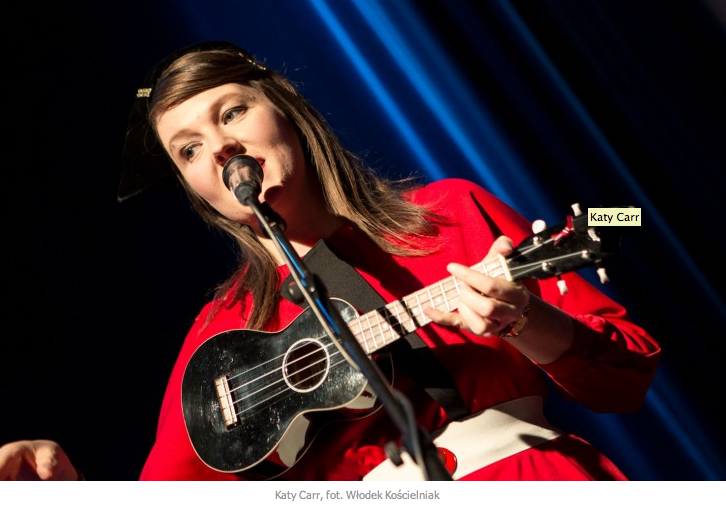 We are looking forward to our upcoming shows will be announced soon
10th April 2014 : Katy Carr will be performing at Nottingham Central Library – address Angel Row, Nottingham NG1 6HL in association with Polish Heritage in the East Midlands – all welcome