Dear Friends,
Thank you for all your support of my music over the past few months and for coming to my performances. ANNOUNCEMENT : Very exciting news, Polonia, my album has been Nominated in the Concept Album Category in The 15th Annual Independent Music Awards! more info here 🙂 http://independentmusicawards.com/the-15th-independent-music-awards-nominees/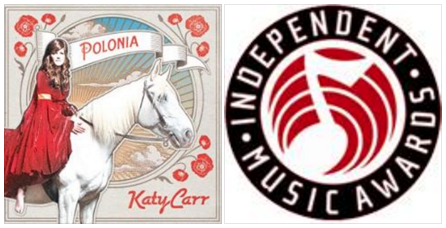 Let's hope Polonia wins !!! 😉 I am currently preparing my plans for a busy 2017 and expect to see us soon. I am very pleased to announce that Katy Carr's 'Polonia Tour 2017,' is about to commence and will keep you updated with the latest news and concert locations.  
Have a lovely autumn and please can you subscribe to my youtube channel here is you haven't already:)  https://www.youtube.com/katycarrmusic and like my music here on facebook – https://www.facebook.com/katycarrmusic
Enjoy the newsletter and keep in touch ! If you want me to perform in your area – write to me and let me know! 🙂 )))
Big hugs to you all 🙂 Katy Carr
___________________________________________________________________________________________
EVENT ANNOUNCEMENTS : I am very happy to announce that Katy Carr and the Aviators will be performing at the following events:
9th November 2016 at 1700 – Katy Carr is very excited to be performing at the Cichociemni. Historie Bohaterów. Sesja Naukowa Conference, Address – Poland, Torun, Rynek Staromiejski 6, 87-100 – ALL WELCOME 
This event is dedicated to the Elite Polish Parachute Regiment – the Cichociemni (Polish Equivalent of SAS trained in UK during WWII) in honour of General Elizabeth – Elzbieta Zawacka – pseudonym 'Zo', the only lady to jump with the Cichociemni. Katy Carr Concert is at 5pm (conference from 9am) Link here – https://pl.fievent.com/e/cichociemni-historie-bohaterow-sesja-naukowa/katy-carr-concert
Już po raz 26. zapraszamy na konferencję naukową, którą organizujemy dla uczczenia Święta Niepodległości, tym razem z Muzeum II Wojny Światowej w Gdańsku poraz CK Dwór Artusa w Toruniu.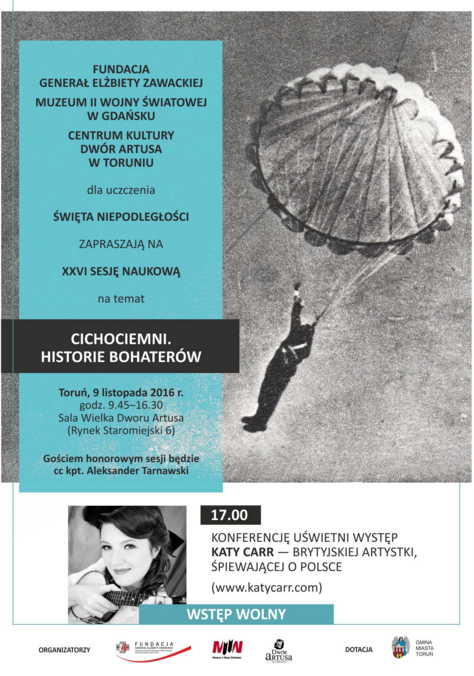 Tegoroczna konferencja fundacji odbędzie się 9 listopada 2016 r. (Toruń, Dwór Artusa, Rynek Staromiejski 6). Wygłoszonych zostanie 11 referatów oraz przeprowadzonych będzie kilka warsztatów historycznych. Gościem honorowym spotkania będzie ostatni żyjący cichociemny kpt Aleksander Tarnawski.
Konferencję zamknie koncert brytyjskiej wokalistki, polskiego pochodzenia, Katy Carr, która wiele miejsca w swojej twórczości poświęca Polsce i Polakom (również gen. Elżbiecie Zawackiej "Zo"). WSTĘP WOLNY. ZAPRASZAMY
Dzieci i młodzież zapraszamy na warsztaty historyczne. Chcąc skorzystać z warsztatów nalezy się zarejestrować przesyłając maila z tytułem warsztatu, godziną oraz nrem telefonu osoby do kontaktu (np. naucziciel/drużynowy grupy zagłąszanej) na adres: sekretariat@zawacka.pl. Zgłoszenie można też wykonać telefonicznie: 56 65 22 186 (Agnieszka Łuczywek). Osoby zgłaszające się indywidualnie na warsztaty będą dołączane do wcześniej zgłoszonych grup. 
środa, 09. listopad 2016, Torun, Cichociemni. Historie Bohaterów. Sesja Naukowa
________________
17th November 2016 – Katy Carr performs on TVP Poland for the History Book of the Year Awards – Książka Historyczna Roku in association with Polish Radio. This program will be televised and so there will be a link in next month's newsletter link here – more info about the awards here – http://www.ksiazkahistorycznaroku.pl/glosowanie.html 
________________
26th November 2016 – Katy Carr and the Aviators perform at Art Fest – listopada 2016 r., godz. 19:00 | Bilety: 30 zł (normalny), 25 zł (ulgowy) address – ul. Traugutta 1, 33-101 Tarnów. ALL WELCOME Link to event HERE – http://www.mck.tarnow.pl/koncert-katy-carr.html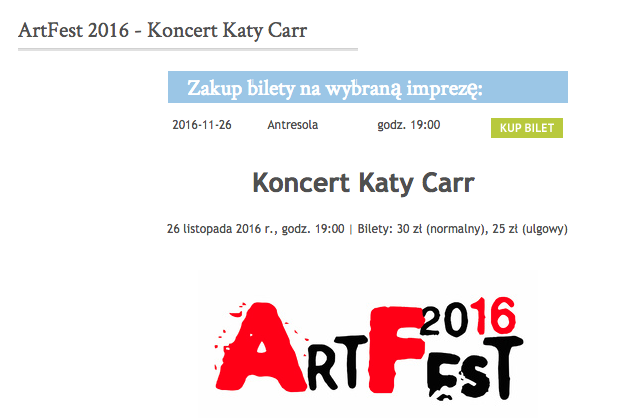 ___________________________________________________________________________________________
BIG THANKS THIS MONTH GO TO : 
The Town of Gryfino in Poland for a wonderful concert and a fabulous chance to meet the people of Gryfino 🙂 ))) Looking forward to coming back and meeting you all again : Hair and makeup below by Iwona, foto Tadek Wasilewski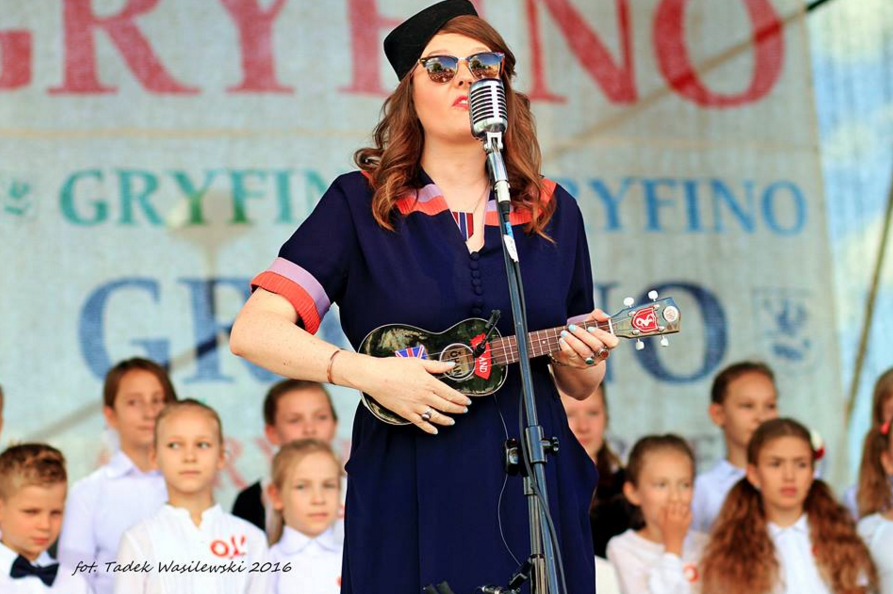 Foto below by Rafał Staszak – Katy Carr sits on the Gryfino fire engine and watches the WWII reenactment scene from a birds eye view.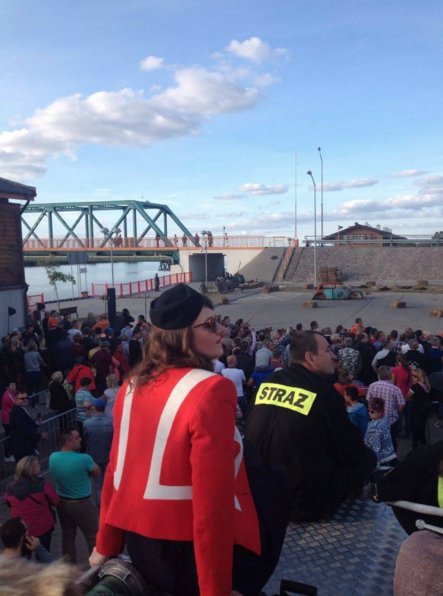 Young students from Gryfino meet Katy Carr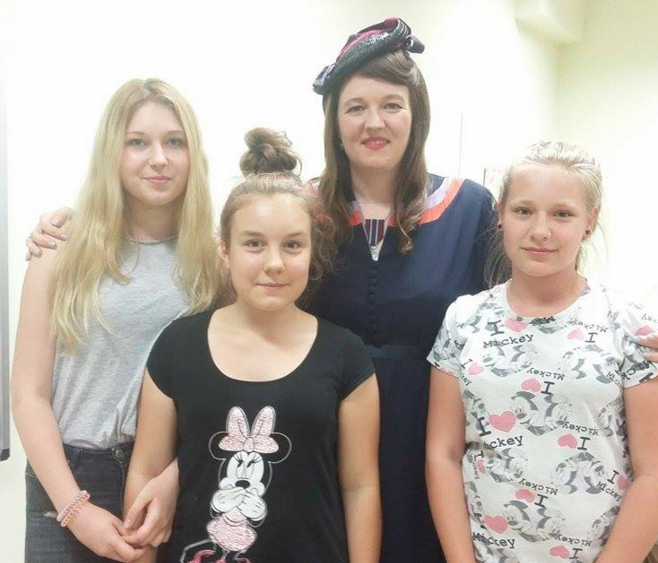 Katy Carr speaks about her music and performs to the Gryfino community.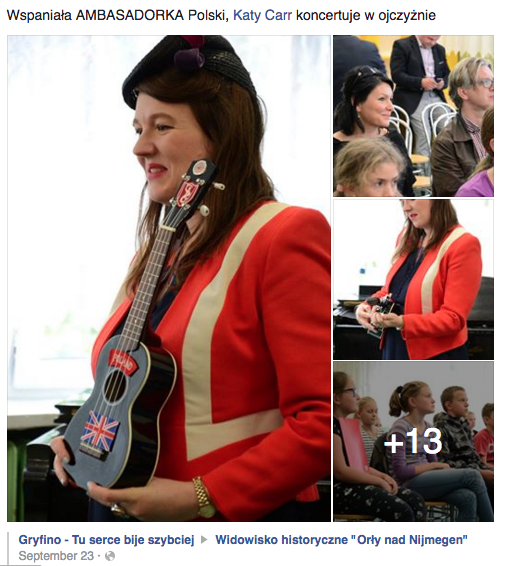 Below a picture of the Gryfino community – 
Spotkanie z artystką Katy Carr zgromadziło 23 września 2016 r. w Centrum Aktywności Lokalnej w Gryfinie sporo publiczności. Trzy pokolenia wypełniły niewielką salkę do ostatniego miejsca.
Wyjątkowego gościa przywitali zastępca burmistrza Paweł Nikitiński oraz naczelnik Wydziału Edukacji i Spraw Społecznych Grzegorz Jastrowicz. Wśród gości był także wójt Raciechowic.
Artystka Katy Carr mająca polskie korzenie powiedziała, że przypadek w życiu człowieka często ma  bardzo duże znaczenie. 
 – W mojej sytuacji sprawił, że poznałam Kazika Piechowskiego, który opowiadał mi o Armii Krajowej,   żołnierzach, partyzantach, o tych wszystkich wspaniałych ludziach. Swoimi opowieściami zasiał w mej  głowie istny mętlik, a jednocześni
e wzbudził ogromne zainteresowanie. Byłam pod wrażeniem historii Polski – opowiadała artystka.
Opowieści Piechowskiego dla Katy Carr stały się również inspiracją w jej działalności artystycznej.  Katy jest osobą bardzo otwartą, kontaktową i ciepłą. Samo jej pojawienie wywołało uśmiechy na twarzach uczestników, a zaśpiewana przez nią partyzancka piosenka spowodowała huraganowe brawa. Była więc piosenka o misiu Wojtku i wiersz napisany przez Jerzego Romaniuka, specjalnie  ofiarowany  gościowi.   
Z kolei Łukasz Gładysiak ze Studia Historycznego Huzar w Koszalinie krótko nawiązał do jutrzejszego "szaleństwa", którego pomysł zrodził się dziesięć lat temu, a które ma być jedną z największych tego typu rekonstrukcji historycznych w kraju z udziałem czołgów, samolotów oraz ponad 200 rekonstruktorów.
Zapraszamy zatem 24 września 2016 r. do Gryfina na "Orły nad Nijmegen".
 TWS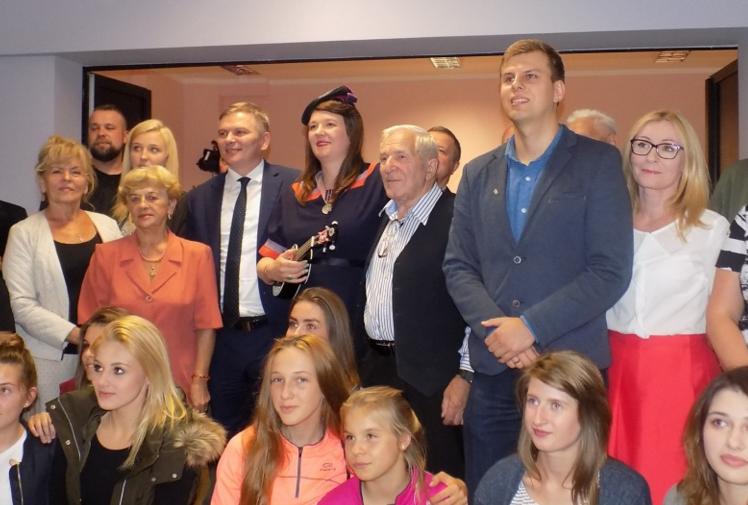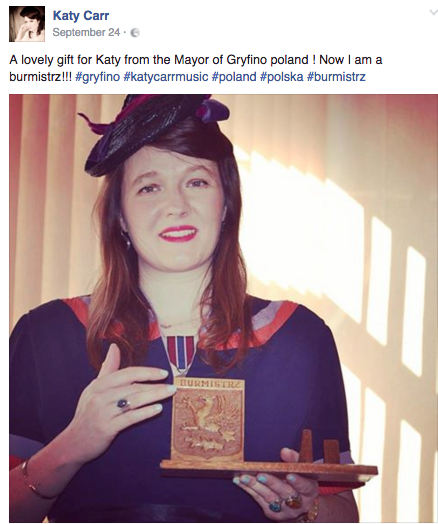 A beautiful 'Katy Carr' picture by a young music student from Gryfino Poland – her school choir sang 'Wojtek' with me on stage with me and I absolutely love this drawing ❤️❤️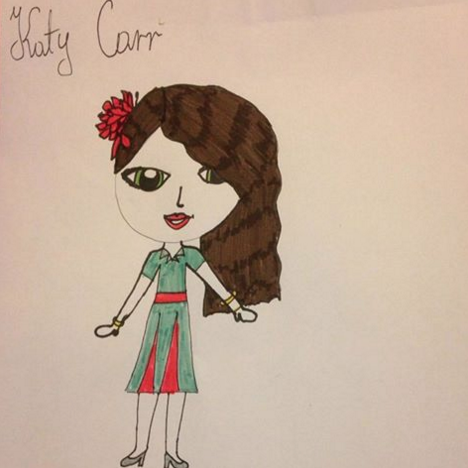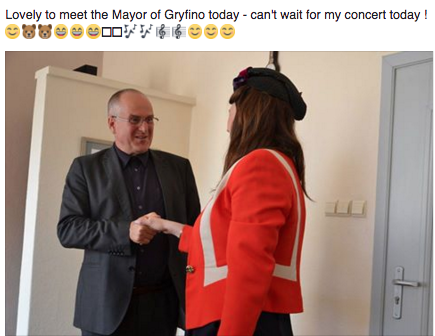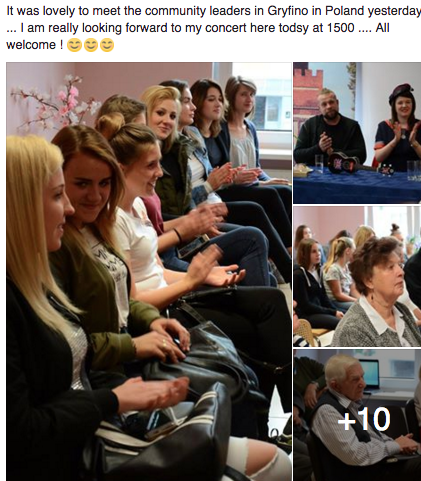 BIG THANKS TO EVERYBODY @  the Festiwal Filmowy "Niepokorni, Niezłomni, Wyklęci" and all the wonderful people who made this festival happen 🙂 Below Katy Carr judges the vintage fashion show with Polish WWII Veterans and leaders in the Polish fashion industry and 'Czas Honoru' TV costumers 🙂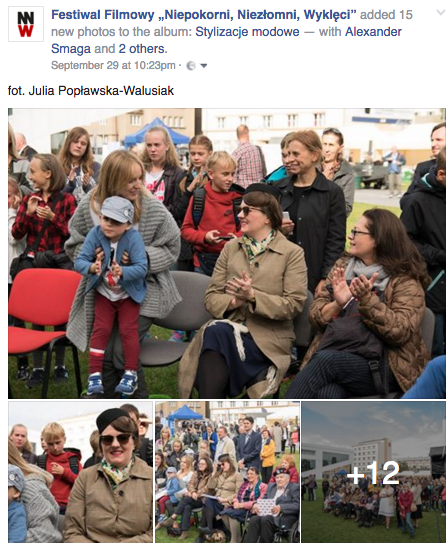 With some of the runners up, students from Warsaw 🙂 A great effort all round 🙂 Brilliant stories about the clothes – it was a very enjoyable event for everybody – I received a lovely message from these girls 🙂
'Thank u soo much again for being with us ❤️ u're amazing and we will remember this moment forever and it will be pleasure to host you in Warsaw in our High school 😚'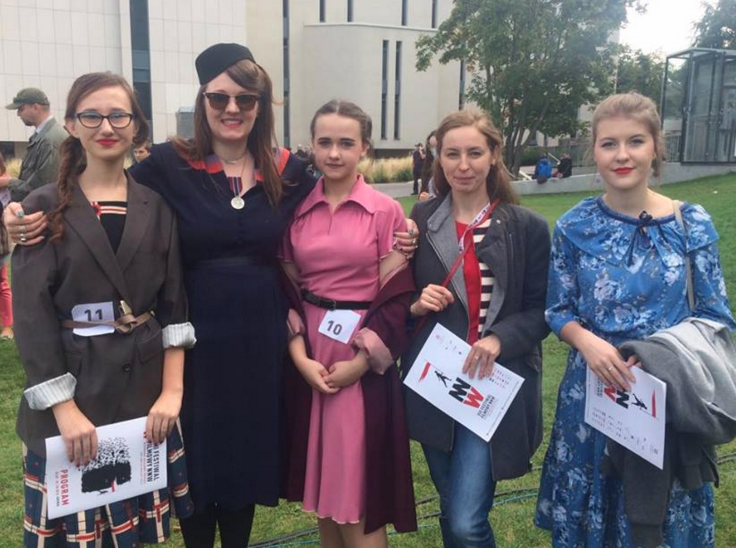 With Polish Freedom Fighter Pani Lidia Lwow "Ewa", "Lala", sanitariuszka 5 Brygady Wileńskiej – a total joy to be in her company 🙂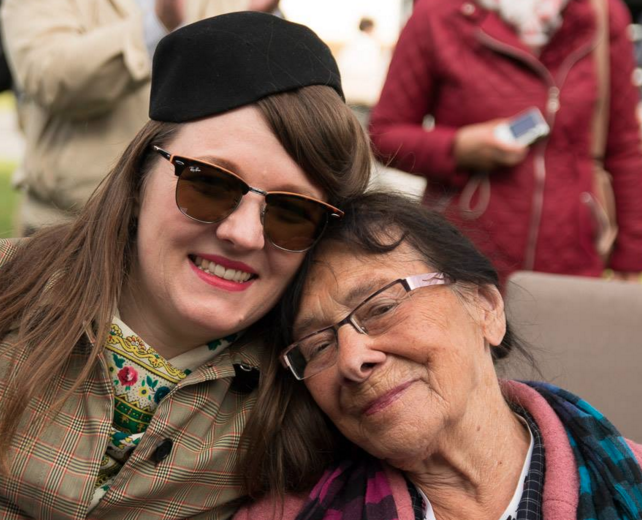 Judging the fashion with Polish Freedom fighters Pani Lidia and Otton Z Hulacki in Gdynia.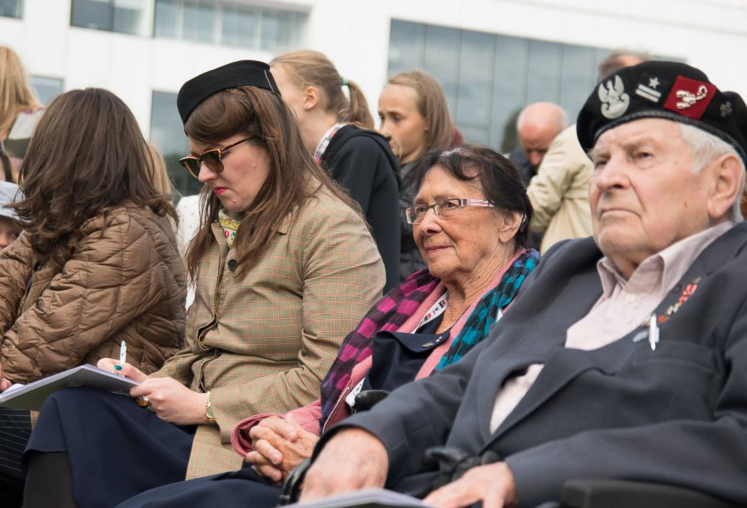 Katy Carr sings at the opening of the film '303' aith Alexandra Kent the daughter of the 303 Group Captain John Alexander "Johnny" Kent DFC & Bar, AFC, Virtuti Militari. On 2 August 1940, as a Flight Commander, Kent joined 303 Squadron, a newly formed squadron consisting of Polish pilots based at RAF Northolt who were the flying aces of the Battle of Britain.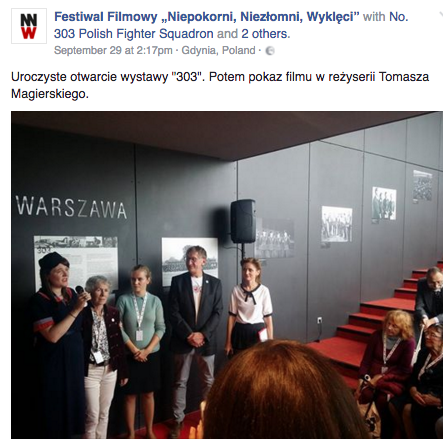 Katy Carr sits at the Festival press conference – link here 
http://wpolityce.pl/kultura/310072-mlodzi-dla-historii-katy-carr-jeszcze-szesc-lat-temu-nie-wiedzialam-o-polsce-niemal-nic-wideo
Konferencja prasową w ramach Projektu Młodzi dla Historii prowadził Marcin Wikło. Ogromną niespodziankę sprawiła wszystkim obecnym Katy Carr śpiewając na powitanie "Dziś do ciebie przyjść nie mogę".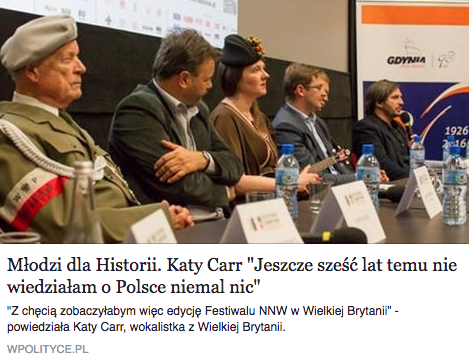 Katy Carr is so proud to be standing with Mr Julian Kulski – Architect who is a huge patriot of Poland and fought during the Warsaw Uprising in WWII.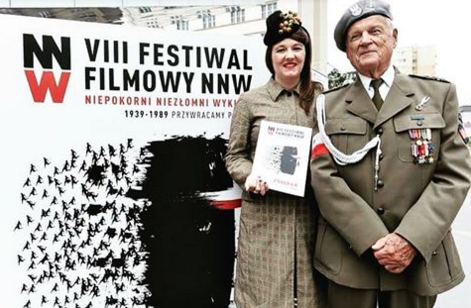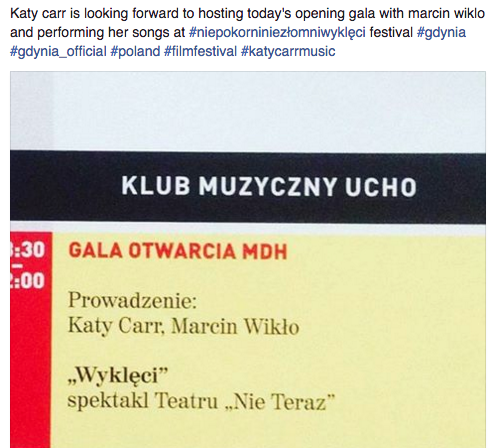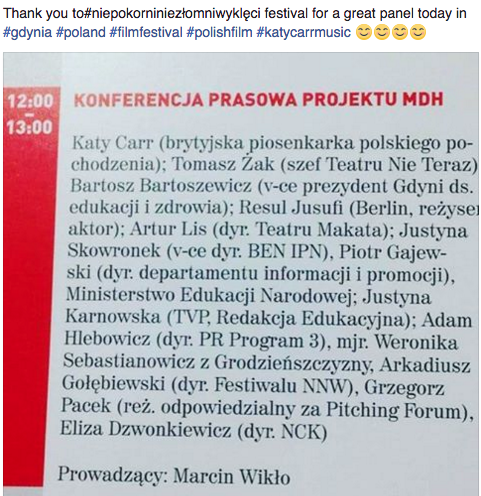 Katy Carr was very kindly invited by the The Royal Air Force Museum, London to sing her song inspired by the No. 303 Polish Fighter Squadron at the book launch of Group Captain Johnny Kent's classic WWII air combat memoir 'One Of The Few.' Alexandra Kent, talked about her father's role as Group Captain with the Polish pilots of 303 Polish Air Force Fighter Squadron who were the aces of the Battle of Britain securing victory in 1940 and keeping Britain free from German invasion and occupation. It was a great honour to sing also on 17th Sept which marked the 77th anniversary of the commemoration of the Soviet invasion of Poland in 1939 which saw Poland not only enslaved by the Germans on 1st Sept 1939 but also by the Soviets on this date. Western history books have largely failed to grant the Polish WWII forces the just recognition for their enormous bravery during their alliance with the Allied Forces during WWII. Thank you to the Royal Air Force Museum for this marvellous event and for remembering the untold and forgotten heroes and heroines of WWII who came from Poland.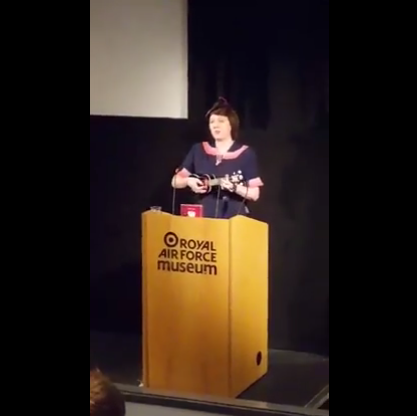 Katy Carr performed on September 8, 2016 at the 16th Polish Siberian March of Living Memory, in Bialystock, Poland, attended by 15,000 marchers in memory of the people during WW2 deported to Soviet forced labor camps. http://www.mypolcast.com/2016/09/singing-for-soviet-gulag-survivors-episode-25/
Jest wspaniała, nazywa się Katy Carr, w połowie Polka, w połowie Brytyjka /Angielka/ Ma wspaniały głos, wspaniale śpiewa, także po polsku, wspaniale gra, m.in. na ukelele i pianinie, ma swój zespół muzyków, pisze piosen
ki, wydała kilka swoich płyt, płyt przepełnionych polskimi treściami i polską muzyką. Jest też licencjonowanym pilotem RAF Jest 150-procentową patriotką, polską patriotką. Kilka miesięcy temu Jan Józef Kasprzyk odznaczył ją polskim medalem Pro Patria W dniach 8-9 września w Białymstoku odbył się kolejny, coroczny, XVI już Marsz Sybiraków. Ktoś miał wspaniały pomysł żeby z tej okazji zaprosić do Białegostoku mieszkającą od piątego roku życia w Anglii Katy Carr, która zaprezentowała polskim sybirakom swoje i nieswoje piosenki. To był przecudowny, niezapomniany wieczór, niezapomniany koncert.., http://zawszepolska.eu/katy-carr/
Lovely pictures from my concert for the March of the Siberian Survivors in Bialystok, Poland – Koncert Katy Carr w Białymstoku z okazji XVI Marszu Polskiego Sybiru taken by the 4 Nowodworska Drużyna Harcerskiej Służby Granicznej "Złote Lwy"- Scout group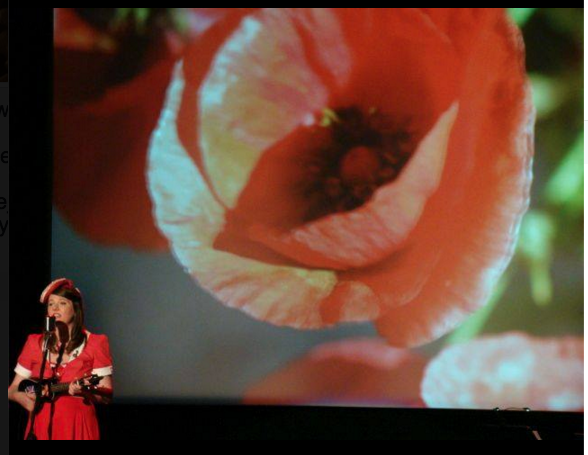 Katy Carr meeting the 4 Nowodworska Drużyna Harcerskiej Służby Granicznej "Złote Lwy"
I had this lovely message from the scout group – Hello Katy, Your music is amazing. I and my friends are scouts from 4 Nowodworska Drużyna Harcerskiej Służby Granicznej "Złote Lwy". We talked to you after your wonderful performance during XVI Polish Siberian March of Living Memory. We are sending you a few photographs from your concert. We are inviting to our side on facebook: http://www.facebook.com/4NDHSG . Greetings from Poland! CZUWAJ! 4 Nowodworska Drużyna Harcerskiej Służby Granicznej "Złote Lwy"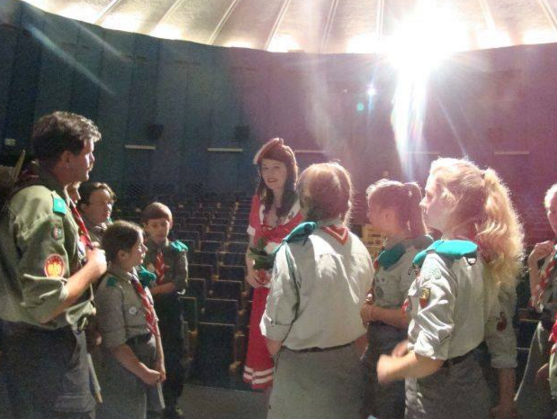 CZUWAJ!!!!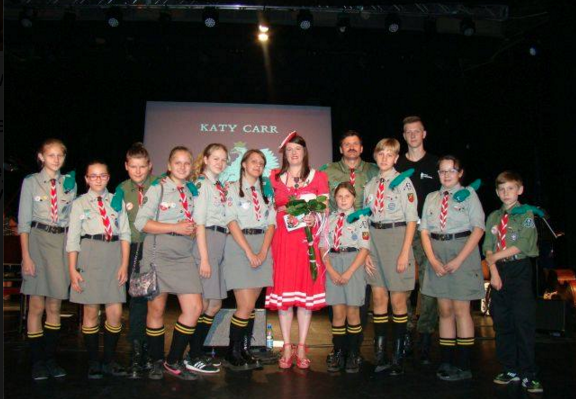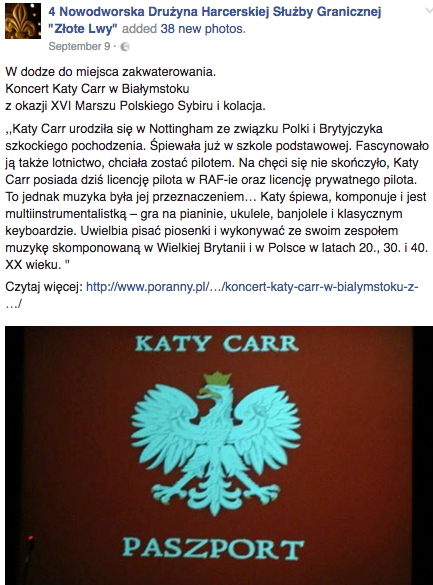 General Ander's daughter Anna Maria Anders Senator presents Katy Carr and Hannah Lovell flowers after their performance.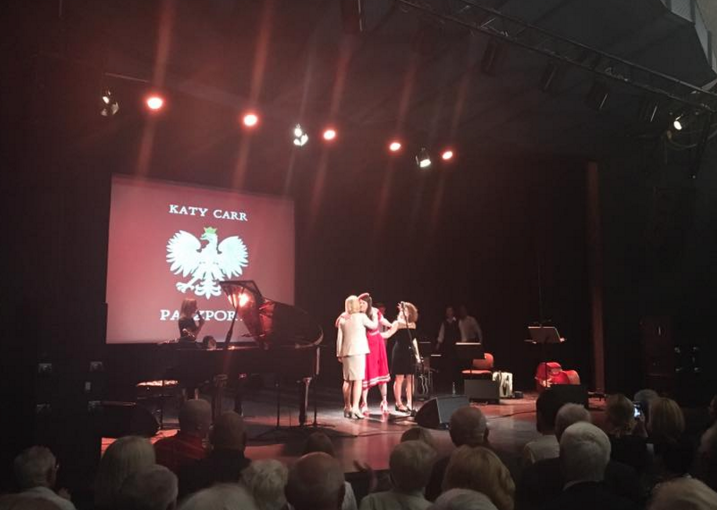 Katy Carr at the Polonia Economic Forum in Krynicy, Sept 2016 talking about the importance of music and Polonia community work. Forum Ekonomiczne w Krynicy-Zdrój. O roli Polaków za granicą w kształtowaniu wizerunku kraju. Goście: m.in. prawdziwy ambasador Polonii Katy Carr 😉 Jan Dziedziczak Janina Sagatowska Sławomir Wróbel Maciej Świrski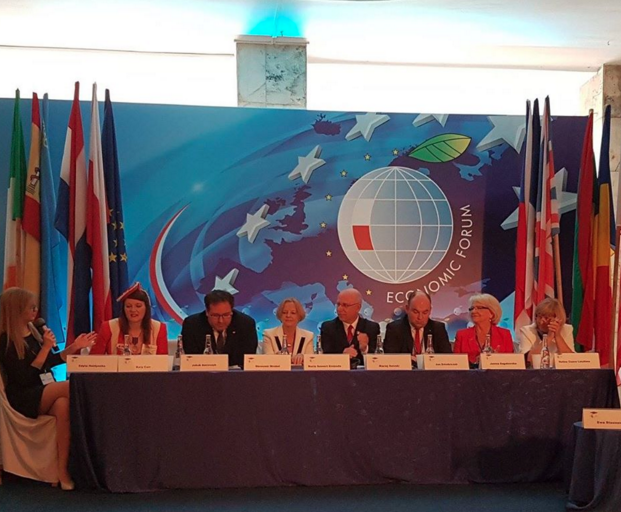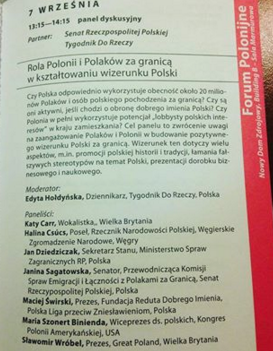 BIG THANKS TO CLUB OGNISKO for a fabulous fundraising event for the Pomnik AK w Krakowie – WWII Resistance Memorial in Krakow – for more about our very successful fundraising event read here – http://www.tydzien.co.uk/artykuly/2016/09/23/cegielki-brytyjskiej-polonii-na-wstege-pamiec/
For more info about the Memorial and to inscribe your name please email Alexander Smaga at 
info@akmemorial.com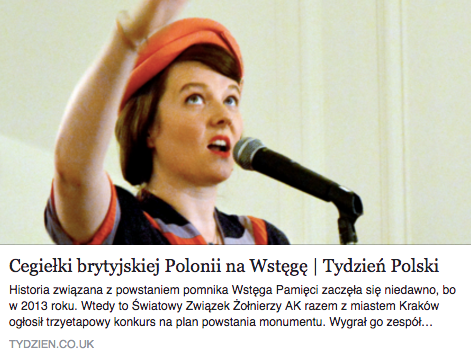 The AK Memorial in Krakow was featured as the front page of the Tygzien Polski 🙂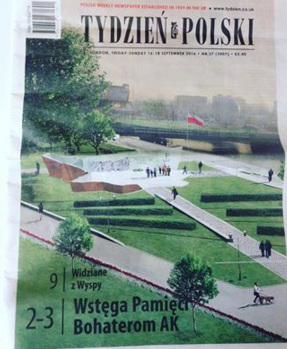 Występ Katy Carr na wczorajszej Gali fundraisingowej w Ognisku Polskim w Londynie poświęconej budowie Pomnika AK w Krakowie – WWII Resistance Memorial in Krakow. Nt. projektu i jego realizacji opowiadał autor – architekt Alexander Smaga. Na uroczystej gali obecni byli: powstanka Warszawska Pani Marzena Szejbal, przewodnicząca AK na Wyspach, nowy polski ambasador Pan Arkady Rzegocki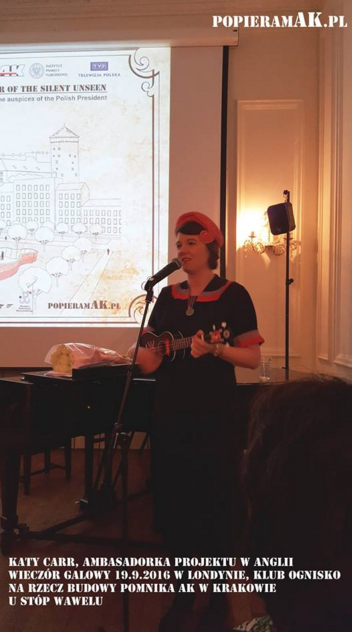 THANK YOU TO RADIO PRESENTER AND MUSIC JOURNALIST ZOE HOWE for a fabulous show on the Other Woman Show on Resonance FM. I loved performing my songs in such an intimate setting – ! THANK YOU 🙂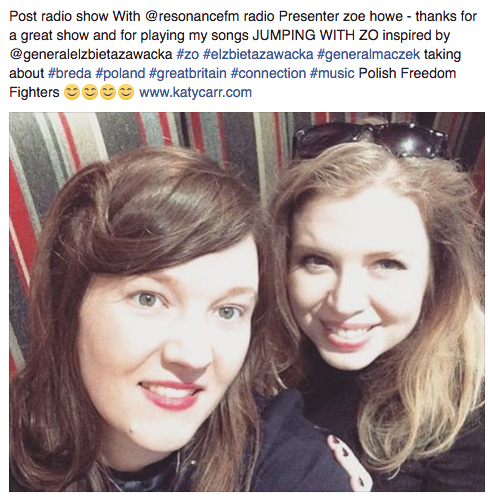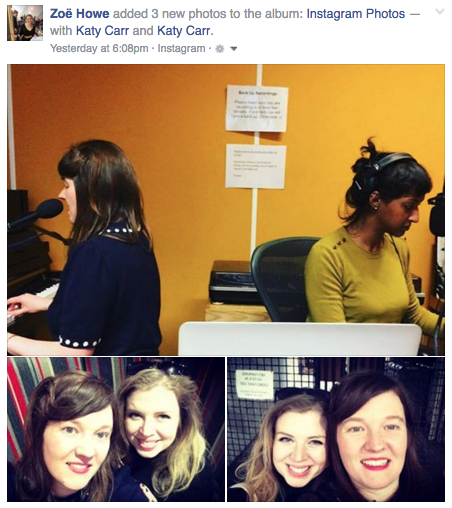 With Polish freedom fighter and Joanna the director of the Armia Krajowa Muzeum in Krakow, after my show at the museum.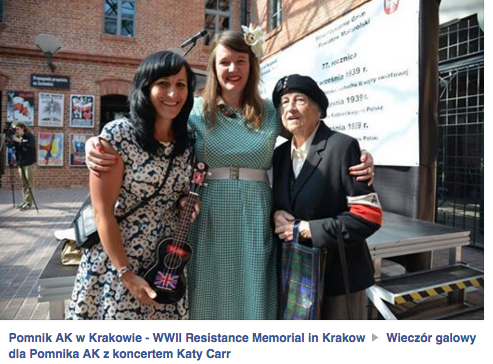 THANK YOU TO MY BEST FANS THIS MONTH!!! you know who you are 🙂 )))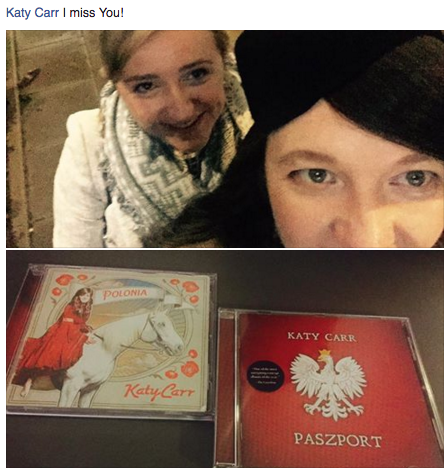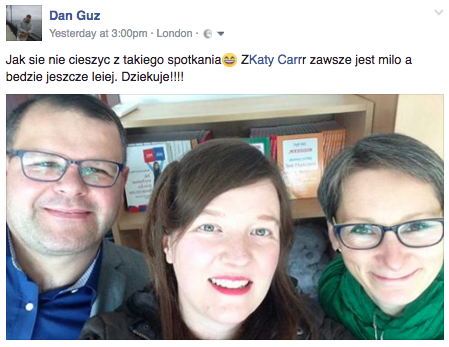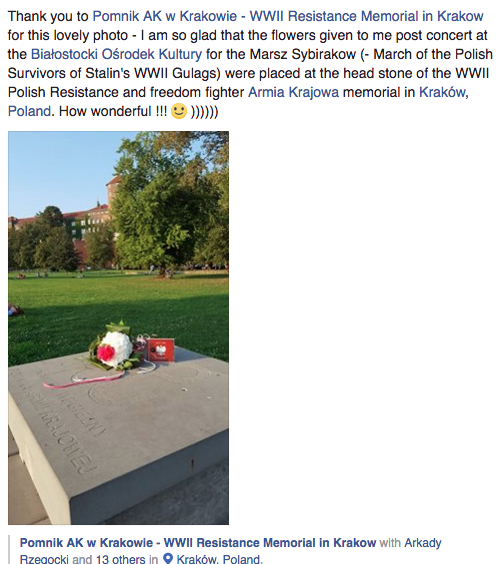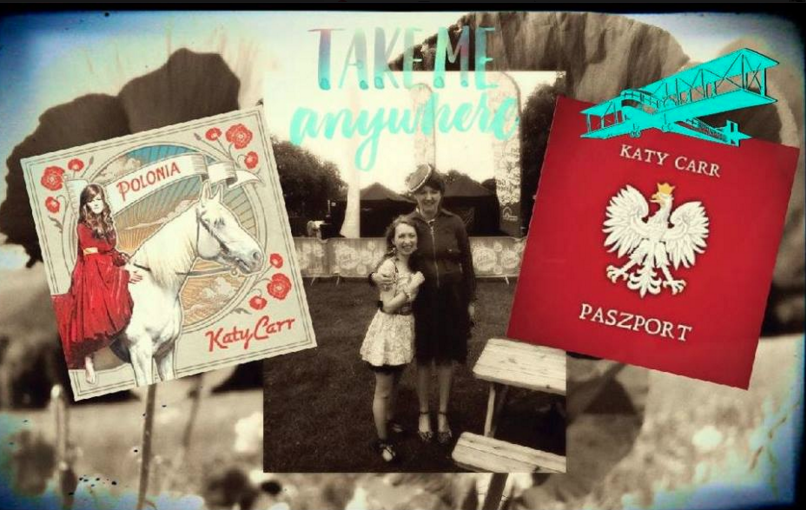 And to Wyslawa Szymborska for her wonderful poetry 🙂 )))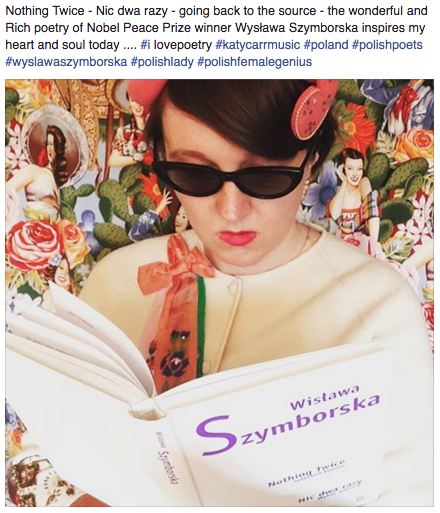 REST IN PEACE – Leszek my Friend , a gentle soul who held he heart of the Polish nation in his heart, at the age of 10 years old Leszek was transported with his family for slave labour to the USSR. His father was murdered in the Katyn massacre. The last time I saw Leszek was at the Kresy Family gathering earlier this summer. Thank you for being such a wonderful force of goodness Leszek. You will be sorely missed in our community. Lest we forget,,,, 
Leszek Roch Kot
1930-2016
This is a very moving passage of words written by his close friend that I wanted to copy into this email
Są chwile, kiedy zbyt wiele słów zabija sens tego, co chce się przekazać. Pisałem niedawno o przemijaniu i o blaknących twarzach. I o tym, że dzieci wojny po latach tułaczki wracają do domów. Wracają, zostawiając po sobie pustkę.
To Leszek. Stacja kolejowa w Stanisławowie, gdzie 75 lat wcześniej, jako dziesięciolatek, rozpoczął w bydlęcym wagonie swoją wielką podróż. Albo raczej wielką tułaczkę. Potem był Kazachstan, Uzbekistan, Iran, Palestyna… Gdzieś po drodze chłopiec stał się mężczyzną, potem była Anglia i lata z dala od domu. I tęsknota za ojcem, który w tamtym strasznym roku 1940 stracił życie nad katyńskim dołem. Na tej stacji w zeszłym roku Leszek, a właściwie jego historia, zatoczyła wielkie koło – stanęliśmy w miejscu, gdzie zaczęła się wędrówka. Miałem to szczęście, że podzielił się ze mną swoją tęsknotą.
Leszek wyruszył już w drogę powrotną… Odszedł w zeszły czwartek w nocy. Jest już ze swoim ojcem, do którego tęsknił przez te wszystkie lata i ze swoją Ewą. Odszedł człowiek, który zastąpił mi ojca i który dał mi tyle dobra, że nie spłacę tego nawet choćbym miał trzy życia. Byłem przy nim przez ostatnie miesiące, byłem przy nim gdy umierał. Odszedł cicho, spokojnie, we śnie. Mój przyjaciel Leszek, mój dobry tata Leszek. Leszek, który otworzył przede mną swoje serce i swój dom.
Śpij spokojnie, Leszku…
Leszek Roch Kot
1930-2016
Urodzony w Stanisławowie, zmarł w Londynie.
Prezes Związku Absolwentów Junackiej Szkoły Kadeckiej, Wiceprezes Stowarzyszenia Rodzin Katyńskich i Stowarzyszenia Karpatczyków. Wolontariusz w Instytucie Polskim im gen. Władysława Sikorskiego.
Niech Mu ziemia lekką będzie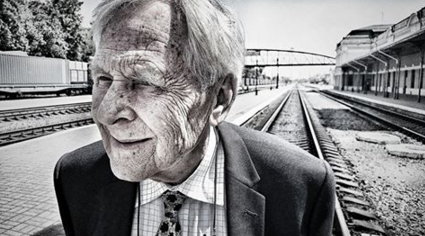 Thanks again for all your support of my music and keep in touch and take care
Much love to you all – Katy i Pozdrawiam serdecznie xxxx 🙂
Katy Carr's music Quotes :
– 'Carr is a fine example of that much-maligned beast we call Authenticity…' 
– 'never less than immaculate' Sunday Times Culture Magazine
– 'Her idiosyncrasy as a musician meant she'd have to forge ahead under her own steam – even the most avowedly avant labels fight shy of butterflies they can't easily net… ' 
– 'She's a true original, standing out like the spark generated by a Swan Vesta applied to a cigarette in the Blackout.' 
Katy Carr's Awards :
Katy Carr was nominated for the London Music Award 2012 alongside Kate Bush, PJ Harvey, Arctic Monkeys, The Good, the Bad & the Queen, Metromony, Ed Sheeran, Jim Jones Review, The Unthanks and Laura Marling.
~
Katy Carr Links below – please keep in touch!!!!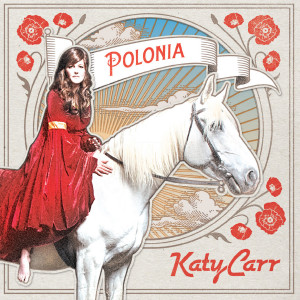 ~