Dear lovely friends,
Thanks for all your support – I am very happy to announce that Katy Carr and the Aviators will be performing at the following festivals:
18th June – 4pm– Leighton Midsummer Festival : Leyton Jubil​​ee Park, Seymour Road, Leyton E10 7BL – link to festival here www.walthamforest.gov.uk/katycarr
Leyton Midsummer Festival Sunday 19 June 1pm–6pm, Leyton Jubilee Park Join us for this family-friendly festival with an Eastern European accent, featuring music, delicious food and drink and a variety of arts and craft activities. Compered by Josephine Burton MC, the entertainment stage hosts headliners Yiddish Twist Orchestra with their extraordinary mix of surf rock guitar, calypso and Jewish folk melodies, plus Don Kipper, Katy Carr and The Aviators, Elena Dana and the contemporary, Eastern European music of Muha. Between acts, DJ Penny Metal will provide music throughout the day. Explore folk stories in a Midsummer Night's Dream, Kupalainspired Faery Den, make head-dresses, lanterns and puppets while hearing stories that weave magic and mystery from across the globe with acclaimed story teller Craig Jenkins and designer maker Bryan Woltjen. You can also take part in our annual cycling event Le Tour de Waltham Forest and enjoy a family day out or challenge yourself while raising money for charity. Choose from bronze, silver and gold ride lengths to suit your cycling ability. To register for a ride or find out more visit www.enjoywalthamforest.co.uk/get-involved
23rd July – headline : Diversity Festival – Castle Green EX31 1 Barnstaple, Devon
6th August – Wilderness Festival, Cornbury Park, Oxfordshire.
___________________________________________________________________________________________
ADDITIONAL EVENT ANNOUNCEMENT :
17th June 2016 (Friday) at 20:00- 21:00 at the Polish Hearth Club – Club Ognisko address – 55 Princes Gate, London SW7 2PN- Katy Carr will be singing at the Wstęga Pamięci – Ribbon of Memory Foundation Memorial presentation evening. All welcome – the event will be held in the Presentation Suite on the Second Floor of Club Ognisko and is also marking the commemoration year in Poland of the Cichociemni (The Silent and Unseen) who were the Polish Elite Parachute Regiment and were trained in the UK during WWII.
Link to the event and information on Facebook : https://www.facebook.com/events/383619231762044/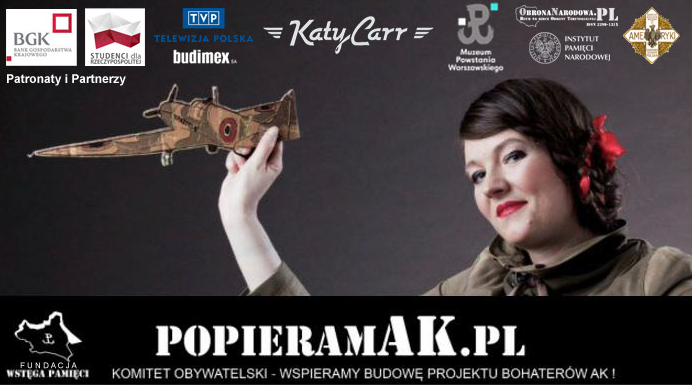 Katy Carr is very excited to be supporting the Wstęga Pamięci – Ribbon of Memory Foundation based in Krakow, Poland and their project which is to build a Polish Home Army Memorial – Armia Krajowa Pomnik at the foot of the Wawel Castle in Krakow on 3rd May 2017 to mark the 75th Anniversary of the beginning of the Polish Home Army AK. This is their website –www.popieramak.pl/
The architectural design of the memorial was made by Alexander Smaga who won a special competition hosted by the Polish Home Army Veterans Association in 2013. Smaga was born in Vienna and his family were Polish emigrants from Krakow. His family roots are strongly connected with a family of Polish Home Army Veterans including his grandparent General Józef Giza who lead the 5th Wilenska Infantry Brigade during the Italian Campaign of the II Polish Corps during WWII. Already 120,000 Dollars plus has been raised though crowdfunding and the support from the Polish community and over 1500 young Poles. If you would like to support this brave and unique project then please visit their website www.popieramak.pl/ and have the opportunity to have your name engraved on the memorial at the foot of the Wawel Castle in Krakow forever!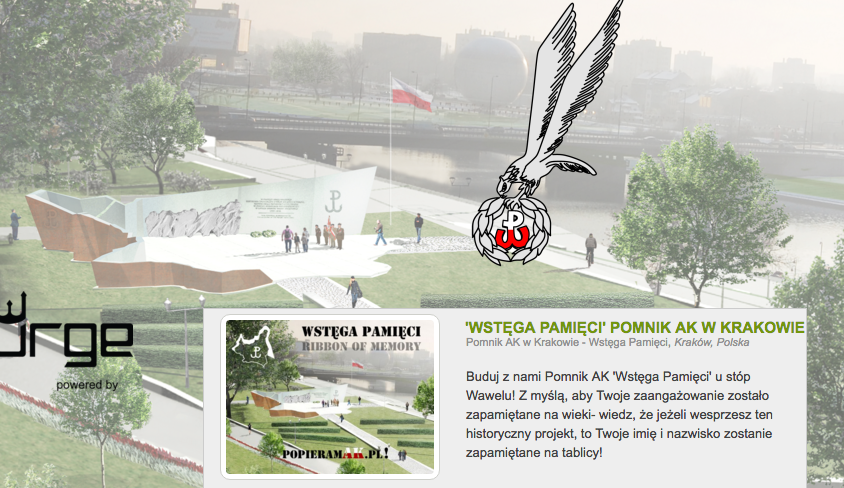 Fundacja Wstęga Pamięci Ribbon of Memory Foundation ma zaszczyt zaprosić Państwa na koncert Katy Carr i prezentacje architekta Alexandra Smagi autora projektu Pomnika AK 'Wstęga Pamięci' u stóp Wawelu z okazji roku 2016 Cichociemnych – The Year of the Silent Unseen.
data: 17.6.2016 o godz 20.00 godz, miejsce: Club Ognisko address – 55 Princes Gate, London SW7 2PN
Idea powstania pomnika AK w Krakowie, pozostawienia swoistego testamentu dla przyszłych generacji, wywodzi się z kręgów kombatanckich Światowego Związku Żołnierzy AK. Projekt laureata międzynarodowego konkursu architektonicznego architekta Alexandra Smagi na rzeźbę architektoniczną to artystyczne założenie urbanistyczno-rzeźbiarskie o uniwersalnym przekazie idei walki o wolność i niepodległość.
W ramach roku 2016 Cichociemnych w hołdzie CC stworzylismy Akcję PopieramAK.pl
www.popieramak.pl
oraz zaincjowalismy zbiórkę środków wśród Polaków i Polonii na portalu crowdfundingowym Polakpotrafi.pl.
Zbiórka zainicjowana przez naszą Fundację Wstęga Pamięci zakonczyła się sukcesem obudzilismy ducha patriotycznego i zainicjowalismy proces realizacji pomnika.
Dzieki wsparcia tyśiące młodych Polaków od Bałtyku po Tatry pobilismy rekord Polski na
polakpotrafi.pl
! Ponad 1500 osób wykupiło miejsca na tablicy pamiątkowej dla darczyńców w Ogrodzie Pamięci Narodowej u stóp Wawelu. Średni wiek wspierajacych to 25 lat. Wsparło nas także SWAP Okręg 2 w USA. Akcja została zorganizowana przez Fundację Wstęga Pamięci. Zgłaszają się kolejni sponsorzy, pula środków nazbieranych w ciągu 2 miesięcy dzięki naszej akcji wynosi już 500,000 PLN to ponad 120,000 USD!
Nazbierana suma to około połowa srodków potrzebnych na wybudowanie pomnika pozwala nam na rozpoczecie budowy. Po sukcesie zbiorki zgłosił się Wojewoda MP, które obiecał że takze wesprze budowę aby pomnik mógł zostać odsłonięty w przyszłym roku.
Dziesiątki tyśięcy Polaków w Polsce i na świecie nas wspierają.
Wspólnymi siłami budujemy Pomnik AK "Wstęga Pamięci" pod Wawelem!
pod patronatem honorowym Prezydenta RP i Prezydenta Miasta Krakowa
patronat medialny: TVP i Rzeczpospolita
Celem mojej fundacji jest połączenie Polonii światowej z ideą powstania Pomnika AK pod Wawelem.
Dziesiątki tyśięcy Polaków w Polsce i na świecie nas wspierają
Dołączcie do Akcji Londyn!
___________________________________________________________________________________________
It was with great honour that Katy Carr was invited to meet Minister Jan Dziedziczak at the Embassy of the Republic of Poland in London during his official visit : Minister Jan Dziedziczak- Katy Carr
Below Katy Carr presenting the Minister with her CDs Paszport (2012) and Polonia (2015) which were both inspired by the Freedom Fighters of Poland during WWII.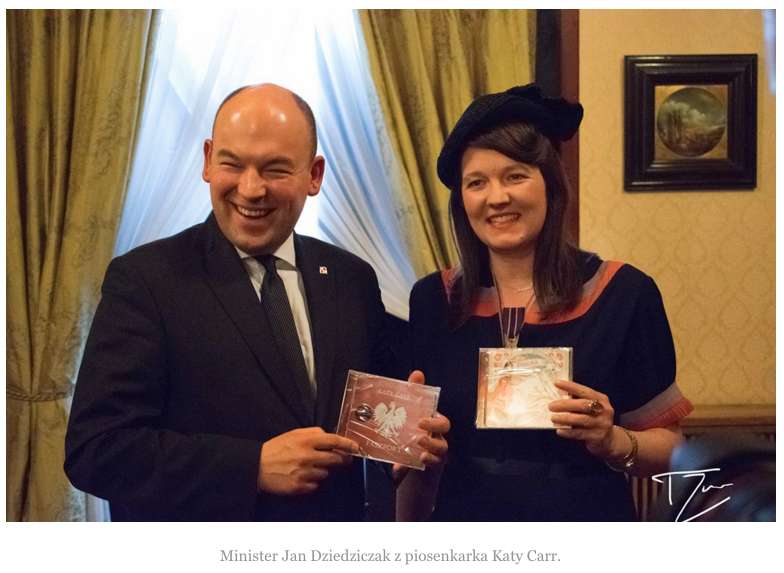 Nadanie bibliotece Ambasady RP w Londynie imienia Kazimierza Sabbata, Prezydenta RP na Uchodźstwie.
W sobotę 21 maja miała miejsce uroczystość nadania bibliotece Ambasady RP w Londynie imienia Kazimierza Sabbata, Prezydenta RP na Uchodźstwie. W wydarzeni oprócz Ambasadora Witolda Sobków również wziął udział Pan Minister Jan Dziedziczak, rodzina sp. Prezydenta Kazimierza Sabbata oraz liczna Polonia.
Co niezwykle cieszy to fakt, że w tym podniosłym wydarzeniu mogli wziąć udział przedstawiciele organizacji polonijnych z tak zwanej nowej fali emigracji. Nasze sprawne oko dojrzalo miedzy innymi;
Stowarzyszenia Great Poland
, Polish Association z Birmingham, którzy intensywnie lobbowali na rzecz inicjatywy
"Tak dla Konsulatu RP w Birmingham"
, Klub Jagiellonski, przedstawiciela United Poles, Polska Niepodległa – Oddział Londyn, sportowców z IBB Polonia London Volley, przedstawicieli z instytucji finansowej
Polish Credit Union UK Ltd
., bloggera Grzegorza Jarzębskiego (Ironiczny Anglosas) oraz piosenkarkę Katy Carr.

Please listen to a lovely interview with Katy Carr and POLcast's Margaret P. Bonikowska who spoke to Katy just a few days before she left for Poland for a tour earlier in 2016 – http://www.mypolcast.com/2016/04/katy-carr-a-british-singer-who-sings-about-polish-history/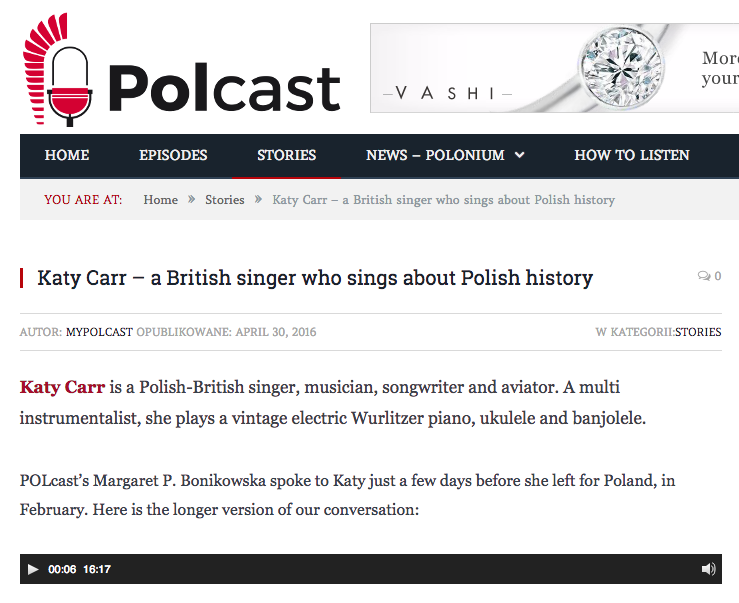 BIG THANK-YOUS 🙂 To Bedford Polish Music Festival for hosting a great event 🙂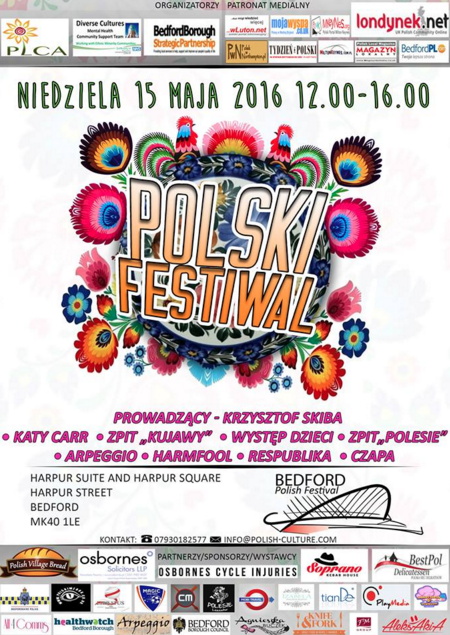 and for introducing me to the Mayor of Bedford – Dave Hodgson 🙂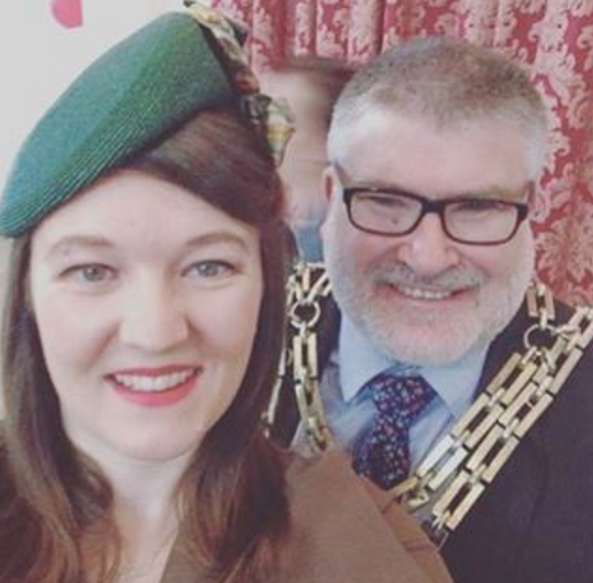 and to some lovely friends and Polish dancers!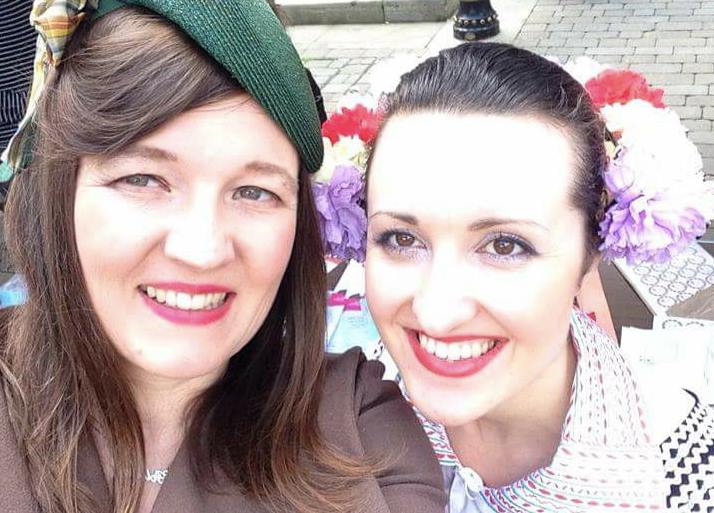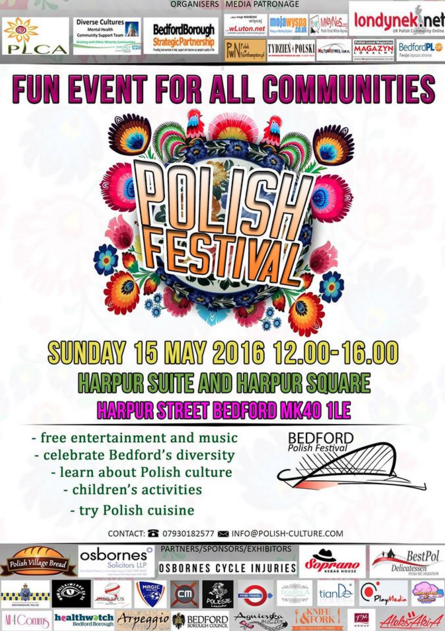 Having some Wojtek the Bear fun with my Scottish sister Janie Orr – looking forward to visiting you all soon in Bonnie Scotland!!! xxxx 🙂 ))))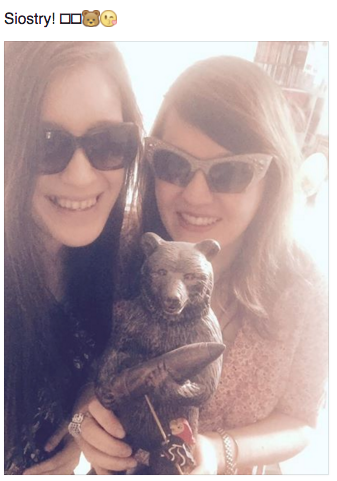 Thanks again for all your support of my music and keep in touch and take care
Much love to you all – Katy i Pozdrawiam serdecznie xxxx 🙂
Katy Carr's music Quotes :
– 'Carr is a fine example of that much-maligned beast we call Authenticity…'
– 'never less than immaculate' Sunday Times Culture Magazine
– 'Her idiosyncrasy as a musician meant she'd have to forge ahead under her own steam – even the most avowedly avant labels fight shy of butterflies they can't easily net… '
– 'She's a true original, standing out like the spark generated by a Swan Vesta applied to a cigarette in the Blackout.'
Katy Carr's Awards :
Katy Carr was nominated for the London Music Award 2012 alongside Kate Bush, PJ Harvey, Arctic Monkeys, The Good, the Bad & the Queen, Metromony, Ed Sheeran, Jim Jones Review, The Unthanks and Laura Marling.
~
Katy Carr Links below – please keep in touch!!!!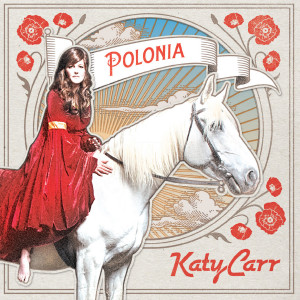 ~