Dear lovely friends,
I hope you are well and thank you for your continuing support of my music. It is with great pride and honour that I was awarded the Pro Patria Medal by the Urząd do Spraw Kombatantów i Osób Represjonowanych – The Ministry of Veterans and Victims of WWII in Lublin, Poland ealier this month for my recent albums 'Paszport' and 'Polonia' which were inspired by the forgotten Freedom Fighters of Poland during WWII.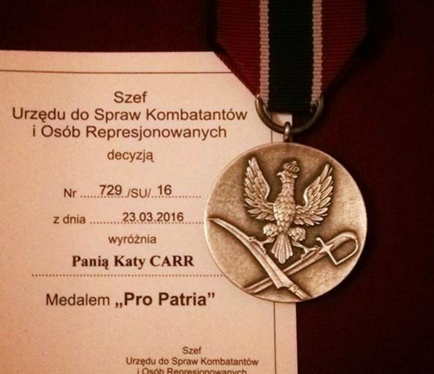 With Minister Jan Kaspryk (standing third from left) who presented Katy Carr with her medal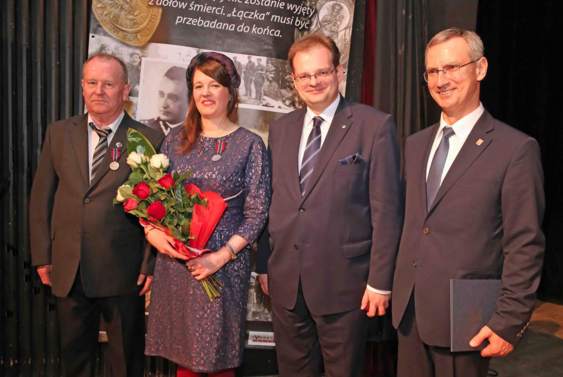 foto Jerzy Dabrowski
KATY CARR CONCERTS 
Photograph with flowers and my Pro Patria medal post performance at the Polish Freedom fighter festival in Lublin, Poland –  Retrospektywy Festiwalu Filmów Dokumentalnych "Niepokorni, Niezłomni, Wykleci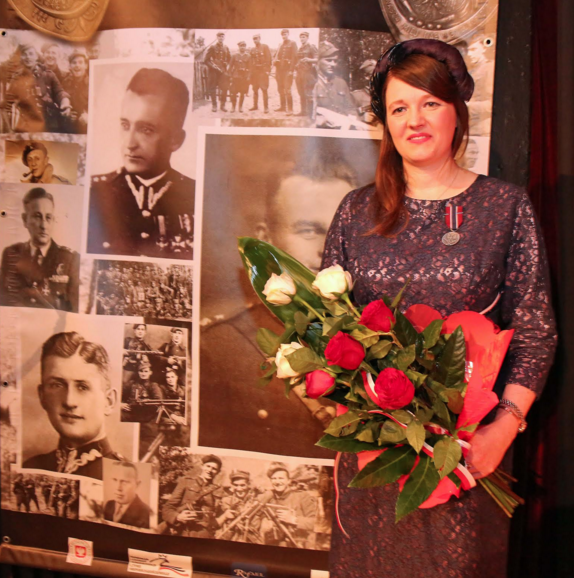 foto Jerzy Dabrowski
A Polish soldier salutes me as he hands me the special red and white roses symbolising the colours of the Polish flag 🙂 ))))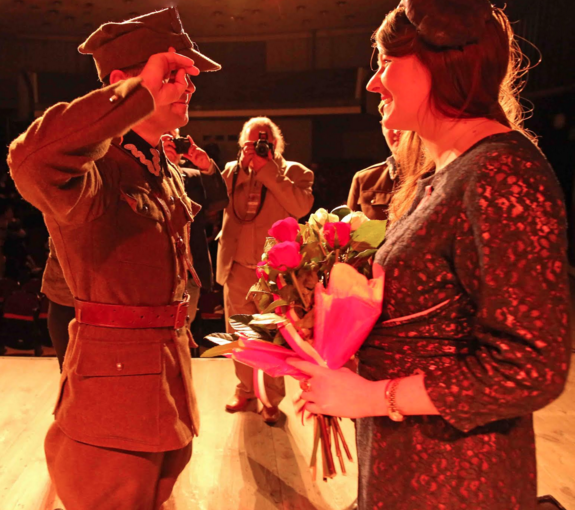 foto Jerzy Dabrowski
At the Polish Choice 2016 awards – here I am singing Wojtek – in Tartan to remember my Scottish friends who looked after Wojtek post WWII – Aileen Orr (Mummy Scotland) and Lesley Duncan and Scot Pipe (Mummy Edinburgh).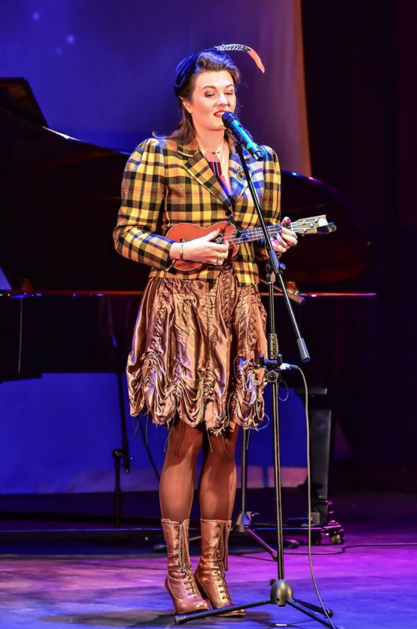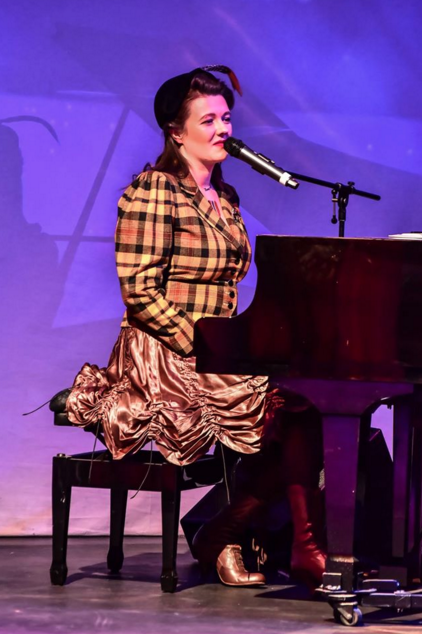 Meeting Roman Czejarek, the Polish Radio 1 – Jedynka DJ, post performance in the dressing room at the POSK Polish centre in Hammersmith, London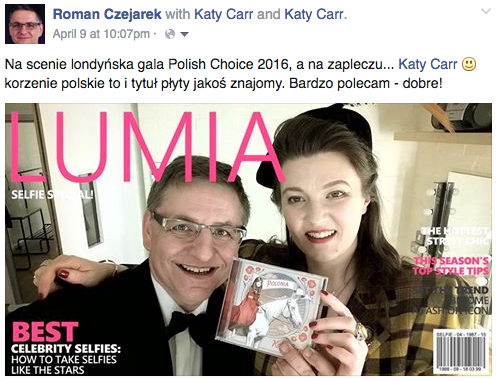 Reaction to Katy's Concert from the organisers 🙂 )))

MEDIA SECTION
Katy Carr appeared in several articles this month : 
Panorama cover girl and the Polish express —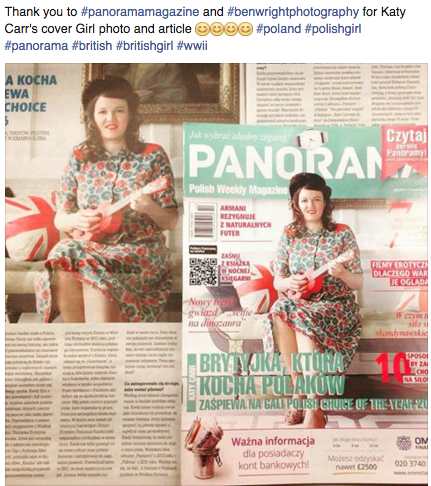 Katy Carr performed her interpretation of Padraic Colum's 'She Moved Through The Fair' at the 'Poet's Rebellion,' a special event to commemorate the centenary of The Easter Uprising which took place in April 1916 in Dublin and is one of the pivotal events in modern Irish history. Performing alongside Cerys Matthews,
Katy Carr
recalled to
The Irish World
newspaper how it was while playing for a Polish community at the Luton Irish Forum that she learned about the event and decided she really had to take part, "The event resonated with me immensely because the songs I have written for my last two albums Paszport (2012) and Polonia (2015) have been inspired by themes connected with the Second World War experience in Poland on the Eastern front and centre around loss of passport, loss of country, rebellion and refugee status. 'She Moved Through the Fair' is a very emotive song and I think would resonate with a lot of Polish WWII veterans."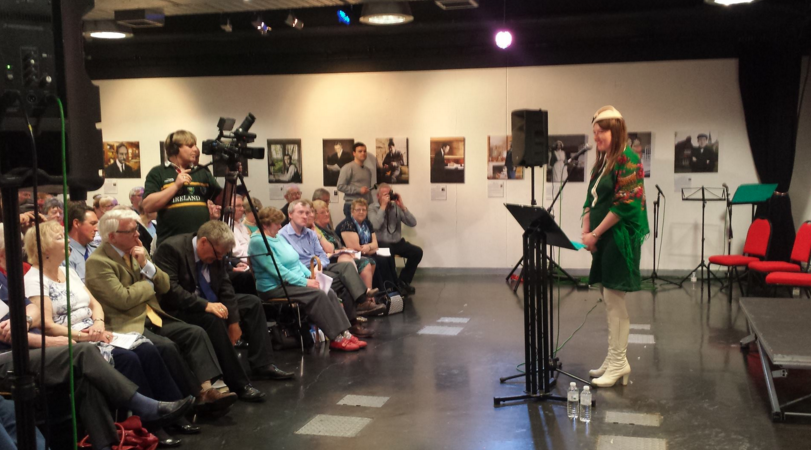 Katy Carr being interiewed for Irish TV about her Polish and Irish connections 🙂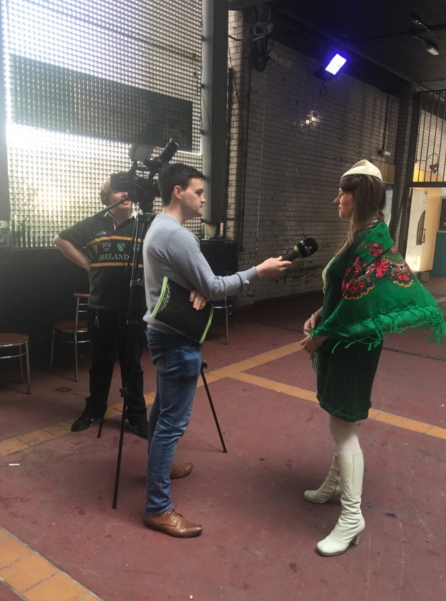 Katy Carr was featured in the Irish World where she talked about her Polish and Irish inspirations …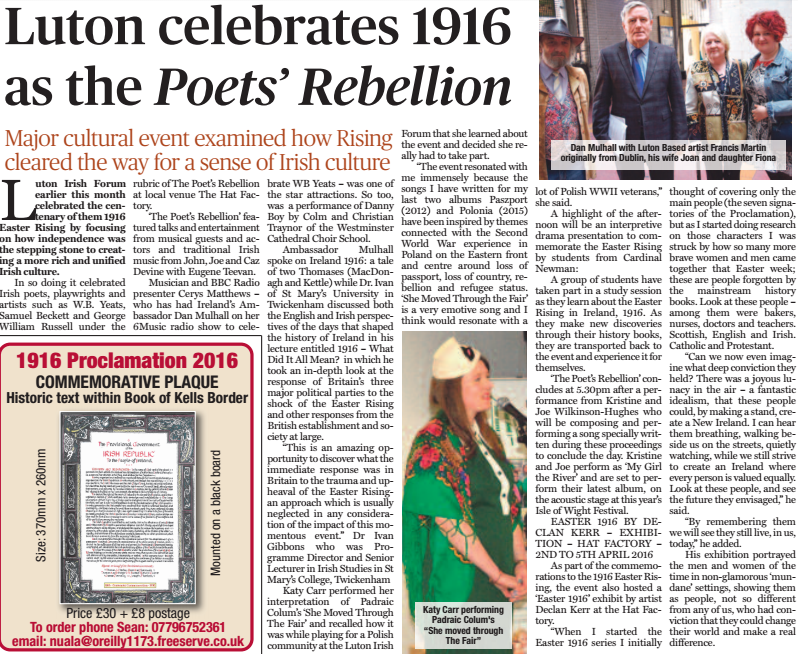 Katy Carr was featured in a feature in International Excellence : http://internationalexcellence.co.uk/katycarr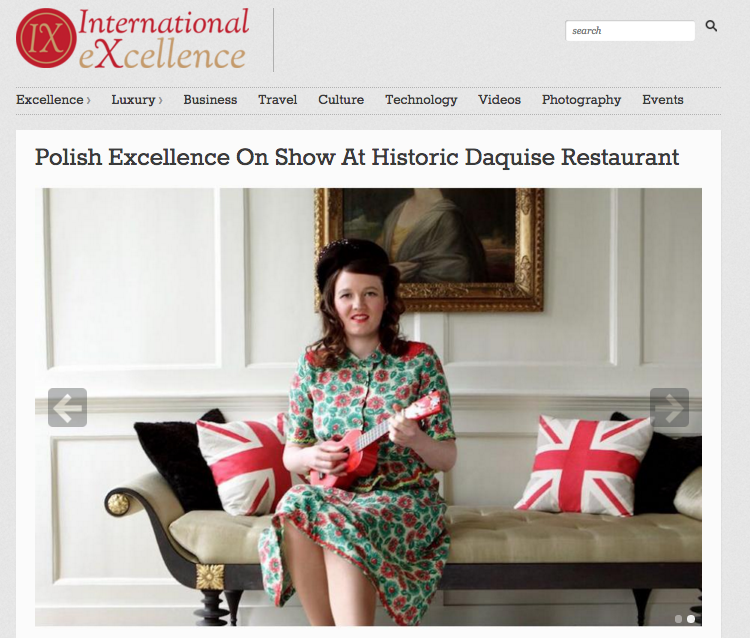 Lovely article on Katy's albums by Nicholas Taliesin Barrett in 'Voices of Women' — Of Katy Carr and a Week in Musical Compass Points
About a dozen years ago, I stumbled on an extraordinary album called 'Passion Play' by
Katy Carr
, one of the rare times I've bought a CD purely on the strength of enticing song names and cover art. This is a painting of a wild-looking woman all in white with a jet-black mane swirling forth across her shoulders and a big splash of bright red paint around her left eye, as well as red lips and the peaks of bared breasts at the bottom.
The record proved as engaging as I'd hoped, since Katy blended all sorts of music, from what came to be known as "jazztronica" to the already venerable tradition of contemporary English folk. She and her fellow musicians made it work well, drawing me back from time to time to listen to songs about life on Mars, heavy boozing, Dick Turpin, vampire love and a witch. I'd been expecting more of a concept album like the 'Passion Play' by
Jethro Tull
, but I like Katy's version well enough.
This week I've been catching up and learning about Katy's longstanding commitment to Poland and the troubled history of her mother's homeland, where the child lived until she was five. I've grown fond of her patriotic 'Polonia' (2015), which is Katy's fifth album but not the first to take up tales of struggle and great courage under occupation by the Nazis and then the Soviets. A celebration of freedom is again manifest in colours on the cover, where a girl in a fine scarlet dress straddles a white horse.
'Polonia' is thus my album from the East, while from the South I've bought the new CD 'Eternal Return' by big Australian star
Sarah Blasko
— ahead of a concert in Paris I much look forward to on May 19 on the strength of her three previous records. (I also hope that Sarah's renown might win me a companion after some lonely March festival shows.)
So back to Ms Carr, the only girl I know to be as enthralled by Spitfires as I am, except that she can actually fly one and leads a band called 'The Aviators'. While this video precedes the 'Polonia' album, Katy's song proudly commemorates one of the most amazing exploits to take place in a Nazi concentration camp.
GIG NEWS
Katy Carr is very excited to be appearing at Wilderness Festival this year : ))))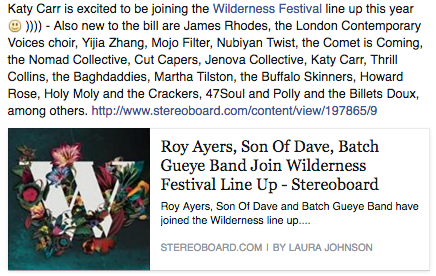 A SPECIAL THANKYOU – to everyone who has supported my music and with extra special thanks to my wonderful music team and music producer George Nigel Hoyle , Hannah Lovell for your films and Susan Burghart illustration for your divine artwork,  Jolanta Fudala for all your hard work promoting my music in Poland and to Anna Tchórzewska and to all at "Chatka Żaka" ul. Radziszewskiego 16, Lublin Poland and supported by the Fundacja Niepodległości for a great concert at Retrospektywy Festiwalu Filmów Dokumentalnych "Niepokorni, Niezłomni, Wykleci   my concert in Lublin on 3rd April 2016, to Red is Bad for your wonderful help and promotion 🙂   Noelette Hanley and at Luton Irish forum for a very moving Easter Rising 1916 – 2016 Centenery commemoration event and to Cerys Matthews for the brilliant introduction.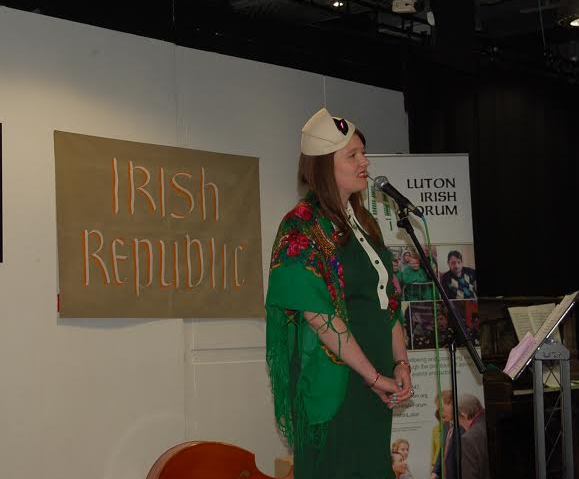 Meeting Cerys Matthews, MBE, Welsh singer, songwriter, author, and broadcaster who was a founding member of Welsh rock band Catatonia and a leading figure in the "Cool Cymru" movement of the late 1990s. Matthews programmes and hosts a weekly music show on BBC Radio 6 Music, makes documentaries for television and radio and is a roving reporter for The One Show. She founded 'The Good Life Experience', a festival of culture and the great outdoors in Flintshire in 2014, with Charlie and Caroline Gladstone, writes a column for The Guardian and is author of Hook, Line and Singer published by Penguin and children's stories Tales From The Deep and Gelert, A Man's Best Friend, Gomer.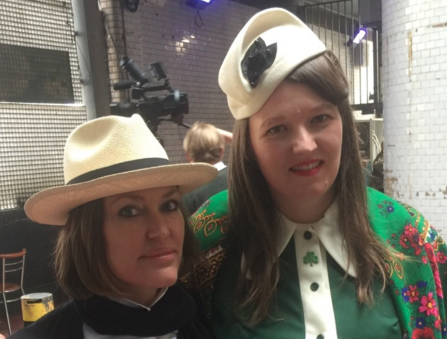 Below artwork commemorating the Easter Rising 1916 Irish Patriots.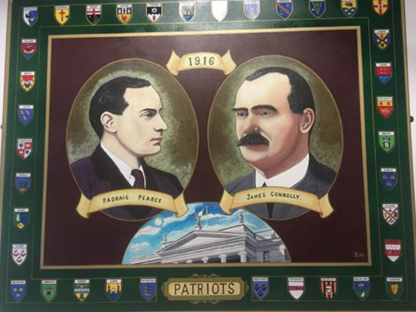 Big thank you to my band – Katy Carr and the Aviators : George Hoyle – bass, Oliver Parfitt – keyboards, Sam Kelly – drums and to Folk Synthesis for a fab event on 17th April at Rye Wax in Peckham – write up here :
Folk Synthesis on Sunday at Rye Wax in Peckham was a fantastic happening. From the swamp blues of the Delta Ladies to the sonic wall of Teleplasmiste. From the freeform sound workshop of Jamie Paton & George Hoyle & members of the Peckham folk diaspora to storytelling from London Dreamtime. A great improv from Stick in the Wheel & wonderful sets from Moonswift & SandSnowman/Autonal Faerune & Katy Carr. A nice crowd of audience & performers alike. This event will return later on in the year with more of the same & more of the new…
https://cunningfolkmusic.com/2016/04/19/an-excellent-synthesis-of-folk-electronic/
CONGRATULATIONS : to the Polish – Viennese architect Alexander Smaga and all at popieramak.pl/  for the hard work in procuring 100,000$ of initial funds to build a Polish Home Army – Armia Krajowa memorial at the foot of the Wawel Castle in Kraków, Poland. Please visit the website popieramak.pl/  to find out more about this very worthwhile campaign that deserves our support – a total of 500,000 $ is needed to complete the project to be opened to the public next May 2017.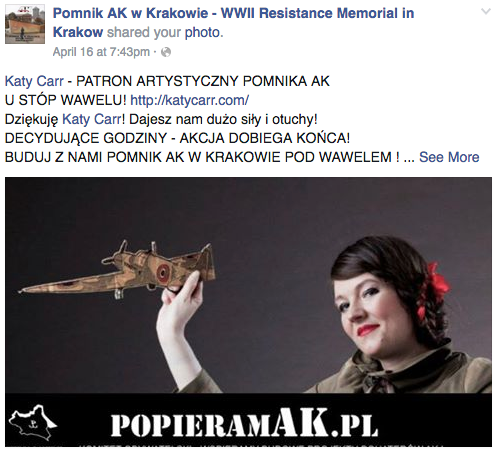 Congratulations also to the remarkably talented film maker and director Marianna Bukowski for her film 'Portrait of a Soldier' and who, in my opinion is probably Tydzien Polski – the Polish Weekly's most beautiful cover girl…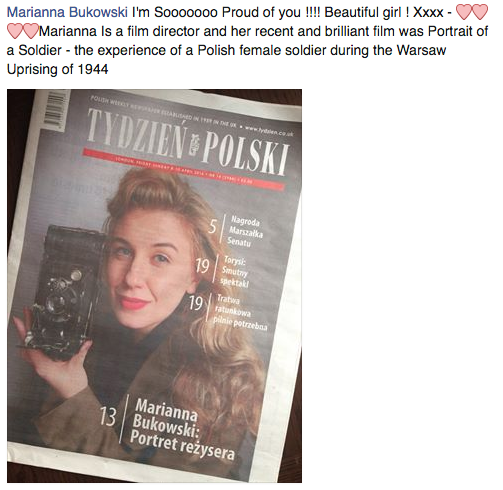 REST IN PEACE : This month of April saw a number of my great inspirational heroes and heroines pass away including Victoria Wood and Prince RIP.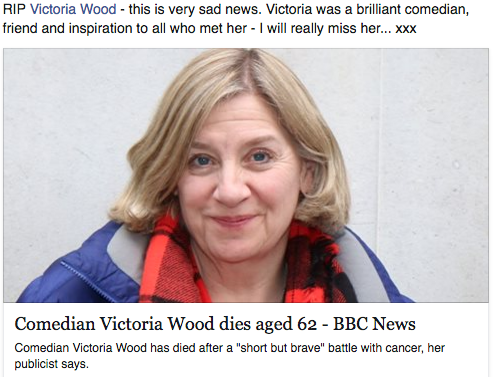 Prince the Purple Legend below who was named the 'Black Mozart' for his prolific musicology & presence RIP.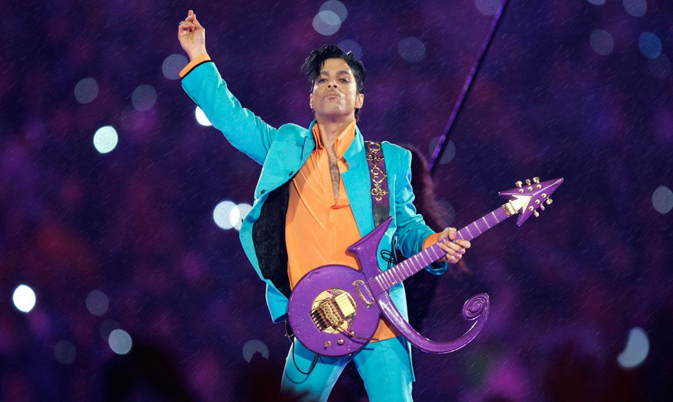 Thanks again for all your support of my music and keep in touch and take care
Much love to you all – Katy i Pozdrawiam serdecznie xxxx 🙂