Katy Carr's June/July 2015 Newsletter
Hello friends!  
Happy Summer to you all 🙂 June has been a busy month and I am so proud of all the support that we received from you all and our event organisers. A big thank you to Dash Arts for hosting two very special events for the Polish community in connection with 'Poles in the USSR – with Katy Carr,' and our concert at the Leyton Midsummer Kupala Festival (I played on stage when the sun reached it's highest peak that happy Solstice day )
Please find my gigs below 🙂 join me here for updates 🙂 www.katycarr.com
Please  subscribe to my www.youtube.com/katycarrmusic channel xxx

Below are some favourite moments from our fans this month 🙂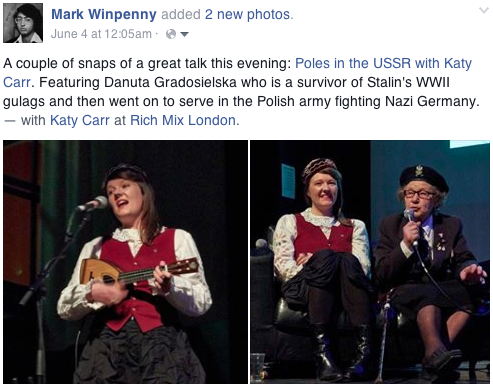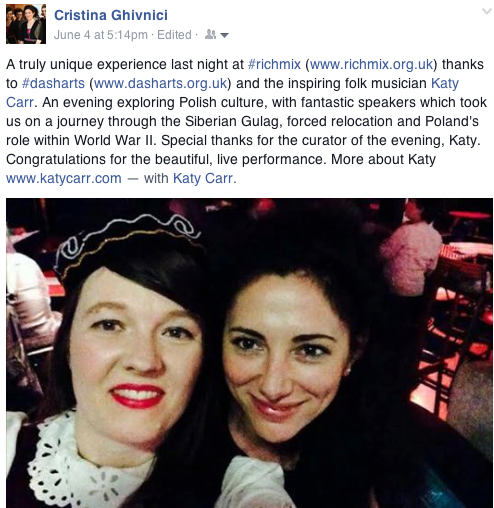 Cristina also gave me a beautiful she specially made for me incorporating a Polish folklore design 🙂 I love it!!!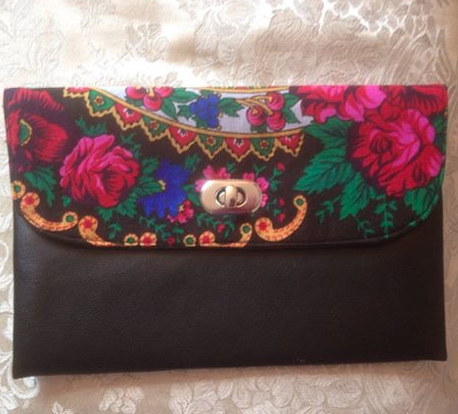 With glorious new fans and friends after my concert at Leyton Midsummer Kupala Festival with DJ Penny Metal and friends 🙂 see link to event here 🙂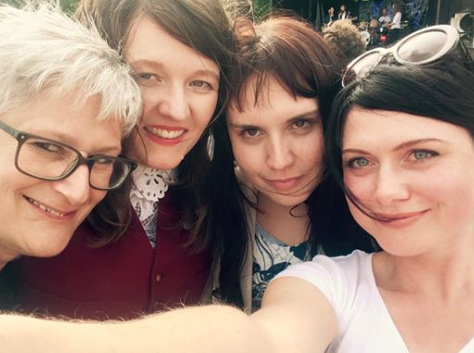 Below Katy sits with Danuta Gradosielska in her uniform all female 316 Transport Company of the Polish II Corps which was under British Command in WWII. Danuta fought at the Battle of Monte Cassino in 1944. Last year she lay a wreath at the Polish Cemetery at the 70th Anniversary of the Battle of Monte Cassino, Italy,  alongside Prince Harry and Donald Tusk, President of the European Council, and General Ander's daughter, Anna Maria Anders.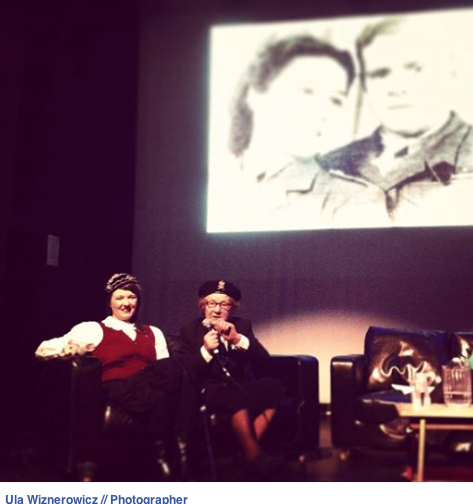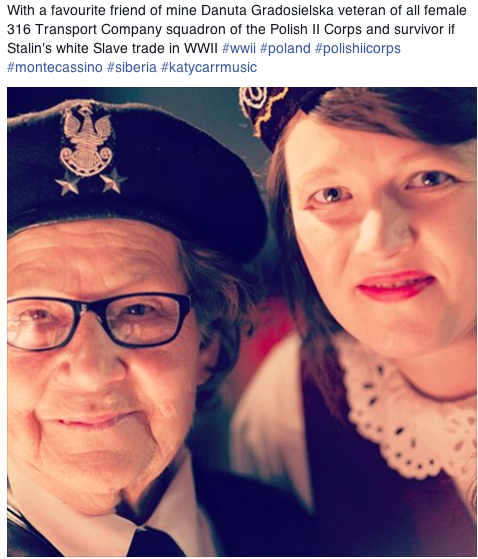 I also wanted to thank the Smuggler's Festival and Cocos Lovers in Deal, Kent for inviting me to support Tinariwen In The Woods. Below the wonderful TV actor and writer Peter Cocks commented about my performance. Peter had invited me to perform on his Tour of China in 2012 in connection with his project, 'The Private Widdle Social Club, Shenzhen, China.'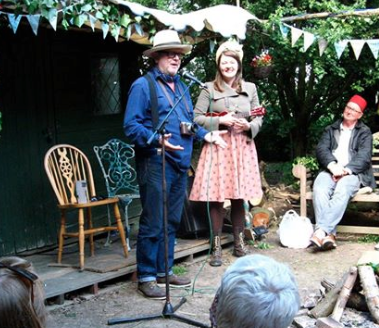 Check out this link to The Private Widdle Social Club, Shenzhen, China  🙂

Checl out this wonderful review by MATTHEW WATKINS of Katy Carr's concert In The Woods:) 
Katy Carr: Sweet ukelele songs and lots of intriguing, rambling banter. Lots of references to Poland (she's half-Polish) and songs in Polish. An attempt at singing in Chinese. Much time taken expressing her (clearly heartfelt) gratitude to be there, which somehow was a fully integral part of her set. I totally fell in love with everything about what she's doing. Later, I looked her up online and found out about a connection with Gina Birch and The Raincoats, which totally makes sense.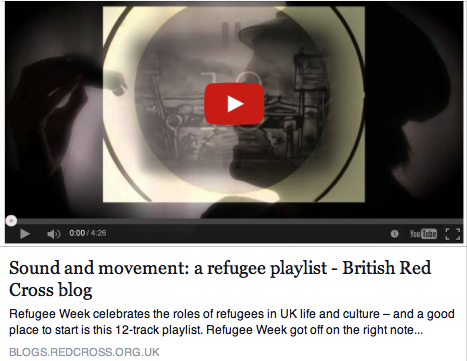 Please check out this link to the British Red Cross Blog
. Katy Carr's song
'Kommander's Car'
was chosen for a Playlist compiled for Refugee Week alongside Bob Marley, M I A, Rita Ora, The Fugees, Queen.  ' Katy Carr has a Polish mother, and her songs often touch on what it might have been like to be a Polish refugee around the Second World War. This track came out of Katy's first meeting with Kazimierz 'Kazik' Piechowski, the Polish boy scout who escaped from Auschwitz in 1942 inside Kommander's Car.
I also wanted to pay tribute to Kazimierz Piechowski and who 73 years ago this month on June 20th 1942 imprisoned for being a Polish Boy Scout by the German WWII government escaped from Auschwitz concentration camp dressed in SS uniforms and in the camp commandant's car. Watch and review our film here 🙂
http://www.kazikfilm.com
And I wanted to send out a loving prayer for a lovely
friend… 
 and his family at this very sad time xxx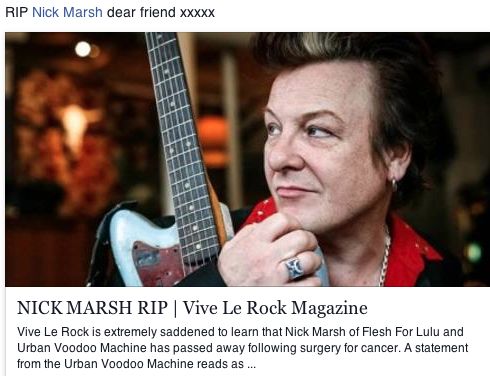 Thanks again for all your support of my music and keep in touch and take care
Much love to you all – Katy i Pozdrawiam serdecznie xxxx 🙂
Katy Carr's music Quotes :
– 'Carr is a fine example of that much-maligned beast we call Authenticity…' 
– 'never less than immaculate' Sunday Times Culture Magazine
– 'Her idiosyncrasy as a musician meant she'd have to forge ahead under her own steam – even the most avowedly avant labels fight shy of butterflies they can't easily net… ' 
– 'She's a true original, standing out like the spark generated by a Swan Vesta applied to a cigarette in the Blackout.' 
Katy Carr's Awards :
Katy Carr was nominated for the London Music Award 2012 alongside Kate Bush, PJ Harvey, Arctic Monkeys, The Good, the Bad & the Queen, Metromony, Ed Sheeran, Jim Jones Review, The Unthanks and Laura Marling.
~
Katy Carr Links below – please keep in touch!!!!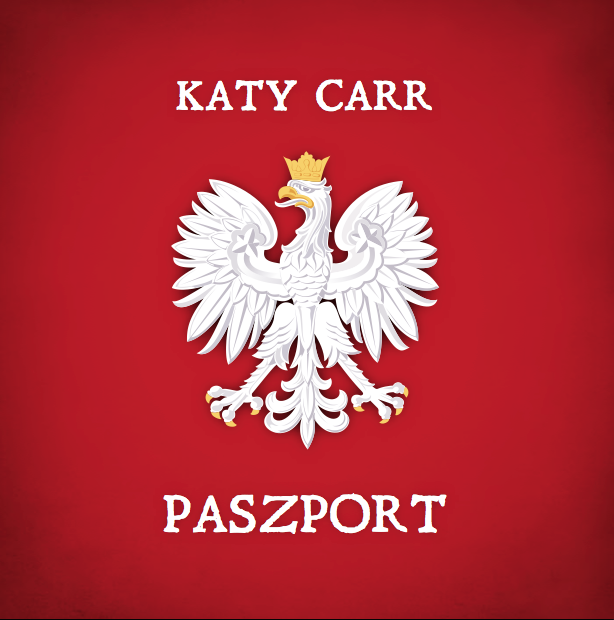 ~

I