Katy Carr's Nov/Dec 2014 Newsletter  
Dear Friends 🙂 
Thank you for all your support at my events this month 🙂 I have had the chance to meet so many wonderful people from all over the world. Highlights this month included singing for the President of Poland at the Warsaw Security Forum which was a very special conference discussing areas of International Security concern with delegates involved in discussions and debates from all over the world see below :-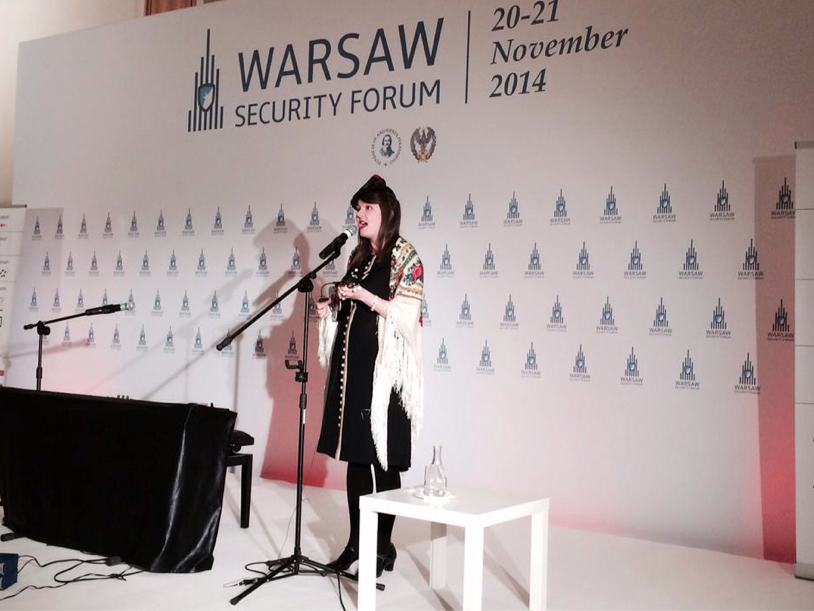 Enjoying a lovely meal after my concert with British Historian and writer Professor Norman Davies and British Ambassador to Poland Robin Barnett the Warsaw Security Forum — at Warsaw Security Forum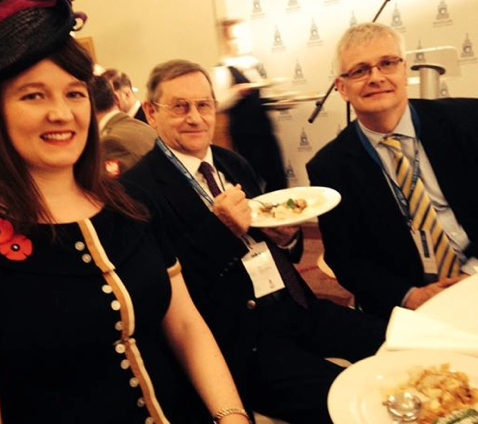 I also wanted to send a BIG t
hankyou to all the organisers at the Castle in Poznan and Czarnow for a series of wonderful concerts on Remembrance Day 11th Nov 2014 : Photo below by Christoff Deadstar Addams and my ukulele was made by Jack C Clark of Nebraska, USA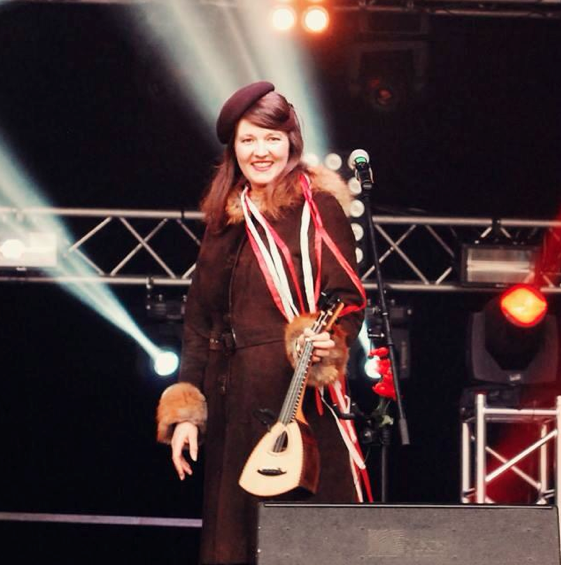 Thanks also to Polish Radio who did a lovely interview with me 🙂
See link here – Interview by Halina Ostas : http://external.polskieradio.pl/8/251/Artykul/187167,Katy-Carr-dziewczyna-ktora-kocha-polska-historie


Big thanks to the Emigra Film Festival for suggesting use of my concert footage from WOMAD music festival where I sang 'Hey Sokoly' for the film 'ARKA' which is a short documentary showing footage of the lives of people of Polish descent in Ukraine and their feelings about the war that is currently taking place there please see the link : ARKA : http://youtu.be/s5zeGJAUPUw 
This month also saw the loss of two very dear friends of mine. Stefan Bogusław Mączka of the Polish II Corps and Major Alojzy Paweł Józekowski of the 'Cichociemni,' – the elite special-operations paratroops of the Polish Army in exile, created in Great Britain during World War II to operate in occupied Poland. REST IN PEACE x
Below I am with Stefan Bogusław Mączka Rest In Peace of the Polish II Corps and his sister Danuta Gradosielska of the 316 Company of the Polish II Corps Transport Company (PWSK). Both Danuta and Stefan survived the 2 million plus mass transportation of Polish people to Siberia for free labour in Stalin's Slave trade which started on 10th Feb 1940. After Danuta and Stefan had been freed from Stalin's slavery of Polish citizens in the Soviet Union when the Sikorski–Mayski Agreement was signed in London on 30 July 1941 a treaty of 'amnesty for the inncents' between the Soviet Union and Poland, they both contributed to the Allied war effort in the valiant Polish II Corps who fought alongside the British forces in Palestine, Egypt and the Italian campaign including and winning the Great Battle of Monte Cassino in May 1944. 
Rest In Peace Major Alojzy Paweł Józekowski, my friend who passed away today 18th Nov 2014 in Warsaw born 1920. We will all miss you and the incredible stories you shared with us about the time you spent in the Cichociemni – the elite special-operations paratroops of the Polish Army in exile, created in Great Britain during World War II to operate in occupied Poland …. (również Alojzy Józek-Józekowski) pseud. "Sadyba" (ur. 21 grudnia 1920 w Lewinie Brzeskim) – żołnierz Polskich Sił Zbrojnych na Zachodzie, major łączności, po szkoleniu dla cichociemnych w Wielkiej Brytanii. Link to Alojzy talking about his experiences
Alojzy's Military funeral at the Powązki Military Cemetery (Cmentarz Powązkowski) in Warsaw, Poland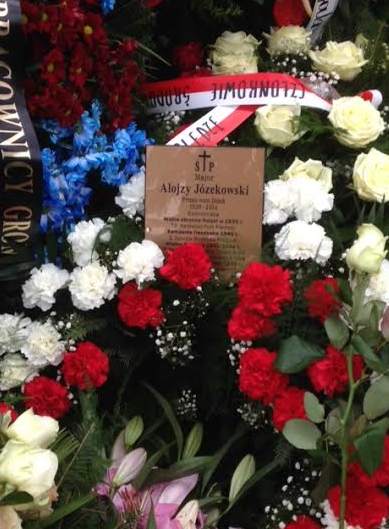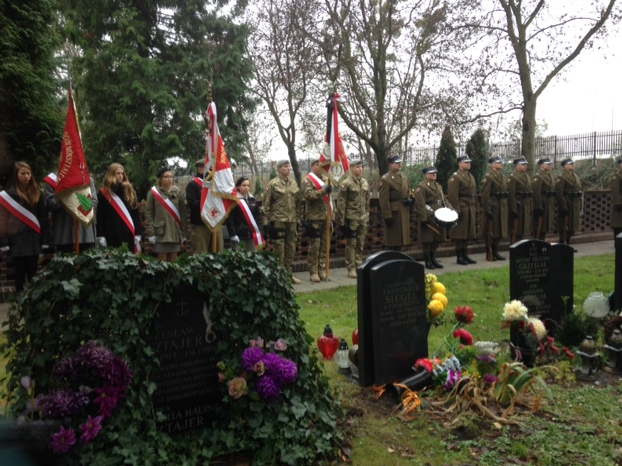 Katy Carr's Upcoming performances include :
5th Dec : Special concert in memory of dear friend, musician and writer Charlotte Greig Rest In Peace at The Tin Tabernacle. 12-16 Cambridge Avenue, London, NW6 5BA
15th Dec : at the Warsaw Rising Museum, Grzybowska 79, Warszawa, Poland – a special night dedicated to the memory of Major Alojzy Paweł Józekowski Rest In Peace and the launch of his book about his time spent during WWII.
KATY CARR BLOG : Katy Carr performs in Krakow at the Fourth Congress of Polish Societies in Exile – Katy Carr performed a special concert in Krakow, Poland in September this year at the Fourth Congress of Polish Societies in Exile – this congress focussed on the histories of those 2 million Polish citizens who were kidnapped from Poland during and after WWII by the Soviet Union for slave labour in Stalin's forced labour camps across Siberia and the Soviet Union. Blog created and directed by Hannah Lovell. Big thanks to Professor Narebski and the organisers of the conference 🙂 View blog here 🙂 http://youtu.be/mO8lT8pCEIw
EXTRA KATY CARR UPLOADS : click on this link to view 🙂 Katy Carr sings, 'Wojtek,' at The Polish Cemetery, Monte Cassino, Italy
KATY CARR ARTICLE [in Polish] :-
Katy Carr would like to sing in Wilno / Vilnius : http://zw.lt/kultura/katy-carr/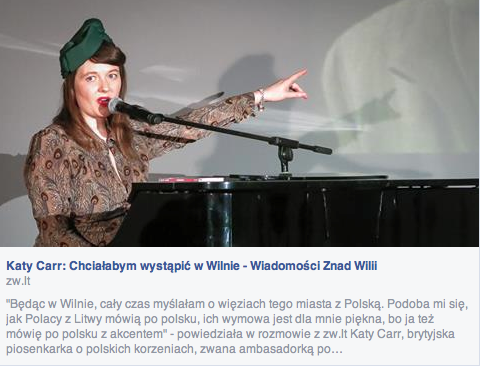 To commemorate Remembrance Day and National Independence Day in Poland on 11th Nov 2014, I took part in the #MyPolska campaign hosted by the Embassy of the Republic of Poland in London where we added our red and white photos on twitter :  My Caption – 'Long live an Independent Poland -Niech żyje Polska Niepodległa! -I am so proud of my Polish blood!'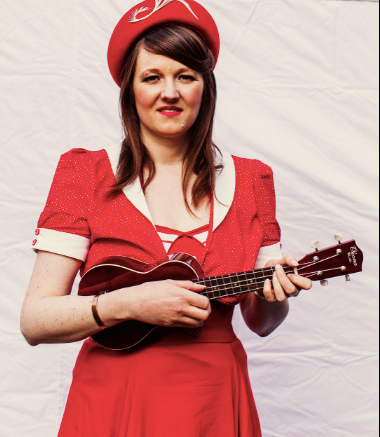 And to end – Happy belated Polish name day – 25th November  to all Katys and Katarzynas and Kasias and Katherines and Katharines and Kates and Kate Bush – i wish you all a great year and may all your dreams come true ! xxxx 
Thanks again for all your support of my music and keep in touch and take care
Much love to you all – Katy i Pozdrawiam serdecznie xxxx 🙂
Katy Carr's music Quotes :
– 'Carr is a fine example of that much-maligned beast we call Authenticity…' 
– 'never less than immaculate' Sunday Times Culture Magazine
– 'Her idiosyncrasy as a musician meant she'd have to forge ahead under her own steam – even the most avowedly avant labels fight shy of butterflies they can't easily net… ' 
– 'She's a true original, standing out like the spark generated by a Swan Vesta applied to a cigarette in the Blackout.' 
Katy Carr's Awards :
Katy Carr was nominated for the London Music Award 2012 alongside Kate Bush, PJ Harvey, Arctic Monkeys, The Good, the Bad & the Queen, Metromony, Ed Sheeran, Jim Jones Review, The Unthanks and Laura Marling.
~
Katy Carr Links below – please keep in touch!!!!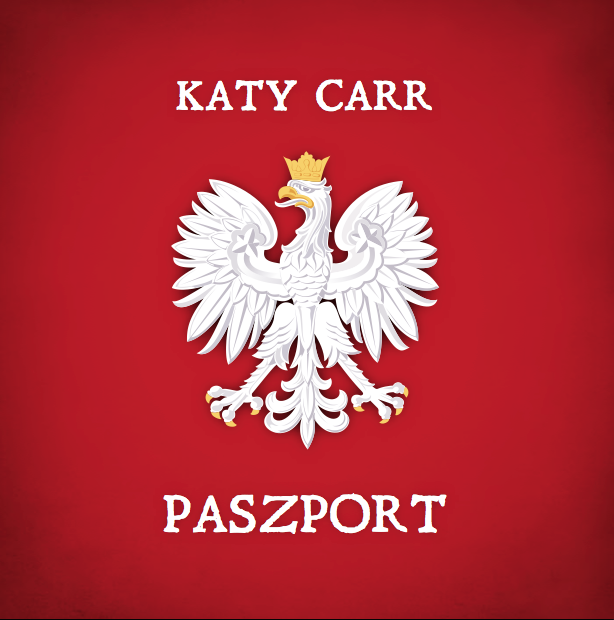 ~
I