Hello lovely friend! 🙂
I hope you are all well and enjoying the beautiful Spring sunshine!
I am really excited to announce that I will performing a special concert on 17th May as 21.30 at the Piazza A. Labriola, 03043 Cassino, Italy to commemorate the 70th Anniversary of the Battle of Monte Cassino in cooperation with The Kresy Siberia Foundation as part of the 'Generations Remember Tour 2014.' My concert has been funded and organised by the Ministry of Foreign Affairs in Poland in association with the Embassy of the Republic of Poland in Rome and town of Monte Cassino and takes place
Katy Carr performs at the Days of Poland Festival on 4th May 2014 – at 5pm Potters Fields Park, Tower Bridge, Southwark & Bermondsey, Tooley Street, London, SE1 2AA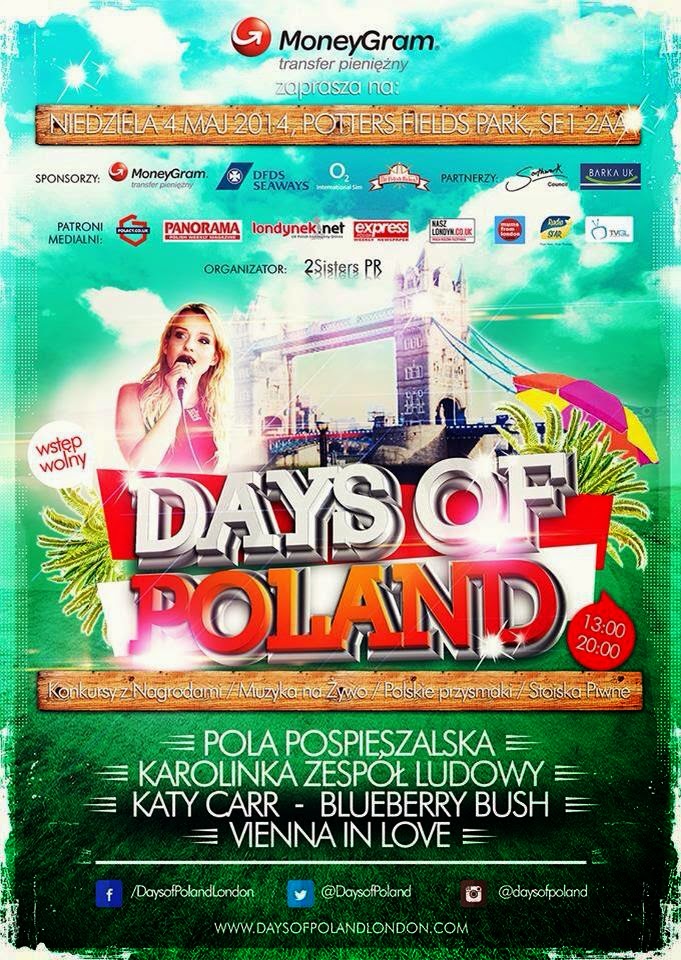 April 2014 has been a great month and I've met some great people and visited some fab places !
On 10th April, I played a lovely concert at the opening of the 'Our History-Our Story,' Polish Heritage in the East Midlands exhibition in Nottingham. It was a very moving event and I met some fab people including Polish WWII veterans and families of the Polish I and II Corps, 303 Polish Air Force squadron and the Lord Mayor of Nottingham, Merlita Bryan pictured below :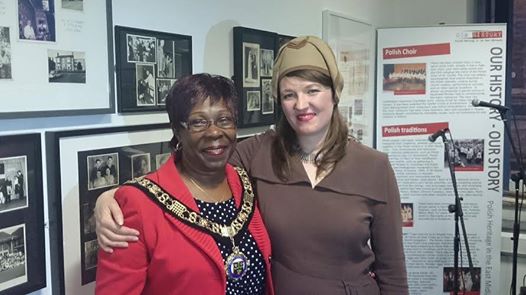 After my performance I met a member of the Nottinghamshire Polish community, Andy Zielinski, who told me about his remarkable Grandfather Ryszard Zielinski…
'Cześć Katy – Great to meet you at the, 'Our History – Our Story,' exhibition in Nottingham. I thought your set was fantastic – 'Dziś do Ciebie przyjść nie mogę,' is one of my favourites, until I got you album, 'Paszport,' I hadn't heard it since I was a boy. Thank you for mentioning my Grandfather Ryszard Zielinski I'm very proud of him. He was from Poznań and just 17 when war broke out. He was at the Officers Training School in Krosno (fighter squadron) and took part in the September Campaign. He escaped through Romania and made his way to France joining up with the Polish Air Force in Lyon, from there he came to the UK and flew with the Polish Squadrons 308 and 306 under the RAF, ultimately settling in Nottingham. He was my hero! Best Wishes Andy – here I am below with Andy and his grandad in the picture 🙂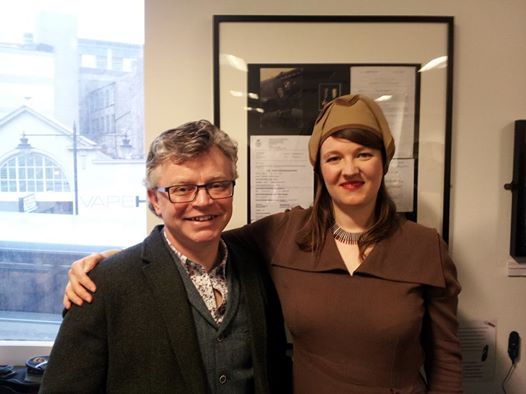 For St George's Day, I was invited to play at the beautiful 'Churchill Arms,' Pub in Notting Hill, London Town – Here we are with Gerry the manager singing a few good old tunes ! – a Big thank you to Lewis and Denise at the RAF Museum in Hendon for organising this XXX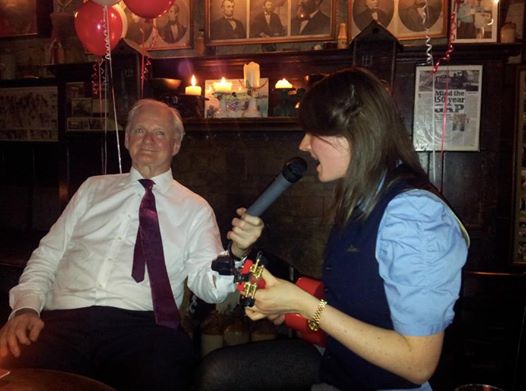 I made a guest appearance on Johny Brown's [The Band Of Holy Joy] – 'Such a Nice Radio Show,' on Resonance 104.4 FM with Nick Sweeney author of, 'The Laikonik Express,' which is a novel about a train journey from Istanbul to Poland and Central Europe – more info here . Johny played some fab music such as Chopin, Trans Siberian March Band whilst I played Polish patriotic songs.on ukulele. We all had great fun! ….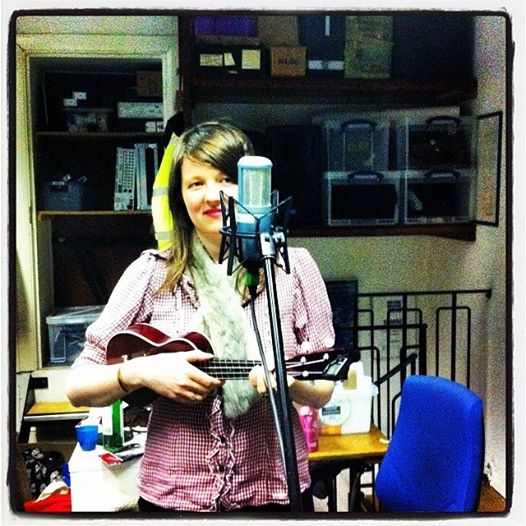 As part of my ongoing reminiscence outreach work I visited Age Concern in Nottingham before my concert at Nottingham Central Library on 10th April. Please see the picture below- here I am with carer Tracy Pearson – big thanks to all at Age Concern and Piotr for organising such a lovely afternoon 🙂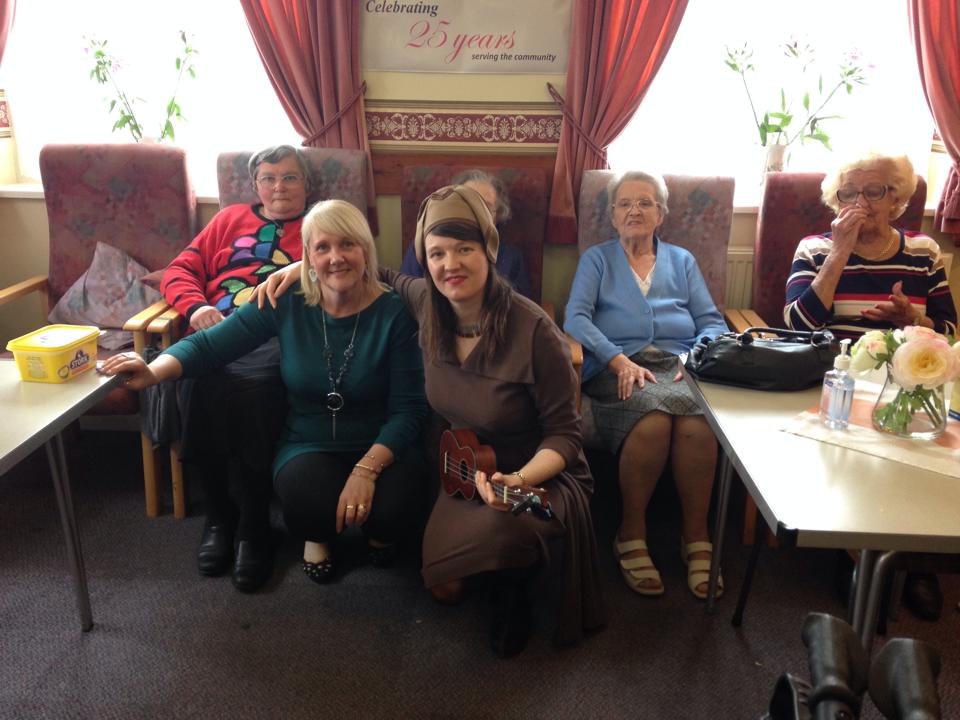 I was also very honoured to be asked this month to make statement in the Polish Daily – Dziennik Polski – Na Wyspach Brytyjskich od 1940 | Codziennie with regards supporting and raising awareness of the Armia Krajowa – Polish Home Army Fund. [ a big thanks to Ania from 'Poland Street.' for organising this,]
'Remembering our forgotten ….,' "It is of very great importance that we look after not only the memory and history of our Polish WWII Veterans but also assist financially through the Armia Krajowa – Polish Home Army Fund. To hear that some of our WWII heroes and heroines cannot pay for simple things like electricity and heating throughout the winter months simply breaks your heart. It's an absolute disgrace that they should be allowed to live under such conditions and we need to do something about it as the young generation. These people who fought for our freedom are such special and brave honorary citizens of Poland and roles models for future generations and not only for Polish but British communities and the world at large."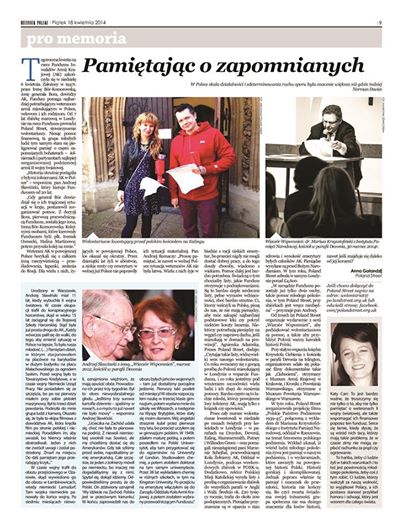 I leave you with some concert videos of my song, 'Wojtek' – we are so proud to be playing at Cassino and remembering all the WWII Veterans who fought for our freedom today – 'For Your Freedom and Ours,' – Za Naszą i Waszą wolność
Katy Carr on Trojka Radio – Wojtek
Katy Carr on the Taste The World stage at Womad Festival 2013
Program for the Cassino concert 17th May 2014
Katy Carr will sing and perform this special program on her ukulele, accompanied by specially created short films and visuals by directed by Hannah Lovell of White Gloves Films. The visuals and archive footage are used with kind permission from the Polish Institute and Sikorski Museum, The Royal Air Force Museum in Hendon, London, and the Warsaw Uprising Museum.
1. Dziś do Ciebie przyjść nie mogę: (The Partisan's Lullaby) both lyrics and music were written in 1943 by Stanisław Magierski. The song describes the longing of a Polish Partisan, unable to come to see his beloved because he has to hide out in the forest.
2. Red Red Rose written by Katy Carr is in commemoration of the Soviet invasion of Poland on the 17th of September, 1939. Over 1.8 million Poles were arrested and sent to forced labour in Siberia and throughout the Soviet Union during the Second World War. Many died due to overwork, starvation, disease, extreme climatic conditions and the cruelty that they endured.
3. Czerwone maki na Monte Cassino: (The Red Poppies on Monte Cassino) is one of the best-known Polish military songs of World War II. The song's melody was composed during the night of 17th and 18th May 1944 by Alfred Schütz, a composer, actor and member of the Polish Soldiers' Theatre garrisoned at Campobasso in the shadow of Monte Cassino, with lyrics written by Feliks Konarski, a poet, songwriter and soldier of the Polish II Corps.
4. Wojtek written by Katy Carr is inspired by Wojtek the soldier bear, the mascot of the Polish soldiers of the 22nd Artillery Supply Company of the Polish II Corps who legendarily helped move crates of ammunition during the Battle of Monte Cassino.
5. Motylek
(Butterfly)
written by Katy Carr is in memory of the Polish Air Force pilots who fought alongside the Royal Air Force pilots in the Battle of Britain and throughout the Second World War, in particular the 303 Squadron who were the pilot aces of the Battle of Britain.
6. 'Travelling to you,' written by Katy Carr is in praise of the Polish diaspora, "Polonia", and all the brave Polish people and members of the Polish military who had no option but to remain in exile as refugees after the Second World War, because the loss of Poland's independence to Communism in 1945 could have meant a death sentence to those who went back.
7. O mój rozmarynie: (Oh my Rosemary) – This is a traditional Polish song telling the story of a boy becoming a soldier.
8. Chodźmy, Partyzanci!: (Let's go, Partisans!) written by Katy Carr is in praise of all the Polish people who have fought for an Independent Poland at home and abroad. We love, honour and salute you for our right to be free and you will continue to inspire us forever. Freedom is worth fighting for. 'For Your Freedom and Ours!'
See you soon 🙂
Much love, keep in touch and take care Katy – Pozdrawiam serdecznie 🙂
Katy Carr's music Quotes :
– 'Carr is a fine example of that much-maligned beast we call Authenticity…'
– 'never less than immaculate' Sunday Times Culture Magazine
– 'Her idiosyncrasy as a musician meant she'd have to forge ahead under her own steam – even the most avowedly avant labels fight shy of butterflies they can't easily net… '
– 'She's a true original, standing out like the spark generated by a Swan Vesta applied to a cigarette in the Blackout.'
Katy Carr's Awards :
Katy Carr was nominated for the London Music Award 2012 alongside Kate Bush, PJ Harvey, Arctic Monkeys, The Good, the Bad & the Queen, Metromony, Ed Sheeran, Jim Jones Review, The Unthanks and Laura Marling.
~
Katy Carr Links below – please keep in touch!!!!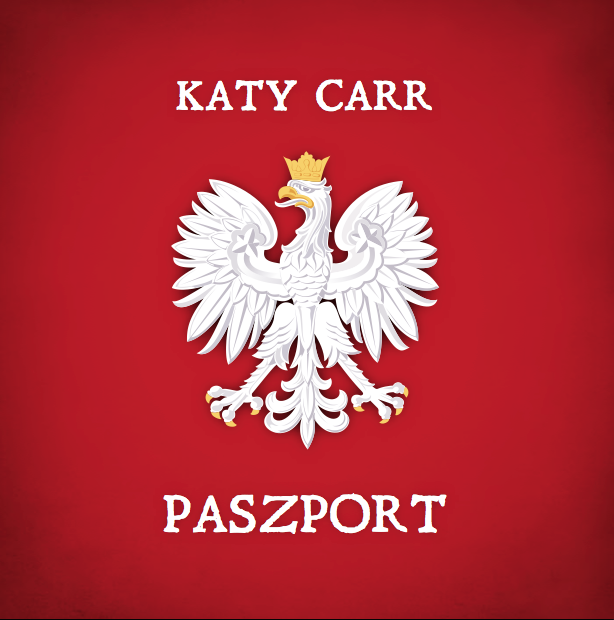 ~