Dear lovely people, this is just a quick letter to say hello and that Katy Carr and the Aviators are enjoying the summer and preparing for concerts in the Autumn where we will be travelling to Poland and France in lieu of my fourth album release 'Paszport' which is dedicated to the Polish WW2 experience on the Autumn – dates to follow…
Big thanks this month go to my faithful artistic team 'Heart Poland' team who have helped run and coordinate this project – Vanessa Wolf [storyteller and director of Workshops], Hannah Lovell [short documentary film maker and director of video response gathering], Galen Wainwright [director of the artistic workshops]. 'Heart Poland' was a Holocaust education project and funded by Enfield Council during June and July 2012 and focussed on sharing Polish history through Kazik's story of escape with British school children and creating quality school work with artistic, visual and audio responses. We will be sharing the responses soon with you so watch this space!
In addition I would like to thank all the lovely schools, head teachers, teachers and all that took part and made our 'Heart Poland' project such a success and Enfield Council for funding it :- Grazyna Maczkowska (Head Teacher) at the Polish Saturday School – Little Poland in Enfield, Sue Warrington (Head Teacher) and Alexandra Christodoulou at Chace Community School Enfield, Lawrence Price (Head Teacher) at Keys Meadow Primary School and all the young people and students. I would also like to thank Susan Burghart for creating the best ever album artwork yet again and the Polish Professionals in London for having me play at their wonderful 5th Anniversary event on a Thames River Boat – what fun we had singing Sea Shanties in both Polish and English! – see the photo below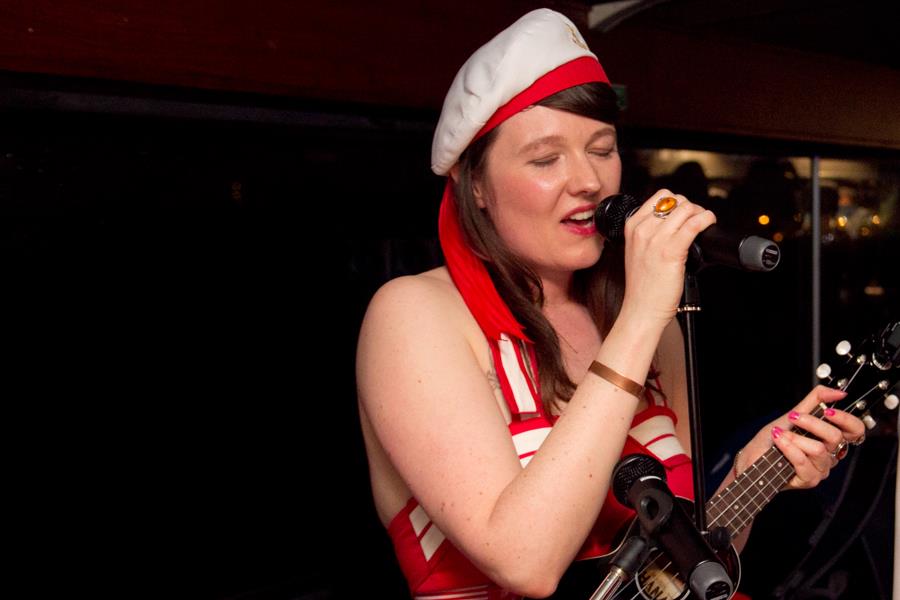 NEXT KATY CARR AND THE AVIATORS CONCERT:-
Sunday 5th August 2012 at 8pm :
– Please note that Katy Carr and the Aviators :- Katy Carr [ukulele, piano and voice], David Myles, [Double bass and django guitar], George Simmonds [trombone] & Hannah Lovell [projectionist] will be performing at the
POSK Jazz Café
as part of the Polish Olimpic team reception visiting England,
so please free to join us – admission is gratuit –
238-246 King Street London, Greater London W6 0RF tel: 020 8741 3225
We wish you all a happy and fun summer and see you soon!
– 'Carr is a fine example of that much-maligned beast we call Authenticity…'
– 'Her idiosyncrasy as a musician meant she'd have to forge ahead under her own steam – even the most avowedly avant labels fight shy of butterflies they can't easily net… '
– 'She's a true original, standing out like the spark generated by a Swan Vesta applied to a cigarette in the Blackout.'
WITH LOVE,
PIEKNEGO DNIA I NIECH ZYJE POLSKA!
Take care love from Katy Carr and The Aviators
Katy Carr, Musician, Songwriter Performer
Katy Carr on FACEBOOK FAN
Katy Carr on TWITTER
t : +44 [0] 7972254710