Dear lovely friend!
I hope you are having a wonderful start to 2012.
We're so excited about the concerts and events we've got coming up – celebrating the heritage of both
Great Britain and Poland through new music, film and art.
We have had some very moving moments this month at our film screenings of
Kazik and the Kommander's Car
Big thanks to all who helped organise our January screenings at the London Short Film Festival and to The 'Speak Up Speak Out' Holocaust Memorial, Enfield, where our proceeds will be shared with The Auschwitz-Birkenau State Museum
Join us for our next exclusive screening at

SPIROARK on 8th February @ 6.30PM

25-26 Enford Street; London; W1H 1DW

TEL : 020 77239991
KATY CARR was nominated for the LONDON MUSIC AWARD 2012 alongside:
Kate Bush, PJ Harvey, Arctic Monkeys, The Good, The Bad and the Queen [Damon Albarn], Metromony, Ed Sheeran, Jim Jones Review, The Unthanks, Laura Marling, Delilah.
Visit : Katy Carr's London Music Award 2012 Nomination page
– 'Carr is a fine example of that much-maligned beast we call Authenticity….
– 'Her idiosyncrasy as a musician meant she'd have to forge ahead under her own steam – even the most avowedly avant labels fight shy of butterflies they can't easily net…. '
– 'She's a true original, standing out like the spark generated by a Swan Vesta applied to a cigarette in the Blackout.'
~~~
**EXCITING MAJOR EVENTS PLANNED FOR 2012!!**
JAN 2012 –
INTERNATIONAL RELEASE OF DVD AND LAUNCH OF THE WEBSITE DEDICATED TO THE FILM
'KAZIK AND THE KOMMANDER'S CAR'

20TH JUNE 2012 – 70TH ANNIVERSARY OF KAZIK'S ESCAPE FROM AUSCHWITZ – A MEMORIAL EVENT

SEPT 17TH 2012 – LAUNCH OF KATY CARR'S EAGERLY AWAITED 4TH ALBUM
xxxxxxxxxx
WITH LOVE,
PIEKNEGO DNIA I NIECH ZYJE POLSKA!
Katy Carr and all her Aviators!
xxxxxxxxxx
BUY 'COQUETTE':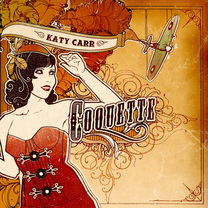 LINKS BELOW JOIN ME!!!